I started affiliate marketing 15 years ago, and have made over $1 million since. This complete guide will explain how I did it, and it'll be beginner friendly.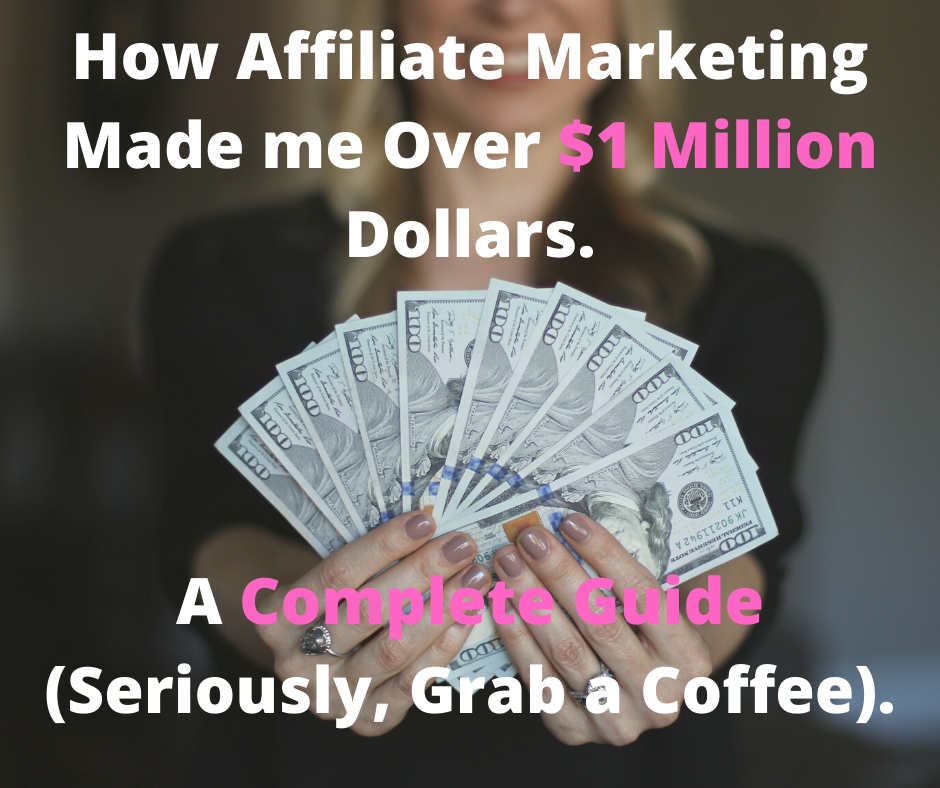 The purpose of this guide isn't to show off the stats, it's to actually help YOU do the same or even better. There's many people out there who wish to do this for a living or make a side income from it and I'm here to tell you, with proof, with success stories, and with a step-by-step guide, exactly how you can do this too.
Here is what I will be covering (the preview of the complete guide):
Part 1) First, I'll provide stats of my earnings, so you can see that the $1 million in sales is true.
Part 2) Then I'll discuss WHAT exactly affiliate marketing is as so many people "explain it" but don't really explain it well enough.
Part 3) Followed by that, I'll describe in detail how it works and the one formula that if done right, will make you succeed at it.
Part 4) Next, I'll provide you with 7 different strategies and ways you can do affiliate marketing legitimately using the same one formula for success.
In other words:
1 formula.

And 7 different ways to use it to get results.
Part 5) Following up on all this, I'll provide COUNTLESS success stories of people who have also succeed at this business, all of which used this 1 formula.
Part 6) Then I will explain something that most people do not cover: Why the success rate of affiliate marketers is very low (and how to make sure when you start, that your odds of success are HIGH).
And finally…
Part 7) I'll personally show you how to start an affiliate marketing business from nothing (free) and grow it to the levels I did as did the people in the case studies I'll cover here.
Now before you get started with this guide, please watch this first:

And now, continuing with the article…
Let me just tell you right now, this guide is…
1) Long, but GOOD.
Grab a coffee people, I'm going into deep details here and holding nothing back. Most of what other gurus sell on this subject through training, programs and coaching, I'm giving to you here, for free.
You may even want to consider pausing while you read this long guide and maybe even bookmark it in order to finish it later, because I really want you to adsorb the things I'm saying here, because if you do and take action, you're truly going to become a success at affiliate marketing too.
2) There's no sugar coating.
I'm not here to sell you a false dream of how affiliate marketing is easy. It's actually hard in the beginning and if you don't have the right mindset or training, you WILL fail. My job is to help you avoid that high failure rate and get you to succeed, so read this guide with an open mind to ensure that happens.
3) Transparent.
While the information, tips and guide to success is free, to get started, I will be recommending you join one program (it's free to try) and I am promoting it…as an affiliate.
It's optional to join it and your success in affiliate marketing doesn't rest on it (but it sure does improve the odds). 
4) Open to any questions on affiliate marketing.
While I am giving you a TON of info here for free (I wasn't kidding when I said complete guide), you will obviously have questions. I want to encourage you right now to first read the entire guide, and then compile your questions and ask them below.
Do not be shy about this because that itself holds you back from starting what could be a potentially profitable career in this business and I am very opening to answering questions.
Got your coffee? Ready to go? Let's do it…
Part 1) Let's start with my proof (The $1 million in affiliate sales):
First, I will give you the basic sales report (5 bullet points which summarize the sales). Then I will provide screenshots and links to the individual reports which further provide evidence of these sales:
Now here is a breakdown, screenshots of some of the sales activity (I didn't record all of it, sadly), but the links take you to the individual case studies that'll further break everything down. You are welcome to read the extra material, or you can choose to keep reading this blueprint (or both, it's totally fine :)).
1) For the $400k, I have screenshots of checks from Clickbank as well as diplomas…
Sales reports and so on are found here.
2) In addition, for the near $100k in bullet point 2…
It also came from Clickbank, so the above link will also show that. Here is a screenshot of several things to prove this:
First, I have 2 diplomas/certificates from Clickbank itself which basically rewarded me for making them so many sales.
In each certificate's case, I had to make at least over $100k to be eligible to get into this, so that's at least $200k+ worth of proof and I can tell you that specifically, when I got these certificates, I had made over $400k in a matter of 2-3 years.
And next, we have a check for $20k+ which was an example of the types of checks I was getting during this 2-3 year period. Now if you want details on how I made these types of earnings, the 4th stage of this blueprint (where I give you examples of how to do affiliate marketing) will explain that in detail.
Now things did go stale after a few years of this promotion (I explain in a moment what happened), but since 2018, I also had a recent resurgence of sales from Clickbank described here. But the sales activity has been around $1,000 a month for this.
3) Wealthy Affiliate, the $200-$300k (and growing still).
Details on this can be seen in this following report. But the short story is that after the above 2 opportunities either exhausted themselves and/or weren't doing too well, I had to switch to something that would give me stability.
Enter the Wealthy Affiliate program, which offered an awesome opportunity to make recurring sales. And ever since I switched to putting most of my time promoting this program, it has been good to me: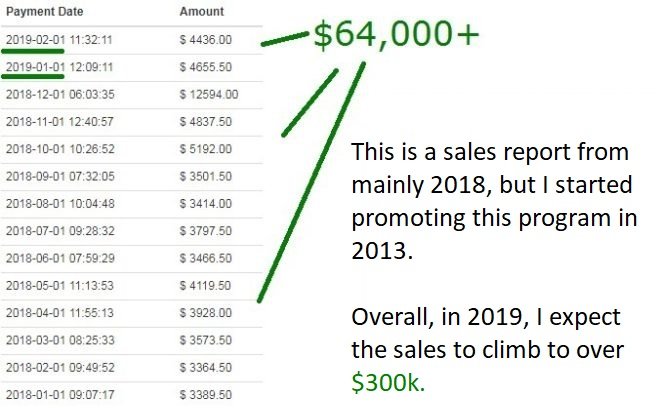 Further evidence for this income report (and more income reports for that matter) can be found here.
I also detail the perks of promoting this program such as having expense paid trips to Vegas to attend their private conference 🙂
Why did I switch from promoting Clickbank stuff to Wealthy Affiliate?
One of the reasons I stopped being so active on Clickbank was because the main product I was selling stopped paying people as much. I honestly think they just went out of business and I have no clue as to why, but Fat Loss 4 Idiots, went from paying me $20-$40 PER sale, to $0.01 per sale.
Who in their right mind would want to promote something that pays that little!? But either way, these things happen and as an affiliate, you need to adjust to the circumstances. And because the other programs that I though about promoting, weren't selling well, I had to make some stark changes…
I had to make an entirely new website.

I had to learn a new way of making money online, which was blogging and SEO. 
It was a necessary thing, but this is why one of the tips I give people who want to become a successful affiliate marketer is…
Do NOT make the product you're promoting the center of your promotion, focus on the niche instead!
Promotional opportunities come and go and if you put all your effort into just promoting a product, and not focusing on an evergreen niche, then you risk losing everything if the product goes out of business, which often happens, even if things appear to be great! 
When it does happen, you are forced to (like I was) to completely switch everything around in your promotions and even start over in a completely different subject. That is tough as it is literally a business killer if you're not prepared.
Targeting evergreen niches on the other hand is far more stable because if one promotion runs out, you still have an audience that will buy from you so promoting them a different, yet relevant product can keep your online business alive.
4) Miscellaneous niche sites making me affiliate sales.
While my Wealthy Affiliate promotion was and is doing well, I decided to expand my business by trying to conquer evergreen niches. And 2 options came up through the years (this is from 2014 to today):
One of these ideas was promoting freelance writing programs (this is a growing niche, and I promote one program on it here).
I also engaged in sports activities called mud runs throughout the years and found out this had been a huge, and growing niche, so I started a page on that and made affiliate sales there too.
I began a drone site almost a year ago and that too had some sales.
However, I didn't include the sales stats (the links above will show you them though) for these particular promotions because they weren't that huge (Maybe a few $1,000 in total).
And honestly, the program/promotion which brings the most money should be the one you focus on most, followed by the goal of scaling it, so obviously, I stuck to putting my time into promoting Wealthy Affiliate.
Either way, these promotions are still active and making some sales. I haven't excluded the idea of selling the sites associated with them, as doing so can earn me at least $10,000 on each, but I'm considering growing them in later times, and perhaps hiring some freelance writers to take care of it, since I'm tight on time.
Here's an example of the sales reports I have with these miscellaneous sites: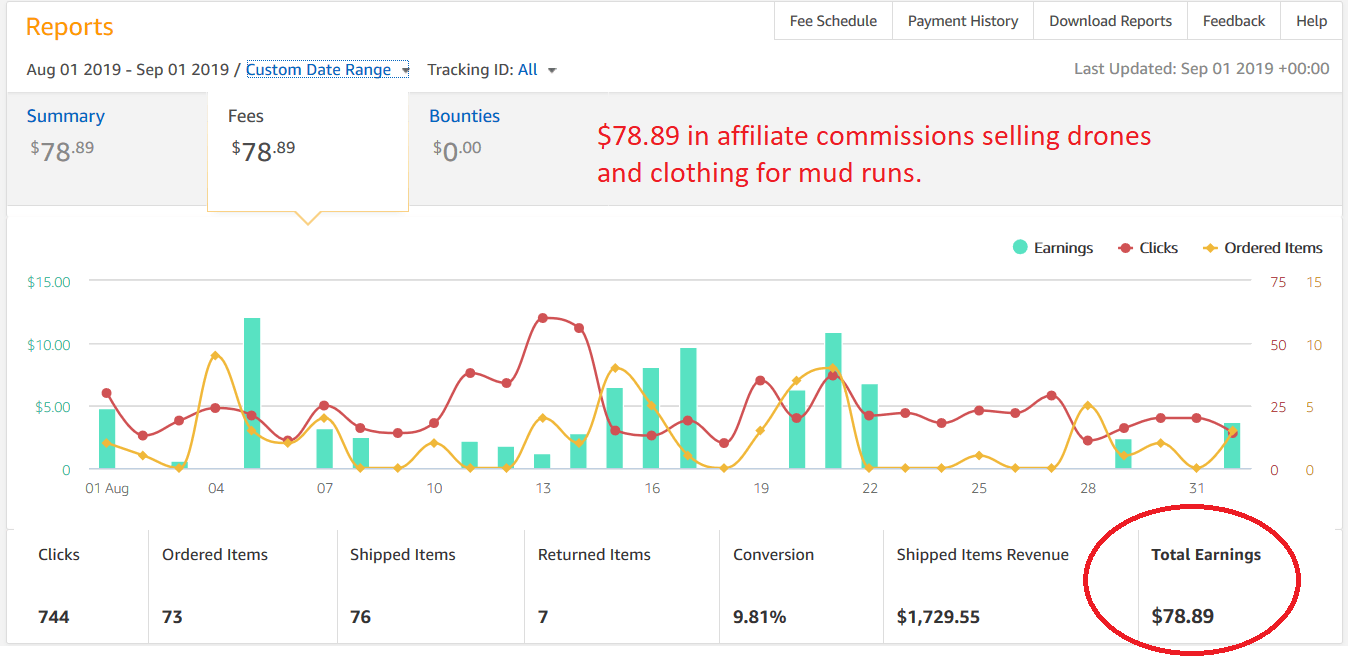 5) Selling domain names (a snowball of affiliate sales).
Wealthy Affiliate has a side promotion within it's program where every referral you bring in, who buys a domain from them, makes you $1 every year, in recurring sales. $1 a year certainly sounds like a joke, but considering that I bring them 1,000's of referrals every year (and it's growing), and about 10% of them buy domains, that's a few $100 right there, and being that they are recurring, I will make most of that money back the next year.
Add to it NEW referrals who buy domains, and that's the snowball affiliate effect I was talking about. These sales are not part of the $200-$300k I was listing above, BUT they are part of my overall sales activities and it's gotten to a point where I am making an extra $1,000 or more yearly (and it's growing fast).
Here is the case study on selling domain names, and here are the sales stats updated for 2019:

And so, these are the 5 main case studies which combine my affiliate marketing sales stats to the million plus level. As we continue with this blueprint, I'll be explaining the BEST ways you can achieve these kinds of stats too. But before we move on…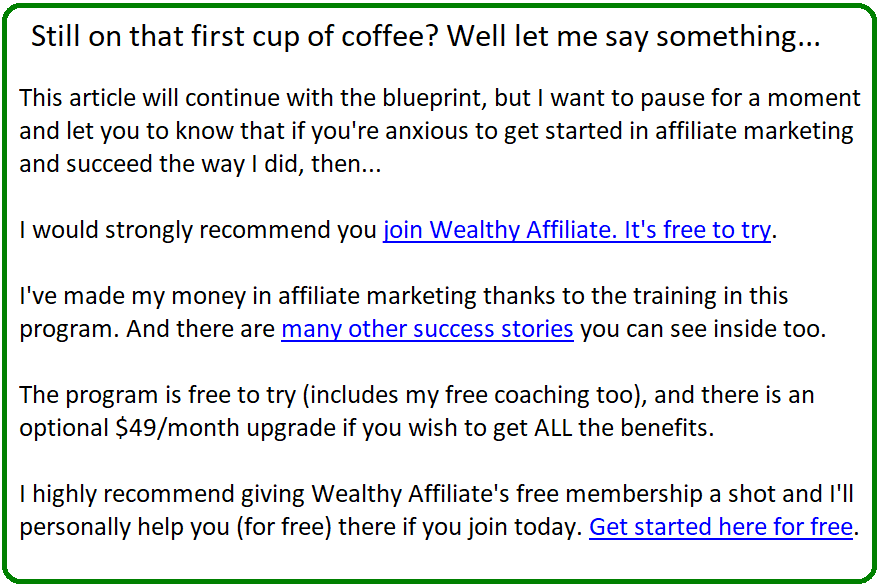 Now it's time to continue, so if you finished that first cup, time to go onto the second! 
Part 2) What is affiliate marketing (AM)? 
Odds are, 90% of the people who read this article will know what AM is, but the other 10% either won't or will think that they do, so I want to make sure that 100% of your understand exactly what this business is…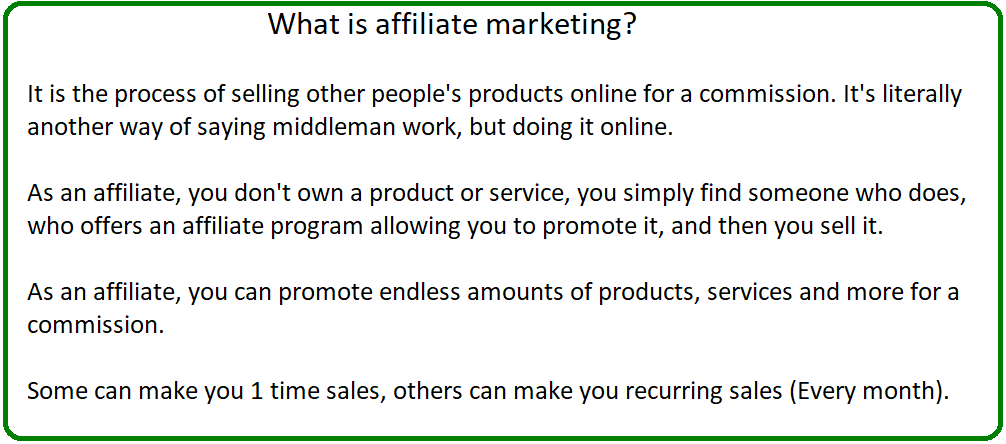 In my experience, the best possible outcome for success (making the most money) is finding the following things:
An evergreen niche that is easy to sell to.

A promotion to that evergreen niche that has recurring sales.
These 2 things will provide an affiliate with STABILITY in this business and sales that are guaranteed to come in every month. This is one of the reasons why I promote Wealthy Affiliate most actively out of all my projects.
The evergreen niche is people seeking to make money online.

And the promotion is Wealthy Affiliate which shows them that and pays me monthly for each referral I get them.
Everything else I've done before that promotion, during and after has been one time commission sales, and those carry their own benefits, but the stability of a recurring income model is what's safest because you can expect money to be coming in from a source every month and not scrambling to look for the next one time sale to survive.

Part 3) How Affiliate Marketing works (and how to get it right with 1 formula).
I have explained what AM is in the previous section, but despite that explanation, when it comes to taking action, this is where you have a lot of choices, options and ways to go about it. Here's just some practical options that I've personally used throughout my years, and many of these have made me good money: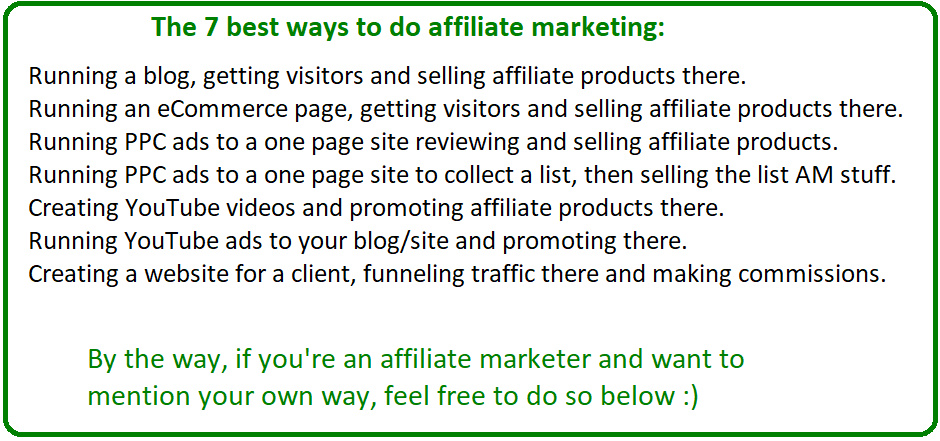 I'll be covering these options in the next section in detail, so don't worry if this doesn't make sense to you yet.
However, before we get to that, let me explain that while despite these (and other) options being available for you to make money through AM, there is a 2 sided coin with this (and upside and downside)…
The upside is that these numerous options present opportunity because there's more than one way to do it.

But on the other hand, the downside is that all these opportunities and options present confusion because people aren't sure where they should best start.
Naturally, this raises a logical question and that is…
What is the best way to make money in affiliate marketing? Beginners should start here…
The answer is funny enough not in any of the strategies I listed above, it's by actually following 1 formula, that can be universally applied to ANY legit method of AM and talk about here as well. The general formula is this:

This is one of the CORE keys to all success in affiliate marketing, in online business, in ANY business for that matter.
However, these 2 steps are not enough for someone to get started, so here is a more broken down version of the formula, that will make it much more practical to get started with it:
I have found that this 1 formula works best, because of 4 big reasons…
This formula generally allows the following things to be set in your affiliate business:
1) It sets the most stable foundations in place for an online business to be a success.
I'm going to be going over a list of things that are going to explain why this approach produces the most stability and chances of success at AM…
2) One of those stable foundations is that picking a niche with the qualifications of being…
A) Evergreen, B) Something you love and C) A specific problem makes it WAY easier for the person to get going with it. These 3 ingredients generally are goldmines themselves and here's why:
A) An evergreen niche market means you will always have the potential to sell stuff, anytime to the niche. Here are 7 examples: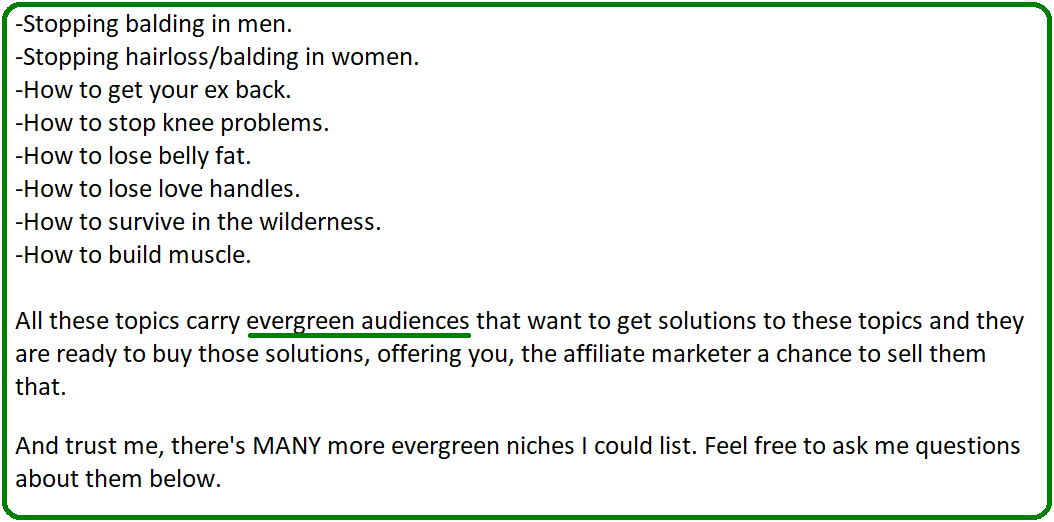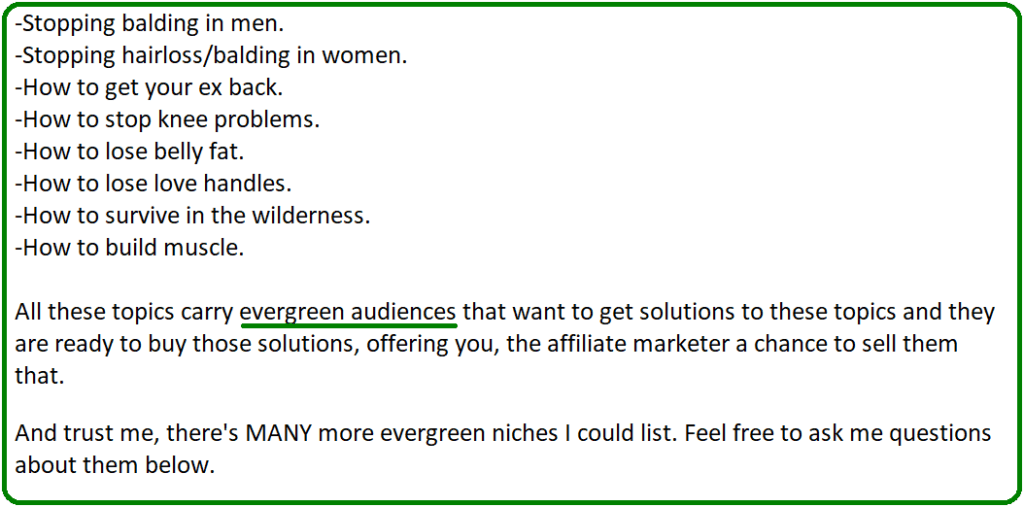 B) The passion and experience you have for a subject directly corresponds with the quality of the affiliate business you build. The more you know and the more passionate you are about it. 
Just reading this article, you can probably tell I have a lot of experience and PASSION for AM. Well that's because I do and if you seek to replicate that success with your own future business, you NEED to find your passion that you can correlate with the other 2 ingredients. Here's a good tutorial on helping you find that passion.
C) A specific problem is imperative for AM success. The reason why is because the more serious, immediate and SPECIFIC a problem is for a person/audience, the more willing and ready that person/audience is ready to buy a solution to it.
This is why a person who seeks to make an AM business will do better if they target something specific like stopping balding in men, vs someone who creates an AM site targeting health.
Health is one of those things that has a lot of branches topics, and no sense or urgency.

A man or woman who are losing their hair and scrambling to find solutions though? That is an example of urgency, and a specific kind. 
And you can also see 100 examples of this passion and evergreen formula in action.
3) A blog and/or YouTube channel is extremely cheap/free to start. 
With almost no risks involved in starting a blog (you just need to buy a domain name, aka website that's about $15 a YEAR) and starting a free YouTube channel costs nothing at all.
People mistake that these cheap costs mean you have less chances of success, when in fact, it's the opposite. A blog can start from pennies of investment and REALISTICALLY grow into a giant business. A free YouTube channel can also do the same.
Most people make the HUGE mistake of investing huge sums of money into programs, opportunities and systems that already charge them a ton upfront and when you filter out what's good and bad about those investments, you find that the only real thing they pay a lot of money for is…coaching and advice.
Don't get me wrong, having a coaching or training is VERY important, but with the plethora of programs I've been through, have seen and saw what people teach and charge for that stuff, it's INFLATED, highly inflated…
I offer my free coaching and details on that coaching here, but overall, through the Wealthy Affiliate program I mentioned above, that is where I coach/guide people through, and here's how that works: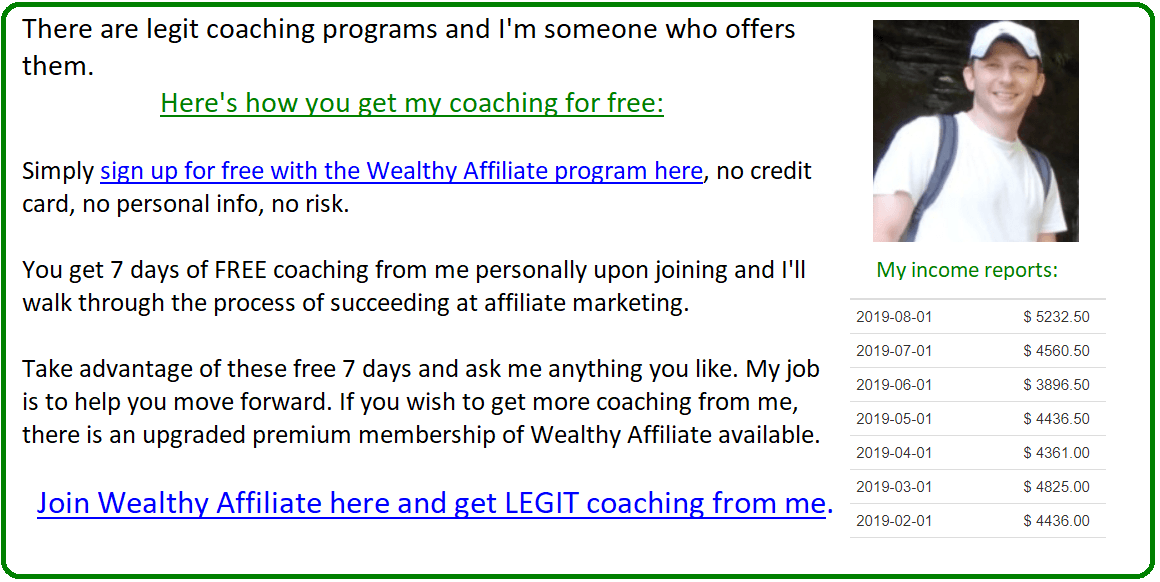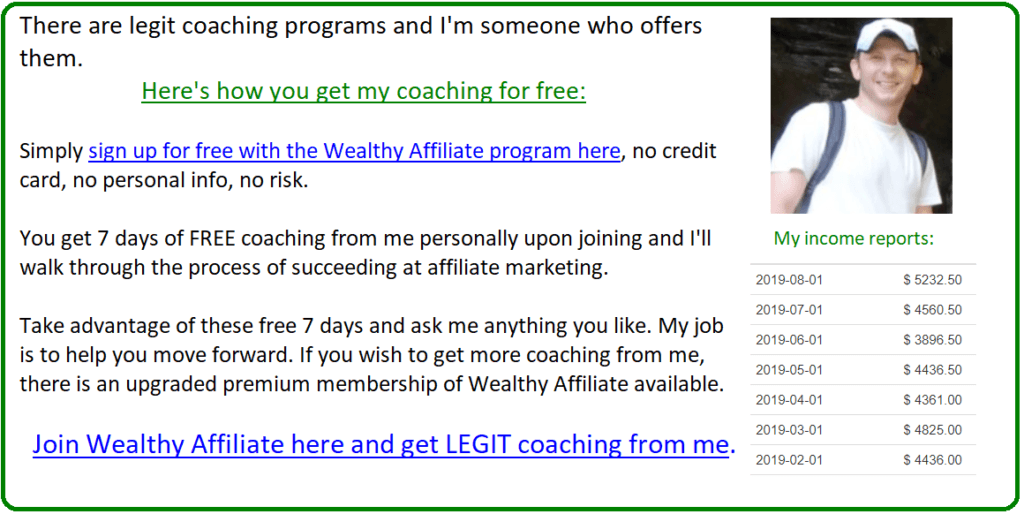 4) It allows for adjustment/flexibility and the survival of your business.
Having picked a good niche, having your own blog, and a YouTube channel (or both which is totally fine too), it allows you to control how you do things there.
If an affiliate program collapses (which I have seen happen often and have been on the receiving end of more than once), you will still have the blog, the YouTube channel and most importantly the evergreen niche that'll allow you to keep finding new affiliate products to promote to it.
You can also switch later on from promoting stuff to even selling your own stuff there. Because the core things will remain intact, so will your business, and so will your income. Yes, it can hit roadblocks, but these core things in place WILL help you readjust and keep making money to survive.
The good news is that Wealthy Affiliate will help you make the type of affiliate business that contains these 4 insurances. But I will continue with this guide and here's the next thing…
With these things in place (the 1 magic formula), another natural question arises, which is…
What are the best affiliate programs to make money with?
I can name 3 that I've worked with and still do to this day. They pay on time, they are easy to set up affiliate links with, but it's very important that your decision to pick one of these (or others that I will list), be done AFTER you have followed the 1 formula I listed above.
It's not the affiliate program or the product you choose that will keep your business going, it's the evergreen niche. As long as this is chosen the right way, as is your marketing approach to leverage that evergreen niche, you can use one or multiple affiliate products and programs to make money from it, consistently, because it IS always going to be…evergreen.
But here is my list:
Now there may be some of you who are familiar with these programs I've listed who are wondering why I don't mention any high ticket programs. I believe most of them are schemes and I list why here.
I don't want to get sidetracked and want to continue this blueprint, so you're welcome to check out this and any other side link I place in this tutorial for further content on these types of side subjects. Let us move on:
Part 4) Seven (7) different ways to succeed at affiliate marketing.
Remember, these 7 strategies are ALL based on the CORE formula I just covered in the previous section. None of these things really matter if the core things aren't set in place, so everything I will be discussing from this point, begins from the core principals I listed above.
When they are in place, ANY of these 7 strategies will work well and I will be giving you examples of each one so you can see how it can play out realistically. I've personally made money through AM with these 7 things and like I said before, you can find more ways of doing it, but these 7 tend to be the most practical in my experience…
I already gave you the list, but here it is again:

Let me break down each one, with examples and even case studies to show the proof that they work…
1) Running a blog, getting visitors to it and selling affiliate products on the blog.
Now remember, every single strategy starts from the core principals I listed above, so let's be specific about this strategy:
Your goal is to pick a specific, evergreen niche that you love and then you'll make a blog that has articles talking about the evergreen niche topic, with the goal in mind to solve the niche's problem. You will solve it by selling that niche audience specific products that do it.
This is seriously one of the best foundations if you're a beginner. It's cheap, it's flexible, and it all the opportunities to make you serious money. Here is one case study where I discuss how running my blog helped me earn full time.
The beauty of blogging is that the only thing you really lose is time because generally blogs take about 6 months to start getting good traffic and the goal of the blog you're making is to get the niche specific audience to your blog. All that is required for you to do this is to think up key phrases (keywords) these niche audiences type into Google and to write blogs with these key phrase in mind.
So suppose your niche audience is men with balding issues and one of the key phrases this audience types into search engines is "how to stop male pattern balding". If you write a blog with THAT title and explain how to actually solve that problem, you will be ranked on Google and will have the chances of getting those people to your blog.
The goal of the blog is to get as many of those people are possible to it so you can then sell them products that solve the issue. Here is an example of how the business model will work in this case: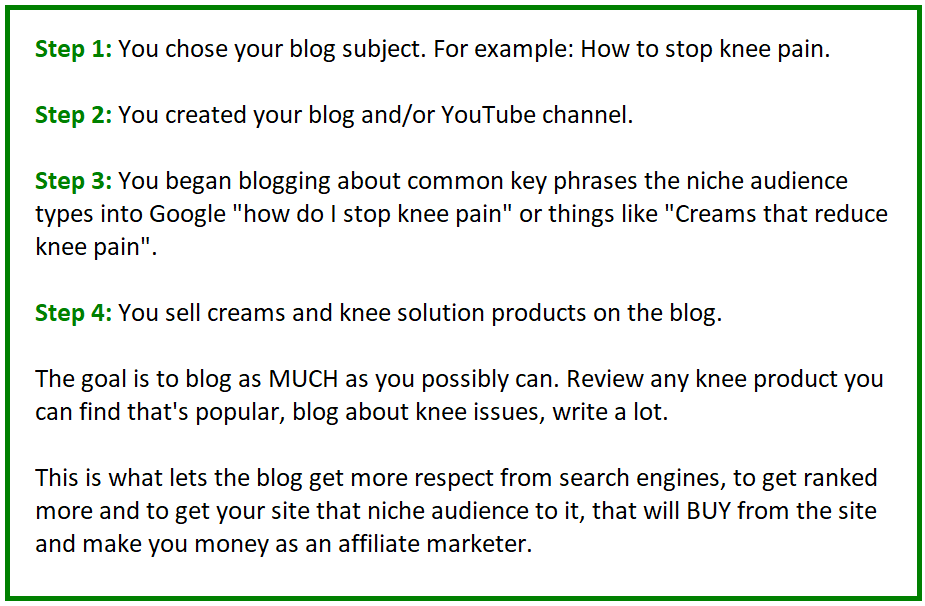 Now for those who don't write well or are impatient, perhaps this isn't for you, but it's still one of the most stable strategies for making money through AM to date and despite my high level of experience in this whole business, this particular strategy is STILL what makes up a majority of my success at this.
I recommend ALL beginners start with this strategy. It's the most cost effective, the most insured and the one which if you work at for at least 6 months hard, can really do well for you afterwards.
2) Running an eCommerce page but selling affiliate products on it.
Setting up your own eCommerce store is not that difficult to do and in fact, the set up process of that is pretty simple, as you have good programs like Shopify and Oberlo available to help with that set up.
The issue though is that most people do not understand niches and traffic and they don't understand that for any site, blog, eCommerce or otherwise, for it to succeed, it needs to get that right, buyer traffic to it. I find that people make a lot of mistakes with eCommerce stores because of this incorrect way of thinking, which is why, when you apply the 1 magic formula I talked about earlier, it makes this process a lot more likely to succeed.
I personally do not have an eCommerce store and just prefer to blog and sell through articles, but some people prefer this route, so here is how it can be done in coordination with AM:
I have described the way to make AM through eCommerce as safe as possible (in a financial sense), but it absolutely DOES carry risk because you will most likely have to pay for the niche traffic to get to your site.
Pages that are eCommerce related generally do not rank well on search engines organically because they do not have a lot of content, so they need to BUY the traffic to make the money.
Now one thing you can consider in a quasi blog/eCommerce store where you use the blog to talk about the niche topic to get the traffic, then funnel the traffic to an online store of yours. But that's basically double work because you can already sell on the blog itself, instead of linking to another page, so I advise 2 things here:
If you're a beginner, stick to the first method.

If you're not a beginner and have money, you can go this route, but you need to be advanced and know paid ads to make this work.
3) Running PPC ads to a one page site that sells affiliate products.
This is a high risk strategy that is 100% legitimate and has actually made me $100,000's over the years. In this strategy, your goal is to do the following within the 1 formula context:
Here's the thing about this strategy: It can really make you a lot, but like the lottery, is rare in that this opportunity doesn't always pop up and when it does, there's no guarantee that it'll work…
The context here is that there are popular, BROAD subjects within which hot products come out for. Think about weight loss, which is NOT a niche I'd ever recommend you go with, but has people creating their own programs and advertising them. In some cases, these programs can go viral and have massive audiences wanting to buy them and research them online.
And these things are what I call viral micro niches. These are niches that explode briefly in popularity but die out quickly.
They are NOT evergreen, but when they are hot, they can make you a lot of money. The risk is putting all your AM efforts into this and expecting it to last forever, which it doesn't, and when it dies out, so does your business.
But never the less, such things present an opportunity for a marketer to see this trending and leveraging it. And this is advanced (not a beginner strategy for AM). 
For this to work, you need to often wait out a popular product to come into the market (any works honestly, but typically weight loss and fitness related products are easiest to sell in this example).
Here are my case studies to prove this works (but also to explain the risks with it):
The first one is here, where I made about $200,000 from selling a Clickbank weight loss program with this method.
I have a second, which made me about $30,000, but it was short lived. I don't have one to specifically show you for this, but it's along the same lines as the case study above, except it was a lot shorter. I was promoting a diet program for an audience that was interested in a weight loss program for women (it was called PINK Method).
And third, (this is the case study) I had a blog suddenly have one VERY old article I wrote rank high for a viral diet topic that was and is still trending. When I ranked high on Google for this topic, I was getting in some cases, over a 1,000 visitors to the blog. Slightly adjusting it and promoting an affiliate product on it has made me $1,000's in recent months while I sit back and let it do it's thing and honestly, I pay nothing for this, there's no PPC involved in it whatsoever, so it's free money. It's all about adjusting to the formula I was talking about before and specifically:
People wanted to know about a specific, viral method of losing weight, my article was ranked high for it, so I adjusted the article to explain how the method works and how 1 program (the affiliate promotion) will help them do it. This is what led them to buy it and make me the money.
4) Running PPC ads to a one page site and collecting a list, then selling AM products.
If you can find an evergreen niche with a serious problem, and you can run ads to get these people to your site, there's VERY good odds that you can collect a huge, buyer ready email list from this.
Email marketing is a legit strategy that I often warn people AGAINST (here's why) if they are new because it's not an easy formula. But it is profitable and you can even use it with strategy 1 above, where you build your own blog. But let me explain how this works: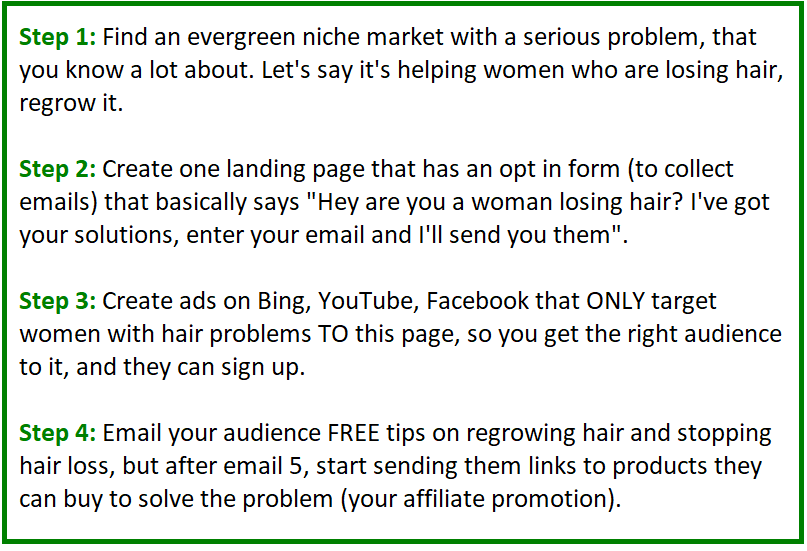 If this formula is correctly executed, you can basically print money with it, but that is often hard to get right. I gave you the most direct way to get it right and I've used it before and made money with it personally (here is an example case study where I built an email list fast). 
But it takes high level skill to collect an email list and to get the traffic to your site, and to then also send the right types of emails to grow the trust of your subscribers, so they buy from you, but again, if this can be done right, you can literally just let the formula run and make the money easily. The hard part is getting to that point.
5) Creating YouTube videos and promoting AM products there.
Selling AM products through YouTube is possibly the fastest and 100% free way of making money from it. If you're not a shy person, and don't mind showing yourself OR making a video where you record your voice and the screen (what I do), then this can work for you (here's a free program I use).
The only downside is that your channel isn't completely under your control and many things can cause it go down (again, this leads me back to saying that starting a blog is the safest way to go).
Note: This method involves making money without a website.
The basic formula for making this a success is this:
You can honestly create an entire affiliate business THROUGH YouTube with this method, but again it carries risk, so my advice is to create a blog and make YouTube videos alongside this to make it a safer business model for you.
Now for case studies, I've got a number of them, the first one basically compiles…
How I made $20k through doing AM directly through YouTube:
Here is the case study to the YouTube earnings and you can also view the actual videos I have that are making me the money to use for reference.
Second, I document a good case study from someone I follow on YouTube who makes a good income from AM through it.
6) Running YouTube ads to your channel or website.
I have to be honest, this is the method of AM I am still figuring out, but the basic formula is quite simple:
This is what I have found and seen to work, and one of the reasons why is because top level marketers like Alex Becker as well as John Crestani do this too (however, they aren't very good at teaching that in my experience). This is also one of the biggest strategies I'm seeking to master this year and will be breaking down case studies once they are available to show specific instructions.
This however, is still an advanced strategy, so again, beginners, do the first option, trust me.
7) Create a website for a client, funnel traffic there and make sales for them but keep a commission.
This is a realm of AM that is mixed in with other methods of generating money, but here you basically make a website and get clients to advertise their companies on it.
Some places do not offer a direct affiliate program, but still have great opportunities, so a way around this option is to let the client know you have a website on which they can advertise their stuff on, but for each lead you bring in, they can pay you good money. It's still affiliate marketing, but a bit backwards…
Suppose you run a website on how to grow muscle and you find a fitness related company without an affiliate program that's interested in advertising on your site (trust me, if you have a website with a lot of traffic, you will get offers like these). You can make a custom banner, offer a promotional code (discount), put it on the site, then when people click on it, it's recorded and you can get the compensation for it.
Again, this is for cases where a company you want to work with (or vice versa) does not have their own official affiliate program. I did this type of thing a long time ago with a local business I was partnered with.
Part 5) Success stories. I've got many to share with you.
Besides my own which I've documented throughout this blog post, I've got a lot to success stories I want to share with you that document people who used that 1 formula to make a great income through AM.
Firstly, I have 10 people I personally know here that all began with the same 1 formula I have shown, made their income through AM and even expanded into creating their own services and products. Some of these guys have become millionaires.
Secondly, I have another 10 cases to share here of people who also used this formula and also expanded that knowledge beyond AM. I don't know all of the people on this list, but I can tell you that they are doing well and much of came from affiliate marketing.
Thirdly, I have at least 10-15 more success stories, that are a bit more summarized than detailed, but in this case, the link I just provided will send you to a program I am promoting for any beginner to affiliate marketing, known as Wealthy Affiliate. Later on, I'll be describing it in more detail, but this is the program that helped me get good at this (as well as the other success stories I've listed and linked to).
This is the program you should begin with if you're a beginner at AM.
Part 6) Why affiliate marketing success rates are so low (and making sure you succeed).
There is an unfortunate "unofficial" stat when it comes to this business and that is MOST people who try it WILL fail.
I've been in that position numerous times and have had a chance to speak with 100's and hear 1,000's of stories throughout the years of people who got into this business and failed and I've seen correlating reasons as to why this happens:
First, the most common thing I find is that most people seek EASY, FAST solutions to making money with AM. With that type of mindset, the person is already basically saying they don't want to work hard or go through the learning experience. They just want the shortcuts.
If there's anything you should take from my blog, the experiences I've shared and the success stories I've shared, it's that this is not a get rich quick scheme. And everyone who has gotten somewhere in this business, from a few sales to a full time business worked very hard to learn and put it to use.
Second, because in my experience most people seek easy solutions, they create an evergreen market for scammers to fool them into buying their horrible, "get rich quick" programs that look like shiny objects. In addition, lately there has also been a huge rise in high ticket programs that attempt to teach you to make money online and I briefly covered why I don't use them above.
Let me say, there is not a SINGLE high ticket program I'd ever recommend and here is why.
In fact, I used to compile a list of the bad programs I've spotted over the years, and I had to stop because the list was getting too big. Now I just review the programs in their own separate blog posts and I find that's enough to warn people.
It's ironic to think but evergreen niches can also be unethical ones, and this is certainly the case for this market. Paid online surveys are a great example in this subject (They are mostly horrible scams).
Get a person seeking to make money online fast, offer them an easy, fast program, and you're making easy money, even though it's totally a scam.
Third, there's very little straight forward, TRULY beginner friendly, legit training out there that tells you this type of stuff and sets you straight from the beginning. I've gone through many, many programs and even with the few good ones, they very rarely tell you the best ways to start.
In my opinion (and actual results), Wealthy Affiliate is still the best place to start affiliate marketing if you're a beginner because it sets you off on the right steps in all regards.
I strongly believe that if you can get these 3 particular areas covered, that you WILL be able to succeed at affiliate marketing. And I'm not just giving you examples of the mistakes other people make. I've made these mistakes myself and lost years, countless money and time in the process.
By letting you know what I and many people have done wrong, it helps you get a fresh start and head the right way, the first time to make your success rate HIGH. Trust me, you do NOT want to make these mistakes, especially with get rich quick schemes. No matter how good they sound, do NOT fall for them.
Part 7) The final section…how to start a successful affiliate business of your own.
I'm going to divide this last part into 2 sections. My goal here is to help you follow the same steps I did to reach the point I'm at now and trying to help you reach too. And yes, in this section I am promoting something, that is very cost effective.
Section 1: If you're already convinced of the things I said throughout this article and want to get a successful affiliate marketing business started from nothing, just join and try Wealthy Affiliate for free here, and do their certification training.
Here's how it looks: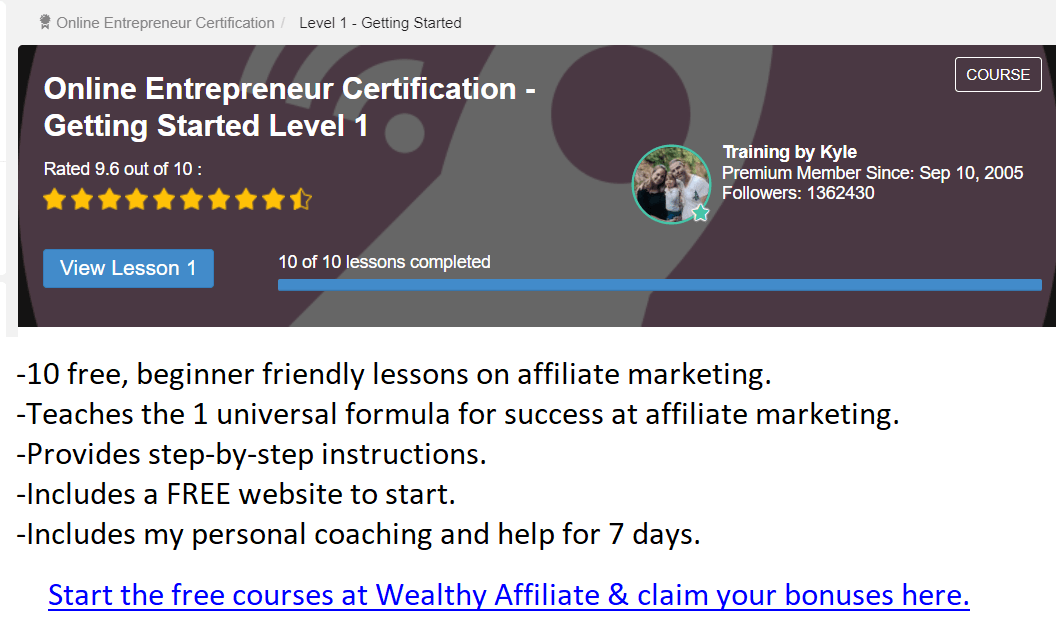 They also offer a cheap, upgraded membership ($49 a month) that offers insane benefits, but it's all explained in the free membership, among offering you great lessons and an actual head start in the business of affiliate marketing. 
Section 2: Now if you're not yet convinced about how to get started, or don't think that Wealthy Affiliate is where you need to begin, that's fine. Let me summarize it like this:
Affiliate marketing is extremely profitable, but the keyword missing there is this:
Potentially.
And sadly most of the time, that potential is never reached in this business due to the issues I described in part 6 of this blueprint (Wanting quick results, lack of ambition, easily fooled into buying bad programs and bad training everywhere).
If you want to succeed at affiliate marketing, you need the following ingredients:
Here are details on the actual program:
Here is a snippet of the things that you will benefit from and learn from this program: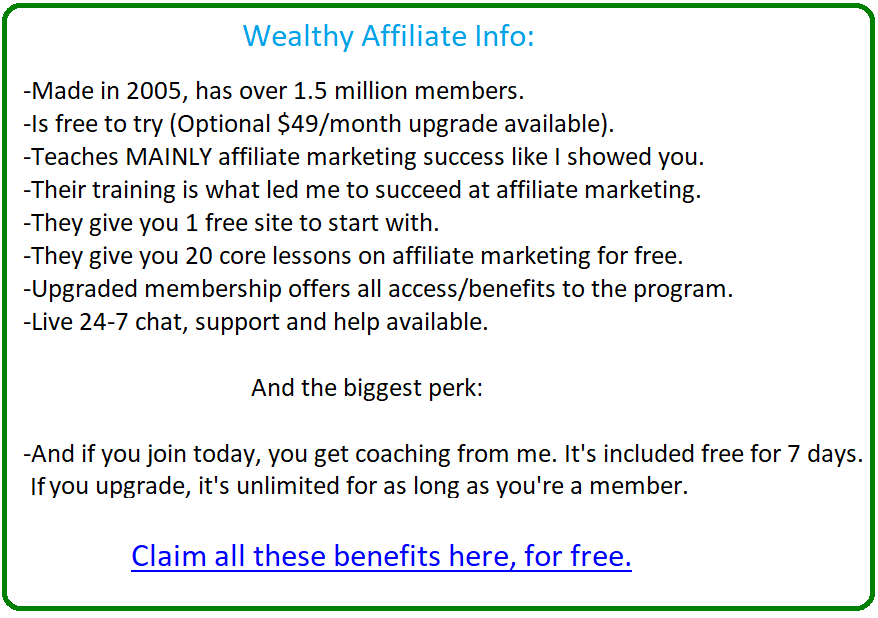 Now of course, my goal as the promoter is to get you to join for free and upgrade so I can make commissions, but I'm here to tell you that it's not mandatory (at the risk of losing sales).
I'm never for forcing people into buying or getting involved with things that won't help them. However, I am certain that if you seek affiliate marketing success, that Wealthy Affiliate is where you will want to do it through, so joining it for free, will show you that.
And whether or not you wish to upgrade later, is up to you. In any case, there are truly awesome benefits of trying this for free, so that's what I would recommend you do at the very least.
The goal I have with all of this:
My goal if you join is to help you understand and do the training within WA, so you actually become a success story yourself.
That is the only reason you'd stick around anyway, so that is the main reason I am there to coach you and that is included with the membership, at no extra cost. Furthermore, coaching and good training is synonymous within WA, so you will be getting that, 100%, especially if you're a beginner.
And now that you've gone through this article, here's a special message I have for you:

My final thoughts:
To date, this is the LONGEST and most comprehensive article I've ever written on affiliate marketing (or any article I've ever written to be honest!).
I imagine you probably drank A LOT of coffee while reading this.
I have literally shared most of the profitable lessons I have taken from this business and even shared the ideas and actual case studies that have generated me the $1 million PLUS in sales. I have also shared success stories that I can prove from other people who have also made this whole thing work and this is all to prove that this business DOES work.
I have no issue sharing this info with you and want to say that if you're still skeptical or believe that you aren't cut out for this, that it's not true. I started with that mindset, with nothing and I built up my own affiliate business one step at a time, thanks to my ambition and Wealthy Affiliate.
I know that this whole thing may feel intimidating (especially if you've tried it before) and the truth is that it can be IF you try to figure it all out at once. That's NOT how you do it, you need to do it step-by-step and let each step build your affiliate business and that is what Wealthy Affiliate will teach you to do the right way, without getting intimidated or getting it wrong.
I have been able to enjoy a lot of benefits out of life thanks to this business model and fully intend to go further with what I have learned. If you also seek to do this too, let me help you do that, within Wealthy Affiliate. It is the best way to start and get to this point too. I can tell you this because I went through it and so have many others who also started like me and became a success too.
Thanks for reading everyone! And of course, should there be any questions in the plethora of topics I've covered in this article, please ask below folks 🙂