I'm going to how you 1 special method of building an email list fast, from scratch. This 1 method has consistently produced results for me because it follows a very proven strategy and if you mimic it, you too, will be able to grow your email list quickly.
Now building an email list (stage 1) and making money off it (stage 2) are 2 very different skill sets and while this article shows you how to become successful during the first stage of it, the second one will require that you have some good marketing experience in turning subscribers into clients and customers.
My advice if you're not good at stage 2 is to get training from places like Wealthy Affiliate and do regular affiliate marketing in general first.
Here's how I stumbled onto this awesome list building method (why it works):
I'm currently involved in setting up webinar tutorials where I teach people the art of getting low cost paid ads on a specific network, that being Bing Ads. 
I have numerous success stories there but for this particular program I'm setting up, I wanted to show people how I could quickly set up projects, get sales and email lists set up fast.
During that process, I filtered and narrowed down the method which I will be showing you here today. This strategy allows me to set up extremely low cost ads, get extremely high value traffic audiences and turn them into subscribers or sales.
While this method is going to be a little bit broad, the program I will be releasing on this subject is going to be far more detailed and there will be an announcement on this site once it's ready. You're going to want to get that if you're serious about paid ads on Bing Ads.
But anyway, allow me to give you enough info to start and replicate this strategy on your own (I will also give you a great example to copy so you can try this out yourself if you want):
Here's an example of this list building strategy working:

Project 1:
I targeted a super specific niche audience (people with knee problems).
I created a simple ad targeting this group of people and offering them help to solve that problem.

I received 1,595 clicks on an ad I set up.

The ad went to a very simple opt in page (literally just a single page).

It collected over 300 subscribers.

I set the bids VERY low so I was getting a small trickle of traffic during this time, but the list grew on auto pilot. So yes, single landing pages WORK if you drive the right traffic to it.
It was from this example, that I was able to create this article and realize that by simply reusing this same formula, you could also get the same results.
What is this 1 method of collecting emails every time anyway?
I've broken it down into a few steps:
1) First, you MUST target very specific niches.
Take my knee example above. That totally qualifies. And here are a few examples of which niches you can use as well:
They have to be hungry, super specific and laser targeted (this is the best one). And the thing is, you can find plenty of niche examples where you can actually have one or more of these types of niches together. See a list of over 50 niches for reference.
The goal is this: It's a specific audience which needs a solution to a problem ASAP. Now for specific examples, besides the list of niches above, I have a list of hungry niches here, but here's other quick examples you can use for your own reference: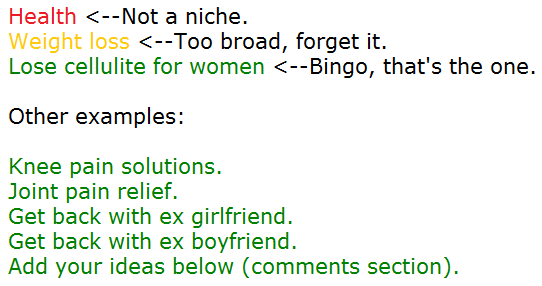 In each, notice the urgency factor and the specific problem going on. If you're going to build an email list fast, you need to target these audiences.
Do NOT get lazy and go for broader audiences, you will only punish yourself with higher costs, lower subscription rates and less sales in the long run, trust me on this.
2) Next, create a single landing page.
It could honestly be on an existing site you have (just make a new page) or create a free blog on a subdomain if you don't have a website (here's a free option of build your own website).
On that landing page you will want to keep it very simple and follow specific instructions on improving your email list sign up rates. In doing so, you are going to ensure that when the proper audience lands on that page, that they will almost be "forced" to want to sign up to get on your newsletter to get their answers.
This is what you want.
3) Get yourself a paid autoresponder.
Start with something cheap, like Aweber, I still use it and love it. People nowadays love to go with Mailchimp or Clickfunnels, but you should only upgrade to this when you have the money and the experience, until then, stick to Aweber.
Once you get it, set it up on your 1 page site (here's instructions on building a successful email list).
4) Getting targeted traffic time (I'm using Bing Ads for this example).
As long as you follow the 1st step to the hungry, specific niche advice I gave, you WILL be getting traffic to this landing page you set up and you WILL be getting conversions and signs up. I've consistently seen this strategy work because it's very narrow and focused on getting the most in need audience what they want: Solutions.
We're just using Bing Ads because it's one of the cheapest and fastest ways to get that traffic to your simple landing page and onto what could potentially become a huge and hopefully profitable email list.
Here's what you need to do: Read this pay per click guide and apply one of the above hungry niche audiences to it when you set up your first ad.
Everything after this point is

stage 2

.
Now I don't want to leave you guessing if you're building a profitable list or not, but what I can tell you is that the niche audiences I told you to pick out here are the ones who are looking to buy things, so generally speaking, you should have an easier time to sell to them, but you shouldn't do it right away.
Read this tip on email list building which will show you how to profit off those subscribers once they sign up and enter stage 2.
What should happen if you do all of this:
You're basically going to get the same results I did and you can re-apply them across any niche market, so long as it's hungry and specific.
Examples of this method in action:
Now comes the moment where I will give you a sample framework to use this strategy with. I will select one of the niches above and basically summarize how I would run them through the method you just read:
First, I will pick the "Get ex girlfriend back". We know my audience now is men who want their girl back. We know this audience is desperate for an answer.
Side note: You can use this strategy for affiliate marketing, not just list building. In this case, I could right away promote some sort of Clickbank product on getting an ex back (there happens to be one called Magic of Making up). But you could also choose to collect that list first, then pitch that program later on.
I'll set up the landing page and Aweber to collect the subscribers. On the landing page (read that guide above), I will say something very enticing like "Do this an increase the odds of getting your ex girlfriend back by 700%".
Then to get that tip, the people will need to sign up (they'll want to, trust me).
Then I'll set up the Bing Ads exactly the right way to pay very little and get those specific guys to the landing page.
Then I'll run them through a series of great tips and YouTube videos on this matter and then send them over to buy Magic of Making up. It pays about $30 per sale.
I'll make the commission and keep this page/project running so long as the profits keep coming.
That is how you should also do it, but:
Please remember, list building is HARD and the 2 stages are often hard to align together and get right, so if you have ANY uncertainty about this method, start from a less "bootcamp" like course and get into making money online with less risk, which is through an awesome program called Wealthy Affiliate. 
As much as I love my method, I fully understand that it carries it's own risks. If it didn't, I'd just rinse and repeat this strategy for any and all hungry niche markets I could find and retire by now.
But the hard part for me and most people in reality is the second stage. Most people believe it's the first, but that's the easy part. 
With the Wealthy Affiliate program, you learn all of this stuff too, but you execute it differently by creating a blog to get all that traffic. I personally advise (and practice) that method over the one I've shown you here, even though mine works (just remember, stage 2 is what makes it tough to work EVERY time).