My name is Vitaliy. I am glad you found this page, because I'm going to show you truly honest ways to make money
online. I have been in this industry for over 14 years and made a living doing so for the past 11.
I have shaped this site in a way that will:
-Clarify and make it VERY easy to understand how online marketing works and how you can make it in this business!
-Show you free ways to get started with no risk whatsoever.
-Help you spot and avoid scams as well as show you which products/organizations DO WORK to save you time, money and energy by showing you the right direction to success!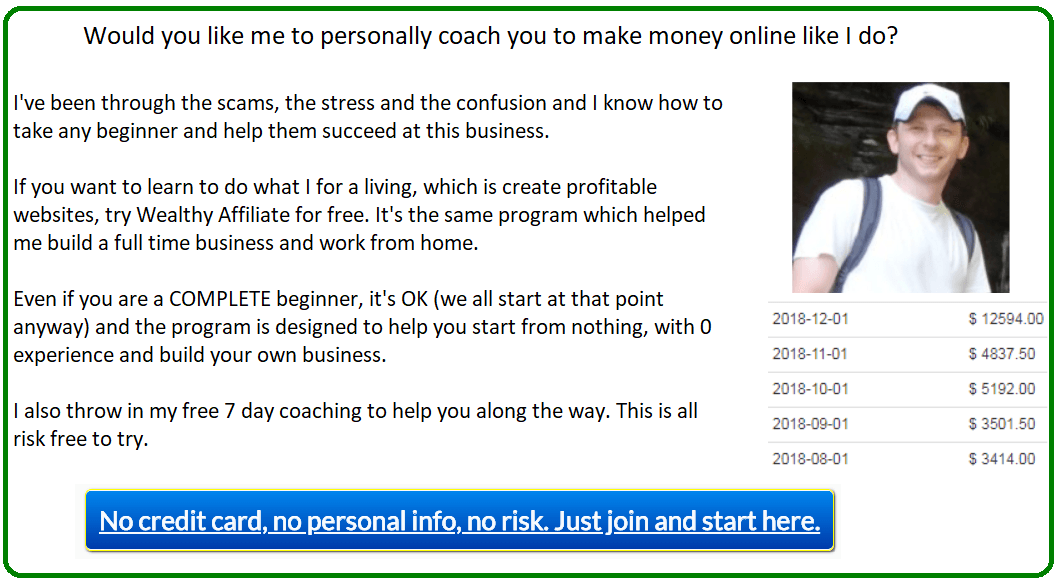 Everything you will find on this website is 100% honest. Everything you will discover here is all about making money or even a living through the internet using ethical methods!
I don't have an exact number on how much I've made, but it's $1 million plus since this about me page started! And it was all done through honest methods of marketing through the internet which I will share with you on this website!
Here is a brief look into the kind of money I earn working online: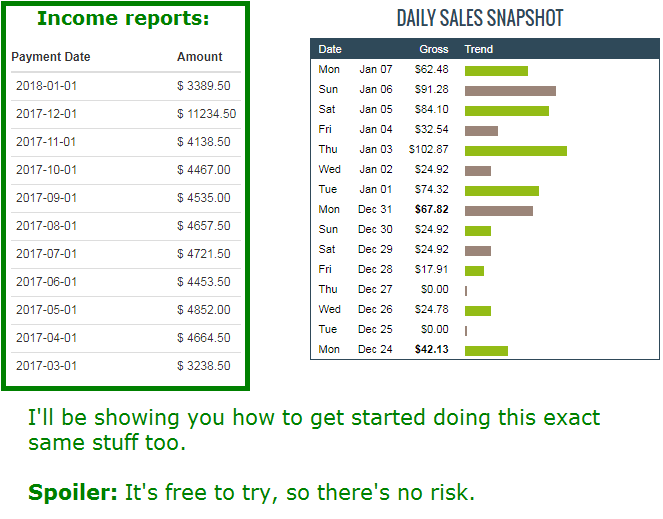 With these kinds of income figures, I was able to pay through school (Didn't have to take any loans out thankfully!), afford a great car, and enjoy many things in life most people my age couldn't (I began at 19, now I'm 32 and still in this).
I have focused entirely on making this my career and I absolutely love what I do! I get to help people, pick my own hours and am in control of my life.
This is something YOU too can achieve in this very same business. You don't need to have some sort of fancy college degree or possess any prior experience in this field. This I promise you.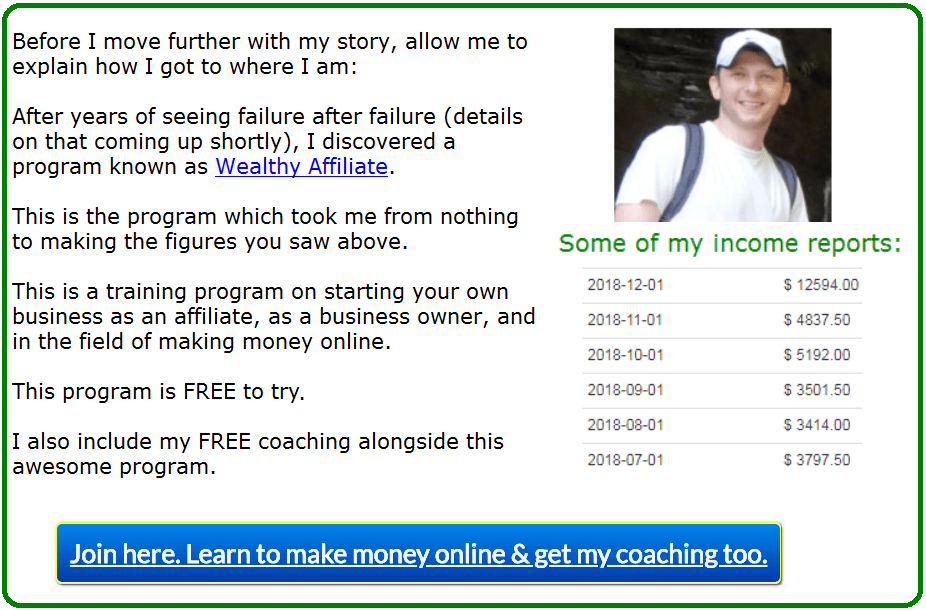 Back to my personal story on (I failed a lot in this business):
In fact for the first 3 years, I struggled as many first timers to online marketing do. I went from product to product which promised to help me make money "effortlessly".
First paid surveys online, then a product called $7 secrets and others. I won't say they were all scams, but a large majority of them failed to deliver on their promise. This seemingly endless trial-and-error crusade I was on was leading me nowhere and many times I thought about quitting, many times…
The moment I found Wealthy Affiliate, and how everything changed…
With a whole lot of failures and money wasted on bad programs, I'll never forget how with my remaining $30 in the bank, I discovered the very same place I talked about above, Wealthy Affiliate which is a online "school" for learning real ways to actually make money online.
Except unlike traditional schools, it's free to join, doesn't hype up it's promises like other products do and promised to teach me real ways to make honest money online.
Though I was skeptical to join them at first, why with all my bad experiences, I heard much praise about it from someone I trusted in the field of online marketing, so I took the plunge. That was in late 2007.
Fast forward to today, it was the BEST decision I ever made!
One absolutely CRUCIAL thing needed to make money on the internet is proper guidance. I got exactly that from Wealthy Affiliate. I've been a member there ever since and it has taught me the real ways to make it in this industry.
Through their teachings and implementation of them, I was able to succeed in this industry and now want to help you do the same. Believe me I know a thing or two about how difficult it is to make it in this business (and you probably do too if you've tried to make it work more than once) and once you have proper guidance at your disposal, 90% of those problems disappear.
Of course the rest is up to you and by that I mean taking action!
This is why I have always recommended and will continue to recommend Wealthy Affiliate to get that proper guidance. What they teach is not a get rich quick scheme, but a realistic, honest and ethical approach to this industry which I am very happy to have found.
They are also free to join with no risk (No CC or personal info). So the first thing I HIGHLY recommend is:
Checking them out. I'd like to help you with this. Check their page out here and you'll get personal access to me. I will be more than happy to show you around this place as well as help you get started! Here's all the other details: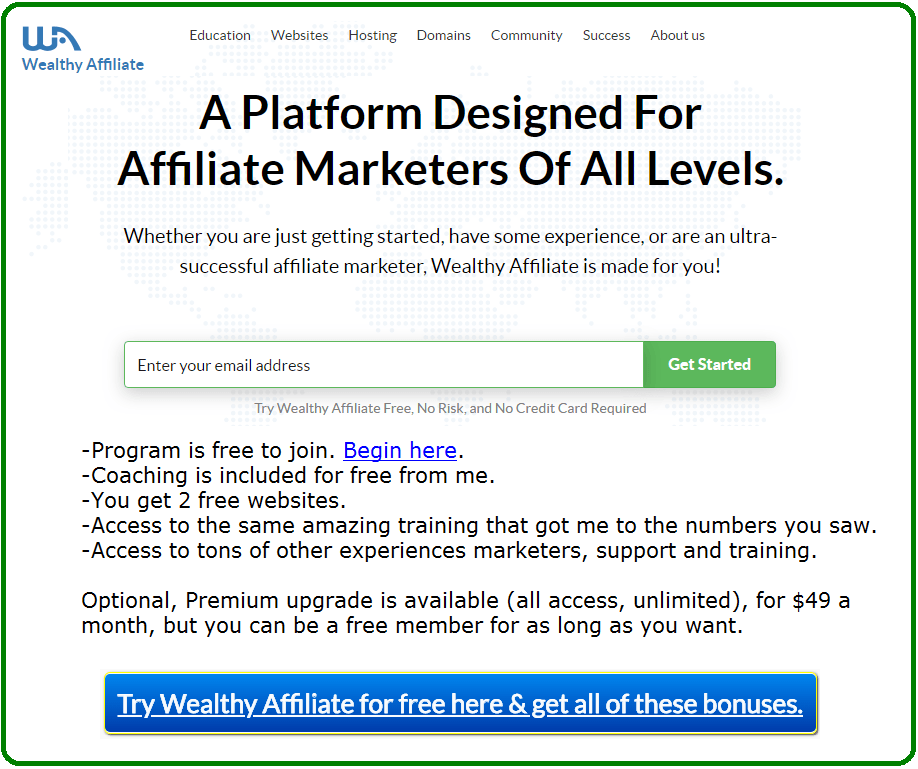 Have personal questions? Contact me here:
I usually reply within 24 hours. If you have any questions you would like to ask me publicly, feel free to do that below. 
If they are personal questions, you can also leave them here (I will not publish the comment if you don't want to me too and you can leave your email so I can get in touch with your personally).
Thanks! 
Vitaliy