I've run different kinds of online businesses and the one that has produced the best results for me (which I still run) is the one I'll talk to you about today, and best of all, it requires very little investment to try. Before I explain it, let me show you:
My personal resume in online business and how I'll teach you to start one: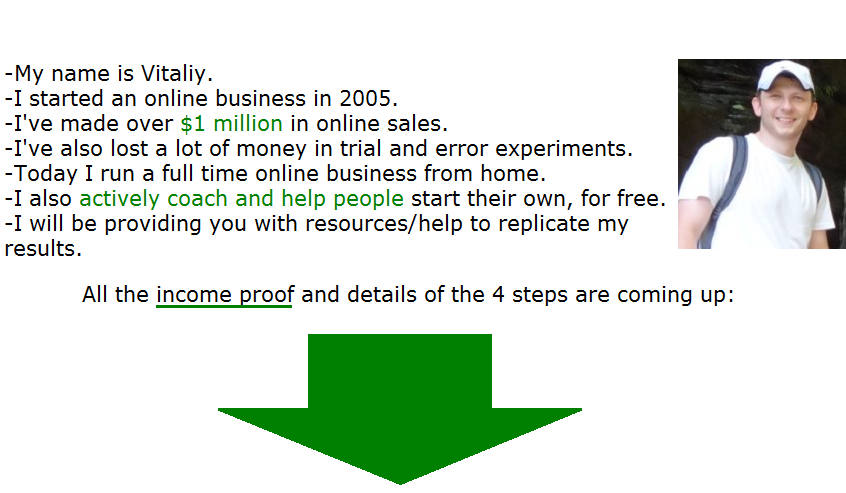 Here's a video which explains the process of starting an online business:
Now aside from the video I just included, let me say the remainder of this post covers the same kind of stuff the video did, just a heads up 🙂
First, let me explain how I reached success with online business:
This simple way of doing things (the 4 steps) and success with online business didn't come easy for me. I had to try a lot of different options and go through years worth of learning curves, and lose large sums of money lost in the process.
You can read my story about all of these losses in online marketing in the link I included. But my experience showed me that:
If you want to start a truly profitable online business, and start it for free, that these 4 steps were the way to do it and being that I've used them over and over, across one online business after another, seeing it work again and again, it's truly the way to go.
It's literally a formula. If you follow it, and work hard, you WILL see it work.
The 4 steps to creating a successful online business: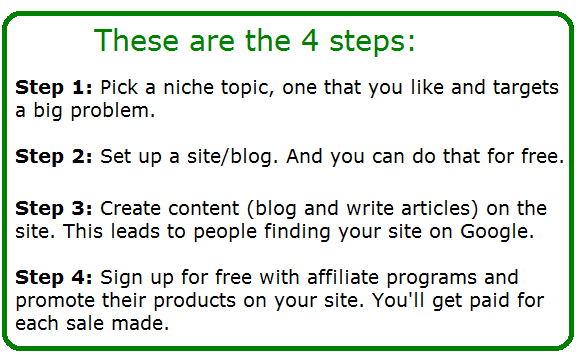 I'll be detailing each step shortly so you're not left wondering if there's anything you're missing. And these 4 steps have helped me create what is known as an affiliate marketing business (a profitable one).
And they are also beginner friendly and applicable to the other methods I mentioned above in the video. In fact, I did say they are universally applicable across different online business models out there and this is true. 
Additionally, I will also be providing you a way to start this stuff, for free in case you need help, and that is by offering you awesome training and coaching from myself, coming up and before you think I'm giving you a sales pitch, it'll also be free.
You'll see.
Where's the income proof that your online business works Vitaliy? Here it is: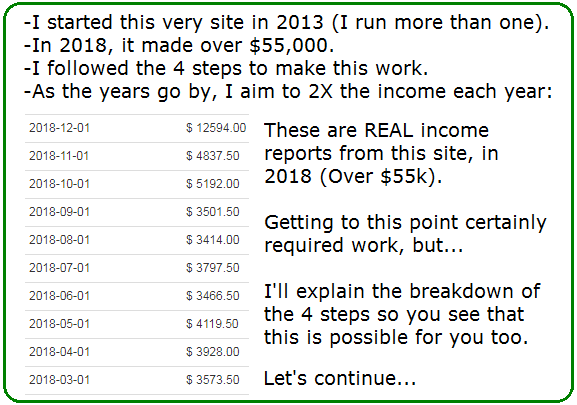 If you understand the following message, you're going to do very well:
Like I said it took me years to really understand what I'm about to tell you about the key to success in online business and I want you to approach this with an open mind, because I had my own ideas and misconceptions when I began that actually lagged my progression and results.
And today I still run into people who brainwash themselves or let fakers who pretend to be rich at this business do that to them. Trust me, look at this with an open mind and you will see the following:
Faster results in actually getting sales.

Less stress and a shorter or even none existent learning curve. 
Let's get to it:
A breakdown of the 4 steps to making an online business starting with #1:
If you remember from the steps above, #1 is…
1) Picking the niche.
Before any online business can take shape, you need to begin with an idea of what you want to build. Now without experience, 99% people tend to brainstorm things that honestly won't work. They just "think" they will.
They figure if they make a site and just "sell stuff", any stuff for that matter, that it'll take care of itself. Wrong.  
ANY legitimate and successful online businessman (doesn't matter if they run a physical or online business) will tell you that the key starting point is to…
Here's the first key: SOLVE a major problem people have (It's core and my profits in this business shows that solving problems pays).
But I'm going to add to that…
You don't just want to solve a major problem, you want to solve a major, SPECIFIC problem that people have and you want to actually be passionate about it. Why?
Need examples? I gotcha: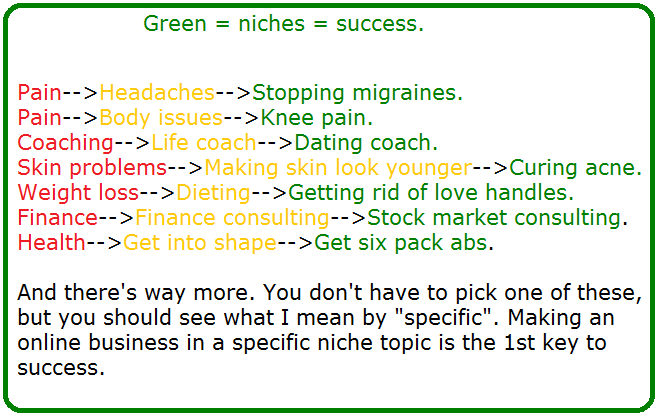 So that concludes the first step, and even though we haven't actually built anything, believe me, making the right choice for your niche is truly the key component moving forward.
Picking something you don't like (which 99% of people make the mistake of because they DON'T read stuff like this!) will just result in you failing, quitting and/or just starting over. I was one of the 99% of people who made this mistake and took years to learn my lesson, don't be like I was!
I'll help you with step 1 (see training/coaching below), but let's go into step 2:
Step 1 doesn't cost you anything, it's "just" an idea, but what you do after with it, is what can truly make it become something that can help you quit your job and work for yourself like I do.
2) Now step 2 is also free and it is this: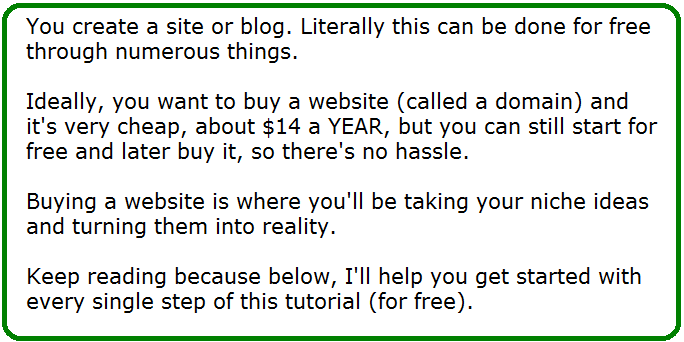 Well that was easy (and free), so what's step 3?
3) Building the site so it gets visitors (to make it money).
The site you make in the earlier step will essentially be "blank" and that's how all sites start, which is fine.
What exactly will we be doing with this site? Well in essence, it'll be a blog. Now before I move forward, you may ask me this (I get these questions a lot):
Why not an eCommerce site?

Why not just put up products on the site?
A blog allows you to make money off your site, for FREE.
eCommerce websites on the other hand require a lot of meticulous work and advertising on different paid networks and that can actually cost you a lot if you're not experienced. It's basically just a BIG headache if you're new, it's easy to lose money and fail, and those are the basic reasons why I don't recommend starting with eCommerce.
As for putting up products on the site, well that can either be an eCommerce site which I already explained the cons of, but if you think you can just set up a site, put up a few products for sale and make bank, you're wrong. 
You need something very important for your site to make bank and that is…TRAFFIC.
And this is where blogging actually becomes one of the most profitable things you can do, here's how: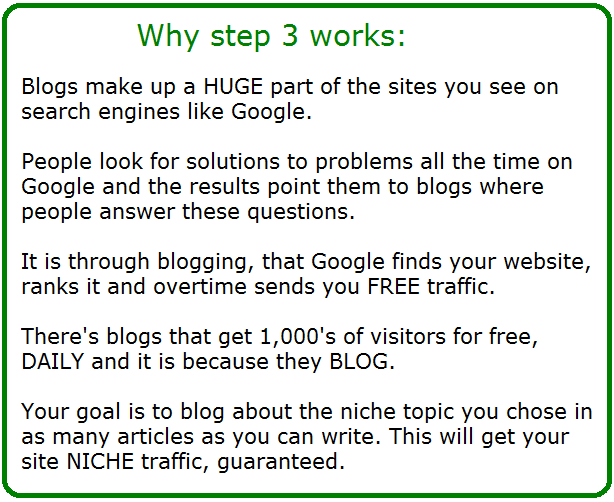 You may be wondering if this actually works. It does.
My site get's 100's of DAILY visitors because I consistently blog about the niche topic I chose. And to prove this, I have a number of personal sites that show these stats:
1) Here's a drone site that gets about 100 a day.
2) Here's my main site which get's 100's and even 1,000's sometimes daily. Here is a screenshot of the stats:
Now SOME of these stats in traffic came from paid traffic, but 90% of it is free, meaning I don't pay a penny for this. Google just sends them to my site. $0 costs people, an online businessman's dream.
You're welcome to experiment and look up things on Google, especially solutions to problems. I guarantee, that you will find masses of blogs that talk about that problem and even solve it.
And understand this (super, duper important):
Because you are blogging about a niche specific topic, the people who WILL find your site will be people in this niche topic too. You will be getting what we call laser targeted traffic and for money making purposes, there is no better traffic that you can get. This is the one that PAYS.
And guess what? That's been the whole formula, all along that I've been preaching. So let's finish this up:
4) The final, 4th step, this is where we make the money.
The main goal of step 4, besides making the money is to keep your niche audience in mind, and you need to consider the following:
What product or service will SOLVE the problem that my niche audience has?
Once you figure that out, you can either sell that yourself or through affiliate marketing offer a perfect product that solves that.
Want actual examples of this 4 step model to online business working?
Here you go:

Now you have the steps to start an online business for free (need help?):
In this final section of the article, I want to tell you that besides using this formula over and over again, for years, to make multiple, profitable sites, I've been personally helping people with this.
And just as I said earlier, I'm not throwing you some sort of high ticket sales pitch, because there are coaches out there that would charge you a ton of money to teach the stuff I just showed you.
No, this is not happening here.
Here's how I help people reach success with this stuff:
Can I really do this? A common question I get and here's the answer:
Yes. 
Some people get intimidated with the thought of creating their own online business, because they've never done such a thing before, so I totally understand why there may be hesitations.
But I showed you a free way to start it in this article and I promise you that the Wealthy Affiliate training, the free training that is, will really help become comfortable with this stuff and truly see that you can make this work for yourself.
I'm not promising that this is easy or 100% guaranteed. This business requires hard work, but you've got me, the coach, to personally help you there. Join here.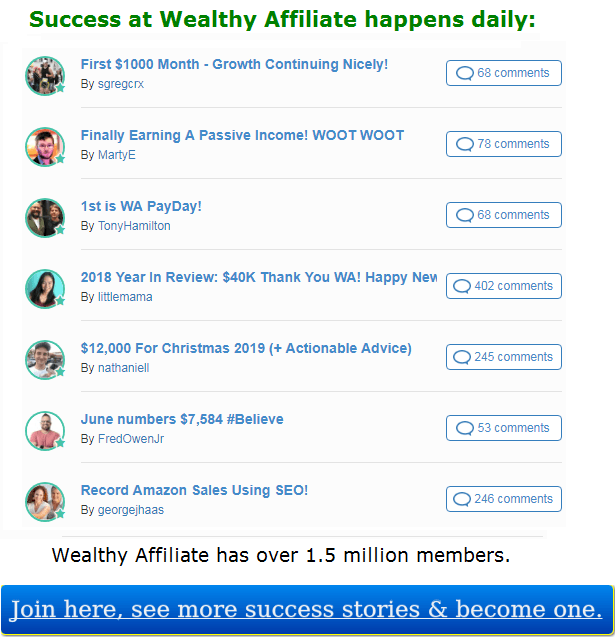 Because you can literally access this training in WA for free without having to commit to anything, I would recommend you try it, because it is truly an amazing opportunity that I once took the risk with, and I am very grateful that I did.
And finally, let me just say that not only is this success possible to achieve through this program, but the opportunities that you will experience upon success are priceless.
I can't tell you how much freedom comes with this success, but believe me, it's astonishing…