Quick Report: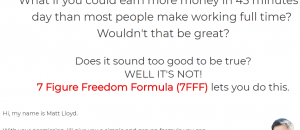 Name: 7 Figure Freedom Formula (7FFF) by Matt Lloyd.
Price: $1 trial, then $48 followup charge after the seven day trial. But there's a lot of up-sells which will follow this and I will explain them in this review. 
Overall Rating: 

0 out of 10 stars.
I don't like that there's a lot of money to put into this system and that I got a lot of mixed messages after my purchase (I'll explain in a moment).
I do like the education that you receive within this program, but there's a lot of money that needs to be spent before you get the full exposure to the program's benefits and that is a big problem in my opinion. I'll explain all of this in this review and let you know if this whole thing is a scam or not.
Is this a recommended program? No!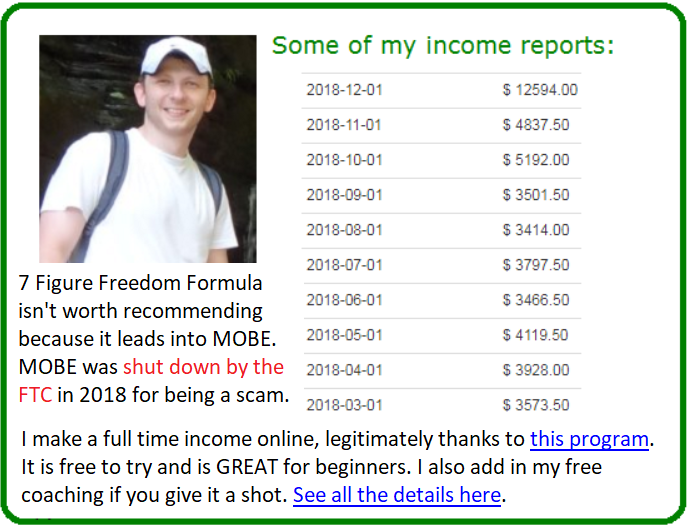 What is 7 Figure Freedom Formula?
It is a "prequel" system that takes you into MOBE, a gigantic online marketing program. By that I mean, once you go through the 7FFF sales page and sign up, you will be inside the MOBE program (well sort of, as a lot of it is closed off unless you purchase access to it).
And by the way, as of 2018, MOBE was officially called a scam and was shut down. But let's continue this review so I can further explain how 7 Figure Freedom Formula worked. Either way, you have the alternative program I recommended above which is legit, called Wealthy Affiliate.
Now my initial purchase, things got a little bit confusing to say the least:
Once I signed up with the $1 trial, I was taken through 2 up-sell pages, one of which asked me to upgrade to a "Pro" option of 7FFF which gets you additional benefits such as a 21 step system. Now this 21 step system is something I've dealt with before.
If I am right, it is actually a program called MTTB which quite honestly doesn't run you though all 21 steps unless you upgrade to get the full exposure to it. But either way, I didn't upgrade because I didn't want to risk the $137 price tag it came with…
Followed by that was another up-sell to a $10k formula system that is $197, and provides a list of additional benefits. Never the less, I decided NOT to buy this up-sell either.
Now after these up-sells, here's what comes next:
You are taken through a questionnaire and told to contact a coach and it is required that you do this. They basically give you a tour of the system. Now I decided to stop there because I had seen this stuff many times before. These are more like sales people, not real coaches. If you want their "real help", you need to buy some seriously pricey things (Wealthy Affiliate is where you can get real coaching).
Allow me to clarify what's going on:

So what you need to understand is behind all these up-sells, behind 7FFF is the big system I talked about (MOBE). It's just a door that leads into it. There are many programs and third party systems being made around it to promote it, with 7FFF being one of them.
Here is how it looks and I will explain what this means:

-Once you join 7FFF or any system out there that promotes it, you are inside MOBE. 
-After going through the up-sells, filling out your questionnaire and talking to a coach, you enter the 21 step program.
-This 21 step program is known as MTTB, but it is basically stage 1 of MOBE where you learn about starting an online business and selling expensive, high ticket programs (and MOBE is pitched as the high ticket system to sell). However, you won't get a chance to complete all 21 steps, because there is a requirement to pay $1,000's to continue and this is where they lose me honestly.
Now considering you pay the $1,000's to continue, the 21 step system is not the end of the road here, but rather a segway into the next stages of MOBE where you are pitched one expensive up-sell after another which go even further on the price scale. 
The pricing in this program is one of the main reasons why I continue to not recommend MOBE. There is good training within the system, but it is segmented in ways where you need to pay more to discover more and that is not something I am ready to invest in. It is also why:

Keeping it honest, and letting you know your options:
Let me say I wrote this review BEFORE the MOBE take down happened, but did add updates throughout to help people know that MOBE is officially OUT and no longer working.
So this continuation of the review is from the original review (before that event happened): 
Now to be quite honest, besides the alternative program I suggested, going back to MOBE, there are options where you DON'T need to purchase these expensive things programs within MOBE itself and can promote the various other sub programs within MOBE that are not part of that main sales funnel I just described. You can also re-promote the same $1 trial membership of 7FFF.
MOBE has grown a lot in terms of offering more value, for less prices over the years and one of the things they've done is offer training in various topics in internet marketing to general business training, but this isn't free stuff and each of the new things they offer do cost money and as far as I know, you need to pay for it not just to access it, but to promote it.
Now the prices here aren't the crazy $1,000's of dollars I mentioned above, some are $100's, others are less, but the point is, you can go in different routes within MOBE once you join.
Final Rating: 7 Figure Freedom Formula.
Red Flag
2 out of 10 stars. You already know that the 7FFF is not the main problem, it's MOBE and the other thing to take from this is that there is the possibility to succeed with it, but you do have to risk a lot of money if you're going to do this.
My final thoughts: 
It seems everyday now that I do a review, I run into a program that ends up being a MOBE partner and it's kind of annoying to keep seeing. What gets me more about this whole experience is how there's just so many options to work with inside MOBE, but they all require some or a lot of money. 
It feels like a puzzle board, with each piece costing me something and I can't complete it unless I buy the right pieces. I just don't like that. I have said before that people can make money with MOBE, but there is so much more to this you need to keep in mind, the biggest being that financial risk I talked about and it is a risk I am not taking, but if you are, at least know what is happening when you get into the system, and now you do!
Now for an alternative:
With every program that ends up promoting MOBE or some sort of high up-sell program, I am inclined to keep telling people about my #1 recommendation and why it's a better option, here's the quick things to note on why this is:
Anyway, thank you for checking out my review of 7FFF! If you are a member of this place or my alternative #1 recommendation, agree/disagree with me, please let me know your thoughts!