Quick Report:
Name: 30 Minute Money Methods by Shelly West.
Price: $37 for a basic membership (the one I currently am with), then 2 up-sells which I didn't buy, whose prices are $47 and $97 (then downsold to $67). These up-sells are supposedly going to give you more bonus options.
Overall Rating: 2 out of 10 stars. I considered giving it more stars, but there's 3 major problems with this program:
1) Info doesn't suite everyone. In fact, only 1 would possibly suite me personally (I'll reveal them in a moment).
2) I really believe you can Google the methods themselves for free.
3) There's 1 option which tries to get you to make a website which leads you buying a domain and then hosting, which you will pay more money than you need to pay. In short: A hosting scam? Perhaps.
I'll explain each problem and also explain what's inside the program (since I did actually buy it, unfortunately).
Recommended program? No!

What is 30 Minute Money Methods?
Well for at least what I purchased (the basic membership), it's a site which shows you 4 ways to make money from home. I'll briefly explain each method. Here is how it looks inside the program: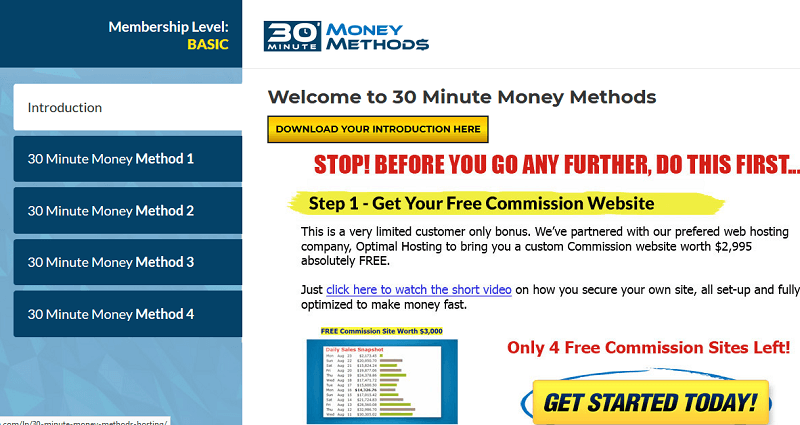 Each method briefly explained (an inside look!):
Before I get to the problems with the program, let me briefly explain each option of making money with this program. Now I do want to add that for a full experience, you'd have to buy the program, but honestly, I wouldn't do it…
Method 1:
It's an eBook which shows you how to make money via doing "voice overs". Basically you get links and explanations on how to record your voice for companies and other miscellaneous places to make money. The info is OK, but there isn't that much detailed instructions on the process. It's a bit vague and more like you're reading a definition and index of the opportunity.
I didn't see any personal stories, no case studies, nothing and this just lends less credibility to this option. Now I do want to say that it sounds great and I was surprised to learn about it (this was a first), but I felt like I could have seen more, more images, more tutorials, more info to get started with this option…

Method 2: 
It's another eBook and it's 17 pages long. The short idea behind it is that you are shown how to sell photos online through various popular sites like iStockphoto.com.
Honestly, this method isn't a scam and there are indeed people who make a living and/or some money, but for a program like this one to tell me I can make money on it but not provide a single picture or illustration to show me evidence is another issue I have with it.
I don't deny that it's telling me the truth, but frankly, there's nothing special about this eBook in my opinion…
Method 3: 
A 16 page eBook on freelance work, particularly writing up content for people. There's some decent info here and I would say this method is the one I resonated with most since I do blog writing, but for myself, not others. 
I will say the info itself is good enough to help people get started, but there could have been more and I say that from personal experience on the subject, plus the fact that I recently purchased a decent program on this very same subject and I'd say it's more comprehensive and the one you should think about checking out instead of this program. Here it is.
Method 4: 
This is another eBook but the topic is making money via online gaming. You learn about stuff on which games you can earn credits with that turn into cash, sites that pay you to play their games and things about accounts, selling them and making money that way (in addition to other stuff).
Again, this, like the other options isn't a scam, you can make it work, but the info is just "meh" in terms of quality. I wasn't surprised or astounded by anything I read in this option to be honest.
One more important thing about the members area:
There is a 5th PDF which summarizes the 4 options above, BUT it also briefly summarizes 2 more options, but in very vague tutorials. I assume those 2 options are part of the up-sells I didn't buy, but in any case, one is on being a middle man in various opportunities out there and one is about doing different things on social media to make money. But like I said, the detailed info is likely in the up-sells.
So now I'll explain the 3 major problems:
1) What if none of the 4 options suite me? 
This is something I personally found to be an immediate issue as I was going through the options. I only resonated with one as I said before (the freelance topic), but the others didn't really interest me much.
People who seek to make money online are often taught to get involved with projects that don't interest them. Now it could be the case that you can stumble onto a new type of opportunity which is perfectly suited for you, but that is a rare thing.
And what's more is that this program doesn't really explain the methods you're buying until you buy them, so you'd need to get lucky and connect with a method once you buy it, or else you're stuck trying to figure out a new thing.
2) Google will find you the same kind of info as this program.
I have no doubt. Literally look up any method I described above and you'll find more than enough content/sites/videos on the subject and I'd dare say you'd find more quality info at that. 
It's a bit ironic too. Had I stumbled onto 30 Minute Money Methods and it was a free resource, I'd give it 5-6 stars for being comprehensive and free, but to charge me $37 for this info isn't right. 
I often criticize programs that charge for info and this time, it's no different. There's a right time to charge people to information and training, but you should give them free stuff and let them decide if they are ready for a purchase after. That's my position.
3) Is there a hosting scam in this program?
Maybe. On the main members area, there is a click button that takes you to another page which says it'll give you a free site that is usually $2,000 worth. This is a phrase I commonly encounter and it is usually connected to a way of making money by having you get the free site, but you pay for it's hosting, which is how the money is made. 
I won't comment on if it's a scam in this program, but I've seen enough of these examples in the past to know that I wouldn't do this myself.

Final Rating: 30 Minute Money Methods.

Red Flag
2 out of 10 stars. I fail to see the 30 minute money making part of this program. Some of their methods will require a lot more time to work (if they actually work). In the end, I can't say this program is a scam, but I can also say it's not a good program either.
My final thoughts: I'll show you MY personal method for making money online.
Call it method 5 if you want, but this is my personal thing I want to show you (and for free, woo!) where and how I make money online. My method is creating affiliate websites, where as a middleman I sell products through the internet. My website/s attract visitors who then buy from the site, which provides me with money.
Now I don't want to end the explanation there, but I will tell you that the VERY detailed method itself is explained here. 
In that explanation, I will recommend a VERY good training program that made me a full time income. It will show you how to do the same thing I do with affiliate websites in that you will learn to create your own.
The program is fortunately free to try, there's immense quality info you will not find for free and you can choose which direction you wish to go in.
Shortly put: It's better to use my recommended program to make money online than 30 Minute Money Methods in my opinion.