Making money online in 2020 is much easier today than it was a few years back, because the list of legitimate opportunities has grown and I will show you 7.
Here are the results I am getting from using one of the 7 methods (the last one):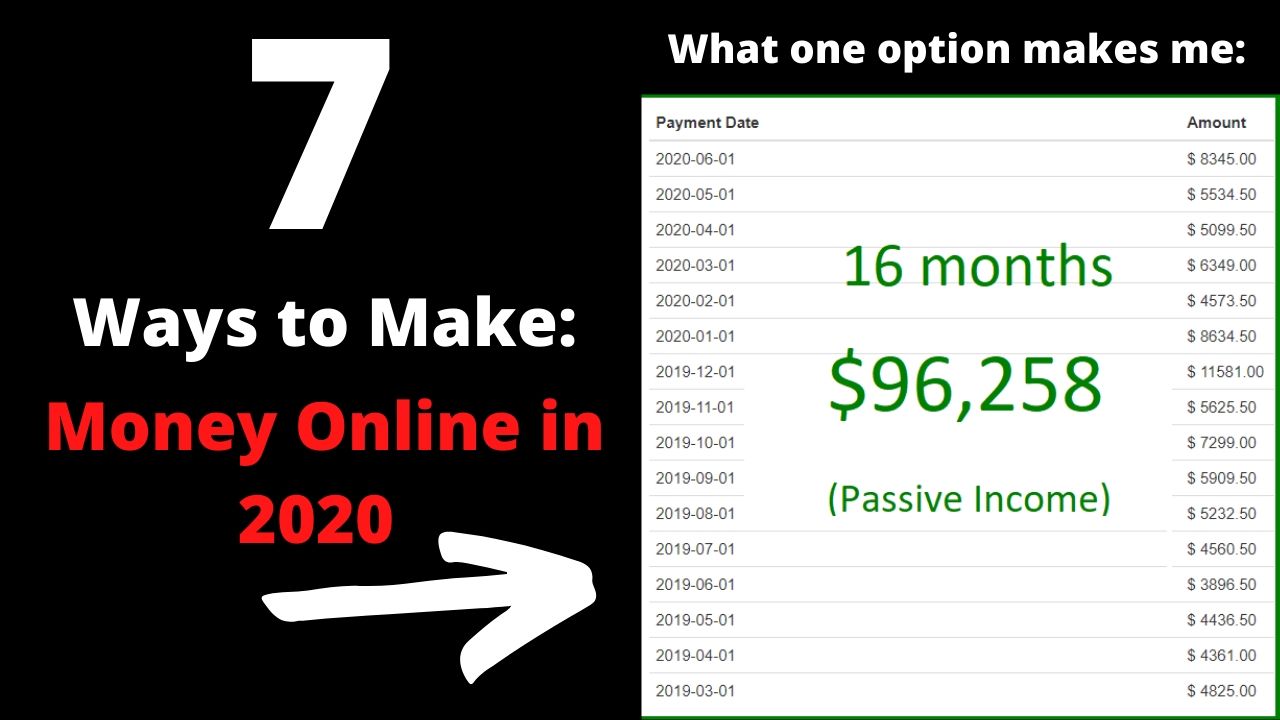 Now this is from one of the options, you can go with it, or one of the other 6 or even multiple ones. Either way, you have a lot of legitimate options to pick from that will suite your preference/s.
Here is a preview of the 7 ways to make money online in 2020:
Tutor.com
Textbroker.com
Freelance writing
Task Rabbit
Udemy.
Local marketing work.
Running an online business blog.
A quick note before we get to the details of the 7 options:
While they're all legitimate, every single choice here has it's own set of requirements.
Some may involve you having to write well and possess basic English skills while others may involve that you are able to teach people basic subjects.
Others, like the one that personally makes me a full time income (It's choice #1 out of this list) requires that you work hard and make an effort to succeed.
When it comes down to it, all these options require that you actually work with them. These are not get rich quick schemes. Legitimate opportunities require legitimate effort. 
And with that said, let's do this:
How to make money online in 2020. The 7 options:
1) Tutor.com
If you've ever had awesome grades in school/college on popular subjects that many need help in, I'd strongly consider signing up with Tutor.com (that link points to their application page).
The reason why is because you can now earn money teaching people about popular subjects that they need help with and it's ALL done online. When I hired tutors, I had to travel to get training, but here, you can connect with anyone who needs help, get paid legitimately for doing so and make good money.
This can help you pay for personal loans, debt, maybe even generate a decent income from home, you name it, and you can help people out with getting through tough subjects in school.
How much can you earn? The more popular the subject, the more people you can tutor and the more you can make, so I'd say $100's and possibly more if you can fit in more people.
2) Textbroker.
This is an opportunity that has existed years before 2020. If you can write fast and well (no need to even have an English or writing degree), Textbroker.com is a site I'd strongly consider joining, where you'll be paid to write 100's and possibly 1,000's of words for people who own websites and need to outsource their content management. 
With every single review I've read on Text Broker, they are ALL positive and the only "negative" is that you get paid a few $100 a month. Obviously, the more you can write, and the better/faster you are at it, the more you can earn.
I've recommended Textbroker several times throughout my site and it deserves a spot on this list to make money online in 2020 for SURE.
3) Freelance writing in general.
This is an industry that is booming and as far as I've seen is at it's highest in 2020 (it will continue). All across the world, people are making websites and like with Textbroker, seeking to outsource. These people visit the following sites to get themselves good writers: 
UpWork.com (Hire or become a writer there, formerly known as oDesk.com).
Freelancer.com (Same idea as UpWork.com, it's also one of the big sites for this).
iWriter.com (Currently they aren't accepting new applications for writers, but I'd leave this on your list if you're good and spots open up later).
Signing up with these particular sites and getting gigs is one of the best ways to build what can possibly be a FULL time income online, which is what potentially makes this choice a better option than Textbroker.com, but the other side is that it's more difficult to land the big writing gigs.
Now if you are new and need help with getting gigs to this place, I'd recommend a learning program like My Freelance Paycheck that'll have you learn from an expert how to get high paying offers from these sites.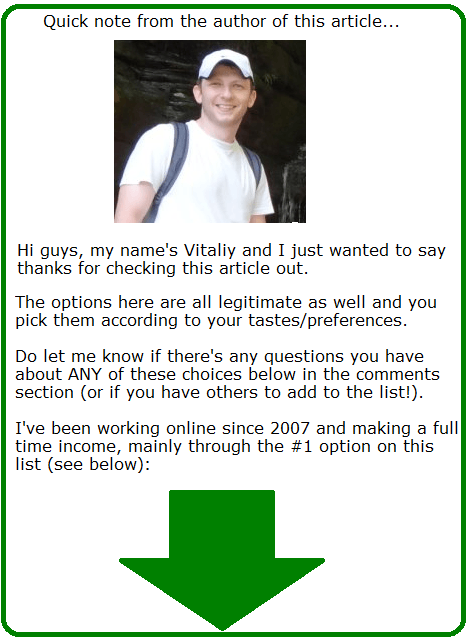 4) Task Rabbit (online gigs, for offline work).
If you're an old school person who is great at handyman services but not so good at modern day computer, "techy stuff" or even writing.
Well then, this is the option for you (TaskRabbit.com). I actually recommended it in a previous top 10 list I did here, but in 2020, I'd still recommend it. 
Say you're a plumber, or an electrician, handyman, mover or you know how to assemble furniture. Well guess what?
In my millennial generation, this is a skill that is in great demand, so much so that we call up people to do this for us and it is through Task Rabbit that we find people for these gigs. 
Sign up there and you'll be able to find local clients who need you to come to their house and fix/assemble their stuff. The prices (what you can earn from this gig) are negotiated and the payment is made through the Task Rabbit app.
If you live in a big city or more populated area, you are likely to get more gigs this way as more people = more opportunities for this stuff to be in demand.
5) Udemy.com.
This is another popular opportunity that I also included in my previous top 10 list of work from home companies. Udemy has actually grown a lot since I first wrote about it and reviewed it. 
This place has 100,000's of people who are students and you can become one or (for the money making opportunity) create courses in just about any field (the more popular it is, the more you can earn), charge a price for enrollment, get students and get paid per enrollment.
One can call this place an online college of sorts with it's own online campus and teachers, but it's more free market because tuition isn't really what you'd think it is, it's simply students figuring out what they want to learn about within Udemy, finding courses on it, paying for it and then that funds the professor.
Now I'd say this place is a great opportunity if…
You are great at certain school/college subjects and can organize a course (here's the link to Udemy.com). You can literally create blogs as training tutorials for students and/or videos and teach them that way.
And people who possess experience in life can ALSO earn well here. I've seen teachers who create courses on dating, body language, making money online even, create viral courses on Udemy and get paid full time incomes because so many students enroll in these courses.
Drawbacks:
Not every course you create there may earn good money. It's a risk.

You are marketing your course within an enclosed community and if you can learn to market outside of it, you can reach far more people and earn far more (this is where the #1 choice comes into the picture shortly).
6) Learning local marketing and getting leads to pay you.
One of the biggest booms in the internet world as of late has been local businesses advertising, online. But without experience in doing so, and with all the marketing opportunities out there, it's really confusing for them.
Business owners don't have time to study how to market on the internet and they end up spending more than they should if they try. 
So these people need help, they need the help of local marketers to outsource this work to and they are ready to pay a lot if you're good enough to deliver. For this opportunity to work, you need the following things:
To study how to do local marketing.

Then you need to get the clients in your local area, offer online consultations and then get the client to sign up.
Once you get a good paying lead, that one person can themselves earn a lot. And there's expensive, but legit programs offering training in this like Dan Henry's Get Clients program or Sam Oven's program, but my recommendation would be the #1 pick on this list, as it also teaches this, for less.
7) Creating an online business.
Since this is the choice I personally practice full time (the income reports above are from this) and it's most familiar to me, this is what I listed as the number one choice to make money online in 2020.
Here is how it works:
There's over 3 billion people who browse the internet (and growing).
Segments of these people seek advise and solutions to certain problems. For instance, MILLIONS of people seek advice on things like dating help.
If you can create a site or blog that targets these specific groups, you can get to them to visit your site. And from there, them money can roll in:
I'll give you examples shortly, but understand that you can literally blog for a living in 2020. Just the fact that so much of today's WORLD wide economy is online and the fact that so many people browse sites and buy from them (it's not just Amazon, many people buy from individual sites and blogs) provides anyone with the opportunity to do it too. 
Here's examples:
Let me give you some numbers…
Let's take the dating expert guy with the site. He probably gets a few million hits to his site yearly, and charges $1,000 for coaching (per hour). Even getting 100 clients a YEAR would produce him a $100,000 and keep in mind, this man is literally (he's actually making millions in reality since he gets far more than a 100 clients yearly)…
BLOGGING for a living and it's working.
And as the years go by, this is something that many people do for a living, like me and like him. This is how the new world of making money online works in 2020. 
Do not underestimate this. You can do this too. Here's how:
Pros:
There's truly an unlimited income potential from this opportunity (you've seen examples).

You have the opportunity to work for yourself and frankly, from anywhere in the world.

There's a lot of freedom and ways to make money online through #1 itself.

When you learn online business, you can teach and provide services to businesses and people for money. This is where the #2 opportunity crosses with the #1 option.
Cons: 
It does take time for any online business to build up, as well as hard work.

You need good training to be sure you're doing it right (solution coming up!).
For the cons, this is where I can offer you personal help (step-by-step):
That training program is your best tool for creating success and an income online through the first option. Here's some (5) reasons why:
Need to know even more about Wealthy Affiliate? Click here for a deeper look into Wealthy Affiliate.
My final thoughts:
For me personally, out of this whole list, this last choice is my personal pick. Yours may also be the same one, or it could even be one of the others I provided, it's about preference.
Since I prefer to work for myself and love the freedom of it, I prefer #1. If you're someone who enjoys working for others, perhaps the other choices above are better suited for you.