It is generally very hard to find work from home companies that offer 2 things: Legitimacy and good pay.
Today I'll give you 10 options have both those things. Back when I got involved with the internet marketing world, it was next to impossible to do this.
However because the internet grew so much in the last 2 decades and much of what we do in the offline world is now outsourced online (ordering food, deliveries, eBooks, ect…), many big and legitimate companies have sprouted and taken their business to the internet. This has proved to be a smart investment as they have grown and scaled.
But with this growth, these same companies now require more people to do work for them in order to run these online operations.
What does this mean?
It means that if you know the right places to visit and have the right skill set, you can get paid by these places and in this article, we are going to explore 10 different places that will pay you a GOOD buck to do honest work.
These 10 work from sites I'll show you are legitimate, so let me show you what they are.
Quick note 1 about some of these work from home sites:
Depending on the site/s you'll see below, some will require you have one type of skill set. In other words, not every single place on the list may suite you, but the good news is that it's very diverse so odds are no matter what your skill set is, you'll find at least one or more of the companies displayed below that'll fit your needs.
Quick note 2: Very important for readers:
If you have ANY questions regarding these companies or are confused and maybe have a situation where you're not sure if the following companies below suite you, please let me know.
Tell me about your occupation, what you're seeking to do, what you're good at, anything to help me, help you figure out a great way to work from home. I've been helping with this question for years so I know about this a lot.
Quick note 3: Which company I personally use out of these 10:
While the other 9 are completely legitimate, I use the last one, Wealthy Affiliate.
It is an awesome website where people build internet businesses. Owning your own site which gets daily customers and sales is a very freelance and convenient way to earn a living. 
I can travel and work from anywhere and my schedule ends up being very flexible. Not all of the companies below can do that, but for me personally, #1 is most suitable. If you're the type who wants to make their own business, you'll really want to check out #1:
But as promised, here are all 10, each holding their own prestige, but at the same time, all of them are legitimate. Let me know which one you like the most below!
10) Fiverr. 

Description:
A website that hires just about anyone who has ANY type of skill set related to online services: Content writing, SEO, website design, graphic design, giving out testimonials and much more.
How to know if Fiverr is for you:
If you have one or more of the skills I just mentioned, you can sign up with Fiverr and charge for what's known as "gigs" which is another word they use for service/s. You can charge $5 or more per service and get paid through the site whenever a new clients hires you for a gig.
The appeal of Fiverr is that it is a very popular site where many business owners and website creators go to outsource certain type/s of work. How popular is this place? Check this out:

However, one thing I particularly do not like about this site is that I wasn't kidding when I said they hire just about anybody to do work. This can often lead to poor, cheap quality services being done that can hurt the client's business and it is one of the reasons I've personally never used it.
How Fiverr can help you work from home:
But if you can offer great quality work, you can utilize the popularity of this place to get yourself clients/leads and money rather quickly. Clients also review your services on this site so a better rating leads to more business for you.
Maybe you're a talented graphic designer. Maybe you're good at internet marketing, but just don't do it on your own. Whatever the case is, if you're good at it and Fiverr's demand pool is perfect for it, you can make money through it.
There are people on Fiverr who make a good side income with getting gigs and the more positive reviews they for popular services and completions of them, the more gigs they'll get in the process.
9) Amazon Mechanical Turk.
Description:
Mechanical Turk is a branch of the Amazon program itself where people go to outsource pretty much anything they need to be done, generally for websites. It is honestly something I only found out about last year but it is pretty popular:

How to know if it's for you:
If you're good at following directions someone gives you to do on a website, you should be fine for this.
How Amazon Mechanical Turk can help you work from home:
Usually the opportunity is that someone will go to that site and request that people working on Mechanical Turk will do a favor for their page by doing things like visiting it, leaving a comment, checking to see if something on the site works and so on. And this can all be done from home.
It is a pretty straight forward gig and there's constantly new ones available for people to check out and make money off. Although the pay is quite small, the gigs are generally also very short, so you can:
Do a lot of them and make a decent amount overtime.
Usually gigs that are easy to do and pay little fill up fast, but new ones come up all the time so it's important to keep an eye out for them and to choose the ones which pay a fair amount for doing a simple task.
This can for some people become a frustrating task at first, but people have been doing well on it. Maybe not full income well, but enough to make something.
8) Amazon Flex. 
Description:
Deliver orders for people who are members of Amazon prime, and do it fast. That's what Amazon Flex is.
Amazon prime is an added feature of Amazon where people who pay $99 a year or about $11/month can get free shipping off certain orders that go over a certain amount and/or special access to the site to watch videos and other things. It pays (well saves really) to be an Amazon Prime member if you're on there often and order things often.
How to know if it's for you:
If you have a car, are good at knowing your local area/s and can make quick deliveries, you can do this job and be part of one of the most known programs in the world, Amazon.
How Amazon Flex can help you work from home:
Now one of the cool things is that Prime members also get pretty quick deliveries and one of the ways they do is through people who work for Amazon Flex. You can get paid over $20/hour for some deliveries and this isn't exactly a job you do from home, but it's not traditional either.
7) Task Rabbit. 
Description:
Ever buy a piece of furniture and have problems assembling it? Ever try to go through expensive places that will do that for you, but they require that you either come over and/or pay a lot? And in another list of great work at home opportunities I did in 2019, Task Rabbit had to mentioned again!
Enter Task Rabbit, a place where people who are good at assembling/building furniture, fixing common home issues (handyman stuff) and more come over to your place and do the job for a negotiated price. 
How Task Rabbit can help you work from "home":
If you're not a tech person and are much better with your hands, this job can really work well for you. Just drive to the persons place nearby, complete the job and get paid through Task Rabbit. It's still a fairly new site, but for the work done, you can get paid pretty well.
It's not exactly a work from home job, but it is a great option on this list of sites.
Side note: A word about the one company I personally use and trust (Wealthy Affiliate):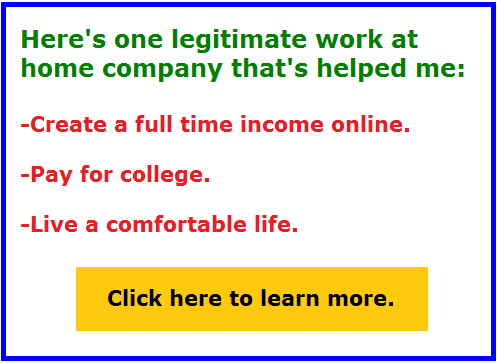 6: eHow.com.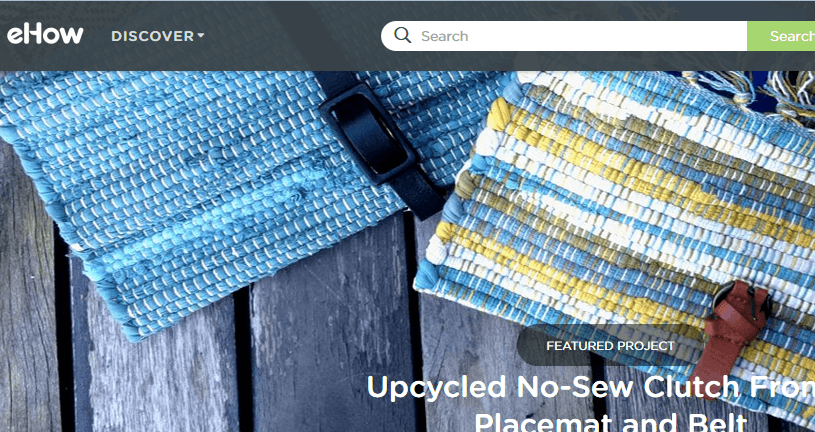 Description:
It's a site where you get paid to write how to articles.
I was actually once "approached" by someone from there who offered me a job to write for them.
I turned it down because at the time, I was (and still am) writing for my own online business so I couldn't take the time away, but eHow.com is a big site and it's still a great opportunity.
So if you enjoy writing, you can try this or the other sites on this list I'll mention shortly.
How eHow.com can help you work from home:
If you have decent writing skills and know at least one subject for which a how to can be written up on, you can try to use this site to make extra money, and of course it can be from your home.
5 and 4: iWriter.com and Freelancer.com.
Description:
Similar to eHow.com, but here you can theoretically get paid more if you land a good client. Generally people who write well put up their resume on these 2 sites (there's actually more than these 2, but they are the better ones) and get hired by website owners in need of someone to write content for them.
Now as a writer, it can be hard to land a gig because there's SO MANY people looking to do this type of work, but if you write well and can land 1 client or more, you can make a decent supplementary income. Some people I've known have done this full time. Here's tips on landing great paying clients if you're into freelance writing.
How iWriter and Freelancer.com can help you work from home:
The work you do for these 2 sites can be from home. I think anyone who writes well or blogs can benefit from these 2 sites. People who go to college and are in need of extra money will also benefit from this type of online work. You will write an agreed upon article with an X amount of words on an X topic. If it's accepted, you get paid what was agreed upon. Getting paid from $5-$100 per article is not uncommon if you're good enough.
Update: I will also add another site that relates to iWriter and Freelancer and that is TextBroker. If you write well, you can get hired pretty quickly and make some decent side cash by becoming a writer there. 
3) Udemy.com
Description:
A fantastic site where if you possess ANY sort of knowledge in ANY field, you can create a "course" on it, charge for it and get people within the Udemy community to sign up for it. 
Now Udemy gets about 200,000 searches on Google monthly and it probably has that many members if not more. And people love to learn from this site so you can literally look up any topic and sign up for an corresponding courses offered for it.
Here is an example of an instructor on Udemy who made a course on MBA topics. At $15 per person, he signed up well over 80,000 people which by my math is over a million dollars made (minus fees, expenses by the Udemy site likely), but it's still a crazy income: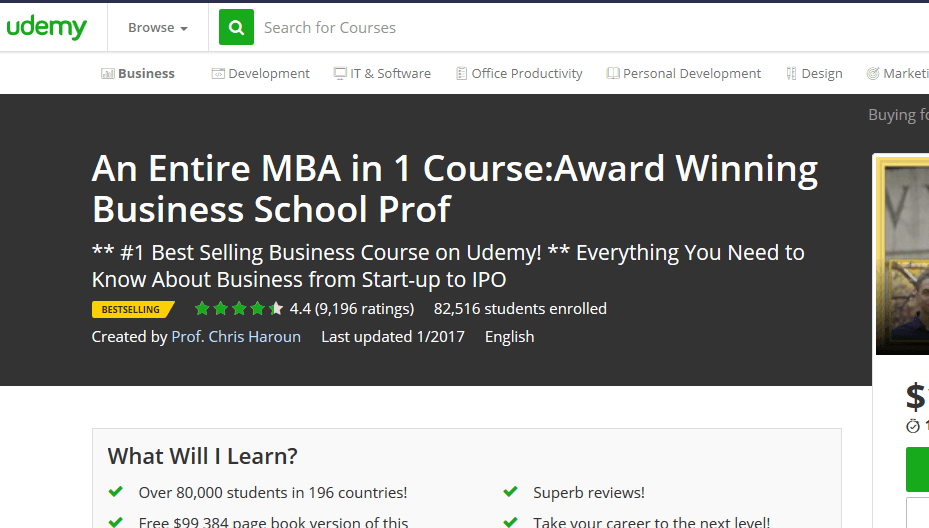 How Udemy can help you work from home:
If you have experience in a popular field and can create an organized, high quality course out of it, Udemy just may be the opportunity you seek to work from home full time with the amount of people it can get to sign up for that course.
2) Lynda.com:

Description:
Similar to Udemy, but not as popular. Lynda.com offers similar opportunities as Udemy. More information on Lynda.com.
How Lynda.com can help you work from home:
Same one was with Udemy. There is also one called Skillshare, which is also legitimate and worth considering as well.
1) Wealthy Affiliate. 
Description: 
My personal preference. It is an online business "university" that provides users with training on starting their own online business based on an interest or hobby they like.
Users learn to build their own websites, get traffic and build a fully run and full time business from home.
Note: And membership is free as well.
How Wealthy Affiliate can help you work from home:
This company doesn't really give you a job, but it teaches you to create your own business and that becomes it's own work at home opportunity, which I've personally used for years. Here is my personal Wealthy Affiliate review and here are success stories of Wealthy Affiliate members.
Honestly, even if you are perfect for one or all of the opportunities above and/or you are experienced in a hobby/niche that many people are also interested in, I strongly recommend trying Wealthy Affiliate to learn how to make a business out of this interest. 

I've actually used that program to make a number of websites in various topics I have knowledge in. I can defiantly tell you this: If you know anything that is of value (perhaps you know how to get into shape or even something as unusual as being good at video games), you can absolutely do something with this knowledge and earn money from it from with the help and training you get from this program.
Say we take a few of the above examples and some others…
Perhaps you know a lot about web design. WA can teach you to find clients in your local area to do some good work for them and for good prices. 
Perhaps you are a good handyman. You can create a website where you also teach people to become handymen and sell them products without having to do the hard labor yourself.
Perhaps you are a dog owner and know how to take care of it well, so you can start a dog caring website and give other dog owners tips on keeping their pets healthy.
The point is, ANY sort of topic you have experience on can turn into an online business with the help of Wealthy Affiliate.
And with the online business model they teach, your clients are in limitless amounts since you are marketing to the world, whereas if you were doing it through something like Udemy, you would be able to get clients, but in a more limited amount since it would be in an enclosed network. 
My final thoughts:
Most of these work at home companies and the people looking for them have the following that make both groups perfect for each other:
The work at home company needs to have honest work done to build their business.

The person looking to do an honest job needs to find an honest company.
Hence if you look at these 10 places, with the exception of #10 since you'll build your own business here, you can really make some good money doing this.