There are many things I found out about Auto Home Profits that I didn't exactly like and in this review I'll be talking about all of them. I will not recommend this program, but I'll show you a legitimate one instead as well.
Quick Report on Auto Home Profits: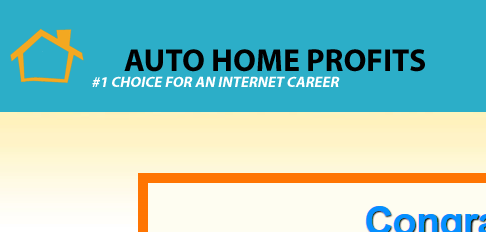 Name: Auto Home Profits by Shelly Davis and she probably isn't real because I see her picture across many low quality/scam programs.
In other words, it's a reused picture used to name who knows how many people. and I think most of them are fake.
Price: $97.
Overall Rating:

1 out of 10 stars

.
There are far more bad things than good to say about this program. I purchased it and I will give you an inside look to prove my points.
Auto Home Profits in a nutshell:
It is a program that tries to teach you to make money from home, but the process by which it does this is extremely low quality in my opinion & experience with this type of business. The training there is both outdated and questionable at times and that is what most of the program is like.
There were very rare instances of training advice that I agreed with, but the problem overall is when you mix so much bad, outdated stuff with even a little good stuff, you still get a low quality product in the end and that is what in my opinion Auto Home Profits is.
What kind of training does Auto Home Profits provide?
Well there's 3 sections to the program (3 phases). I'm going to quickly dissect them all so you get a good understanding of what's inside:
Of the 3 sections, the first phase is consistent of 3 steps (You can see that in the screenshot above) and it is also explained in the following menus above: #1 business model & #1 missing ingredient. 
So in phase 1, you have 3 steps to supposed success. Here they are:
Step 1: Call a coach. They give you a number, but let me tell you, I NEVER call those. All they usually end up doing is trying to sell me things. 
Step 2: They have you register with 3 affiliate programs:
I can tell you that the latter 2 have good opportunities, but Clickbetter generally has very low quality products and it is no surprise that Auto Home Profits itself is a part of the Clickbetter program.
In any case, those 3 programs give people the ability to promote products on their websites and make sales for each person who buys it. 
Step 3: They recommend a program called "Click Drop". It is a site where you BUY traffic from people in the form of Solo Ads. 
Generally, I am against this type of advice because solo ads require money be paid and usually you don't know what kind of traffic you're getting despite them saying you will get targeted, quality traffic. I am not a fan of this type of stuff and do know that you WILL have to pay to try this. 
Their whole thing with these 3 steps is that you send traffic that you buy from Click Drop to your affiliate links from one of those 3 programs in step 2 and if someone buys, you get a commission.
Personally in addition to my advice against buying this stuff, it is also rarely the case that you can make sales by sending traffic DIRECTLY to an affiliate offer.
The bottom line about the 3 steps:
What I'm trying to say is that in my experience, this strategy has a high cost of entry and a low probability of success.
But the training doesn't end there, if you do all this, it's onto phase 2, aka the second section of the training.
This section is represented in the menu item "Advance steps". There 3 lessons there:
Lesson 1 has you making a free blog site.

Lesson 2 has you signing up to make an email list.

Lesson 3 has you registering with a program to help you track sales and cloak your affiliate links.
The verdict on phase 2: Very "across the board" information that is more complicated than simple. 
Phase 3: The final training. Lots of videos, but old, outdated and useless information in too many places.
The final phase of this program has 5 training sections: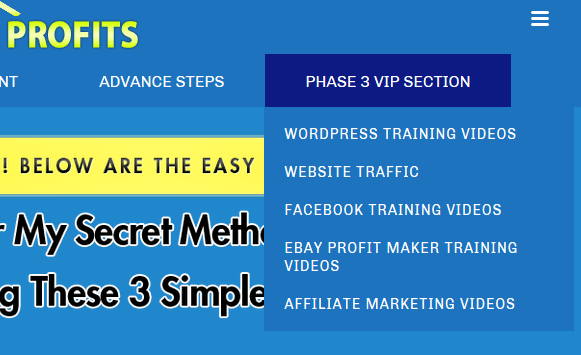 1) You get video training on WordPress. And I have to say it's horrendous.
They have several videos on you making an actual template/theme. Who does this nowadays!?
You DO NOT need to make anything like this, you can get free templates/themes at ease from many different areas, including Wealthy Affiliate which provides people with a free site where you can choose templates.
Overall this section has too much unnecessary and complicated information in my opinion. This would totally mess up anyone who is a beginner to making websites in my opinion!
2) Website traffic. You get different training methods on mainly outdated and dead end strategies to get visitors to your site including article marketing, backlinking, joining forums and other things which are more of a waste of time in my experience than anything else.
3) Facebook training videos. I'm going to omit my review of this one because Facebook isn't my most experienced area of marketing but I would not be surprised if it was as bad as the other sections I saw…
4) Ebay Profit maker. Honestly, it's just simple stuff on setting up auctions and other basics of eBay. And guess what? This stuff can found on YouTube in free content if you wish…
5) Affiliate marketing videos. Oh boy, the mother of all outdated stuff is in this section. Where do I start in explaining why this is outdated…
Well a majority of the training shows you how to find products on Clickbank (which by the way is YEARS old) and then they show you ways to find keywords to market products (also outdated stuff) and finally they give you advice on using Google Adwords to market an affiliate product (it's an advertising network of Google), which, you guessed it…is also outdated.
For the Google Ads thing, if you honestly try what they suggest here, I guarantee you 99.9% that it will not work because Google Adwords has strict policies that will not allow whatever you make from this to show up on their network. It is simply another dead end…
And that concludes the training you get inside this program…
Final Rating: Auto Home Profits.
Red Flag
1 out of 10 stars. When I said there was very little good about this program, I was actually being optimistic. It wasn't until I started writing this review that I realized how awful this program actually is. A big, fat NO.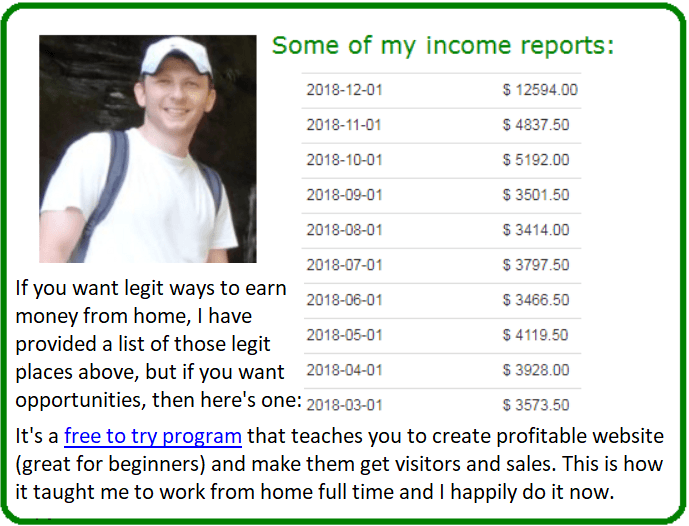 My final thoughts:
One final thing I didn't mention was the deceptive way this program was being shown to me. I briefly said in the beginning of this review about how the person Shelly Davis isn't real. I'm sure there's tons of Shelly Davis's out there, but in my opinion no actual, physical person associated with Auto Home Profits.
Programs like these like to have imaginary characters like her pose as people who were once poor until they found their golden goose with said program to make you think you are on the right track. But I see these programs so often and I have never come across one where the person advertised as the "success story" like Shelly here is actually real.
So overall, that, mixed with the proven and horrendous training I explained above that you get from there, there is literally no reason I can suggest that you get this program. Stay away from it. Stay FAR away from it.
And on a final note, I am very glad to be done with this review. It hurt my head going through this program.