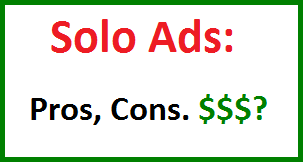 I'm not the biggest proponent of solo ads.
Too often, the odds of turning these things into profits require high risk and most services that offer them are scams.
My methods of getting paid type traffic to my site that is highly targeted and far cheaper and while I will be explaining what that method is, I will also explain why I don't recommend using ANY solo ad services.
What are Solo Ads?
It's a method of marketing where you pay someone who has an email list of subscribers to advertise your site or offer to their subscribers. It can be a great way of getting massive exposure and traffic very quickly (but not necessarily sales).
Generally solo ads are used primarily to build up an email list and then sell something to that email list.
An example of how solo ads work:
Let's say I have a website on weight loss which collects emails and then sells people who subscribe to me weight loss products from which I make money of.
I go to a Solo Ad network (there are quite a few, including Udimi.) and find people with email lists pertaining to the weight loss subject and niche.
I pay them to send out an email to their subscribers and advertise my site.
Once they do, I can get their subscribers to visit my page and hopefully sign up to my email list.
I can gather a huge email list and eventually sell them products related to weight loss.
That in a nutshell is how Solo Ads work.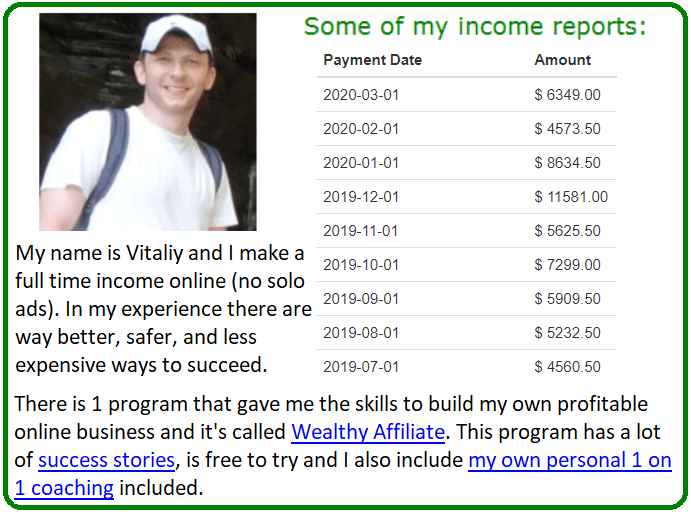 But do Solo ads work?
Well let's give them a fair look from both sides to find out:
Pros of using Solo Ads:
1) You can potentially get and grow a huge email list very quickly.
Some people swear by this and say that list building is where all the money is in. I personally am not one of these people, but there is truth to this. It's not uncommon to build email lists of 100's and even 1,000's of subscribers in days.
2) Building up a huge email list can provide excellent rewards in the short and even long run.
Because you can keep selling to that email list. But there is a flip side to this as I'll get into soon.
3) Besides just selling, you can actually use this email list for SEO purposes.
And instead of just selling. For example, if I had a huge email list of weight loss enthusiasts, instead of selling them products, I could make a blog, send them there each time, offer value and this could lead to great SEO benefits. This is my personal view and some may find it counterproductive.
4) You can technically make a lot of money very quickly (if your new subscribers buy from you).
I won't deny there is certainly massive financial potential behind Solo Ads, although my advice on it is more geared towards long term trust as I will be explaining below).
 Cons of using Solo Ads:
1) It will cost you a lot of money to try.
A lot can range from $20-$100's, but people who will allow you to advertise on their lists do not want to have just anyone do it, at least not for free. Keep in mind that when you advertise to someone else's list, it's their reputation that is more so on the line than yours so it's natural that they will charge you for this.
My advice on Solo Ads is not to try it if you're on a tight budget. Not only because it costs money, but also…
2) There is no guarantee that the list you collect will convert.
Generally sign up rates via Solo Ads can be pretty good. When you buy Solo Ads, you are guaranteed in some cases a certain number of clicks and visitors to your site. 
BUT how many of those clicks translate into subscribers, plus how many subscribers then translate into sales, PLUS how many subscribers who buy then translate into long term buyers is a whole other story. And naturally as we progress further down, the conversion rate will drop severely, especially if you just shamelessly promote products over and over.
I'd had email lists which I unsubscribed from because the person/s just kept advertising offers to me and NEVER offering quality content that I wanted to know about. This is not how the way to do it.
3) You have to earn trust with your new subscribers before they will buy from you.
Most people who are new to Solo Ads read up on their potential and think if they collect an email list, the money will come pouring in. This is simply not true. Here is a more realistic approach:
A) Before you can even get to that point, you need to first get subscribers.
B) Then you need to offer those subscribers excellent value. Basically this means provide them with content that is helpful and has them wanting to know more. This is what builds up trust and credibility and can lead to sales down the line as well as re-occurring sales.
C) Then and only then can you expect to profit of Solo Ads.
4) A lot of Solo Ad networks ban the use of promoting certain products.
There have been many places in the past (and present) who tell you to use Solo Ad networks to promote products on and sell them. Places like:
Big Idea Mastermind.

Academy of Online Success.

Empower Network.

Partner With Anthony.

And MANY more.
The problem is that many of these places are not the most legitimate (they are scams basically) and many networks have begun to ban the ability to promote these organizations simply because promoting them on other people's email lists looks like spam and it's gotten a bad rep. 
This isn't exactly a con of Solo Ads, but is important to keep in mind. If you have a specific product you want to sell to your subscribers via Solo Ads, check to make sure the network you're advertising on allows the specific product to be promoted.
5) Generally, unless you're experienced with list building, don't waste money on solo ads.
While many people sell their email lists out via solo ads, the truth is most of these people have cold leads that will never open up your email.
There is extremely little control over the quality of the lead you're getting through solo ads (despite solo ad sellers saying otherwise) so unless you can find an established solo ad provider who truly sells quality solo ads, forget this method altogether.
My final thoughts on Solo Ads:
Can they work? If you're advanced, have money and know how to filter and extract highly relevant leads from masses of cold/broad email lists, then sure! But most people's impression as well as approach on this subject is short term. They want to build a list and sell to that list, neglecting an important piece of that equation that will lead to success: Building trust & credibility with your subscribers via offering them quality content.
That is why if I were to Solo Ads, I wouldn't focus on initially selling, but building trust. I'd even go further with this and link my email list to blog posts on my site related to the email list's interests and have them leave comments of questions. This from my point of view has several benefits:
1) I build trust and credibility by offering quality content to them. This is the most important piece.
2) I get benefits of sending traffic to my site. If people leave comments and/or share the site on social networks, I can also improve that site's SEO results. 
3) I can also eventually sell directly to my email list after I've built up trust.
I am personally going to be experimenting with Solo Ads somewhere in the near future and will be documenting my experiences with it. Again, if you're going to use Solo Ads, do it if you have money to spare and consider it from a long term point of view, not trying to make a quick buck, because in my opinion that will lead to failure and a waste of money.
If you are new to online marketing, I would also not recommend doing Solo Ads. I would instead start with a program called Wealthy Affiliate. They taught me the necessary skills to create an online business that drives targeted leads to my site and offers.
Do you have a personal story to share about Solo ads? Did it work/not work for you? Let me hear what you have to say! 
Update: If you needed more reason not to use solo ads:
I wrote an updated article on solo ads here and frankly, if this current article didn't make a strong enough case to avoid this, this one will. And it shows how I use PPC networks to pay 10x less for highly targeted traffic. This saves me a lot of money and right away gives me the best leads, making the need to buy them from solo ads, useless.