I recently used a tip on increasing my email list conversion rate, from Alex Becker, a marketer I know, and well, my opt in rates doubled. I'll show you how.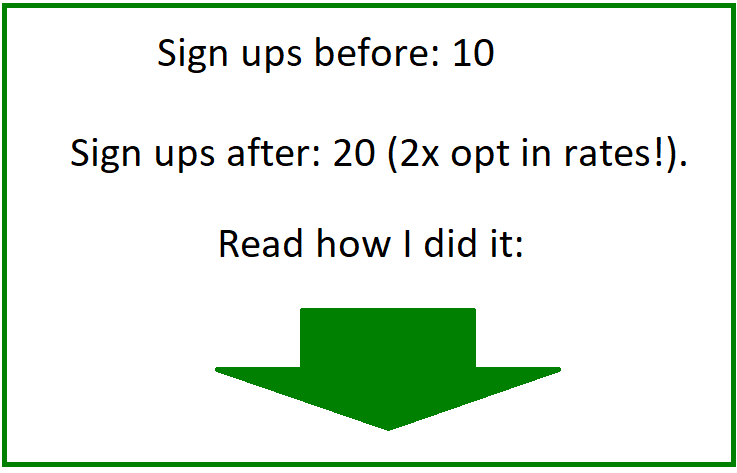 Now I want to mention that list building is not something I've practiced much and I've also preached about how the money is not always in the list, especially for most people, because they don't understand how difficult that process is.
In spite of my recent success with list building, I still stand by the general things I warn people about with regards to success through list building. Read that article I linked to above before you consider starting your own email campaign (but finish reading this article first ;)). 
Anyway, before I explain the very specific things I did to double my opt in rates, I want to explain 2 things:
1) I've been preaching about hungry niches a lot and that a lot of success in marketing comes from targeting those correctly. I included a link to 5 particular ones I'd suggest you look into, but in this experiment I ran, I used a different one, which is targeting a hungry niche audience that has knee problems.
I've had a squeeze page up (case study) for awhile that was aiming to collect emails and before I ran the test I'll show you, I was getting a 16% conversion rate in that out of 100 people who would visit the squeeze page, 16% would opt in to my newsletter.
A double digit conversion rate isn't bad, but when I made a few tweaks that I'l show you shortly, that conversion rate went up way higher.
Right now, I'd say it's about 25% to almost 60% in some cases.
2) The tips I used were from a program I have been slowly studying known as Market Hero, which was created by the very same Alex Becker, I talked about earlier. 
I was watching his tutorials and the training he starts with talks about collecting email lists and how to properly structure an opt in page. 
His main tips were:
To keep the page SHORT (shouldn't take more than 10 seconds to read).

To keep it VERY simple (it's got to say the right things, immediately).

It needs to attract a hungry niche audience (that will ensure higher opt ins).
Now the other tips he talked about are post opt in stuff, but you'd need to look into Market Hero for specific instructions on that. But being that I was curious to see if this simple strategy would work, I decided to test it out:
Here's what I did (pre double opt in results):
I've been preaching about using Bing Ads for a long time (and I will be releasing my own product for this network and advertising on it SOON), I decided to…
Take the very same squeeze page I had on solving knee pains, and to edit it to fit the frame Alex Becker was talking about. Here is how it look before the changes (when I was getting a 16% opt in rate):
Basically, that squeeze page is only doing one of the three things Alex preaches about and that is attracting the right, hungry niche audience. As for the other tips (keeping the squeeze page short and simple), it is not. 
So I changed it up, and here is what it looks like now: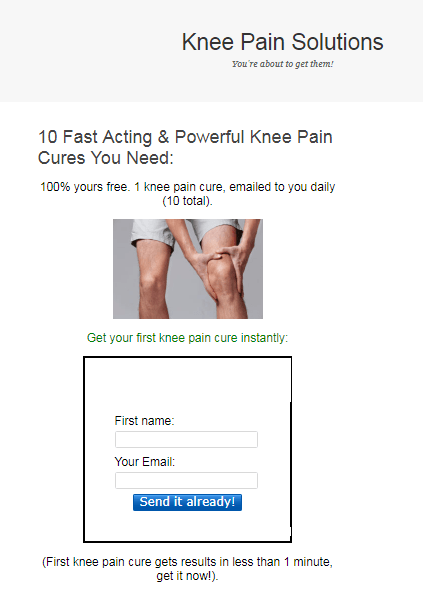 Notice how much simpler it is.
That whole squeeze page should take the average reader less than 10 seconds to read.
Further, there is a hook to get them to sign up, the hook is that their problem will get a solution ASAP if they sign up and as a bonus, they'll get even more solutions for free.
That squeeze page literally took me about 5 minutes to set up.
I honestly didn't expect much from this, as list building isn't really my specialty, but I figured I could use Bing ads and get some traffic to this squeeze page to just test out Alex Becker's training.
Now Alex doesn't cover Bing Ads in Market Hero, but he does cover other ad networks.
But I decided to stick to Bing Ads, since it was the most familiar to me and I could very quickly get traffic from that place (here are the basics I followed with Bing ads if you're interested).
But anyway, once I set this all up, I gave it about 2 days to see what was going to happen…
And when 2 days passed…
This is where I got the 2x sign up rates. Here's the proof this works:
Now the numbers to look at are this (green):
I had 346 clicks on the Bing ad I ran and in total had 58 subscribers.
But I have to say that initially, I didn't have some things set up correctly (I was running the ad, without having the squeeze page working properly, so it couldn't collect emails), so those numbers a bit inflated.
The real numbers are more like this:
I got about 200 REAL clicks when all was set up fine and 58 subscribers out of that.
So the real conversion rate is about 30%. Now this is AVERAGE. 
On bad days, I'll have about 15% and on good days, it'll get close to 60%, which is totally mind blowing, but consider, that in my first experiment doing this with the first squeeze page, at best, I was getting a 16% conversion rate, and now with the update, that is actually the low bar.
What I learned from this squeeze page experiment:
Alex was absolutely right in what he said encompasses a successful squeeze page and I'm glad I took his advice. That actually inspired me to take more time to study the rest of his program. 
I would recommend you take a look at Market Hero if you're doing list building, it's a must actually. It's also a great program for studying paid ad options for traffic.
Now if any of this stuff is scary to you, meaning you're not quite at the level to be spending money on online ads for traffic, don't get involved with Market Hero, get involved with Wealthy Affiliate instead, it's a better starting point.
Update! This stuff still works, but…
Despite this experiment working, I have to say, Alex Becker's advice isn't always the best. Because of a number of issues I had with some of his programs (like Market Hero), I actually left and only stick to Wealthy Affiliate now.