For a number of years, my "shtick" has been to study and review online marketing programs and big players in this world. One of those big players happens to be Alex Becker, whose products I have reviewed throughout the years, though in some cases, I didn't buy the program, but read enough into it from trusted sources to make a conclusion about whether it was good.
As time went on, I started purchasing more of his products and looking at more of his content throughout YouTube, and my opinion of him has greatly changed, for the better. I want to go over my experiences with Alex Becker, let you know my thoughts about him and whether or not you should buy his products.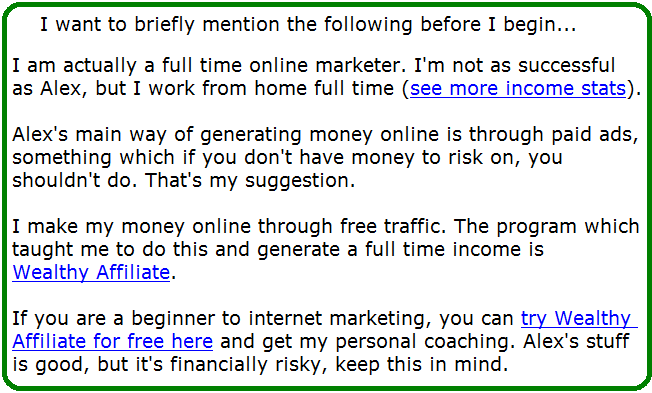 Let me start at the beginning: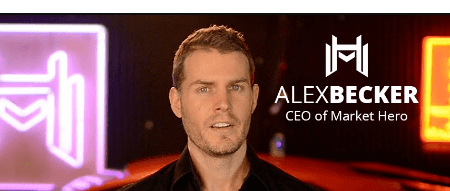 I first found Alex (screenshot above in case you never saw him) through a product called SEO Zen.
Truth be told, I did not purchase it but at the time I stumbled onto it, I already had intermediate knowledge of SEO and great success with PPC (which involves Bing Ads, which is something Alex doesn't teach), so much so that I already had several six figure earnings under my belt (here's an example of one site which was earning me this much through Bing Ads).
With that knowledge, I looked at what the program was showing and didn't find it matching the knowledge I was taught at a program I still recommend and follow today: Wealthy Affiliate (See how I'm doing with it). 
While my thoughts on SEO Zen weren't positive, I continued to scour the internet for more products and through my searches found more of Alex's stuff, namely:
I didn't like that many of these programs were very expensive and that I was seeing a lot of different products from Becker. At the time (and I still have this belief) I felt that people should have access to 1, all inclusive program vs numerous ones, each priced expensively.
This is why I suggest most people, especially the ones who are beginners, start with Wealthy Affiliate, because it has amazing training on many things Alex's above programs already teach, but for a way better deal and because I've personally been experiencing great results from it (see other success stories here), and I can tell you it's a better investment in that regard.
I also had this belief because I had seen other marketers also do this thing where they were making one product after another and it seemed to "cheapen" their previous products. It felt like a hustle, so perhaps those bad experiences I had with the other guys played a role in how I felt about Becker's products.
In any case, I had stopped reviewing Alex's stuff for awhile, until…
10 Pillars of Wealth came out and my opinion greatly changed about the guy:
In 2016, Becker released a book on Amazon called 10 Pillars of Wealth which I admit to buying, reading and quite frankly enjoying, so much so, that I believe it's one of the best self help, business books I've ever read. The framework I had in my mind regarding online business and business in general really expanded after reading that book and I was more inclined to take more risks and grow my business from it, so for that, I am thankful to Becker.
In doing so, my opinion of Becker improved substantially…
Fast forward to 2018, more positive notes about Alex worth mentioning:
I discovered Becker had a YouTube channel running, and accidentally stumbled onto it while looking up different reactions people had of one of the recent Star Wars movies. Seeing his thoughts on the subject increased my curiosity to see what other content he was providing and that's when my opinion which was pretty negative the first time I found out about him, changed to being very positive.
He offered and still offers a lot of great, free content on his site regarding things like like list building and generally good, solid business advice, which quite frankly resonated with me because the advice he provided on topics such as which mistakes not to make are mistakes that I indeed had made in my online business experience and seeing that good advice from him, really propelled me even more forward to look up his existing programs he has.
Currently, I am looking into his program called Market Hero and enjoying his content.
I do recommend people check out his YouTube channel, as the advice is free, although it is true that he is also looking to get more leads/clients to his businesses from it, which is fine, I do it too, so as long as it's done ethically, no problem.
Most of the advice you'll get on his YouTube channel involves using Adwords & FB to funnel traffic to a landing page to collect email lists and then sell them stuff through Shopify stores, dropshipping and/or other affiliate marketing related things (And you can find detailed training on those things within Market Hero). But in general, his other videos on basic life/business advice are highly recommended.
One very important thing I learned from Becker…
And that is the need to evolve your business and grow it by taking more risks. Complacency is something I am guilty of in my business experience. Having started with $0 and grown my own business to making multiple six figure incomes like I said before, I came to a point where all that money actually stopped coming in and in the process, I went broke (2013). 
I had to rebuild everything I had made and I have to admit that it was a blessing because it forced me to work and legitimately grow a new business out of these experiences. Now I will admit, a VERY huge part of my regrowth and success after going broke was following the main training program Wealthy Affiliate and thanks to it, I now have a stable income coming in.
In 2018, I've picked it up a lot and the business continues to grow, but to make it grow further, I am now looking into Becker's stuff (currently Market Hero) to see where I can expand and his videos and "pep talk" so to say have really inspired me to stop being complacent and continue to see where and how I can grow my existing business.
Update: Market Hero is very good, here's a full review. But it has it's downside too, which again is the fact that to use the training and see results, you need to risk doing paid ads. 
I prefer beginners learn free traffic generation which takes longer to attain, but in my opinion yields far better financial benefits in the long run. In my opinion, it is a far safer, more insured way to build a successful online business.
But there's also a benefit to running paid ads and that is fast traffic, but most traffic, especially if you're starting will not convert to money, so you will need to go through a learning curve and waste it before you start earning.
When it's free traffic, you lose $0.

When it's paid traffic, you can lose a lot before you make a lot.
This is why I use the training in Wealthy Affiliate to get me a lot of free traffic, the majority of my online earnings, and then I use the training in Market Hero to expand my business into paid ad networks, that's how I would suggest you do it too if you're new.
So overall, no, Alex Becker is absolutely NOT a scammer.
You will probably come to that conclusion yourself once you watch his YouTube videos and as to whether or not you decide to buy his products, here are my thoughts:
I personally believe his YouTube channel is very valuable in terms of the advice it gives.
Again, if you're a beginner to online marketing and seeking to make a stable, GOOD income, you can absolutely do it through the program which helped me earn a full time income: Wealthy Affiliate. Here's some of my results from it: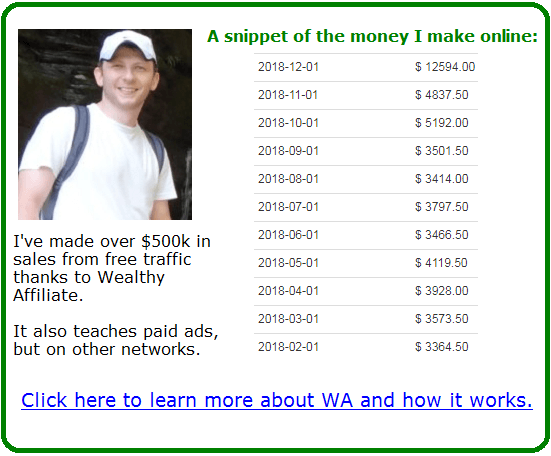 As for Alex's existing programs, so far my opinion of Market Hero is good, but once again…
Because it is MAINLY focused on paid traffic, I classify it as a training program that is better studied once you have money to invest because it is intermediate and above level stuff on marketing (some of which is also taught at Wealthy Affiliate). 
But I am thankful for Alex's lessons and the products/content he is releasing to people for free today and totally recommend it.
I do want to give Alex a shout out real quick and let him know that I learned a lot from him, most of which came from his YouTube channel (and book) and this really has raised my respect for the guy.
I also want to make a quick note on a friend of mine who also does internet marketing who had a similar change of heart when he reviewed one of his products and Alex reached out to him in a polite, respectful way, which shows he's a good guy.