Alex Becker has been in the internet marketing game for many years and is one of the biggest names in it. But is a scammer? Well no, but my experiences with him have been mixed.
I've reviewed several of Alex's programs over the years and originally my views on him were pretty negative because I didn't like how he taught certain topics like making money through SEO. 
However, as time went on, I started purchasing more of his products (to review obviously) and looking at more of his content throughout YouTube, and my opinion of him has greatly changed and that's been an up and down experience. What I mean by that is this:
It first started off being bad, then got better, ecstatic, then a bit disappointing and overall, I have settled on him being legit, but so far, I can't really give any of the products that I have reviewed a full recommendation and I will be explaining that history in greater detail below and why I have settled on this conclusion as of now…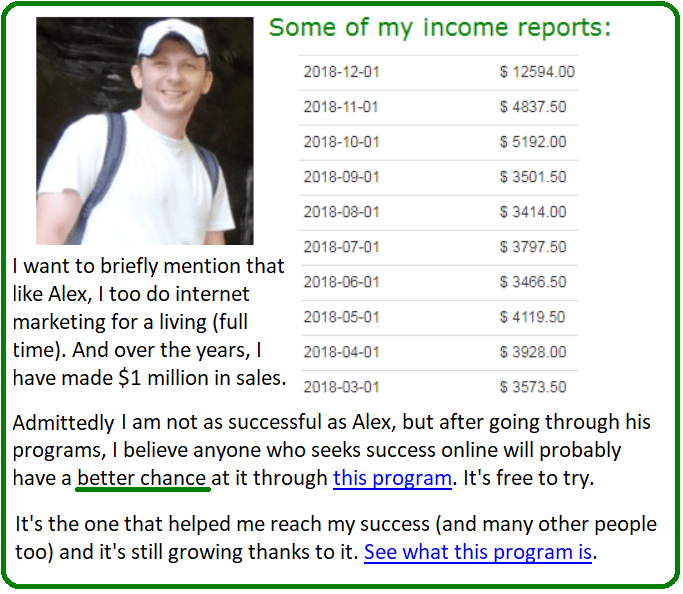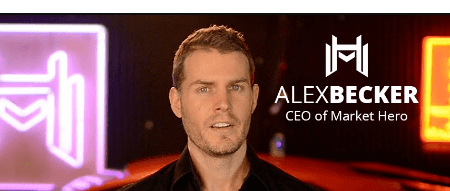 Let's start at the beginning: My detailed history with Alex Becker…
I first found Alex (screenshot above in case you never saw him) through a product called SEO Zen.
Truth be told, I did not purchase it but at the time I stumbled onto it, I already had intermediate knowledge of SEO and great success with PPC (which involves Bing Ads, which is something Alex doesn't teach), so much so that I already had several six figure earnings under my belt (This article on affiliate marketing explains how I made over $1 million in sales online, much of which came from Bing Ads).
With that knowledge, I looked at what the program (SEO Zen) was showing me and didn't find it matching the knowledge I was taught at a program I still recommend and follow today: Wealthy Affiliate. 
While my thoughts on SEO Zen weren't positive (I though it was too black hat), I continued to scour the internet for more products and through my searches found more of Alex's stuff, namely:
I didn't like that many of these programs were very expensive and that I was seeing a lot of different products from Becker. At the time (and I still have this belief) I felt that people should have access to 1, all inclusive program vs numerous ones, each priced expensively.
This is why I suggest most people, especially the ones who are beginners, start with Wealthy Affiliate, because it has amazing training on many things Alex's above programs already teach, but for a way better deal and with more chances of success because of HOW it teaches these things (More pragmatic) and because I've personally been experiencing great results from it (see other Wealthy Affiliate success stories here), and I can tell you it's a better investment in that regard.
I also had this belief because I had seen other marketers also do this thing where they were making one product after another and it seemed to "cheapen" their previous products. It felt like a hustle, so perhaps those bad experiences I had with the other guys played a role in how I felt about Becker's products.
In any case, I had stopped reviewing Alex's stuff for awhile, until…
10 Pillars of Wealth came out and my opinion of Alex Becker improved a lot…
Let me explain what happened…
In 2016, Becker released a book on Amazon called 10 Pillars of Wealth which I bought, fully read through and quite frankly enjoyed, so much so, that I still believe it's one of the best self help, business books I've ever read.
The framework I had in my mind regarding online business and business in general really expanded after reading that book and I was more inclined to take more risks and grow my business from it, so for that, I am thankful to Becker.
In doing so, my opinion of Becker improved substantially…
Fast forward to 2018, more positive stuff about Alex Becker worth mentioning:
I discovered Alex Becker had a YouTube channel running, and accidentally stumbled onto it while looking up different reactions people had of one of the recent Star Wars movies.
Seeing his thoughts on the subject increased my curiosity to see what other content he was providing and that's when my opinion which was pretty negative the first time I found out about him, changed to being very positive.
He offered and still offers a lot of great, free content on his site regarding things like like list building and generally good, solid business advice, which quite frankly resonated with me because the advice he provided on topics such as which mistakes not to make are mistakes that I indeed had made in my online business experience and seeing that good advice from him, really propelled me even more forward to look up his existing programs he has, namely Market Hero.
While my thoughts on Market Hero started well, then fell (I'll explain why that happened below), once thing I do recommend people do is check out Alex Becker's YouTube channel, as the advice is free, although it is true that he is also looking to get more leads/clients to his businesses from it, which is fine, I do it too, so as long as it's done ethically, no problem.
Most of the advice you'll get on his YouTube channel involves using Adwords & FB to funnel traffic to a landing page to collect email lists and then sell them stuff through Shopify stores, dropshipping and/or other affiliate marketing related things (And you can find detailed training on those things within Market Hero).
But in general, his other videos on basic life/business advice are highly recommended.
Here's one very important thing I learned from Alex Becker…
And that is the need to evolve your business and grow it by taking more risks. Complacency is something I am guilty of in my business experience. Having started with $0 and grown my own business to making multiple six figure incomes like I said before, I came to a point where all that money actually stopped coming in and in the process, I went broke (2013). 
I had to rebuild everything I had made and I have to admit that it was a blessing because it forced me to work and legitimately grow a new business out of these experiences. Now I will admit, a VERY huge part of my regrowth and success after going broke was following the main training program Wealthy Affiliate and thanks to it, I now have a stable income coming in.
In 2018, I've picked it up a lot and the business continues to grow, but to make it grow further, I am now looking into Becker's stuff (currently Market Hero) to see where I can expand and his videos and "pep talk" so to say have really inspired me to stop being complacent and continue to see where and how I can grow my existing business.
A quick mention of Market Hero (2019):
As of 2019, that was the latest program I purchased and reviewed from Alex and initially, I was very impressed by it, but eventually, it fell in quality in my eyes and here's a full review of Market Hero which explains exactly why.
Basically it taught paid advertising, but it's outdated and disorganized content in my opinion is what caused me to quit that program.
And this is also why I continue to stay and use the training in Wealthy Affiliate to get me a lot of free traffic, the majority of my online earnings. And being that WA is growing and also starting to cover many of the same paid traffic methods as Market Hero was meant to, it is my recommendation.
My final thoughts: Alex Becker is absolutely NOT a scammer, but…
There are pros and cons to the stuff he releases and teaches people about making money…
First the pros:
It's that he's amazing when it comes to sales pitches and motivational things which is why I personally believe his YouTube channel is very valuable in terms of the advice it gives. I still recommend that place and Alex Becker's Instagram page is also good.
Now the cons:
However, out of his programs that I've reviewed (and I did purchase some of them, not all though), there is common issue I find and that is that a lot of his training is outdated and his video presentations are a bit "messy".
I find it hard to understand the details of what needs to be done when I listen to his instructions, even though pragmatically, what he says makes perfect sense and it's a strange, yet common thing I've been seeing over and over with him and his programs.
He talks very well, but it's when you get into specifics and trying to take action with his stuff that you start to see issues.
For example, if you take his Market Hero program, his overall message is clear about building online businesses, but when I started going through the training and really trying to make it work, that's when I found many holes (outdated things and difficult to copy instructions).
That's when I began looking differently at Alex and believing his good talk doesn't always mean his training is also as good. And I hope this is something that I can change my mind on in the future, but without trying to sound entitled, I do believe that depends on Alex.
Here's what I recommend:
If you're a beginner to online marketing and seeking to make a stable, GOOD income, you can absolutely do it through the program which helped me earn a full time income: Wealthy Affiliate.
The main cons I just talked about with Alex Becker and his teachings are why I stick to Wealthy Affiliate, because it's teachings are precise, up to date and beginners are able to follow them, which is why there are a lot of success stories (Not saying Alex doesn't have them, but I think Wealthy Affiliate has more success stories).
And here's some of my results from it: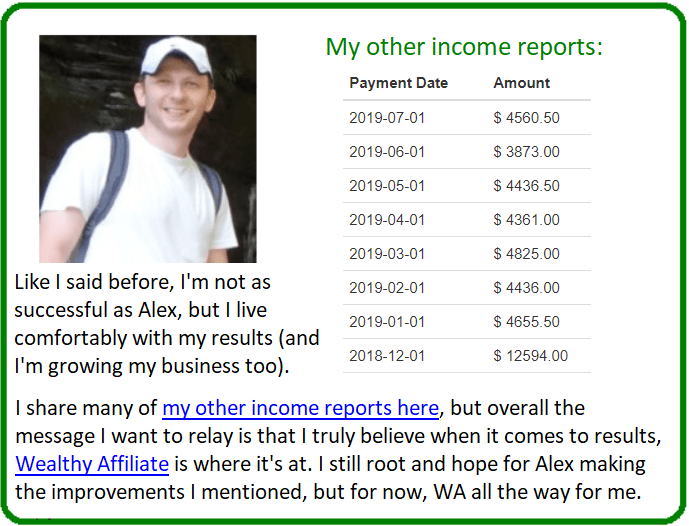 As for Alex's teachings and programs…
I still like the guy and do believe he's legit and well meaning, but…
I have also learned to distinguish his general message which sounds great but in my experience, often is not as great when you dig into the details of how he teaches you to get those things done. If there will ever be a point in time where I find that Alex's specific training is as high quality as he markets it, then I will be happy to start promoting his program/s again.