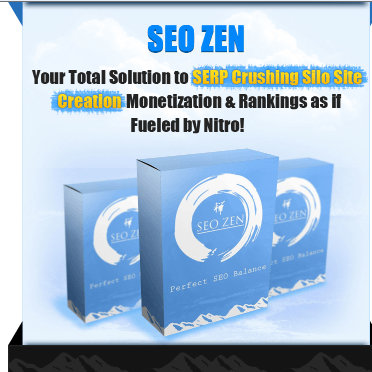 It's very hard to find a legitimate review of SEO Zen, but you'll find it here. Here we go.
What is SEO Zen and how does it work?
SEO Zen is basically a plug-in to WordPress you purchase that allows you to create "silo" layout websites in just a few minutes (less than 1 minute by the owner's claims).
Silo websites are basically layered websites that consist of different pages linking to one another.
It was created by Alex Becker and is a part of Source-wave.com.
Also, as an update, it appears this program is no longer around (which is good).
But let me explain that what it taught, you could have done for free, that being creating silo sites:
Here is an example of "silo-layout website":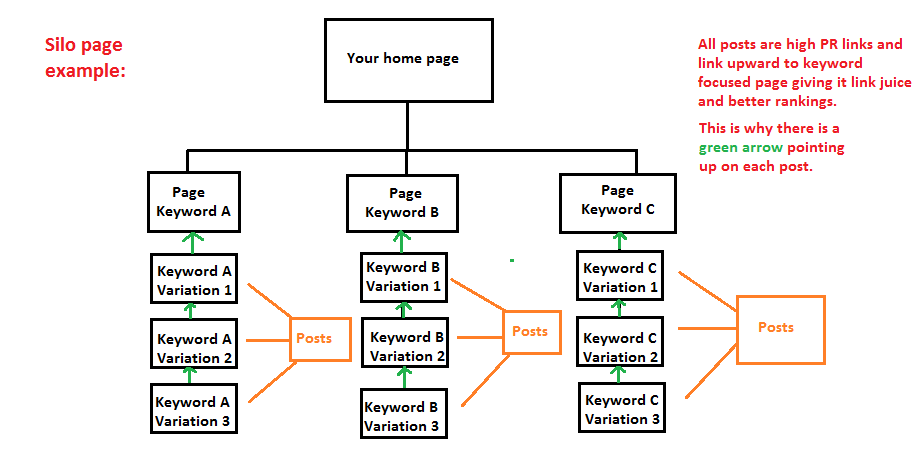 Before you read the review on SEO Zen, here's something very important: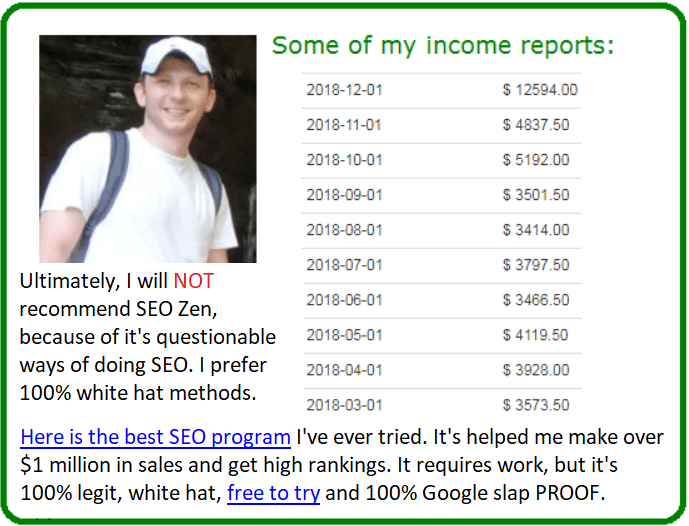 Now I will continue with the review of SEO Zen and explaining the silo part of things, how it really works, and why it's strategy is not white hat enough for me to recommend:
With SEO Zen's program, each page/post you create targets a specific keyword, while the other pages target related keywords. Each page links to one another and boosts the page ranking of the entire site. This method of SEO is said to provide great results and helps sites rank very high and very quickly on search engines.
In SEO Zen's case, you are provided a silo page within a minute.
You fill in a form which consists of entering your targeted keyword, your affiliate link, and other credentials. Upon filling everything in, the page is created which is used as a blog post. It provides you with:
Automatically generated content which is said to be 100% unique (this is said to be attained from article directories and spun using an article spinner). I'm going to explain why this is NOT a good idea.
A YouTube video relevant to the keyword you are targeting to help the page get crawled by Google and thus rank it faster.
Your affiliate link/s are automatically entered in every word you decide to hyperlink.
You are also given a search function where you can find high page ranking websites related to your keyword and leave comments there, providing a backlink to your site as well as a PR boost to your page. However, as you'll find out below, this kind of stuff may work against you…
In a nutshell SEO Zen allows users to create very fast content within minutes. Each new page this system lets you post is keyword focused and has a YouTube video to help it rank better. Multiply this by 10, 100 and even a 1,000 new posts being cranked out quickly, and you have an opportunity to rank your site very high, receive tons of traffic from each page, though this can have a tremendous side effect as you'll find out below…
Since Google likes fresh new content and ranks sites which has quality content with new ones added consistently, it ranks them higher, faster. This system in theory allows users to create endless amounts of content without going through the hours of brain work and writing of their own content.
On a personal note before I get to it's cons, I'd like to point out that you won't find me praising this program as you're about to find out and this silo structure and content is something you can do on your own for free. It's called writing new posts, targeting new keywords and interlinking your pages! 
What you got from SEO Zen (since it's not around anymore):
There are 2 packages (Plus an expensive up sell you AREN'T notified of until you buy them, something I am NOT a fan of):
1) The "Lite" package: Here you can use the SEO Zen system on 1 website of your choice. Price: $97
2) The "Pro" Package: You can use the SEO Zen system on an unlimited amount of websites. Price $127.
Obviously with the way it's set up, most if not all people will go for the Pro package. However once you buy it, you are notified of the up sell I talked about…
3) Apparently in order to have the SEO Zen's most attractive feature (auto generated content) work for you, an additional purchase must be made in order to access it.
The price of this system can either be paid for monthly or you can buy the lifetime access for a measly $497 (yeah). Again you are NOT notified about this until you actually make the purchase which I find extremely disingenuous.
Pros:
Can provide very quick and fast results in the SERPS (initially).
Utilizes a silo structure of website building which does help with SEO.
Cons:
Some of the content generated may be boring to read. It's recommended to change the automatically generated content and add your own flavor in.
The content that's created by this program is attained from other people's articles. In a way I consider this to be indirect plagiarism!
You can download silo type plug-ins for free.
Not recommended for developed websites as it may damage the structure of the overall page.
This approach to SEO is very risky. Generating too much content quickly can make Google think you're using

article spinners

which can lead to them potentially slapping/blacklisting your website if caught.
You can do everything this program promises you on your own for free, without the expensive purchases.
 Final Rating: SEO Zen 

Red Flag
2 stars out of 10. It could work, but the system is risky to use. Refund issues + disingenuous upsells are a no-no in my book. My top recommendation is Wealthy Affiliate which ranks far higher above SEO Zen, and teaches a white hat approach to SEO.
 Final thoughts on SEO Zen: Dissecting truth from hype.
I am a skeptical individual especially when it comes to SEO programs which promise to make the effort easy with their "proven, loophole systems". I consider this approach to SEO to be nothing more than a black hat method which I've fallen for in the past and learned my lesson. In the game of SEO, the turtle will always win. And also with other Alex Becker programs I've purchased like Market Hero, I usually see issues.
Looking up reviews of this program on places like Warrior Forum, there were few people who liked it and many who did not. One of their biggest issues, as well as my own was this:
1) The "unique content" is actually taken from supposedly article directories and spun (changed) to look unique.
The content that is produced can look boring and is recommended to be changed to your own writing style. If that's really the case, then what if I may ask is the point of even getting this product? 
Spun content is frowned upon by Google.
Not only that but it's generated from other posts which were written by real people. How would you feel if someone was taking your content, spinning it and making it their own? This is why I call it indirect plagiarism. It's wrong.
This approach to SEO worked in the past and people utilized article and content spinning programs to generate fast and easy content which did work, but in time, Google changed their ways and if you were caught using this, your website would be punished. 
2) The high PR backlinks you get will most likely not work. 
Firstly, the approach of backlinking via high PR pages today is considered bad SEO practice and if Google catches you, they will slap your site down in the SERPS.
Secondly, Alex Cass, SEO Zen's creator shows in his demonstration video how he gets high PR backlinks by simply going to pages and leaving a comment, while linking back to his page. This kind of stuff will most likely not work. Here's why:
Most people who own high PR websites will not approve comments if they see people are trying to shamelessly link back to their pages. I personally NEVER approve any comment that I see linking back to a website. This practice is nearly dead.
3) You can do this kind of stuff on your own without some kind of "automated system".
Stop focusing on "magic formulas" to achieve SEO success. It's not a difficult formula! All it comes down to is writing unique quality content that get's people commenting and reading your stuff as well as interlinking your pages. This is what gets ranked and this is what has worked time and time again, while all these cheap approaches to SEO programs has come and gone, and will continue to do so.
4) Refund issues.
This is huge. I've read from a few people that even though they claim to have a 30 day money back guarantee, if you ask for it, you'll get some sort of automated message which won't actually provide you with a refund and you will be forced to dispute the purchase with your CC company or PayPal. 
5) Sneaky upsells.
Another huge issue. I encountered this kind of stuff with Bring the Fresh where I was sold on all the promises if I purchased their system, then once I did, I got little information and was basically seduced into buying all of their upsells.
In SEO Zen's case, you're told if you want to utilize the best feature of the program (the spinner which you already know my opinion on), you'll have to buy it monthly or get the lifetime access to it. With the way they sell it, it seems like the biggest key to this system is something you DON'T get with your initial purchase, unless you fork over the extra cash.
I once made the analogy of a toy being purchased by someone who is told the toy is amazing, includes so and so, ect… Then once the toy arrives, they find out you only get a small piece of the toy and if you want the whole deal, you need to buy extra things. Please tell me how that is ethical/right? 
I've learned the hard way that in the game of SEO, you don't want to try and play the system. It will ALWAYS catch up to you and punish you. Don't look for the easy way out. Do the hard work and it will pay you back many times over.
This is something I have learned from my #1 recommended place (Wealthy Affiliate) which teaches you honest approaches to successful SEO.
The bottom line is this: Don't buy into the hype programs like SEO Zen & others try to get you to believe. If it's too good to be true, it usually is! 
I'd love to hear from people who have tried this system and their experiences (both good & bad) with it or what your thoughts are on this. Share your opinions below!