In this article, I will be showing you exactly how I made $500,000 through Clickbank alone as an affiliate. This is a personal success story of mine and I have the certificates and checks to prove it.
Now before I give you my Clickbank income proof and steps to replicate this:
There are:
5 quick things I need to say about Clickbank (and making money online): 
1) Clickbank (CB) isn't the only place I've made money through and my golden years with it were between 2009-2012. I still make sales with it and while it's not the same as before, it's still a nice added income to my overall profits in online marketing.
2) There are at least 2 other major affiliate networks I work and make sales from: Amazon and Wealthy Affiliate.
3) Wealthy Affiliate is actually the program I am most active with it today (After 2012, I focused less on CB and more on this program). And the profit numbers from this program are inching closer to $300,000 and will soon surpass my CB numbers.
I decided to focus more on Wealthy Affiliate because I like promoting them (they taught me how to succeed with CB and any other affiliate network, and they actually have a free membership option).
4) There are 4 steps I have followed to get the results I'll show you with Clickbank:
The thing about these 4 steps is that I've also used them to make money with the other affiliate networks I talked about and they can be replicated by anyone, even if they are a beginner.
5) While I will be giving you the case studies and success stories I had with Clickbank, I know you're probably going to be seeking to do the same and the best way in my experience for you to do this is through Wealthy Affiliate, since that is where I got the training to succeed with Clickbank. 
Now let us begin!
Here is a video which explains how I got my success with Clickbank:
If you'd like to learn more, let me start/continue with the biggest success story I have to date:
Let me break it down into the specific products I was promoting (and how I was doing it)…
1) I made about $400,000 via promoting a program called:
Fat Loss 4 Idiots as an affiliate marketer.
Although the program is no longer on the network (unfortunately…), it was one of the hottest products back in the day. And I admit one of the major reasons I switched to Wealthy Affiliate and promoting them was because I didn't find a product on Clickbank in the weight loss department that was as good at this.
With regards to Fat Loss 4 Idiots, here are several ways I made money selling this product:
1) Wrote many articles on Ezinearticles.com, sent traffic to an opt in page, gave them a free eBook on diets and promoted Fat Loss 4 Idiots there.
There was a point where this sales funnel was making me $100-$200 a day. In total, I would say this made me about $20,000.
2) I had a Squidoo lens where I was showcasing reviews of Fat Loss 4 Idiots and linking to it. The way I got reviews was I asked the list I gathered from the method above to talk about it.
This provided me with several $1,000's in sales.
Note: Method 1 and 2 no longer work since 2011 and up because the site/s are either down, and/or it's almost impossible to get good traffic out of them. I am mentioning this so that if you choose to copy the methods I used, that you don't waste time. And if you need to get started with making money on Clickbank or online in general, here is where you should begin.
3) I created a personal website that was promoting Fat Loss 4 Idiots. This website ranked high on Google for search terms related to it's method of weight loss: Calorie shifting.
It's still up on Google today (look it up). This led me to make several $1,000 as well and in fact, after Fat Loss 4 Idiots died out, a new opportunity appeared (in 2018), which has since the switch in promotions made me an additional $1,000+ in CB earnings (see it here).
4) There was a very popular diet being promoted on televisions and I used it's popularity to drive people to buy Fat Loss 4 Idiots. This ended up making me $200k over 2 years. Here's more specifics about 1 page websites (and a check to prove it). And here's a check I got: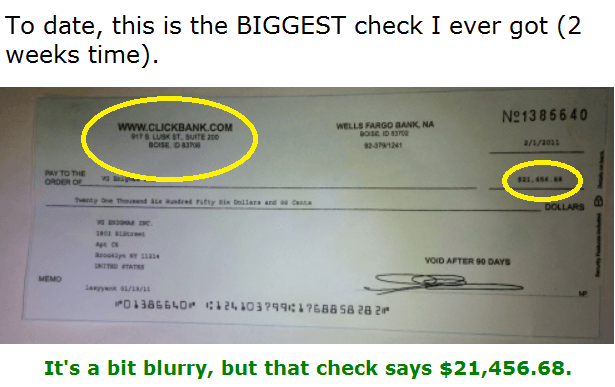 5) Made about $50,000 promoting the same program through another popular televised product called "Pink Method". The popularity of this product was short, but there was enough time from the point that it was aired for me to make a 1 page site and funnel people to buy Fat Loss 4 Idiots. I used Bing ads to get traffic to the site that was promoting it.
Again, all of these methods involve promoting the same program, but through different methods and in some cases using other popular products, their traffic numbers and funneling them to promote Fat Loss 4 Idiots.
Side note: Certificates from CB itself (I have 2 of them):
I still have my old CB certificates they sent me when I made them so much money and here they are: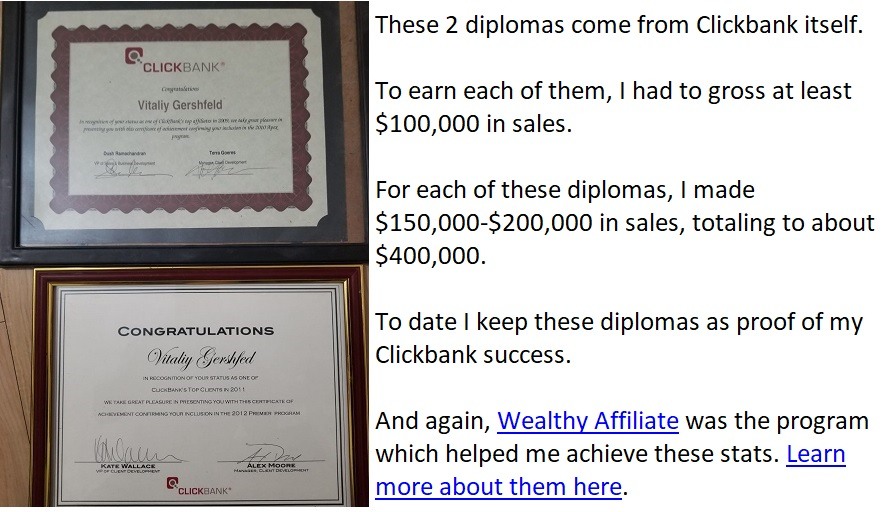 I even once said that these 2 certificates alone would weigh more in credibility than my college degree that I got in business marketing. And many years after I graduated college, I still believe this.
2) Next we have a CB program called "YayFood". 
Unfortunately like Fat Loss 4 Idiots, this program is no longer available. But I did make a few $1,000 promoting it via the 3rd method I listed above. I basically used the same calorie shifting website and promoted both Fat Loss 4 Idiots and YayFood.
This promotion was earning me $8 a month for each sale I made, so it made sense to refer higher volumes of people as those numbers would be recurring and generate a decent, stable income.
3) Made 1 measly sale promoting Affilorama.  
This is a program you can still find on Clickbank today, it is a membership site which teaches online marketing. And I actually promote it on THIS website, but I do tell people to try a cheaper, better alternative which is Wealthy Affiliate.
I've gotten many people into Wealthy Affiliate while talking about Affilorama, but 1 person decided to try it anyway and purchased a lot of the program's products which earned me $350 for the sale.
4) I made a few $100 promoting a relationship book.
It was an eBook on getting your ex back by a friend of mine called Travis Sago. This guy is one of the most successful online marketers I know and this eBook was one of the biggest sellers on Clickbank. At the time I had still been using Ezinearticles.com as a traffic source, but I was funneling it to a review of this eBook and it worked out OK.
5) Made about $30,000 promoting 2 diet products: the 2 and 3 week diet.
After Fat Loss 4 Idiots "died out", I still had interests in marketing weight loss products on Clickbank through a weight loss site. After all, my initial success online was through Clickbank and selling diet products so I didn't want to throw this away, but I had to find a different product to promote and these 2 options presented themselves as the most popular sellers on Clickbank in the weight loss category.
While they didn't sell as well as Fat Loss 4 Idiots, I was still able to make decent sales with them through starting a weight loss website and promoting it there. Basically what I did was I took popular diet books that were on Amazon, wrote reviews on them and funneled them to a page where I was promoting these 2 products. 
The sales were up and down and I've been going through some tests with this lately, but overall, in about 2 years, I made about $20k doing this. Honestly, it's been more of a frustration than success as I made the mistake of making a weight loss site instead of a niche specific site to sell this product to, so I blame myself in this case.
Another way I monetized promoting these 2 diet programs was through a niche site I talk about in this case study where I made over $1,000. It still ranks on Google and gets traffic, and the page leads people to buy the 2 week diet specifically.
By the way, as popular as weight loss niches are, let me say that if you understand this subject, you can find tons of niches and promote countless different products and programs, not just from Clickbank, but many other affiliate networks.
And to provide this, let me suggest you read this article: 50 profitable niches. I personally wrote this and explain many different and VERY cool niche ideas you can make money with.
But it's still a success story. And here are recent checks I got from ONLY promoting these: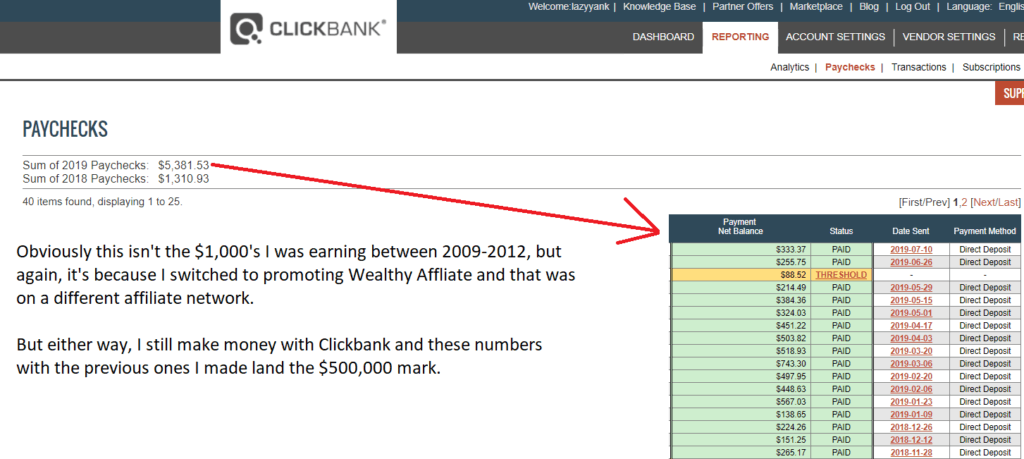 Some very important things I need to mention:
As you can see from the stories above, I did mention that some of the products are no longer in business. Just as much, places like Ezinearticles and Squidoo are either no longer good to use or just aren't active anymore (like Squidoo).
If you still seek to make money with Clickbank, I can tell you there's still tremendous opportunity to do it and rather than experiment with different options, which may or not may fall apart tomorrow, there's still a VERY good way to make it work for you and it will continue to work for years to come.
All of the sales I made with Clickbank were through their affiliate program and if you want to see the specific methods I used to it, I wrote a blog post on the 5 methods to create affiliate marketing success with Clickbank where I detail all of them.
How to make money with Clickbank in 2020, 2021 and up:
The ideal scenario with which you can make good money is to follow that 4 step formula I mentioned above, which in case you forgot is this:
Every success story I had above always involved following these 4 steps and again, they were taught to me from Wealthy Affiliate.
It's a great formula because it's your site that will be the money maker, not the product.
For example: With this set up process, should the Clickbank product fall out of business (which has happened), this formula ensures your online business is still functional and able to promote a new product, be it from Clickbank or elsewhere.
So in my cases, having a website that gets traffic is the money maker because if I'm promoting a Clickbank product there and it stops succeeding, my site will still get traffic and I'll just have to replace the previous CB promotion with something else (it could also be another CB promotion).
So the important thing is to set up a good online business that follows these steps.
And Wealthy Affiliate is one of the only programs that does this (which is why I recommend it):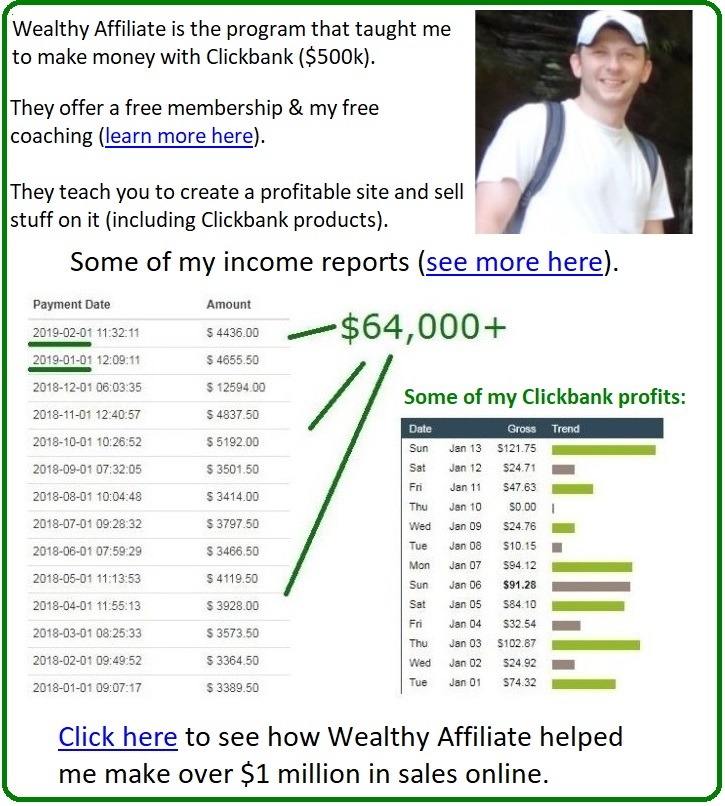 Just remember that the key to making good money with CB or any other program is to have the niche website, more specifically a HUNGRY niche site. Once you have that, then finding a product to suite that hungry niches is easy. But always start from the site, not the product!
My recommended program will show you all of this.
Update: Clickbank also offers it's own training program but Wealthy Affiliate is better.
It is called Clickbank University. When it first came out I didn't really like what it had to teach and left. But years later, it did update.
However, I would still recommend Wealthy Affiliate instead of CB University because it's still the best one there is for learning these things and again, it was the same program that showed me the tools to make the $500,000+ from CB.