I've never had a site (so far) earn me more than the one in this case study, where literally with just 1 page, I was able to make over $100k in a single year. This particular case study will explain exactly how that happened (and how it's possible to do).
The proof of the 1 page site making the $100,000:
So what I have to show you is a single check and a diploma for the period that this was going on for. The check is for $20,000+ and the diploma is from the affiliate network I was making the money for:
Sadly, during this period, I didn't take a screenshot of my daily sales reports, but it was $1,000's being made everyday in some cases. And I will be explaining, through this article how this was done shortly.
Now as amazing as this case study and experience was for me (I had never made this much before), let me just say that in online marketing, most of the projects you engage in will not work.
That's a fact everyone whose in this business will have to learn, but through the experience, you will get better and in truth all you need is 1 successful site to experience the amazing benefits of internet marketing. That happened to me with this case study. 
So in regards to this case study, it wasn't just $100k in a single year. It was actually more:
And that is nearly $200,000 over a 2 year period ($187,000+ to be exact) through 1 website, a popular T.V show, using training from Wealthy Affiliate and using Bing Ads. 
The story of how this site came to be:
1) It was the December of 2011 (don't worry, I'm still making money in 2020 still, just from other sources now).
2) But anyway, I was regularly looking up ideas for new ways to promote popular products (through affiliate marketing) that were coming out.
3) To do this was I was constantly looking at a site called Google Trends, a popular free website on Google which helps you monitor popularity subjects that arise on a daily basis.
4) And in doing this, one day I discovered a diet called "17 day diet" was gaining a lot of attention, and to see just how popular it could be, I made a 1 page website to promote it and another product with it too.
5) The name of the site WAS 17daydietdrmoreno.com (I say was because the diet eventually stopped getting attention, so I took it down because otherwise, it'd be a waste of money).
6) But when it was up, I put up the website on Bing advertising and promoted a program called Fat Loss 4 Idiots through it. My whole point on that page was to talk about the 17 day diet but explain how Fat Loss 4 Idiots was better. I would later also promote the same method through Google ads, a strategy which would not work today (2019). 
In truth both plans used the same method of dieting, but Fat Loss 4 Idiots was faster and that is what I explained. I never said ANYTHING bad about the 17 day diet. I was very honest and let the customer decide which was better for them. 
The result? An explosion in sales and a tsunami of money coming in:
My first day yielded $400+ in profit.

I would later have days where I would made $1,000′s with the biggest day being over $7,000.

The check above you saw ($20,000) was for the money I made in 14 days for this product.
This micro niche would end up making me nearly $200,000 with about $60,000 being spent on advertising on Bing. Either way, it was an incredible feeling to wake up every morning and see $100′s in sales. 
Now later on one of the biggest lessons I took from earning so much from this website was that to make the big money, you need to target the huge laser niche, which this particular topic was perfect for.
Here is how the 17 day looked on Google trends (which showed me the potential):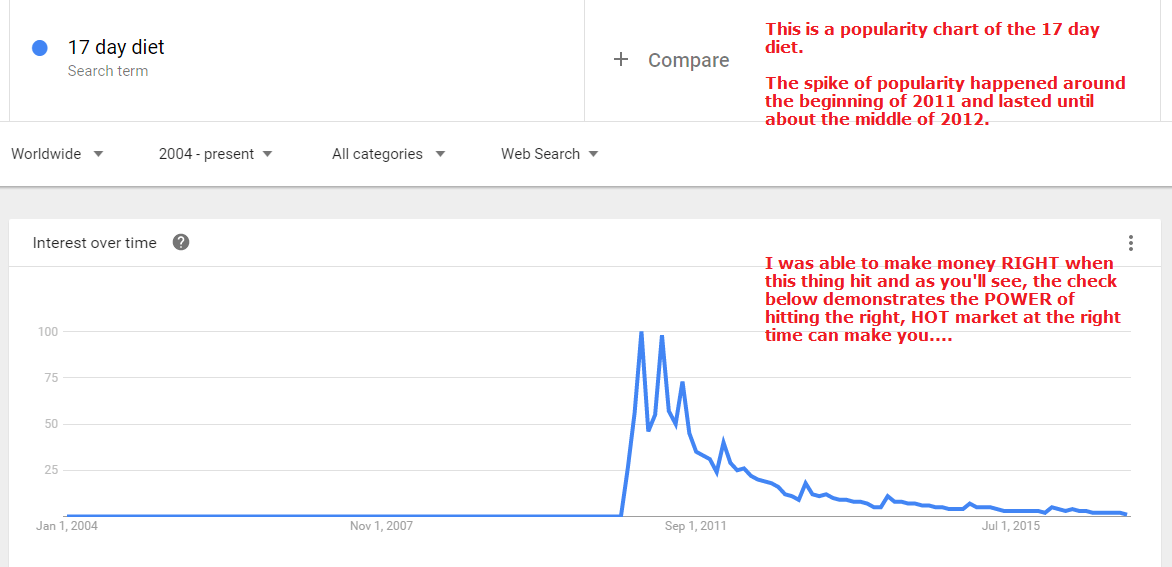 Notice that peak period during 2011. That's when I was making the crazy money from this diet.
Let's summarize the steps I used to make my six figure site:
Used Google trends to discover the 17 day diet.

Made a website talking about the 17 day diet but promoting an easier alternative: Fat Loss 4 Idiots.

Promoted the website via Bing ads.

Profit. 
Lessons to be learned about this case study:
1) What you need to know is that in internet marketing, timing is crucial.
It's very rare to encounter a popular niche such as the one I did and make money through it. I've discovered many niches like the 17 day diet and tried making money of it only to fail. 
This is a fact of life when it comes to internet marketing:
2) Not every project you do will make you this kind of money.
But even though that happened, all it took was 1, just 1 project to make me earnings most people do not make. And I also would like to mention that I worked less than 100 hours for the ENTIRE year of 2011. This was all because the money kept pouring in, literally.
In hindsight, looking back on that moment, I should have used that money to re-invest and work longer, and harder, but what's done is done. 
Furthermore, another lesson I learned and what I would like to share with you is this:
3) For most people, it's better to focus on slower, but passive ways of making money with websites.
Even though from time to time niches like this pop out from which you can make an incredible amount of money from, the truth is waiting to find them isn't the right way to make a passive income at this.
You can make a GOOD and even amazing amount of money weekly, monthly and yearly from niches which are popular all year round and have stable income coming in. And this is what I ended up doing following this case study.
My advice to you:
If you are seeking to recreate this kind of success in your life, don't just depend on PPC alone or finding that 1 magic niche. Those are hard to come by. 
Instead, if you're looking for stable ways to make money online & legitimately, make sure you're utilizing not just this method of marketing, but also all the other forms available.
Having multiple sites which are naturally bringing in money, not just via PPC is crucial to maintaining a successful online business.
If you don't possess the knowledge to do this, I would strongly recommend getting training from my #1 recommendation, Wealthy Affiliate which teaches all the forms of successful online marketing. Did I mention it also costs $0 to try? 
Want to learn more about making 1 page websites?
9 years later, I made another case study article and video explaining this process. Here is the new guide on making 1 page websites earn six figures.
But understand the advice I gave on sticking to passive forms of income is still the better choice, because this 1 page website stuff in nature is very rare to work.