I've never had a site earn me more than the one in this case study, where literally with just 1 page, I was able to make $100k in a single year.
I will explain exactly what I did to make this single page site, how I marketed it and how I made the money through it. I will also include a check below (for proof of course!) I got from the promotion (Clickbank) which was over $20k earned from just 2 weeks.
Now as amazing as this case study and experience was for me, let me just say that in online marketing, most of the projects you engage in will not work. That's a fact everyone whose in this business will have to learn, but through the experience, you will get better and in truth all you need is 1 successful site to experience the amazing benefits of internet marketing. That happened to me with this case study. 
So in regards to THIS case study, it wasn't just $100k in a single year.
I actually made more than that…
It was nearly $200,000 over a 2 year period ($187,000+ to be exact) through 1 website, a popular T.V show, using training from Wealthy Affiliate and using Bing Ads. 
Background:
It was the December of 2011. I was regularly looking up ideas for new ways to promote whatever came out. To do this was I was constantly looking at Google Trends, a popular free website on Google which helps you monitor popularity subjects that arise on a daily basis.
I discovered a diet called "17 day diet" was gaining a lot of attention, made a 1 page website promoting it:
17daydietdrmoreno.com (Feel free to check it out), put it up on Bing advertising and promoted a program called Fat Loss 4 Idiots through it. My whole point on that page was to talk about the 17 day diet but explain how Fat Loss 4 Idiots was better. I would later also promote the same method through Google ads, a strategy which would not work today (2019). 
In truth both plans used the same method of dieting, but Fat Loss 4 Idiots was faster and that is what I explained. I never said ANYTHING bad about the 17 day diet. I was very honest and let the customer decide which was better for them. 
The Result?
An EXPLOSION in sales!
My first day yielded $400+ in profit. I would later have days where I would made $1,000′s with the biggest day being over $7,000.
This niche would end up making me nearly $200,000 with about $60,000 being spent on advertising on Bing. Either way, it was an incredible feeling to wake up every morning and see $100′s in sales. 
Now later on one of the biggest lessons I took from earning so much from this website was that to make the big money, you need to target the huge laser niche, which this particular topic was perfect for.
And by the way I didn't forget about putting up a picture of the first check I received from this project ($21,656.88 and it's coming up).
My next paycheck was for over $18,000 and this was all for the month of January for which the total was $40,000+.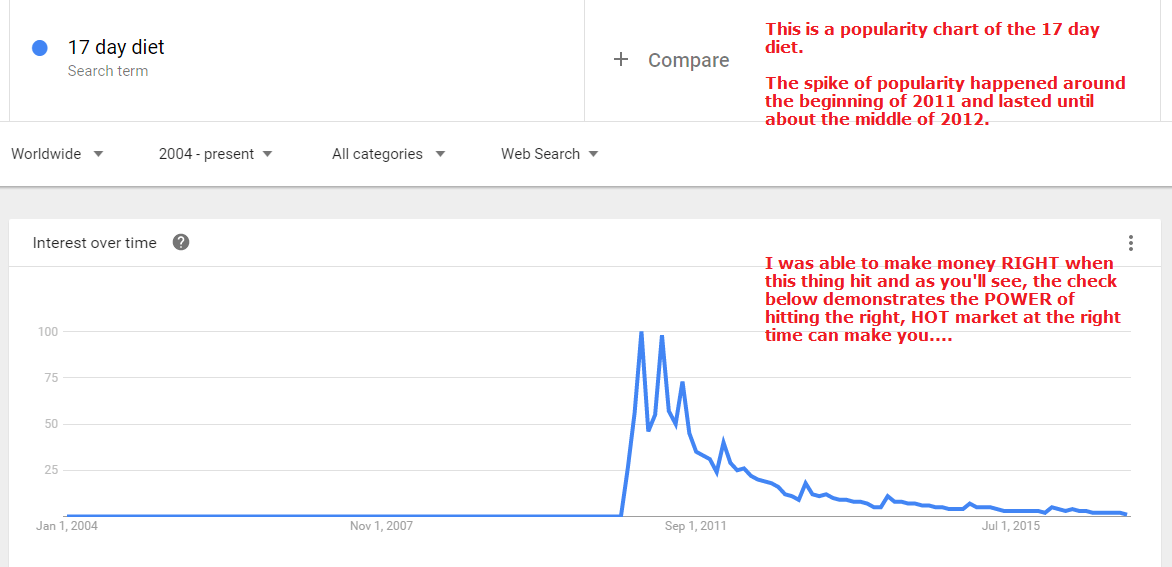 Let's summarize the steps:
1. Used Google trends to discover the 17 day diet.
2. Made a website talking about the 17 day diet but promoting an easier alternative: Fat Loss 4 Idiots.
3. Promoted the website via Bing ads.
4. Profit. 
Lessons to be learned about this case study:
What you need to know is that in internet marketing, timing is crucial. It's very rare to encounter a popular niche such as the one I did and make money through it. I've discovered many niches like the 17 day diet and tried making money of it only to fail. 
This is a fact of life when it comes to internet marketing: Not every project you do will make you money. But even though that happened, all it took was 1, just 1 project to make me earnings most people do not make. And I also would like to mention that I worked less than 100 hours for the ENTIRE year of 2011. This was all because the money kept pouring in, literally.
In hindsight, looking back on that moment, I should have used that money to re-invest and work longer, and harder, but what's done is done. 
Furthermore, another lesson I learned and what I would like to share with you is this:
Even though from time to time niches like this pop out from which you can make an incredible amount of money from, the truth is you can make a GOOD and even amazing amount of money weekly, monthly and yearly from niches which are popular all year round and have stable income coming in.
Can this happen to you? 
Absolutely. What you need are these ingredients:
1. Google trends.
2. Find a popular trend which you can monetize off.
3. The ability to have/create a website. If you're going to capitalize on hot niches appearing on Google trends, you need to have a website ready. But since niches can be different, it makes no sense to have 1 website for all of them. It also doesn't make sense to have multiple sites because this will end up costing you a lot of money in the long run.
My suggestion is to have a free website ready to create and fill in as well as prepared to advertise on Bing. For that I recommend this free website building tool.
4. PPC training (if you don't already have it). I would highly suggest getting PPC training here, otherwise you'll end up spending a lot of money and not making a good enough profit.
My advice to you:
If you are seeking to recreate this kind of success in your life, don't just depend on PPC alone or finding that 1 magic niche. Those are hard to come by. Instead, if you're looking for stable ways to make money online & legitimately, make sure you're utilizing not just this method of marketing, but also all the other forms available.
Having multiple sites which are naturally bringing in money, not just via PPC is crucial to maintaining a successful online business. If you don't possess the knowledge to do this, I would strongly recommend getting training from my #1 recommendation which teaches all the forms of successful online marketing. Did I mention it also costs $0 to join? 🙂
Next Case Study:  
Finding hot niches and making a website that gets a ton of traffic! But mistakes were made too. See the case study.
If there are any questions/comments you have about this case study, feel free to leave a comment below and I'd be more than happy to answer 🙂 Always remember that in internet marketing, it's never a 1 size fits all approach. If there's anything you should take from these lessons, it's how to think outside the box and apply it on YOUR own way. 
 P.S. $20,000+ paycheck from doing this for 2 weeks. Proof from Clickbank:
Now I would like to point out that this check is a scanned copy of the original which I deposited shortly after I got it. I mean…how could I not save a copy of this!?
Update:
The original site associated with this case study no longer exists and this is why…
When the diet program started to lose steam, I ended up reaching a point where I had barely any profits, broke even and eventually started to lose money. This made it a none profitable venture for me to continue and I was eventually forced to shut down the site.
However, what it brought in was proven above and it can be done with ANY hot niche topic.
Further, I've had similar experiences such as the one in this case study and in every circumstance, I promoted products like Fat Loss 4 Idiots, all of which were a part of the same affiliate network known as Clickbank. 
To date, I still remind myself of the potential of how much one can make online when all the ingredients are there like it was in this case. But I also learned the importance of not waiting for this and to focus on long term profits so I wouldn't need to keep chasing this type of opportunity because of it's rarity and it's why after this project eventually fell apart, I decided to follow this program's advice on making long term profits online.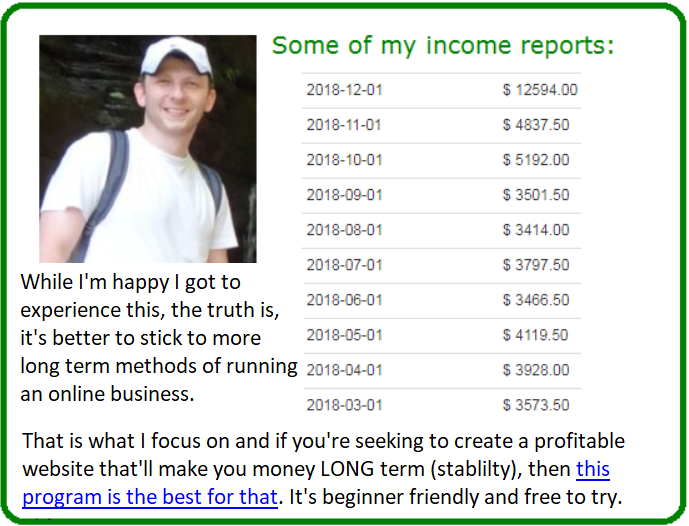 More updates:
So as I mentioned above, timing is a HUGE thing to find these types of HOT niches and in fact, recently I did run into another one (case study). It didn't make anything close to what the 17 day diet did, but in this particular case, I had an article on a site randomly rank high on Google and start getting me 100's of views. I input some affiliate links on it and earned about $5,000 from it.