When I look at the times I made the most money online, it was always because I had been marketing to laser targeted niches and getting that level of traffic to my website, my YouTube videos and the ads I'd make.
I'm not going to hide the numbers and I will show them to you throughout this article, but before I do, I want to actually cover this topic, so when I do get to the numbers and case studies, you won't be surprised why it turned out the way it did.
Let's start with this:
What is laser targeted traffic? Why it's the best traffic you'll ever get:
It is the most relevant, specific and profitable traffic you could possibly get to your website. Think of people who know exactly what they are looking for on the internet:
Product reviews to a specific.

Questions to specific problems and topics.
I'll give you 3 specific examples (case studies) coming up, but for now, keep these subjects in mind and the types of people who are looking them up.
These are people who aren't just regular browsing around the internet. They have specific intent in mind which is:
To find a solution to something and these the best audiences that convert for the marketer who knows how to find them and market to them.
Again, I'll show you examples of this very shortly, but the basic idea is that if you understand what laser targeted niches are, you are almost guaranteed to make money online if you are able to use correctly set up websites, YouTube videos and ads for these crowds. There's low competition almost always in these niches and the conversion sales rate is sky high.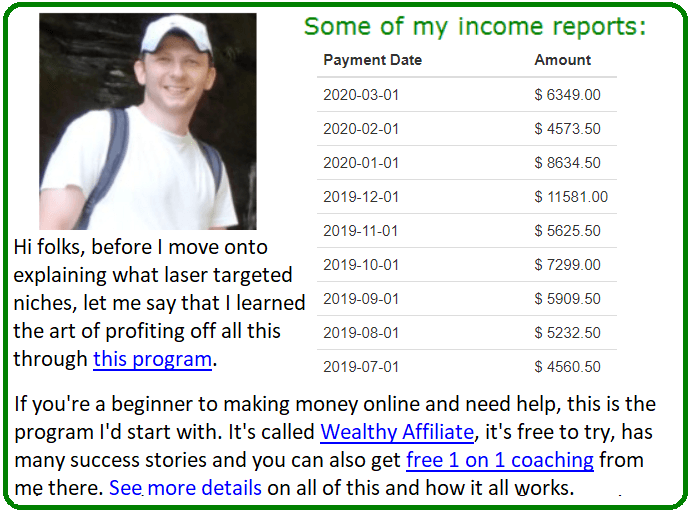 Now the best way for me to help you understand this is to put up the following picture of a dart board, but divide it into 3 sections, and the closer you get to the middle (the bullseye), the better it is:
Now that we have some sort of color schematic to help you better see this, let me give you 5 examples of A, B and C (audiences). Just apply the color of the text to the dart board above. You'll get it this way, I promise:
Want even more examples? Check out another article on this topic I wrote here on finding your laser targeted niche.
Anyway, that covers the finding of the laser targeted traffic.
What I would do once I select one of those subjects is to follow traffic generation tips whether it be start a blog on the subject or maybe set up an email list and market it on paid ad networks.
The goal is to get that traffic to the site/landing page and then sell to them and this is the traffic that converts the most, hands down (I'm about to give examples).
Now this part of the process requires you understanding blogging, traffic generation and all that stuff, and if you don't already know some, most or all of it, get the best training for a program called Wealthy Affiliate, as the examples I'm about to give were successful thanks to me implementing that training.
3 case studies of how targeting laser targeted niches made me six figures online:
1) I promoted the same type of diet program to 3 different laser targeted audiences over a course of several years and made about $500,000+ from that . The 3 laser targeted crowds were people who were looking for SPECIFIC diet program reviews, which meets the criteria of the niche crowd being laser targeted.
One of those diet programs which attracted the laser targeted niche was monetized by me making a 1 page website that earned 6 figures on it's own.
Then there's the overall compilation of case studies that go into this $500,000 report, which I detail in this article on Clickbank and how I profited from it over the years.
2) I had been targeting people looking for specific make money online programs. I was finding many of them on places like Muncheye and JVZoo.
I was setting up review pages for every product I found (keep in mind each product is it's own laser targeted niche) and these pages were attracting the laser targeted audience to them because ONLY the people who knew what these products are, were looking them up on Google, which was a small crowd, and thus the keyword competition was VERY low.
The angle here is that I usually promoted a great program called Wealthy Affiliate to these people in most cases instead of the actual product review (because it's better). In the process, I generated over $300,000. This is another case study report I detail in this article on Wealthy Affiliate's Bootcamp training, that originally taught me this strategy.
3) I once found a laser targeted niche crowd which were people aiming to solve knee problems (very specific, very laser targeted) and set up an ad to build an email list from.
The results were astounding as I was getting sign ups regularly, and not from regular traffic, but from laser targeted audiences who were ready to buy what I was promoting to them as an affiliate marketer. This is explained in the following email list building case study.
Another brilliant example you have to read about:
One of the marketers I follow, Alex Becker in his teachings cites examples of how he gets 80% and up opt-ins (signups) and about 80% conversion rates (sales) from his marketing methods.
In short, what this means is that 8 out of 10 people buy from this guy. And since most marketers can't even get 1 out of 10 in terms of sales and opt ins, what is he doing to generate these high numbers? Well here is the explanation:
It's the art of "marinating" traffic into becoming laser targeted traffic:
Alex Becker collects an email list of people who want to learn his ways of making money online. Then he runs them through an email list funnel where he warms up that audience to his future offers. 
Before he sells them these offers, he provides that list with another sign up form so the people already inside his list can sign up for this other offer and that basically lets him know these are serious, laser targeted leads who are probably ready to buy from him.
In the process, once he sells the offer to this secondary list, he is already selling to people who are more than ready to buy from him.
Now this isn't a necessity for marketing, but it offers a different angle on this subject you can consider for your own projects if you decide to do them. 
I used the word "marinate" for a good reason here because in spite of him getting that laser targeted traffic and signing them up, he marinates that audience even more by giving them good value in his emails.
Then a portion of those people will want to go further with Alex and this is the audience he gets to his second list, the one which is ready to buy and that is the list that converts so high for him. This is very advanced, but it's relevant to this topic.
However, one thing I sadly have to say is that Alex Becker's program which taught me this stuff, Market Hero had outdated training that I couldn't really fully use to experience this, but the main program which trained me to get laser targeted traffic is still VERY valid and works to help you make this stuff work: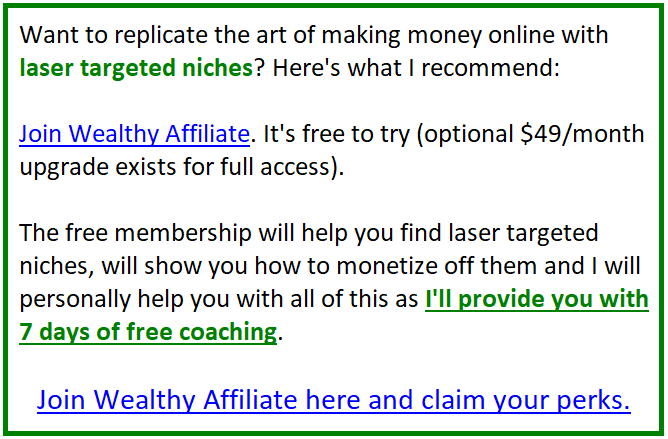 I have said before in my article on affiliate marketing, that laser targeted traffic is what is responsible for a majority of all the sales I've ever made. Knowing about how you can find it too will help you become successful at online business, 100% guaranteed.