If you're a beginner to affiliate marketing and need training to learn this business, I've got 7 very legit programs training programs to share with you today that if you put effort into, will get you results.
What to know about these 7 legitimate affiliate marketing programs: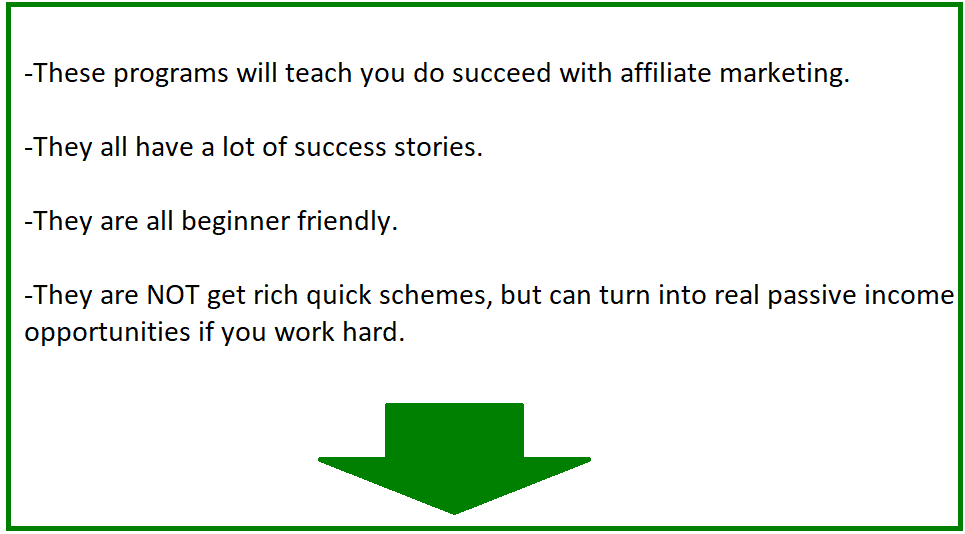 One of the programs on this list (the last one) has helped me generate six figures and operate an affiliate business from home, full time.
The list of the 7 legitimate affiliate marketing programs (great for beginners):
Serious Bloggers Only.
Income School.
Five Figure Niche Site.
Authority Site System.
Affilorama.
Niche60.
Wealthy Affiliate.
My income results from using the last program on the list (Wealthy Affiliate):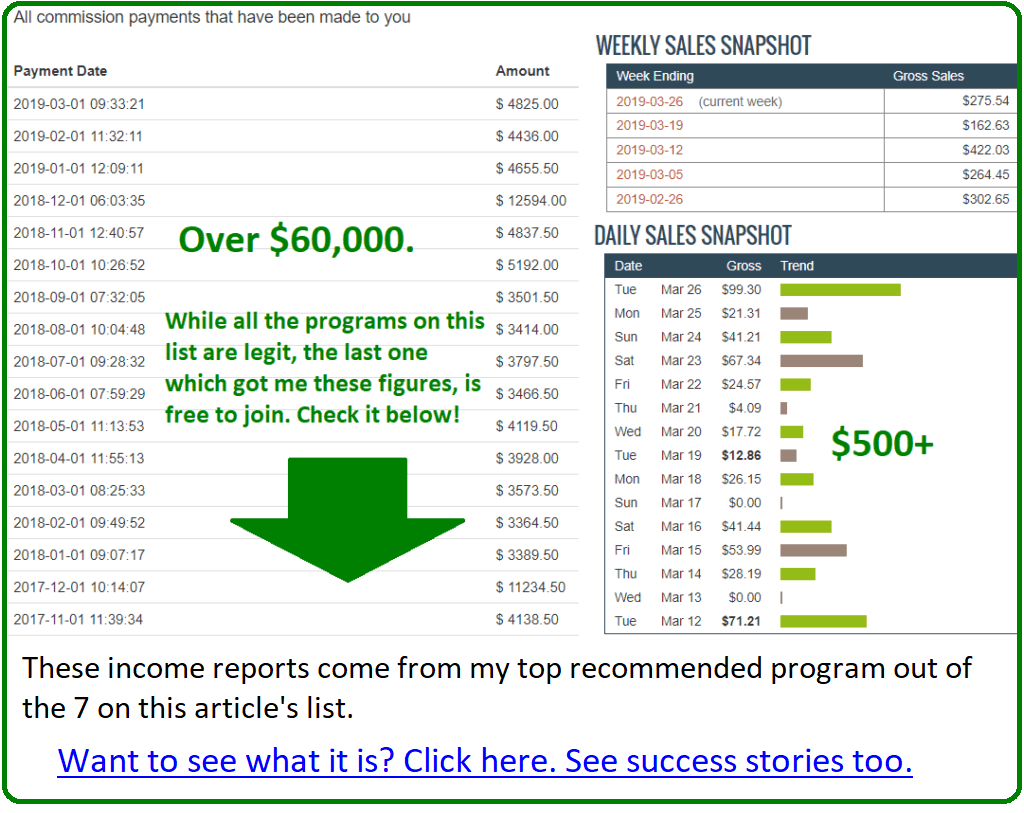 Before I share more detailed info about Wealthy Affiliate and the other list of legit programs with you, allow me to mention something very important:
Let me just say that finding a legit affiliate marketing program these days is extremely difficult. If you've been through programs before, you obviously know this. Such is also the case for me. Let me share a quick story about my experience with this:
Since 2013, I've had this site up and have been exploring which ones work and which ones don't. The 95% of systems I've found, don't and that's scary, considering that most people find these 95% of programs and this makes them fail.
The remaining 5% do, but many of these good places have also gone out of business, not because they were bad, but because they were overtaken by other sites, some good, some not so good.
Bonus: I've actually added an 8th affiliate training program to this list and it's an awesome program for more 1 on 1 related coaching.
So again back to the main point:
I'd like to to give you 7 legitimate programs that are active and working today, that you can join and be confident in knowing that they'll work for you. Of course, it needs to be mentioned that you have to work hard with whichever one you choose, because without that, you may as well just save your money and time and not get involved with it. 
Now I want to make it clear, we're looking over specific places that teach affiliate marketing, not internet marketing in general because that can include things like drop shipping, setting up email lists, creating your own product, doing joint ventures, ect…
Those things are different. All I'm giving you here is 7 systems that teach specifically, affiliate marketing, aka a way to make money online promoting products, that's it. 
Now I have to say the following about these 7 affiliate learning programs:

Here's the list of the 7 legit affiliate marketing training programs (each explained):
Note: If there are other affiliate marketing programs that you believe are also legit and worth adding to this list, please let me know below.
1) Serious Bloggers Only.
Cost: $47 (when I joined it first).
Beginner Friendly? Yes.
How I rated it: This program received a 7 out of 10 stars from me (full review of Serious Bloggers Only).
Description of the system: This program was designed by a VERY successful blogger named Jon Morrow. Now Jon's program doesn't directly deal with affiliate marketing, as it's meant to help you build a blog that gets a lot of visitors via guest blog posting (strategy explained in detail in link above), and when the site begins to see success, then the monetization part involves you selling your own services.
Now this is not affiliate marketing, but you can absolutely use this system to get your website up to a point where it's flooded with a lot of great traffic and sell affiliate products instead of your own programs. Either way, Jon's Serious Bloggers Only program can help you get there.
2) Income School.
Cost: For their Project 24 program, which is the main offer, it's $447 for a 2 year membership.
Beginner friendly? Yes.
How I rated it: 7 out of 10 stars but it could just as easily have been 8 out of 10. 
Description of program: Income School is one of the best and most transparent programs I have come across that teaches beginners how to create niche websites and blogs. 
Their training is realistic and the creators run an awesome YouTube channel as well. This program will not only teach you affiliate marketing but it will also help the site you create through their training also monetize via things like display ads and other methods. Here is a full review of Income School.
3) Five Figure Niche Site.
Cost: You pick one of three memberships, get charged for 10 months for whichever one you choose and the cost adds up to nearly $700 for the smallest, nearly $1,300 for the mid one and nearly $2,300 for the highest one.
Beginner friendly? Yes.
How I rated it: 6 out of 10 stars. Because the price is high, it was lowered to 6. The training however is far higher in quality.
Description of system: You learn to build an affiliate marketing website and sell Amazon products, legitimately. I like the program and here is the link to it, but it limits itself to how to promote for Amazon and the price is very high, so while it's legit, it's cost is a serious factor.
I have a full review of Five Figure Niche Site where you can see these pros and cons more descriptively. Also, it's currently closed for new memberships, but the review I provide will help you understand it better.
4) Authority Site System. 

Cost: $997 if you join the normal way, but I advise watching their webinar here. The last time I saw that webinar, they offered me a $200 discount. They may still have it.
Is Authority Site System good for beginners? Yes.
How I rated it: 7 out of 10 stars. The guys who made Authority Site System are awesome dudes who teach quality stuff.
Description of system: Another affiliate marketing training program where you learn to promote anything via a blog site & niche targeting methods. Here's a link to their page.
I also wrote up a review if you're not ready to join it so you can get more info. Here is a review of Authority Site System.
5) Affilorama.

Cost: Initially free to join, but then can cost a few $100 depending on which training package you decide to try.
How I rated it: 6 out of 10 stars. While legit, the issue is that the training is cut into packages, I would have preferred it be included in one, priced package.
Description: This is one of the oldest programs that teaches the subject of promoting things online, totally legit and the guy who made it, Mark Ling has good info he teaches his students. I do promote Affilorama on my site, here's the site and if you want a more thorough review, here is a very in-depth review of Affilorama.
6) Niche60.
Cost: $99, one time.
How I rated it: 7 out of 10 stars. 
Description of system: The program was made by Michael Brown, a person who once designed one of the best affiliate marketing systems I've ever tried: Niche Blitzkrieg. I actually rated that one 8 out of 10 stars, but that was because it was a little bit cheaper than this new one. Unfortunately, that program died out and he moved into Niche60, but the guy is legit as is his training.
Basically, you get a 60 day course on the subject of affiliate marketing and setting up a business with it. It's very comprehensive and very good quality training. You learn to promote anything you want. Here is the link to it.
7) Wealthy Affiliate (my top choice).
Cost: Free. But it does have a $49/month upgrade.
Is Wealthy Affiliate good for beginners? Yes.
How I rated it: 10 out of 10 stars.
The reason being is that even the free membership offers a lot (sites, training, support, ect…) and the $49/month offers crazy awesome value, including webinars, private coaching and a lot more.
Description: This is actually the system which initially taught me about niche sites and affiliate marketing and their training created a reference that I use to see if systems these days are legit or not so the other 6 above, I judge based on how good WA is.
I became a super affiliate for this program and I share some of my income reports from promoting them in this article about their Bootcamp Course which taught me to promote them and earn over $300,000.
Because it's been so good for me and the results have been amazing, I've stayed with them for 11 years and counting. Overall, what you're looking at is a COMPLETE course on affiliate marketing here, as well as unsurpassed training quality and support as well as tools INCLUDED with the membership to make the process of becoming successful much easier.
I offer people my free coaching within the site if they join Wealthy Affiliate here for free. 
Need to get a more in-depth review before you try it? No problem! Here is the full review of Wealthy Affiliate.
Does Wealthy Affiliate have success stories? Yep: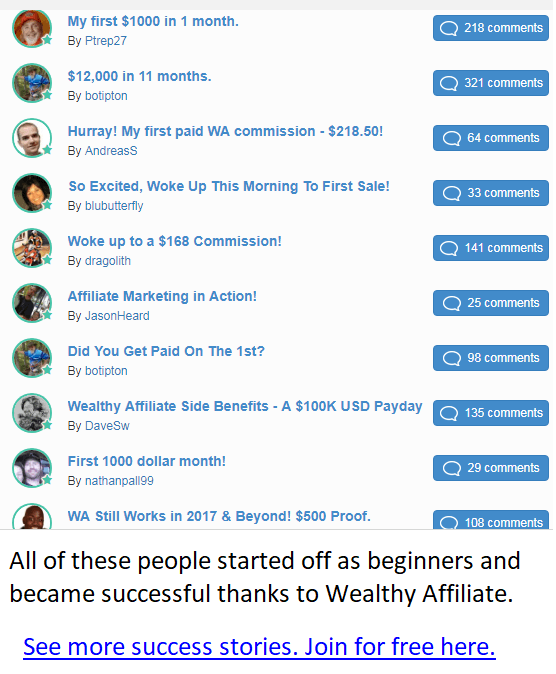 Here is a little preview of the results I've had through this platform: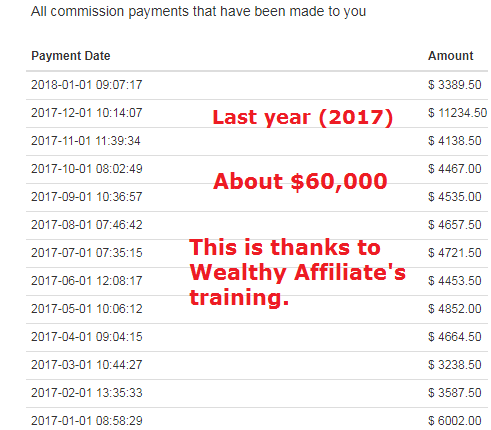 Now I recommend them as number 1 not just because of my personal success with it, but also because of it's benefits and risk free approach to the subject of affiliate marketing (and my coaching you get INCLUDED as a member if you join).
It is indeed free to join, but not the type of free you see with other systems where they give you a little snippet, some hyped info, then hit you with big up-sells.
No, they give you incredible training and value for free, without a catch as well as sites to try this stuff on, so as I've said many times, there's no risk in trying it.
Even though I recommend other good programs above, WA's benefits in this regard make it stand out far above the other 6 programs I've recommended.
And again if you need a more thorough review of Wealthy Affiliate, that link will explain that entirely.
It talks about all of my experiences there and explains how the system works.
My final thoughts: 
You can't go wrong with either of these 7 places. They are at the top tier of training in this whole subject by far and as long as you follow their stuff and work through the system, you will get results, 100% guaranteed. 
And once again, if you feel this list should be updated with another program you believe deserves a nod and/or you have experience with one of these 5 places I've listed here, do let me know. I'd love to know if you share my opinion on them and believe they are worth the recommendation.