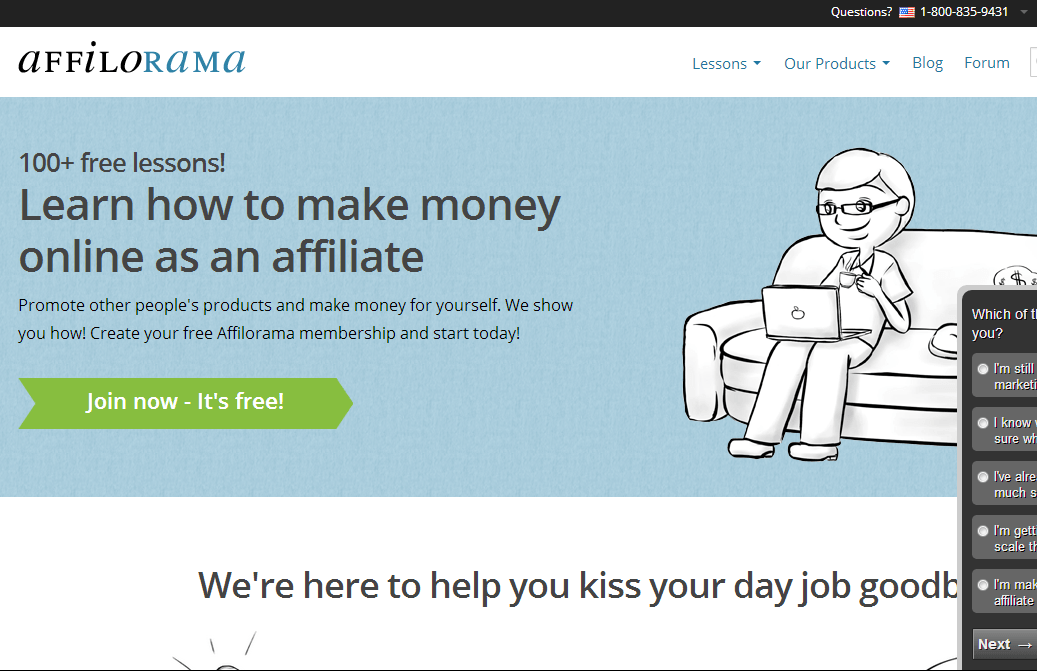 I review a lot of products that teach people to make money online. Mark Ling's Affilorama is one of the few which I ranked high (it is not a scam).
Though from my experience it isn't the best program for helping you learn affiliate marketing, it's still one of the few programs that is very legitimate.
Having said that it does have it's flaws and in this review, I'm going to point them out and given you a summary of the things it teaches through the multiple options it has.
Update: This review of Affilorama is a bit outdated and will be updated on another website I run. Stay tuned.
Quick Report on Affilorama:
Creator: Mark Ling.
Price: There are 5 different things within the Affilorama program, ranging from free training you can check out to monthly memberships, and high ticket programs that teach you about making money online (I'll explain what they are in this review).
Overall Rating:
6 out of 10 stars

.

Do I recommend it? Considering I use a program that teaches what Affilorama teaches, for less, the answer is no, even though this program is still legit and one I did include in my recommended programs tab on this site.
What is Affilorama? How does it work?
In a nutshell, this is a program which teaches you pretty much everything there is to know about affiliate marketing.
Training on Mark's site begins with the basics, in this case how internet marketing works, then moves down the line of important factors of the industry such as SEO, PPC & Email marketing. You can also see interviews and strategies from successful internet marketers on ways to improve your sales/sites.
One of the things I like about Mark's Affilorama is that you can get access to a lot of free information without investing a penny.
Most of the free training on his site is top notch, high quality and is great for absolute beginners to affiliate marketing.
There is also a forum for free members available, but the information and guidance you get there gets mixed views. 
Having said that, what you need to know is that the free training isn't really enough to know it all and the rest of the information is something you'll have to pay for. Obviously Mark is trying to make money off his website and I don't have a problem with that, if the information is helpful and practical.
However do note that if you wish to access all of the information and tools on Mark's site, you will have to buy one or more of his up-sells which will amount to a lot of money and monthly charges. Is it worth it?
I'd say yes if there weren't better alternatives, but there are like Wealthy Affiliate. But that's something I will point out a little later. And frankly, here is a list of 7 recommended affiliate training programs, one of which is Affiorama, but the other 6 are arguably better.
Let's get back to the Affilorama review and talk about the up-sells.
Affilorama's upsells:
There are several and each can be quite expensive, which is why instead of Affilorama, I suggest a better program for affiliate marketing training: Wealthy Affiliate, which only has 1 paid membership level that gives you every sort of affiliate training you need and it's higher quality than Affilorama in my opinion.
But if you are still interested in Affilorama and it's up-sells, here they are:
1) Affilorama Premium ($1 first month, then $67 every month):
This is the first upsell this program offers. It costs $1 for 30 days and then charges you $67 every month after that.
The premium membership comes down to an all in one training for affiliates, from selecting a product, to building a website promoting it, to how to promote it using SEO, PPC, ect… Here is a picture of the training with the premium membership:

You are also provided things such as web hosting for your website which usually costs $1-$10 a month. 
Is the training good? Yes. But there are holes in the game. For example:
Issue #1: A decent portion of the training teaches you to use backlinks to help boost your website's ranking. This is a method of marketing that no longer holds the same value as it did before and now can get your website Google slapped for the simple fact that it is a form of black hat marketing frowned upon by Google.
Some backlinking does work, but I wouldn't advise using Mark's method for your website. It's just too risky. I once tried using backlinks from what I considered a trusted place for SEO (Bring The Fresh) and it didn't work out for me. Full story on Bring The Fresh.
Bottom line? Do NOT use backlinks!
Issue #2: You get PLR articles (private label rights) where you are given articles/content to use on your website. This was once a good way to attain high rankings and easy content without worrying about creating your own, but nowadays like backlinks this method no longer works.
It is considered duplicate content, EVEN if it's quality content. This day n age, you need to provide your own unique quality content to get anywhere in Google's search. It takes more time, but it's well worth the effort and wait.
Other than these 2 issues, you'll certainly find a lot of useful and practical information on how to get started in affiliate marketing, though I still prefer my #1 recommendation Wealthy Affiliate because it's updated and costs MUCH less.
Additionally as a member of the premium membership, you also get access to pretty good support from Mark's staff and a special premium members only forum. However this perk is ONLY available to premium members.
If you buy the other up-sells and not the premium, you will have to also purchase this one in order to get support. A tricky way to earn more sales, but understandable from a marketing perspective. 
2) Affilorama Marketing Blueprint ($197).
Basically a tutorial which teaches you pretty much the same things as the premium membership, but along a more organized route. You get 85 videos and over 10 lessons on affiliate marketing covering subjects such as PPC (content network marketing) & SEO.
There are also a number of wordpress themes you get to better help you create a converting website. I can't vouch if this is really true or not, but I do know websites that convert are those which provide excellent content. This is my experience however…
The price of this up-sell is $197. You also get a 30 day trial to the premium member (up-sell 1) which is something you'll probably need since it will come with support. It's also a way to try and cross promote 2 services as one. 
3) Affilojetpack ($497).
Unlike the other up-sells, this one will show you how to market within 5 niches (you get 10 choices) and provide specific products to promote. It just so happens these are Mark's products and you will be an affiliate for him. The way this training is set up is you're provided a strategy to promote Mark's products via email marketing. Some call it lead funneling. 
Mark provides you with his "proven to work" emails to help you sell these products and earn commissions off them. With the way he makes it sound, it just involves some copying and pasting and you're set! But this isn't true and I do have some issues with this:
I don't think it's ever right to have to pay to actually promote something, especially such a outrageous amount. And even if you do pay them, experience has taught me that just copying and pasting does NOT always yield the best results. I personally would not risk this offer.
4) Affilotheme ($97).
Here you get access to a "special" WordPress theme which is supposed to be highly converting. You get training on how to use/customize it for your own campaigns/projects. It also comes with 1 year hosting which you will have to renew after a year by joining the Premium Affilorama membership (upsell #1).
My opinion? I don't think it's worth paying so much for a theme. You can get a WordPress site & hosting for $0 using my personal approach to making websites.
And the special theme Mark keeps talking about? I don't think it's worth it. Themes and how you websites look in my experiences are secondary to the content (information) you put on it! 
Pros:
One of the few places which shows legitimate ways to earn money online as an affiliate.

Great free information on affiliate marketing.

Good info for complete beginners to this industry.

Available forum to help you with your questions. 
Cons:
Some of the free/paid training is outdated and risky to use.

Very expensive upsells. You're look at potentially $700+  & $67 monthly costs for services and training you can get elsewhere for much less! I honestly think there is value in these costs, but you can get that from Wealthy Affiliate, my #1 recommendation.
Final Rating: Affilorama

Green Flag
6 out of 10 stars: Legitimate program. Good info. However very pricey and some techniques are outdated & risky.
The program and it's training becomes more complete if you buy all of their offers which is what makes the extra products more appealing, but at the same time if you can't afford it, you should check out programs which aren't as expensive, such as Wealthy Affiliate which has much more benefits than Affilorama:

Final thoughts: Should you try Affilorama?
This program is good. The free information is solid (for the most part). Again if there was no better option, I'd say Affilorama is worth investing into, but it isn't in my experience. I'd say Wealthy Affiliate is.
If you're still convinced Affilorama is the place to be go right ahead and join it. But I would highly advise AGAINST using the backlink strategies Mark recommends. Everything else is solid, except the price of course which is where I have another major pet peeve against.
All of Mark's up-sells are VERY expensive. For example, having to pay nearly $500 to promote one of his 10 products is just absurd. No affiliate should have to pay to promote a product. And the other up-sells can be attained for less. Again this is why I keep recommending the Wealthy Affiliate alternative.
It has the same if not better information. It's A LOT cheaper and there's no shady ways to try and get you to buy anything expensive. 
My final opinion?
If you want to try Affilorama, try the free training and see how it works out for you. If you want to go further, it's your decision, but you know my position on it and again, in my opinion it's just too expensive and not worth risking especially if you're new to affiliate marketing.
If that is the case, you already know what I recommend instead of this program:
If you are someone who is a part of Affilorama or want to leave a comment/question, feel free to do so below!