99% of all websites don't make anything but if you know what to do to make it money through the available avenues, there's no limit to how much money your website can make.
And this leads me to share a case study on:
How this website earned $60,000 in 1 year: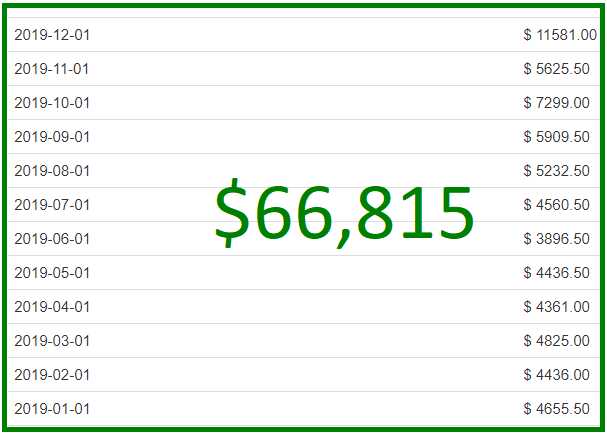 This is an article I'm writing up in 2020, but the report is for last year and despite saying $60,000, the numbers above add up to a bit more than that. The thing is, I'm just isolating the profits I earned from this site only, and that was around the $60,000 mark. So this is just to set the context before we begin.
How this website earned it's money:
I said above there are various avenues to make money off a site, and in this page's case, I did affiliate marketing for it which involved promoting offers on the site.
The main offer I was and am still promoting is Wealthy Affiliate and those numbers you see above are from the reports page I have on my personal Wealthy Affiliate commissions report page.
In fact, over the years, the bulk of profits have come from promoting this program. I followed a special training course called the Wealthy Affiliate bootcamp and have been promoting this offer on this website for years. In fact, the total is getting to over $300,000 going into 2020.
I also earned few hundred from promoting a Clickbank program known as My Freelance Paycheck. And over the years, the majority of money I've made has actually been from a combination of being an affiliate marketer for Wealthy Affiliate and Clickbank (its mostly Wealthy Affiliate now).
I also do a little bit of Amazon affiliate work on the side, and also some Google Adsense, but the profits from these 2 things are miniscule and not even worth adding to this report.
I do run other sites. How much do they make? 
Well not a lot honestly, and not because they failed, but because I just focus a lot on this one instead. But I do want to give you more reference and examples of how much a website can make:
1) I run a dieting blog which was actually quite dead for over a year until I discovered this interesting micro niche trend, took advantage of it and have since earned a little over $5,000. But after that trend fell off the map, so did the profits. I'm just glad I took advantage of it.
Then there's also the mud run blog and drone blog I run, which had some steam in terms of content production in 2017, but because they weren't making much, I had to focus my efforts mainly on THIS page, because well, this the one that earns me enough to pay my bills.
2) But in any case, the mud run page earned about a few $100.
3) The drone niche site also earned a few $100.
Now there are also 3 additional projects I've undertaken this year, of which only 1 is currently producing an income. All 3 of these projects are basically doing what this page does, in helping people make money online, but in different sub niche markets. Here is a brief summary of the 3 projects:
4) A work at home site which reviews mainly bad, scam programs, had earned me over $1,000 since I started it a few months ago. Now I'm not actually promoting any scams, I'm just exposing them and promoting Wealthy Affiliate.
5) Next is a strictly affiliate marketing website called HelpingHandAffiliate.com I run which has has made around $1,000. I started it in 2019 and plan to build it up to be my main income earner in 2020 (hopefully).
6) There are other 1 page websites I'm testing with paid ads but there's nothing major being made out of them yet to warrant a case study report just yet.
I don't want to get into too many details on all of these pages and projects because for now, it's personal and while I have high hopes for them and will be working on them a lot next year, I don't want to get carried away with making predictions. When the time comes and they hopefully do well, I'll write a case study letting you all know about them.
So how much can a website make? You saw my examples, but what about others?
There are no limits to how much a website can make and that's really the main point of this article. As long as you follow a particular strategy and work on your website, it can and will grow, earn money and from there it's a matter of refining the experiences and growing the website in a smart way.
So while I have my own projects and success stories, the truth is that there's many people who do similar things as me with their websites and also earn a great income. And I have articles I've written on many of these people which I will share with you now:
1) Here's a list of 10 success stories that make money online. I know most of these people personally and they all run websites in a similar way that I do. And we all received training from the Wealthy Affiliate program to get our results.
2) There are also people who mainly make their money through being Amazon affiliates and here are 10 of them.
3) Then there is another article where I share 10 Wealthy Affiliate success stories and these are basically people who followed the course and the results they got.
I don't have income numbers with every single person I review, because most people keep that private but they are all examples of successes and the fact that a website can make money if you follow a good guide/strategy.
If you are seeking to start a website or earn from an existing one, checking out something like the Wealthy Affiliate program would be where I'd start.
For me personally, I am aiming to grow my website profits every single year and the next quota or goal is to surpass the $100,000 mark.