This is one of the few reviews you'll find of My Freelance Paycheck where the person (me) actually bought it and I'm telling you, it isn't a scam. 
However, this review will explain the potential of freelance writing and if this program will help you achieve those potentials as well as alternative within this same industry that I personally partake in, which makes me a full time income. 
Quick Report on My Freelance Paycheck:

Name: My Freelance Paycheck by Laura Pennington. Try it here.
Price: $47 with just one up-sell after the purchase, a $67 offer for an "advanced" training program, which is then down sold to $33.50, and then $16.75 as a final down sell if you choose not to buy the initial $67 offer.
I personally just purchased the regular package and found it to be perfectly fine, however, there is a $30+ monthly charge. I liked the info and cancelled after one month personally.
Overall Rating:

7 out of 10 stars

.
Honestly I was impressed by the tips and training offered in this program. This program is NOT a scam.
I really feel that most people getting involved with a freelance writing career, whether it be for side or full time careers will truly benefit from this program. I will explain further what's inside so you see why I graded it this way. 
Recommended? Yes!
What is My Freelance Paycheck?
Well it's a program designed to help you find work and make good money as a freelance writer. You get info on which sites to join (there's 4 recommended ones), how to attract the right client/s and make the money to sustain yourself, whether it be for a little bit extra of full time work.
Now there's a few

very positive

things I want to say after checking this program out:
1) The first is that Laura offers a decent and free eBook before you purchase the program that shows you testimonials of some successful people in the business, each giving their 2 best tips on succeeding in the industry.
Despite being only 13 pages long, I enjoyed reading it and overall recommend you at LEAST read that booklet. Here is a link to it:
2) Second is the main eBook itself (where you learn all the good stuff) which provides all the main training. It's 156 pages long. There is a lot of details within it which talk about the beauty of freelance writing, the 4 main places Laura suggests joining (Freelancer, Textbroker, Upwork, and Guru.com). Get it here.
With each suggestion, Laura carefully explains the benefits and tips on how to succeed within each network. She provides detailed instructions on how to join and sign up with them, what to select and then how to find gigs, including how to find good/bad clients, how much to charge and how to base your work so you make either a small or full time income. There's also a lot of tips on how to write your sample work, your "resume" to attract the client/gig faster.
The other thing I found very good (and this is speaking from personal experience) is that Laura recommends finding gigs pertaining to interests you have, meaning if I know about health related topics, I'll want to seek out health related gigs to make money off. This is such a simple and yet misused tip, so seeing Laura suggest it (which is exactly what I would suggest too) is very good to see.
3) Finally, I want to add that with the main purchase, you also get bonus content on things like which topics to seek out if you want to have better chances of finding gigs. Here is a screenshot: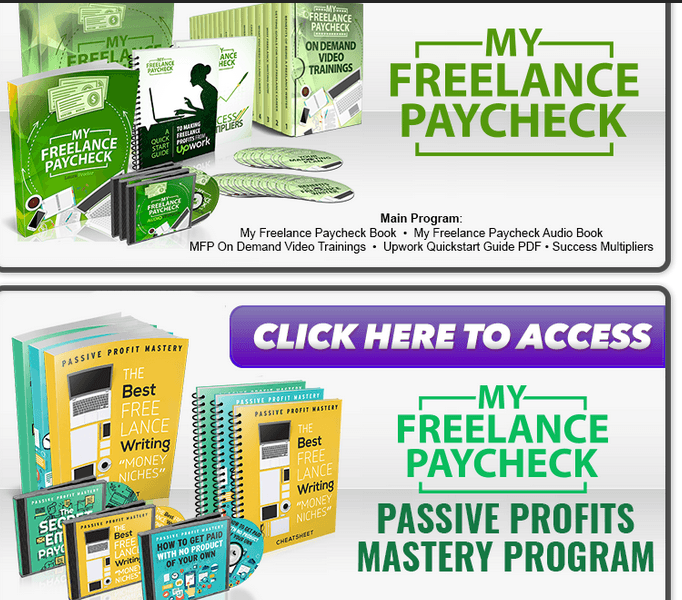 Can you make money in the industry by following Laura's tips?
I would absolutely say yes to this. Take the time to read all of the content in the program, starting from the free eBook Laura provides you with where you get tips from successful freelancers.
Then absolutely make sure to read the entire 156 eBook (the main one) on how to get started, take notes down on which sites to go with, follow her tips on finding the gigs and be ready to write. Do not expect to get good income if you are not a decent writer. No good client is ever going to hire you if you can't provide them with good work.
While you don't need to be a "professional writer", being able to spell and write in a grammatically correct manner, while at the same time writing high quality content that is exciting to read are the main suggestions I'd make. Here's help with writing high quality content.
See how I am writing this review as an example. I'm not a professional, but my points are being made, try to write in this similar fashion when you get hired to do do.
And as a bonus, read the bonus material too. It'll only help grow your knowledge of this industry and help you expand further into it.
Final Rating: My Freelance Paycheck.

Green Flag (Legit program).
7 out of 10 stars. An excellent resource for succeeding in this tough yet lucrative industry. A highly recommended training resource. Get it here.
My final thoughts: Here's my 3 bonus tips to use alongside this program:
I have experience with this. I don't do freelance work for others, but I've written 1,000's of high quality articles for myself (as an affiliate marketer, not necessarily a freelance writer) over the years and have hired a person to some of my additional content production, so I know a lot. Here is my history.
1) Always select gigs/clients who seek work in topics you know a lot about.
This will absolutely make writing easier and it will show the client you know about the topic. This will help provide you with future gigs with them.
2) As you get better and better, seek out popular niche topics…
While one of the bonus materials in the program talks about this, let me add my own flavor to this tip:
Let's say my original area of expertise was fitness and I wrote for several clients. Maybe I want to expand my clientele list. So I'll start to learn about similar, yet different topics like losing weight and dieting. Then I'll try to find gigs from people seeking content creation in those fields.
This will help expand my client list, give me more gigs and provide me with more money.
3) Consider writing for yourself as a potential career move.
While freelance writing CAN indeed be lucrative, in the end, the content you write will not belong to you, it will belong to the person who ordered it and paid for it.  And you will only be paid once for the article, with no continuing cash flow coming in unless you keep getting gigs.
Let's say you can write a 100 articles for a particular niche at $50 per article for a client. This will make you $5,000. Honestly, that is NOT bad at all, considering it can reach this point…
But consider an alternative and if you were to write those same articles for a personal blog, attract visitors and sell them things like affiliate products or your own services. You could in the long run make far more than $5,000 in the process and in all honesty, I've made $100,000's doing this:
I personally create content for myself, put it on my own blog and monetize it that way through the tips of this particular program, which helped me make a full time income doing so. This is a matter of preference. And obviously mine is to have my work benefit me primarily.
These are my 3 tips and in the end, I still very much recommend Laura's program to anyone seeking to do writing for others. It is usually a VERY hard industry to break into without the type of knowledge she shares with you in her program, so definitely get it if you're looking to get involved in the business.