Yes, Textbroker is totally legit! And while I'm happy to say that, let me explain what it is and give you tips on how you can make the most income with this opportunity!
Quick Report on Textbroker: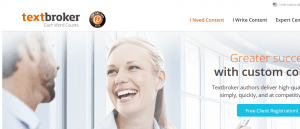 Price: You can either register as a client (person who buys articles) or writer (person who writes articles for the client). Both registration options are free.

Overall Rating:

7 out of 10 stars

.
Arguably, this is one of the most legitimate sites to earn an income from writing articles, aka freelance work.
But at the same time, the income opportunity from using it may not exactly be enough for some people to rely on. But for secondary freelance gigs that pay extra, sure.
Textbroker explained, what it is and how it works:
I first heard about this place from someone who mentioned it on an article where I talked about 10 different programs/sources to make an income from and frankly, this place deserves a spot on that list.
Anyway, to make it a simple explanation, Textbroker is simply a place that connects people who seek writers to create content for their website/s. You can hire people to write an article for you in various different topics/fields, as well as choose how many words you want written, and even pick the level of writing you want, from decent to high level, and even to people who possess high level skills in writing and SEO, which is huge. 
To explain it in simple terms, content creation is a huge driving force behind the success of websites, particularly blogs (we call it content curation in this context) and a lot of people simply can't devote enough time on their own websites to create content on their own, so they are "forced" to outsource.
One of the big problems however is that there is a lot of risk involved in outsourcing and the person looking for an article writer often does not know if the services they are getting will be legit.
Often times, people that get hired do an awful job of creating content that is often duplicated, written in poor grammar and other issues that can really hurt the website owner and their business.
So being that there is a high demand in content creation AND the need to have content creators fill the void, but there not really being that many sources of finding the legitimate writers, Textbroker was created to have clients find honest, worthwhile writers they can trust. 
And that brings us to how it all works and what you can expect:
There are 2 groups of people inside Textbroker: Clients and writers. 
Clients can go inside Textbroker and request a writer through a series of "questionnaires" to ensure they get the right choice for their needs. The more in demand and higher quality of a writer your seek, the higher of a price you'll have to pay.
I've seen prices range from about $20 per 1,000 word article where you'd have a decent writer create content for you to $70+ for the same 1,000 word article, but the writer would be of a higher caliber, and one who knows SEO. 
Here is an example of what a client will have to answer before they can "order" an article to be written: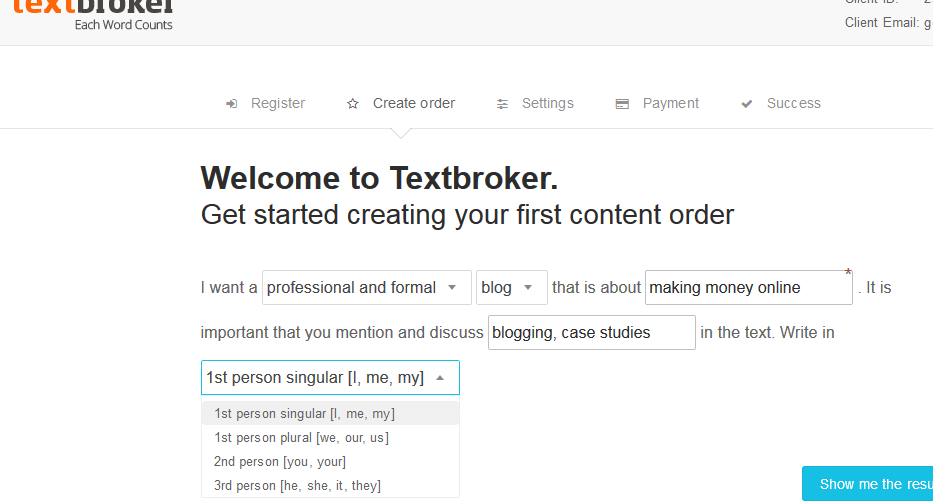 Followed by the above screenshot, I was taken to the next page to even further detail what I had wanted:
As someone who understands the hardships of outsourcing work and getting high quality stuff, I can tell you right away that having this type of filtration is very calming to me because I can very specifically detail the type of work I want and believe me, for someone in my line of business (online business) I know a lot of the necessities involved in creating good content, things like:
How many words are necessary. You can choose that with Textbroker.
What types of keywords I want in the article provided. There is a box for this.
How quickly I want the work done. There is a box for that.
Specifications on how I want the article written. We have that as well in this case.
I need to be certain there's no duplicate content. This is one of the BIGGEST problems in outsourcing nowadays because it's hard to gauge if the person you hire is doing it or not. With Textbroker, it appears they follow a strict guideline to make sure NO duplicate content is happening and thank goodness for that!
With just these 5 strict, yet simple pieces of criteria I have, Textbroker fills the gap. Now granted, such a criteria did give me a price of about $72 for the article, but I can tell you right now, good writers will cost you about that much money and it's actually an even further calm to me to see that price because it fits in with the legitimate prices and qualifications I've seen regarding outsourcing topics. 
So if you decide to be a client, you can expect good work from the writers you hire at this place, but get yourself sorted on on WHAT you expect the writer to actually produce for you, because the higher level of work they produce, the better it'll look for your online business. 
Now for the writer. Qualifications that need to be met and how much you can make:
Textbroker pays writers based on the level of content they produce, but there's layers to that and depending on the kind of quality you posses, your earning potential and income level will differ. For example:
Do you know SEO? If so, you are more in demand.

Do you write well? None of that SMS, slang jargon is welcome here, you need to be able to write well.

You need to understand that you can't plagiarize/copy other people's work.

You need to provide a sample of your work and "resume" basically of the knowledge you possess in writing. 
I can tell you this much right now:
A person who has a degree in English and writes well, but doesn't know SEO will NOT be paid nearly as much as someone who writes decently, doesn't have an English degree, but knows SEO and how to write to achieve good SEO results. 
The way the internet works these days is that the latter writer will be given more privilege and points from both Textbroker and search engines (the end goal of where the writing work will end up on). 
So you'd better make sure you educate yourself on the type of content that is needed to be produced in order for YOU to become the most in demand writer for hire. Here's some tips:
1) Know SEO. Here is an article on SEO that is very important to know.
2) Understand keywords so if a client orders an article on a particular subject and adds keywords, you will know how to best use them.
3) Know how to write in a way that is grammatically correct, that the spelling is fine and the writing style itself is written such that it's easy to read and markets well when people read it.
4) Know about several topics well (health, making money, popular subject, ect…), this will expand your base of clientele seeking writing work from you.
Having just these 4 qualifications alone will make you stand out, trust me. 
Also, if you seek to get success as a writer on Textbroker as well as other similar freelance sites, a good guide you should check out is My Freelance Paycheck.
So how much can writers make with Textbroker?
Based on the reviews I've seen from actual Textbroker writers, the typical earning potential is several $100's a month, but these same reviews usually didn't indicate HOW many articles they wrote OR how much experience they had, such as the 4 suggestions I made above.
My guess is that the same reviewers didn't have all 4 of those qualifications and if they did, their pay would be substantially greater, as would the number of people wanting to hire them.
You see, when you join Textbroker as a writer, you have to fill in things you know about, such as topics you're educated on, so if a client comes to the site, asks for an article in a subject you know about, and you're open, you will receive that gig and furthermore, if you have good feedback from the client and are considered high quality, you have more chances of landing even more frequent gigs, thus driving up your earning potential both from individual clients and the number of clients who will come to you.

Final Rating: Textbroker.

Green Flag (excellent!)
7 out of 10 stars. An excellent service for clients seeking good content producers and also an excellent source for money and gigs writers to get started in the world of freelance writing as well as a decent income opportunity.

My final thoughts:
One thing I neglected to mention is that whether you're a client or writer, you can get started right away. But for writers, you should expect to have to work your way to a point where you get enough positive feedback to be "ahead" of the writing line for people to get hired for gigs. 
Certainly it will take time for most, but this is a great place to earn a bit extra so if you can write well and have the necessary qualifications I listed and linked you to in order to be the highest caliber writer you can be, this is a great place to help you earn some decent money.