If you blog often/consistently, chances are 1 article alone may take you several hours to complete.
In my case, I write at least 1,000 words on each of mine and the time it takes for me to complete it is between 30 minutes to under 2 hours. That's actually short if you compare it to the average person and I will show you how I usually get it done faster than most.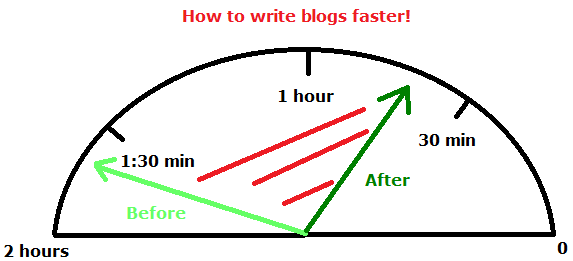 If you are an active blogger, here are just some of the many things that occupy your time when writing your article/s (articles = blog posts, whereas a blog = a website with articles):
Not knowing what to blog about (Could last days).

Research into the topic (1 hour usually).

Finding images that fit the article (20-30 minutes usually).

Keyword research (Could be up to 1 hour).

Coming up with a good title (Could be up to 10-20 minutes).

The article itself (Could be hours long).
Each of these things alone take time to figure out and do and when you add them together, it will take hours for it to be done and if you're a perfectionist, even longer.
Here is a preview of the 4 strategies I use to write blog posts faster:
Know your niche topic well (speeds up the flow).
Make your own images (cuts down on research time).
Improvise your blog post (planning usually lags content production).
Know what to blog about always as it'll save on research time (I'll show you how I do it).
Good bloggers that focus on quality usually have to deal with these types of obstacles but then there are those who don't really care about that and seek to write anything, as quickly as possible just for the sake of putting something on their website, usually with an end goal to make money. These people generally produce low quality work in the end.
I am going to advise against being one of those latter people because you'll never succeed that way. At the same time, I am going to suggest you not be one of those perfectionists either because overdoing anything is also bad. The end goal I want to help you achieve is to write blogs faster than you're doing now, while maintaining a high level of quality content on it. 
4 strategies I use to write blog posts fast:
Strategy 1: Knowing your niche topic = faster content production.
I'm telling you, if most people who entered the blogging world knew something about what they're writing, less of them would quit and more of the would actually be successful. 
I read articles very often and most of the time, I can tell when the writer knows their niche and when they don't. I can also tell you that most readers have that sense when they're reading it. Bad blogs will not make good money, period.
It's not secret that many and possibly most people who start a blog do it to make money and it's often the need to make the money that ends up blinding them from pursuing a blog of interest. The MOST common example is people who have NO experience in making money online, writing about making money online. 
No other blogs I've run into show more lack of information than those. I know for a fact that those people definitely have other topics they do know about, but they choose not to write about them because they don't know if they will make money. Pursue finding your niche, not the one you don't know.
Every time I review a product I know about, it's SO much easier to write about it and I have far less instances of stopping and wondering if I'm saying the right things. 
I can probably group bloggers into 3 categories and correlate how long on average each will take to write a new article:
First is the blogger that knows their niche. Usually these people will produce good-great quality work of each of their articles because they actually know about it. This is really the group you want to be in. It's so much easier to write faster when you don't have to research information you already know about. Typically the only problem these people have is that they seek to provide too much information and that ends up costing time.
Then there are the bloggers who don't know their niche, but take the time to study it to become more experienced in it. Everyone who begins a new hobby/niche that interests them will always lack knowledge in it at first until they study it more and more. Those people will have a harder time at first gathering all the information to write good articles (typically several hours), but they will also learn and become experts overtime, making the time it takes to produce their articles much shorter. Really this group is an end version of the first group. 
Then there are the bad ones who don't know their niche (or do), but choose to write anything they can as quickly as possible in order to try and make money. These people also don't care about learning their niche and would rather just stick some stuff together. 
If this is you, then you may as well compare your blogging skills to mud because that's what it will look like when it's done. And if you also decide that you don't want to learn and get better at writing, then you should either pick a niche you like, or if not, then quit this business. Nobody who tried this has ever succeeded. 
Strategy 2: Make your own images.
If you are the type of person who enjoys adding visual references to their articles, I recommend you draw your own images because usually it takes a lot of time to find images that are free and legal to use on your site, whereas if you were to make your own, you'd save time.
As I've said in many of my articles before, I draw my own images and while I'm not an amazing artists, even if it's some letters in a box or some geometric shapes with words in them, as long as my image gets the point across, it's a good image. It takes me a few minutes to draw an image, such as the one above but much longer to find one online, look up what rights I would have if I downloaded it and worry if I can use it.
Strategy 3: If you like to improvise like me, don't make yourself into a planner. 
The only things I ever plan are my title and that actually takes me about 10 minutes to do. I just tend to write better when I don't have a blueprint. It actually limits me. Although I will always make a point in my articles, I find it more free when I'm not limiting myself to writing a certain way and I just write. It ends up being faster.
I do know there's a lot of people who are organized with their articles and like to plan them out a way to make them easier to read through. I recommend those people not over emphasize the planning. Spend less time thinking about organization and more time spent on sharing what you really think and believe. 
Think of yourself as having a conversation with your visitor. You're not trying to lecture them, you're trying to talk to them like a normal person. Write that way. It will save you time. 
Strategy 4: How to never run out of blogging ideas.
Having plentiful blogging ideas helps expedite the process overall, and because I've blogged for such a long time, I know what to blog about to do this correctly. Read that article and you will too.
My final thoughts:
These strategies might not help everyone, but in the end, there is one major point I want to make in this article: You should ALWAYS aim to write a good blog vs one that's quickly written.
If anything you produce diminishes the quality of the work, don't do it it or re-write to make it better at least.