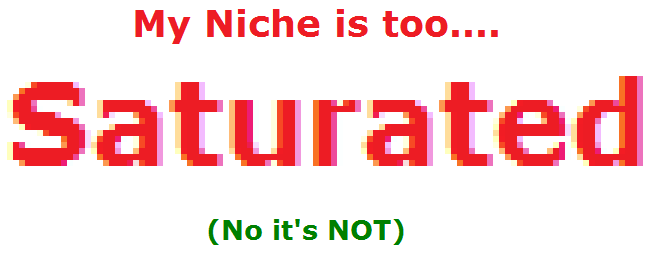 Many false beliefs are held by large groups of people when it comes to online marketing and often times these beliefs hold individuals and groups back from moving forward and evolving. The one common myth which I will prove is false is the myth that some niche markets are just too saturated to succeed in. 
Among the common problems facing most new and old marketers to the industry, this is one of the many that I hear about.
In fact, I just had that conversation with someone today and it is so often asked and even repeated even if I answer "no", that I just decided to give you proof that it isn't. 
Here's how people come to the conclusion that a niche is "too saturated":
The most common one is that if any topic has too many people trying to pierce it and get make money, it "must" mean they've got a head start and the competition is just too far out of reach to beat, thus, it's too saturated. 
Wrong! Competition and saturation are COMPLETELY different things people!

Yes competition numbers indicate difficulty in showing up on page 1 in niches, but they do NOT mean it's too saturated. There could be tons of sites in the same niche as yours (indicating saturation), but I assure you, 1% of them in most cases are actually your REAL competition, the other 99% of them are never going to get anywhere.
My site is in what's considered a competitive niche (making money online and it's actually competitive, but saturated? That's debatable). Yet with perseverance and doing the right and smart things, I was able to outrank my competitors and still do. 
In fact, I have a case study where I explain how this specific website, in the make money online  niche did well, thanks to this course I followed.
Someone they believe is knowledgeable tells them.
Man this happens a lot and I'm guilty of letting it happen to me. Someone tells me it's too saturated and I think, oh well, case closed without even looking at the evidence.
Well let me debunk that first theory by saying most people who say that nonsense are just repeating what they heard from other people who either don't know any better or are also repeating it and there is NO evidence they have to back it up. Anyone who says "well I tried to get into the make money online niche (or any niche) and failed" is not clear evidence of them being right about it being too saturated, they just didn't do things right.
But it's a very dangerous thing to hear something and then repeat it without knowing if it's true yourself because that can directly lead to someone else's failure, not just your own. It's almost happened to me a few times. 
If you do things right, you will be able to get into any niche market. no matter how "saturated it is".
They try to chase down the most competitive markets. 
Again, remember, competition and saturation are not the same thing. Sure if you take topics like weight loss, making money, dating, fitness are all topics (not even real niches), you're going to find out, you've got more competition than you can handle, but even in those case, you can always go ahead and get somewhere with it. But most people don't reach that stage. Most of them quit long before this happens. 
And that actually helps you out. With so many people quitting, the people who make it to the top are those who keep pushing. So you see, this "problem" is actually the solution as to why you CAN make it through into any niche. 
They look for keywords in very broad niche markets and see that the competition is too much and then…quit (again).
Stop trying to rank for keywords like:
How to lose weight.

How to make money online.

Online dating.

How to get into shape.

How to get a six pack.
Those really are competitive keywords within broad, competitive niches.
Those are terms you're probably never going to rank for! And not because it's too saturated, but yet again, because it's TOO competitive!
As you'll come to find out, to rank for the big niche keywords, your job isn't going to be to rank for the high end competitive keywords, it'll be to rank for the low end ones and you'll want to do that for evergreen niche markets.
Once you do that, then to rank, you'll want to write content in these evergreen markets that gets ranked and if you follow this blog post about what to write to make money online, then you'll be able to do it.
This is how I've been doing that and getting through saturated markets over and over again.
When competition is "impossible" to pierce directly, find another angle:
Just because one door is closed doesn't mean that another isn't open or loose enough to open, pass through and reap the rewards. I do hope you understand that this is an analogy and not some endorsement to rob a house. We live in such an ever devolving PC world, that I just have to make that remark…
But if you are confused (hopefully not "offended") by that analogy, what I'm trying to say is that you usually don't want to rank for super high competitive keywords (nor will you), because they lack a narrow definition (which leads to less conversions) and it's almost impossible to rank, BUT that doesn't mean it's saturated!
It just means you have to aim for OTHER keywords and OTHER niches that are connected to it which DO have lesser competition, more chances of ranking you high and attack the bigger niches from this angle.
For example, if you're trying to make a website on weight loss, I want to stop you right now and tell you not to. Instead pick a much more specific topic that's related to it, because weight loss is going to take too long. Pick a REAL niche.
And here's 100 that have low competition.
But let's say you decide to be stubborn and find out the hard way, fine, let me show you how even with the weight loss topic, you can still make it. 
All you have to do is just find keywords that are long tail, write content on them and BAM, overtime, you're going to rank for these keywords and get traffic. The more you do this, the more you'll rank on Google and rake in traffic. 
Always and I mean ALWAYS chase product reviews.
They ALWAYS have keywords which are low competition. I don't care what topic or niche you choose, you will always (prove me wrong, I challenge you!) find too many products to review and you will never be able to review them all because they're endless which means new ideas and keywords constantly appearing before you! 
But what if you REALLY want to quickly get traffic for some super, duper competitive keywords, but just can't? Well then do pay per click. For the right price, you'll be able to rank high. There's another door for you to get traffic for ultra high competition niche markets.
And you can choose ANY niche market or even topic you like and use these tips. You'll ALWAYS sooner or later get traffic which can convert into sales. But remember, stick to the niche, not the topic for better conversions!
One article I always advise people read is the one where I just give you the whole blueprint. Just follow those guidelines.
So is the secret really all about choosing the right keywords? 
No, but it's one of the ways to reach your end goal which is high rankings, lots of traffic and making money.
Your main goal with any niche is to offer helpful content that doesn't really sell, but answers questions to common niche problems.
When doing product reviews, you're answering if people should get it.

When writing about problems groups of people face in the niche (they can't lose weight, something doesn't work, ect…) your goal is to lead them to a solution.
This is what the content NEEDS to address. Keywords are just there to connect browsers on the web to find your site and while you SHOULD try to target them as often as possible, you need to finish the job of helping or selling by being awesome in the content you deliver. 
Ranking is one thing, selling and helping is a completely different one and I'd even argue that the latter is WAY more important.
So what have we concluded?
No niche is too saturated! It is a MYTH. Stop believing it!
With most people not putting in the right effort and quitting, your chances of beating the competition increase a lot.
You can chase any niche market or topic (always pick the niche though) and have a website for keywords for it.
If the keyword is too competitive, do PPC ads, make a YouTube video, a post on social media. There's ALWAYS more than one way to rank.
This is the same ideology I've applied to get lots of visitors for websites on niche topics most people would give up in, including make money online (this site) and weight loss. Most importantly, this correct ideology was taught to me by Wealthy Affiliate, the only program that breaks all of the myths of online marketing.
Have any competitive niche examples you though were too big to succeed in or ones you were able to get through to? I hope I was able to change your mind about saturated & competitive niches and prove they aren't really that!