I have created lists of niche markets before, but since there are so many out there, every year (or maybe even more often) I decided to start writing a fresh new post on them. 
This time, we will focus on the hungry ones as well as which of them in 2020 are the best to make money with.
The more I learn about this topic, the more I see just how many different options there are as well as how much potential money can be made through marketing to people correctly. Nothing to this day in my opinion beats a hungry audience. 
But what do I mean by hungry? How does it it relate to the topic? Allow me to elaborate:
What is a hungry niche?
It is a specific crowd of people who have a problem which they need immediate help and solutions with.
They literally CRAVE an answer as they need that as soon as possible, and they're ready to pay for it if necessary. This is key to understanding the "hungry" part of this whole thing.
And in some cases, the market can be such that people are STARVING for answers. Those are the ones you really need to look for as well and some on this list do indeed fit that category. You can also label these audiences, laser targeted traffic & niches. Additionally, many hungry niches are also evergreen niches as well.
By targeting this particular crowd and offering them solutions, you are more likely to make more sales and this mainly because they are in a hurry for an answer. That basically already does all the selling for you. In the examples below, you will understand more so why. I also explain this concept here, where I literally say that if you want to see success online, to target the hungry niche crowds.
Normal niche markets still are GREAT for making income through, but the hungry ones are generally those which will be more successful in the short and long run, depending on the seriousness of the problem they are having as well as the solution you're offering, but as we go through each one below, you will understand exactly what I'm talking about right now.
So let's get this list going! 
Hungry Niche 1: Hair loss for women.
As tough as hair loss can be for men, it is generally A LOT more serious for women and it's the sort of topic where if there's a little bit of hair loss happening, then there's generally an immediate search on Google or at a local store for hair products to solve this issue. 
I hope any women reading this could comment on this topic below and let me know more about this topic from their point of view, but based on the research I've done, this is a huge topic. Even doing a LITTLE bit of keyword research shows the tip of the iceberg potential this niche market has.
I only looked up one keyword, but even that was enough to tell me, this is a market where having a top ranked site on Google or advertising it on search engines is going to get you 100,000's of visits monthly with relative ease: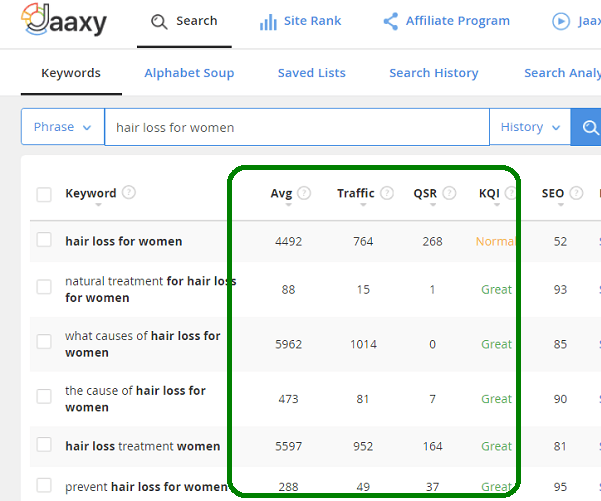 A plan of action:
Are you a woman who has had this issue?

Are you someone (man or woman) who understands how to deal with hair loss issues?

Do you know a lot about this topic?
If there are at least 2 out of the 3 questions that have a yes answer for you, then you have a big business opportunity on your hands with immense profit potential. You can and should start a blog site on this specific topic and get going.
I've often considered compiling an email list for this particular demographic with this issue to sell them an affiliate product for good money, but what's personally stopping me is offering that great, good priced solution. If you have it, then you already have the answer to help these women with this problem.
Hungry Niche 2: Diets for brides. 
As a wedding is coming up, the bride to be (and groom) as well as many of the people going to the wedding want to look their best. And believe me, during this period, a lot of them look up ways to drop pounds and they are pretty specific about their searches. Thanks to great keyword tools like Jaaxy, we know the numbers behind this niche:
Now the numbers may seem low just based on this one screenshot, but understand a few things:
1) Having a website for this market rank on the first page of Google means you will rank for pretty much ALL of those terms, including the related ones on the right hand side you see, which means those numbers add up. That's several 100 visits a month right there.
2) Furthermore, there's a bunch of other terms I didn't look up but relate to this one, which would also add to the traffic, probably a few more 100 a month.
3) If you make a blog type website, you will not just be writing about this topic, you will be writing about other hot diets on the market because that same crowd is going to be looking at them on Google, believe me and if your site ranks for those diet plans and a someone who is getting married clicks on it and sees that your site is focused on helping people lose weight for a wedding, they're going to feel like they landed in the right spot.
And in terms of traffic, the sky is the limit there. I know many diet plans which get 1,000's of searches monthly, some even 10,000's so adding that to your site targeting this topic is really going to make traffic skyrocket for you.
Hungry Niche 3: Getting rid of belly fat (specifically).
This type of niche market isn't exactly starving, but it is still a hungry one. The market for getting rid of fat on the stomach is huge, evergreen and it will always sell well if you market your site/sales funnel intelligently.
I'm actually running an experiment like this on an existing weight loss page I have and will keep you guys posted in the future on how it goes. I am currently building an email list for this type of crowd and seeing what results I get, but anyway…
You have a market here with millions of people worldwide seeking solutions to this problem. Belly fat is a huge issue considering the rising rates of obesity and overweight stats.
Though there are people who seek general weight loss solutions, there is a sub category (aka the niche audience) who specifically seeks the belly fat solution and that is the market we're targeting in this example:
Again, we have an example where a simple keyword search shows us just how much potential there is in this market. The general term "burn belly fat" already gets well over 3k searches monthly, and a simple add on of "how to" before that makes it over 7,000 searches.
Add to it topics like exercises that burn fat, foods that do that, diet plans that do that and again, we have a niche market with 100,000's of HUNGRY people with a problem. 
If you're the type of person whose into personal training, have experience with this topic from the point of view that you had a belly but got rid of it, then you've got another clear winner here. 
The kinds of products and plans you can market to this crowd are quite vast and there will definitely not be a shortage of what you can promote as an affiliate marketer to them.
Hungry Niche 4: Getting rid of love handles.
Love handles are the type of fat located on the waist of a person. Now you may be thinking, what's the difference between burning fat on the belly and love handles. Wouldn't this qualify as the same niche? 
The answer is yes, but not exactly at the same time. Let's put it this way:
A person who seeks to lose belly fat and lands on a site covering losing love handles will not feel like they're EXACTLY where they need to be to find that solution.
But if a person who seeks to lose love handles lands on the same site, then they WILL feel like they are EXACTLY where they need to be.
People do make connections between niche markets all the time, but the more precise you are in this stage of marketing, the better it'll be. It's sort of like the difference in how many points you get on a dart board if you get close to the bulls eye vs the actual bulls eye: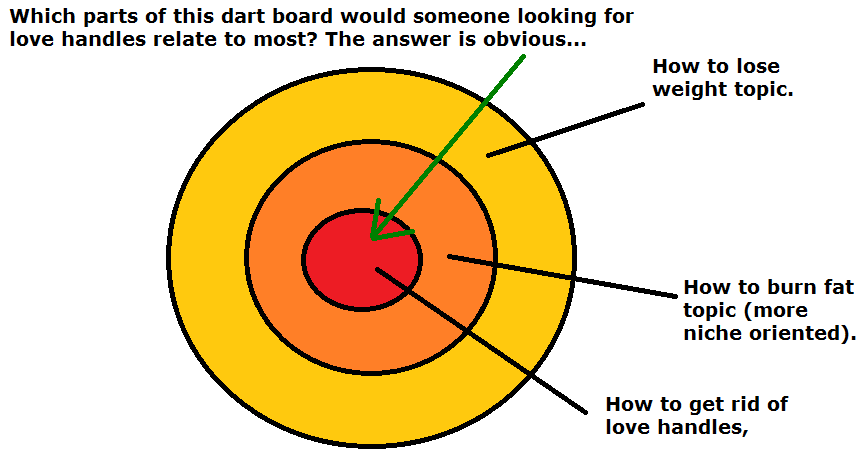 While you can cover both topics on a SINGLE niche website (say burning fat in general), you can and SHOULD attract the specific sub niche crowd (belly fat is one and love handles is the other) to it's own sales funnel because it will affect sales positively if you do. For example:
If I have a single site covering fat loss, I can have sub sections on love handles, belly fat (and one more we'll be covering in a moment as the last hungry niche). This will basically funnel my specific niche crowd into the right corresponding places depending on WHICH particular area of fat loss solutions they seek. 
Hungry Niche 5: Getting rid of cellulite. 
Here's another example of a sub niche topic. Cellulite is the fat located on legs/behind and it is a problem many people have and WANT solutions to. But targeting this topic ALONE is still a HUGE market:
And once again, I have to point out that this is just a single keyword search I did and having nearly 8k searches on this one query I did is enough to tell me that this is a huge market.
Believe me, people while making connections as I said before still differentiate the different sections of a main niche topic. In this case, they differentiate cellulite from love handles and belly fat. 

My final thoughts:
So there you have it, 5 more topics I added to the existing lists I've done. Here are 10 other niche markets I documented before. 
Here's another 3 high ticket niches I think you'll like. 
I want to point out that those lists still work just fine today even though they were written at least a year or more ago. As I said, there are many out there and I'll cover them from time to time. But at least now you have 5 HUNGRY ones you can market to. 
If you have a particular niche you are interested in which ISN'T mentioned on this list, do let me know below and we'll figure out if it's a hungry one. Here's 50 more amazing niches.
Furthermore, if you decided to start a blog/website on them and need guidance on going from the niche selection to having it make bank, then this is what I recommend:
There are plenty of ways to make GREAT money off a niche topic, but essentially, a program with all in one training to help you through the process is what will determine how successful and far you go with it and Wealthy Affiliate is that program.
Thanks for reading this list!