My Residual Profit is both an opportunity and sadly in my opinion a scam. This is because of how it uses the email processing scheme to make money.
Quick Report on My Residual Profit: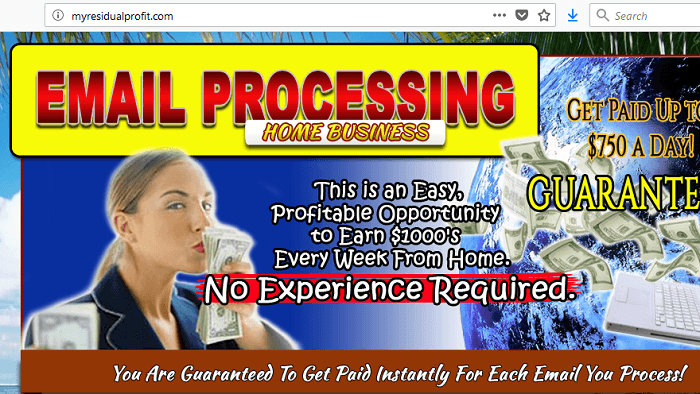 Creator: Uknown.

Price: $25 to join.
Overall Rating:

1 out of 10 stars

.
I already believed this program to be a scam prior to joining because I have seen this type of thing before, but after looking into the members area, that my suspicions were proven to be true.
You can make money with this program, but the problem is that it's nothing but an opportunity to re-promote the same site to others. 
Recommended? No!
What is My Residual Profit (MRP)? 
It is an "email processing program" where you join for $25, get a link to send to others and if they join through that link (aka process their membership by also paying $25), you will get paid $25 for each person.
Now I don't know if it's $25 for every single person you referral or if there's a fee charged for each sale you make, because MRP has to make something from this, so I suspect there's a fee somewhere…
Proof that I purchased it: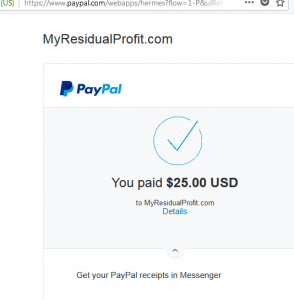 Once the purchase was made, I had to wait a bit to get an email from the site with the login to the members area. Now before I even got into the members area, here was what I suspected (because I have seen this type of program before):
1) That I would basically just get an affiliate link to re-promote MRP to others.
2) I would really get no value in actual training or something I could say I happily paid $25 for.
3) I would just get a bunch of links and basic instructions on promoting this program to others.
And which of these 3 things happened, if any? Well…
All 3 proved to be true unfortunately. MRP is nothing more than a scam where you pay $25, to get access to their affiliate program to promote it back to people. This is nothing but an empty opportunity with a price tag on top of it.
These types of systems are common to see with pyramid schemes, even though this program is not that (it would be if it were an MLM).
Understanding

why

this program is a scam:
Let me be clear in stating that you CAN make money with this program, but you can also do that with scam programs in general. I can promote something that rips people off, make money and claim I'm being successful, but it doesn't change the fact that I'm still promoting a scam.
In the case of MRP, paying the $25 just has you accessing their members area where they basically give you a huge list of sites to spam, oh excuse me, "share" your affiliate link on and get people to join. They pay $25, and you make money in the process.
But in any type of exchange, no matter if it's online or offline, a fair value has to be given in return for payment, right?
Let me explain:
Let's say I pay $10 for a book. I expect the writing in that book to provide fair value to justify that $10. Then if I can sell copies of that book and make $10 for each sale, that would be considered a fair system.
Now let's say I pay $10 for a book which has empty pages in it, but also offers that same opportunity to sell copies. I can still make $10 selling copies, but what would I actually be giving to people? The answer is nothing, but an opportunity to also sell the same empty $10 book. 
The second example is basically what's going on with My Residual Profit. Just because it offers payment for each sale and actually pays you doesn't make it legitimate. There's more than just that 1 factor at play here for it to justify being legitimate.
In short, it's just a cheap program, advertising a cheap, sleazy way to make money online (basically spamming sites and people via email to sign up). Then those who join are taught to do the very same thing and in short, there is a spread of spam. Here's the right way to do this.
There's 2 things I can definitely tell you about this system:
1) I would never promote or spam this type of program to anyone, especially friends via email. This is in my opinion nothing but spam at it's lowest form (yes there's levels to spam).
2) You can promote REAL products and real opportunities with REAL value in them (kind of like the good $10 book example I mentioned), as an affiliate marketer in this case and not have to pay to promote them and make money. 
For example:
If I sign up with Amazon, I can promote their products as an Amazon Affiliate, no matter how cheap or expensive and make commissions. The only thing they charge is a processing fee in the end, but signing up is free and there's tons of legitimate affiliate programs out there you can work with and promote real products with that real value I was talking about. 
Final Rating: My Residual Profit.

Red Flag
1 out of 10 stars. This is nothing but a cheap way of trying to make money via spamming sites and people to try and make money. There's NO way I recommend this approach to making money online. This program, called Wealthy Affiliate is better.
My final thoughts:
Email processing scams are old, but still common to find on the internet and as I said, while you can make money with them, you really need to understand what you're promoting. In the case of MRP, again, you are promoting nothing but an empty affiliate program with no value for money.
This is not how you should make money online legitimately through the experience I've had doing this and if you go with it anyway, as far as I'm concerned, you're just going to be a spammer.
There's real ways to make a LEGITIMATE income on the internet such as with Amazon and providing REAL value to people, but you need the right training for it and sadly MRP just doesn't offer that in my opinion. However:
As I am finishing up this review of MRP, I will follow it up by calling my credit card company and getting a refund.. This is not the type of program that deserves the $25, let alone a penny.
Further update: My Residual Profit is attempting to sell me more nonsense.
Nearly 24 hours after purchasing this program, I received an email with a link to show me how to make a lot of $25 commissions. After opting into that site (signing up for free), it took me to a page to buy another $25 package to learn the secrets. They call this the admin fee: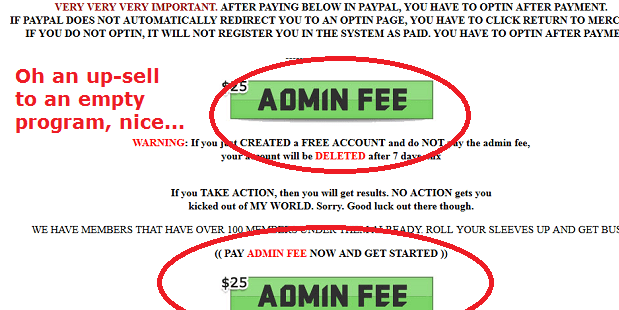 While buying this is optional, I am sure a lot of beginners will be confused and mistake this extra cost as part of the original program and I assume when I signed up with My Residual Profit, that email was given out to whoever sent me this extra offer and who knows who else got it.
So yes, I am sticking by my rating of a big scam for this program. Not only do they sell you an empty program to re-sell to to others, but then they also try to share your email with people who try to get more money from you. An absolutely horrible form of making money online which I will not submit to or recommend. And I'm sure they'll probably send me more stuff like this in the future. 
This is even more reason to go with my #1 recommendation (you will not see this sort of nonsense from them, they are legitimate).