Back in 2013, I expressed a massive disdain against every single paid online survey there is on the internet. I didn't believe legitimate ones existed. But they do.
Now in 2018, 5 years later, after looking through so many, getting scammed by most of them, but finding a few good ones, I sort of changed my view, will show you the good ones, but will show you something that pays even more if you truly wish to make some actual, good money, because spoiler…
You will NOT be able to make it through even the good survey sites.
Here's some: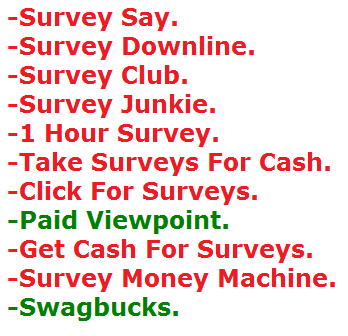 And that list is going to grow (here's an updated one). Now as you may notice, MOST of them in the current version are in red, while only 2 are green. 
Has my opinion changed about these places? Somewhat.
Are there legitimate sites out there? Yes, the ones I labeled as green are legitimate.
Do I recommend ANY particular site? No, not even the ones I labeled green. 
But here's the kicker:
In exploring these many sites over the years, I discovered there's 5 main reasons you need to stay away from them (in my personal opinion) and if you wish to make a REAL income from home…
Keep reading, because I will show you the WAY better alternative…
The unfortunate truth behind most paid online surveys:
And this truth applies to 99% of them:
1) Let me start by saying that:
If you visit ANY website that pays you for answering questionnaires, but charges you even so much as a penny to join, run away, it is a total scam. See an example of a scam paid online survey program.
The basic idea here is that if you pay an X amount of money, you'll supposedly get access to the "highest" paying survey websites. Several of the programs I listed above did this.
Then once you get access to the big list, the more websites that you register with, the more options you'll get to take surveys, meaning more opportunities to answer questions and more opportunities to get paid. Sounds legit, at least until you actually try it…
Well this is how I got caught the first time thinking my investment would pay for itself and turn a profit if I joined, and so I did. And here I am today, years later, telling you not to make my mistake. I think you can guess how that experiment went…
But after gaining a lot of experience (and losing a lot of money), I learned that even the programs which didn't charge me a penny often provided me with the same list of survey websites to join and that I was actually paying a website empty cash just to get access to free stuff!
So I will say it again, if they ever charge you, never pay a cent to join these websites. They are scams. See another example here with a program called Click 4 Surveys (a scam).
2) You will always get paid very little with paid surveys. Always.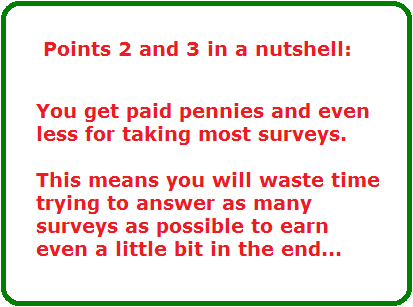 No matter what survey website I registered with (even the few legit ones, but here's my history), at most you would get paid a few dollars to take them. In 95% of all cases, you got paid pennies and the threshold to get paid was around $10 in most places, but to get there, you'd have to complete a lot of questionnaires. What this means is…
3) In the end, you are really wasting your time doing this.
Again, even the most legitimate programs I've come across, albeit a few, have required that I spent a lot of time on them, first registering for the numerous places they recommend you sign up with to get paid and next to complete the incoming questionnaires I'd be offered.
Truth be told, you are looking at hours and even days worth of work to get paid even a few dollars doing this stuff and I imagine if you're looking for a way to make some extra cash from home, you already are tight on time and don't want to stuck in a chair all day answering questions for ridiculously low pay.
But that is what will happen if you decide to try these programs out.
4) Even legitimate programs work in a way in which it's tough to get paid.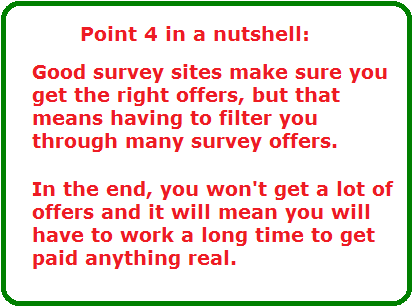 Here's how:
Most survey websites function in that if you join them, they connect you to others so you can sign up with them too but before you do that, you go through a questionnaire process which is basically filtering out your qualifications to other potential offers to come in.
This is actually a process I agree with because not everyone is or should be qualified to take every survey under the sun.
For example: If I am person without a car, why would I want to answer questions meant for car owners?
The person/business who set up that questionnaire will likely get bad answers from me, make bad business decisions and waste money in the process.
That's why a filtration process, a mass questionnaire to see who I am, what I know and more is actually a good process to go through. It makes sure that if I get an offer to answer a questionnaire, it will be relevant to both myself and the company offering it, and therefore, when I complete it, I will get paid fairly for my time, even though it's little.
But there's a second, unfortunate side to this system…
Because I am filtered to take the surveys best meant for me, it also reduces the number of them I'm eligible for and what that means is I will have less offers provided for me, and the existing ones will already pay little, meaning in the end, I still earn very little to nothing.
5) In many ways, these sites are often connected together, and this is bad because:
They promote one another and the real money is made of you, not for you. 
I don't mind if places are working together, but the problem in this particular case is that you already make very little money to begin with, but what happens is that once you join these programs, they always ask you to sign up with other programs…
That's just how the system works and once you do, for each new program you sign up with, the original site you joined from gets paid and THEY make the real money in this whole transaction…
Allow me to explain this a bit more simply:
You join survey site A. You get told to join 10 other similar sites from site A.

You do. Then site A gets referral credit and money from the 10 other sites for you joining. 
Guess what? They just made a big buck off you (and every other person who goes through this process) while you're stuck answering questions for who knows how long and getting paid peanuts in the process.
Explain to me how this is a good deal for you? I don't think it is…
Now truth be told, I have said in the past that the ONLY good way to make money off these types of sites is by referring others into it.
For that, you actually get paid decent money (several dollars and even up to $20 in some cases), but the problem is, you're basically funneling someone into a system that's going to make them waste time and energy just like they made you lose, all for the excuse of getting paid. It is unethical and a practice I completely abhor. 
But, here's where the

good news

comes into play:
At the beginning of this article and even in the title I had mentioned I will explain a better way to make money from home. I am about to fulfill that promise as I was stuck in this unfortunate scam cycle for a long time, but in a twist of fate, it led me to what I do now and that is make money from home, full time.
Allow me to introduce you to a legitimate way to make money from home:
It is called affiliate marketing.
For many years now, I have worked full time from home creating websites and selling products through them (see one of my site's reports and how much it made). I get commissions each time someone buys them and the commissions range from several dollars to even $100's in some cases (more about me).
And even making 1 sale in the line of work I do already pays you more than taking weeks and months worth of surveys in most cases. 
This type of thing can be repeated for a plethora of subjects (known as niches). Some pay less, some pay more, but in any case, you are getting a WAY better deal doing affiliate marketing than if you were to try taking surveys, that much I can absolutely guarantee you.
The whole point is, you're selling actual products people love on your website and blogging about it. A lot of what I do on this site you're on, in fact is the same thing (if you need more examples).
How much has affiliate marketing made me? The numbers:
If you were to do surveys and tried to make $60k doing so, I cannot imagine how many LIFETIMES you'd need to reach that, but through affiliate marketing, this was reached in a matter of a year for me and this is something I've done for MANY years.
I need to also make it clear that I was very active in affiliate marketing and worked hard to make this work. 
How I learned to do this and how you can try it (for free):
Affiliate marketing is an INCREDIBLY lucrative business, but it is also one where based on where you learn to do it from, will impact how well it works for you. Some programs are bad, some don't teach it the right way, and others are just overpriced scams. If you want to make this work, you need:
Great training.

Website/s.

GREAT tools and support.

A step-by-step system to show you how to do this just as it did for me.
There is one program where you get ALL of this from, for free. It's called Wealthy Affiliate (just as the name implies):

Everything I now earn and do for a living on the internet, I have learned from that place. Working from home is a full time gig for me now thanks to them.
What exactly is it?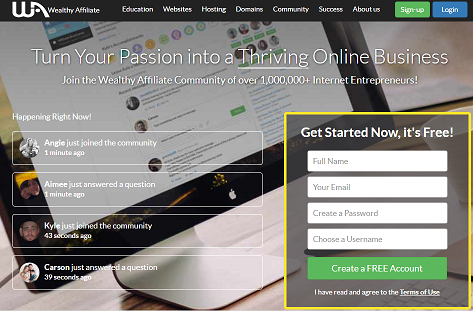 Wealthy Affiliate is an all in one destination to learn how to be a very successful affiliate marketer.
Students inside this program (there's over a million of them) get extensive step-by-step training to create a fully sustainable affiliate business.
In short:

And I forgot to add: It's a legitimate way to make GOOD money, unlike the other "opportunity" we covered before…
Just like I said earlier, you should never pay a cent for a survey site, I will also say you should never pay a cent to try out affiliate marketing. The program I recommend indeed does this for free, but if you wish to go further, it's $49/month for even more extensive training, more websites, more support and just being able to take things further, but it's something you should only do if you're happy with the free membership.
Now I want to mention once more that as a free member, my help is absolutely included. And you get that for 7 days so I hope to see you inside this program so I can help you move forward and achieve your goals. It's always better to have someone whose been through this experience help direct you in the right direction.

What else is in there?
Wealthy Affiliate (Affiliate marketing) vs paid online surveys. The facts:
When it comes down to it, there should be no comparison as to why affiliate marketing is superior, but I do want to reiterate it anyway because so many people who try to work from home look for the answers in the wrong places, surveys being one of them and having been through this experience many times, I know what works and I know what doesn't.
-Affiliate marketing absolutely works if you have a good training platform show you how (you already know what that is). 
-Rather than spend hours, days, months and years to earn minuscule amounts through surveys, you could be working on building an affiliate business that sustains you for life. This is absolutely a real possibility and my stats above prove that's possible to achieve. 
-Commission wise, this is one of the biggest differences. You're looking at pennies for hours of work, vs MUCH more in affiliate marketing. 
-Most importantly in affiliate marketing, your hard work is rewarded more than you can imagine, whereas with paid surveys, you are constantly hustling to complete the next offer that pays you little. 
My final thoughts and steps to get stated:
I do hope that if not affiliate marketing, that I convinced you that paid surveys are "opportunities" that are not worth your time. If you're looking to make something serious online, these are not the opportunities you seek (Star Wars reference!).
But all jokes aside I went through this same thing you are now and affiliate marketing as taught by Wealthy Affiliate was the single greatest thing I took a shot at and now you see what my results are. 
So if you're interested in trying this too, here is my 1 simple step to get started:
Once you do, I'll guide you through the next steps (Spoiler: I'll help you through the main training in WA that will teach you how to build a real affiliate business from home).
Please ask away (below) if you have any questions!

 
With everything being said, if you have ANY questions regarding affiliate marketing, survey sites, including the ones I listed in the beginning of this article, and/or you have experiences with one or more of these things too, please do let me know your story! I'd love to help you get away from the bad programs out there and into the good ones so you can really make a legitimate income online.