SEOClerks offers opportunities for people to hire (or sell) SEO services. While it's legit, in this review, I'll explain why I worry that some people inside this site may scam others.
Quick Report on SEO Clerks:
Price: Free to join and if you are trying to earn money through this site, they will take a little bit for each service you provide.

Overall Rating:

3 out of 10 stars

.
The problem is that the services offered ON it may not necessarily be good. I will explain why looking at what was offered there scared me.
You can hire someone who can provide terrible services in the form of something that sounds good and ruin you site if you're not careful or don't see the clues that indicate if a service is good or bad, so I'd like to filter out how to do that in this article. 
Recommended? If you can find a legitimate service then yes. If you can make your own services that are of good quality, then yes to that too.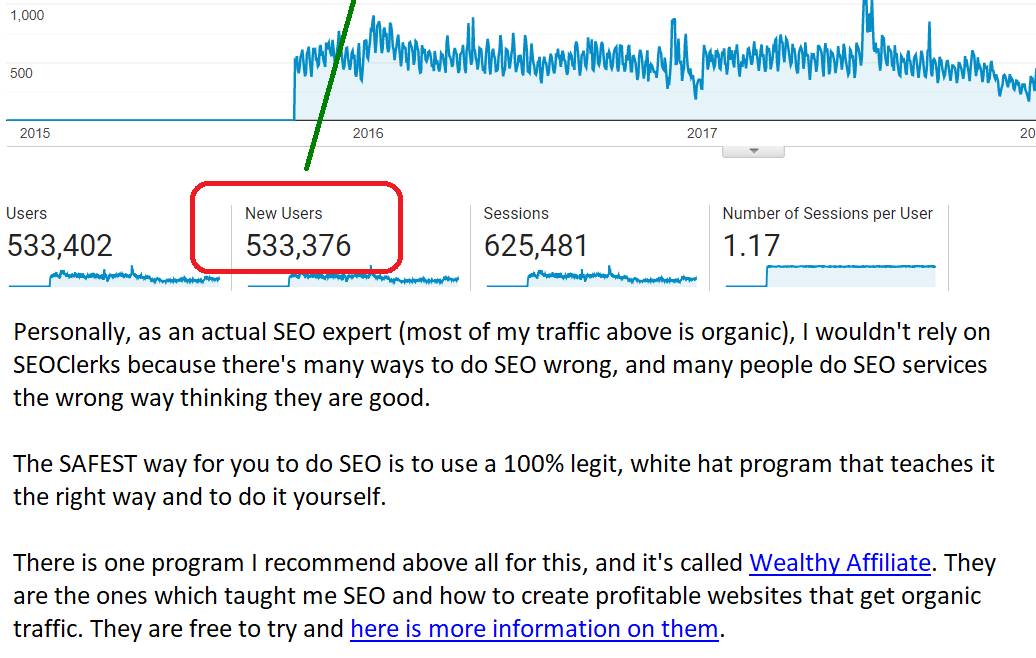 My video review of SEOClerks:

Now as I usually do after video reviews like this, if you haven't checked out the video, the rest on this post is my written version of the review (which is a little bit different, but with the same thesis). So here it is:
What is SEOClerks?
It's basically a site like Fiverr where you can hire people to do website services for you, but in this place, it's only centered around SEO related things. In short, you look for a service you need such as:
PBN linking.

Backlinking.

Visitor/traffic packages.

Ect…
Select the order and have it done for you. Price range between $1 and up (up to $1,000 I think or even more) for these things. But even though it all sounds good, why is it that as a service, this place only gets 3 stars? Well let's examine that…
Pros:
1) I have no issues with the overall site, it's legit, but from the point of view of you getting services as the customer and possibly building a business selling your own services on that site. 
2) Pretty much anyone is eligible to become a merchant there.
Cons:
1) The part about anyone being eligible to sell their services is as much of a con and it is a pro.
This is the single biggest issue I see with this site as a whole. Absolutely anyone can sell services which look flashy and good, but if you know a lot about SEO, you'll see a lot of the offers in this site and possibly become afraid. I certainly did…
2) In truth, it's hard to tell which of the services (despite the likes) are legit. Many people who don't know SEO incorrectly see the flashy types of services offered on this site as being legit, but as someone who knows that this is not how you tell what's legit, I can tell you that looking through many of the offers there, I concluded it was not 100% safe to try ANY of them!
Let me give you a rundown:
As a person who knows this subject quite well, I find myself on the conservative side, meaning there are very few if ANY services I would personally use from this site on my own and the reason being is that many of them are useless and/or you don't know where the services are coming from and this can actually end up having detrimental effects on your website/s if you aren't careful…
Perhaps I'm being too paranoid or overprotective, but I have had my fair share of failure from using some of the same types of services as advertised there so my awareness is up. Let me give you a few examples of how some of the same services, which looking good and "safe" may turn out to be the complete opposite:
PBN linking: 
PBN's are still hot and if you know what to do, you can still make them work, however to find that is tough. Many of the PBN services you get these days can get your website Google slapped if they find out about it. Google themselves has also been against this kind of stuff for years. 
So the point is, while the merchant selling these PBN services may claim they are safe, remember, they are looking to make a sale here and may not even know if they are safe to use…
I personally wouldn't buy a single PBN service anywhere. And I have good reasons for this written up here where I talk about private blog networks.
Backlinking.
There's a lot of this that I saw within SEO Clerks and it frightened me to be honest. I've written on backlinks a lot and to this day, I still see the bad form of it being advertised, not just on this site, but on other places which are also legit and it is a dangerous game to play.
Backlinking in the wrong form can also lead to a Google slap happening to your website, so if I see people talking about giving me backlinks from web 2.0 sites, sending me 1,000's of them and/or sending me links from high authority sites, I am still on guard and probably never going to buy them. I already had a few cases of this scenario playing out and destroying my business before…
Visitor/Traffic Packages.
This is probably one of the last things I'd ever buy. Visitor/traffic packages may just be disguises for junk traffic and/or bots to be send to your site. In short, these things rarely, if ever lead to good stuff. Sure it'll look like you have traffic coming to your site, but that traffic is so low quality or just fake (bots), that it will never amount to anything.
There are MANY scammers out there selling these sorts of things on various websites. Then when you buy it, they just either purchase cheap traffic packages from other sites and direct it to yours or send it themselves to make you believe you're getting a good service, but you're not.
As for the rest, I would say 90%+ of all the services I saw on SEO Clerks was divided into these 3 categories and there wasn't a single service I saw which I felt comfortable buying. Also important to note is that a lot of them are dirt cheap, and that is also very often a sign of something to stay away from.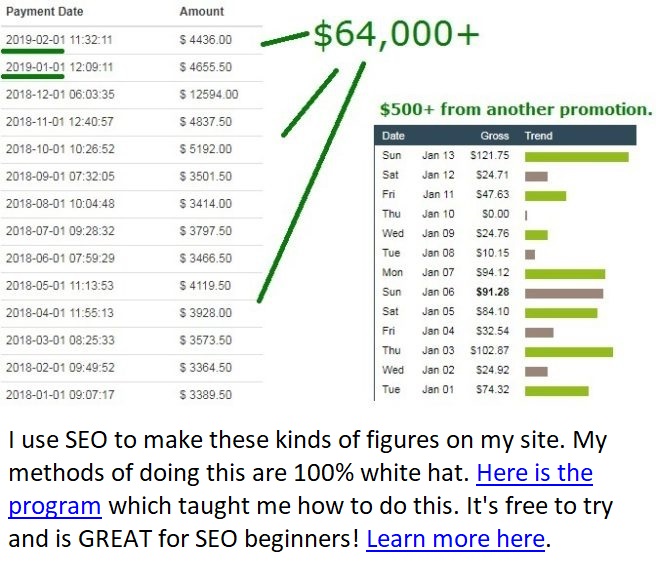 Can you make money as a member of SEO Clerks? Sure.
As far as I'm concerned, if you are one of the good guys when it comes to SEO, you can definitely use this site and leverage some profits. Here's some things I would personally consider doing:
SEO Auditing of a persons website.
These things aren't hard to do and as long as you give out white hat advice to the person seeking it, you can make an honest buck. I'd charge $10 for this.
If you're new to doing these things, here's a tutorial on doing SEO audits and how I personally do this when people ask me to look at their sites.
Keyword packages.
If you're good at finding keywords for websites that would actually benefit the person seeking them, then by all means offer it. I'd go for $5 packages and up. Here's some ways you can find keywords and then sell them as packages if you decide to go this route.
Article writing services.
Provided you know how to niche content well for various subjects, this is another service worth considering. For this, I'd honestly charge $50 per 1,000 words. Be sure you know how to write well. Here's a tutorial on writing high quality content that will help you if you're looking to do this.
These 3 types of services would be more on the safer side as far as I'm concerned and I would very much consider them if I were looking up services on SEO Clerks. Of course, it would vary on WHO is providing them as even these 3 services can be created by people unqualified to offer them…
But if you can be good with these 3 types of services, you can certainly offer them up.
Final Rating: SEO Clerks.

Yellow Flag.
3 out of 10 stars. A legitimate service, but without a proper filtration/vetting system, it's hard to judge whether the services you find on it are legitimate and that is why I currently would not buy from it.
There are parts of the site I would fully recommend like their web designers and coding people. You can see more information here, but as for SEO services specifically, I CANNOT recommend it for the risks I see.
My final thoughts:
While buying services on this site is not something I'd personally do (it's just too hard to tell what's good and there's too many factors), making money from it on the other hand offering legitimate services is another story. Of course, offering good services itself is hard to do when you don't know what qualifies as that. 
Here's a few things I recommend:
1) Truly understand what SEO is and be successful at it before going out to this type of site and offering it. This is the best program I use that taught me to know the difference.
2) If you are a beginner, new to SEO and think you can just buy up services on this site and get fast rankings, I will strongly advise you rethink this position. Start fresh from a personal site/blog, experience your own success, grow a real online business that was before you move out to offering services yourself or buying them. You'll see that as your business rises and you start to make money, that you'll become more and more careful with buying services from anywhere…
To make sure you understand these 2 things the right way and execute it properly, here is what I advise:
Ever since I learned from that program, I became independent in that I made my own website success and didn't have to risk it from buying third party services, from which I also learned the dangers of doing so. It's also from Wealthy Affiliate that I learned how to offer legitimate services of my own, which I explained how to do above should you decide to do the same.
Take my advice on this matter, get training from my recommended service.
You will likely find that if you do it right that you will have more than enough success that you will not look to get it in a cheap way from third party sources and you may never even have to offer up your own services for that matter because your site will be making more than enough to keep you focused on improving upon that.