Don't let the word "audit" scare you when it comes to SEO because it is a very beneficial thing to have happen to your website. It will allow you to spot where you can fix things to make it work better!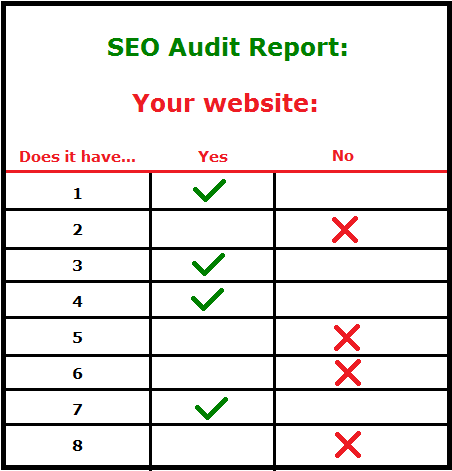 What is an SEO Audit anyway?
It is basically a checklist of things your website needs to have if it's going to work well, rank well and make money. There are many people and companies who run these types of services for clients.
Often times they offer a free SEO audit if you sign up with them and they will go through your website and see where it's missing things, needs improvement and basically how it can be become better so it can function better.
However, the checklist may be different depending on which company/person you go through. I am going to give you my personal list of things every website needs to have. And for most of these checklists, I will provide separate links to corresponding tutorials to help you.
There's 14 things in total which I feel if you have, you can have a highly lucrative website and it will thrive especially through SEO. It is not required that you have all these things, but if you find that you website is missing one or more of these 14 things, just making a slight improvement even in one area can already have your website become better.
Most of them are very easy to make and you don't need to hire any "professional" to do it for you because many of these people will try to weasel you into becoming a client for them and often times, you really don't need their services…
The 14 things every website needs to have:
#1: A picked out niche topic! 
I always begin most of my tutorials on website success with this suggestion. If you don't have a niche topic on your website, you will not have an easy time making money online.
Before you go through the other 14 things on this list, be objective, look over your site and see if it's a niche site. If it's not, you can either create a new site that will be OR start writing articles on the current site that deal with a niche topic. 
Note: If you have a local business website that you're trying to bring in more clients to which live in a specific area, you already have a niche website. 
#2: Every website needs to have content and a lot of it…
If you have a normal niche website (not a local business page), you will need to have a lot of articles written on the topic.
Note: For local niche websites, you should write as much as possible, but typically if you have about 10 pages and citations (which are part of the checklist), you should be able to get high rankings for people who search for your business in your area.
But for the normal site (none local), every single article you write, considering it is informative and long will make your website more trustworthy in search engines. This will cause your website to become popular and highly visited by people, but a huge way to make sure this happens is to…
#3: Every time you write an article, please: Target. A. Keyword. Always! 
One of the most important ways to capture the attention of a person browsing a search engine (let's just use Google) and to bring them to your page is to actually show up on the search engine.
The way to do that is to target keywords, but the types of keywords that only the audience for your niche will type into Google. 
I VERY often get messages and see people complaining that they aren't getting traffic from Google despite writing a lot of content and when I go over their page, I see that they are NOT targeting any keyword. 
If you are making this mistake right now, you need to stop that and start researching keywords before you write any article.
When you do find one, use it in the title. This is what will show up in search engines. A simple tutorial on keywords. 
Note: For local businesses, depending on the services you offer, you should find keywords that people type in your area. For example, if you offer bug extermination services in a certain city, look up any keywords that relate to bug extermination, but only in your actual city. 
4: Make sure you have these 2 free programs installed…
If I am asked to check out a website and am told that one or neither of those programs are installed, I tell the person to do it immediately because it will be able to tell me where the site is ranked and how many people come to it and from where.
Although I can usually tell where a website is having problems without those tools, I can't tell how many people visit it unless those 2 programs are installed.
5: Make sure you have these few, but important plugins installed:
I have very few plugins on my site, but they are very important in helping it work better. Check out which ones I've installed. 
Do not over install too many plugins. If you do, they'll slow down your site. A slower site means a worse experience for visitors. 
6: If you have broken links, use this additional plugin:
Simple 301 redirects, the tool which fixes 404 errors (broken links).
It's an optional, but recommended plugin you should have if you ever have broken links on your website. Broken links happen VERY often where you try to lead people to another place on your site, but it won't go there. Fixing them will help your website connect better with people when they visit it and rank better on Google.
#7: Internally and externally link on your website.
It is very important that if you have a multi page website that it interconnects with itself. In other words, there must be some sort of menu or links within each page to take people to another part of your website. This has important SEO benefits as it helps them navigate your website better which Google does like. Kind of like on this page where every checklist leads to a separate tutorial to help people complete it. 
There are times when you'll want to internally link your website and there are also times when you'll want to externally link which is the opposite. For a how to on internally/externally, get it here.
#8: Ensure every title of an article matches it's permalink.
The way you title ANY article you write on your website will have an automatically generated URL appear for it which means once it's live on your website, there will be a special and unique link that it will have that you can send people to. That link is called the permalink. 
By default this link matches the title of your article which is what you always want, but what many people do is they often don't like their titles usually because they want to chase a keyword and while I did recommend you target keywords in every title, I do not recommend you change a title once an article is live on your website. 
Stick to one title (the automated one you get) and a matching permalink because Google will look at this as well. I used to change titles the same way the people I just mentioned did and it very often caused my content to re-rank on Google which meant I had to wait longer for it to rank higher. 
And also, never change a permalink because that creates 404 errors like I described in #6.
#9: Make sure that comments can be posted on your website.
Comments can be a huge driving force when it comes to SEO benefits. Many people have websites and templates which don't allow them so make sure when you look at your website, there is always a box at the bottom which will let the public post their questions.
Don't worry about spam though, because most spam comments will be caught and eliminated by one of the plugins I recommend you install in #5.
However, you might not want to always approve every comment that you get and if you get confused on whether or not to accept comments, try this.
For comments you do approve, make sure to communicate and reply to them so other visitors know that it's OK to leave them. Comments are very good to have on a website and also carry good benefits. Unless you have a website that deals with something like adult content or extremely taboo subjects, let people comment.
#10: Also provide an option for people to share your website socially.
This also encourages comments, but likes and shares also lead to more traffic. #5's plugin list also has one you can add to your site.
#11: Never do any black hat things on your website.
If you:
Buy backlinks, use article spinners, copy content from other websites (duplicate it basically), or pay for things like junk traffic (black hat things), you have already destroyed your website's future. In these cases, stop this immediately and begin a new website where these tactics will never be used again.
#12: If you have a local business website, create as many citations as possible.
Google+ local, a Facebook group or business page for your site, a Google maps listing, and listings on websites which features businesses like Yellow Pages, Yelp, ect… are ALL considered citation websites. You should set up listings on all of these pages. 
#13: I recommend WordPress websites.
There are many different programs that build websites, but WordPress provides the most opportunity to create a strong website that Google loves. So when you create a new website, install WordPress to it.
#14: If your website advertises on Bing and Google, do this:
Follow this guide I wrote for these networks which are known as "PPC" networks. 
If I follow these 14 rules, can I be guaranteed success?
The only thing I do guarantee is that your website will be better for SEO and it will get more traffic, especially if you follow rules 1-3, but if it doesn't make money, there's other things you can do. Either way, those 14 things are great things to check for when auditing your website.
My final thoughts:
Like I said earlier, there's different types of ways to audit a website, but in my experience, the 14 things I've listed have helped me create successful websites. When I review pages, those are the guidelines I follow.
As I said earlier, not everyone is going to have to do all 14 of these things, but each of them will absolutely help your website become better and as I said before, the first 3 rules are in my opinion the most important. 
But one more thing I want to explain is that I never really began creating websites with these 14 things in mind, I simply followed a strategy created by my mentors at Wealthy Affiliate which didn't really list these things, but the way their strategy was explained, they were already there so I didn't need to worry about it.
If you already have a website and may have followed a different guideline from another source or you're about to begin creating a new one and want to know a good way to start, I thinking following Wealthy Affiliate's approach is the best place to start. 
Additional Note: If you want to check your website for these 14 things, you can create a chart like the one I put above and check or mark an X if you have any of those things in place or not.