In my experience, having comments on your blog is very important for SEO and to prove it, I will give you 2 specific cases, one on this niche site and another on a local marketing site.
First, here is why comments matter for SEO:
It is a positive social signal for search engines.
It lets search engines know your content is high quality (triggers people to comment).
It is indirectly a major ranking factor for Google.
Sites with more comments generally have more trust and success overall.
In this article, I'll be giving you:
2 case studies of how comments on my site directly improved my Google rankings.
And I will also show you ways to stimulate your readers to actually comment on your sites to make this happen.
Case 1 (A comment on my blog post gets the article ranked on page 1 of Google):
I had my skepticism when I started doing SEO and comments were never really something I paid attention to. 
But that completely changed a few years ago (and this is where we get to the importance of blog comments and SEO) when I received one on this exact site from someone who asked me to review an MLM. The MLM's name is called Mynt.
Here is the comment:
Now prior to this person leaving that message and even for a few months afterwards, I never wrote a review on that program and before I actually did, I received 2 MORE messages from people also asking me about the same MLM. 
How was it that 2 people who did not know each other post about the same topic?
Well I got my answer when I finally decided to look into the MLM they were asking me about.
I typed in "Mynt MLM" into Google and what I discovered changed my mind about comments and SEO forever:
This comment alone got me ranked for the keyword "Mynt" and on the first page of Google!
Now this "kind of" changes things for people who are used to getting ranked using the traditional idea which is pick out a low competition keyword, put it in the title and a few times in the post and that's how you get ranked because remember, it was just a comment that was on the 1st page and on an article whose title and even content had nothing to do with the person's question. 
How was it that this happened? Well in my opinion:
That MLM that came out probably had very little competition because it was probably new, thus there were probably very few sites talking about it, except mine, where the only mention was in a message and thus that's why it ranked.
Now I wish I could show you a screenshot of that message showing up on Google, but as soon as I realized what happened, I immediately wrote up a review on the actual program and overtime, that review would up substituting the one which showed the message so now if you do a search for "mynt mlm", you will see this result:
Here is proof that comments directly impact SEO (positively):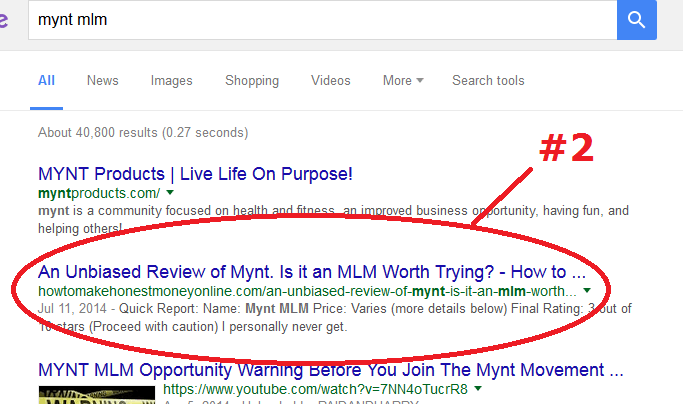 Note: What this also proves is that the traditional way of ranking I talked about above still had more weight and that's because a large post full of content will outrank the previous one just about every time because it is more relevant.
But what this scenario (again) also showed me was just how important comments were and in this example, it had a DIRECT positive result on SEO. And by the way, when I did write the review, I went back to the person's question about it and provided a link to the review. It gave me an interlinking opportunity and I believe it may have also played some kind of role in helping my review rank quickly. Even if it didn't, interlinking doesn't hurt SEO.
Case 2: How allowing comments on a page boosted that page's SEO.
There has been a local niche site I've been "working on" for the past few years where I've made very little progress in rankings despite the fact that I now have over 50 posts on that website.
Most of them were following all the rules of SEO but I was still not making progress as even my "best" posts were ranked on page 2 or 3 and I would get an occasional organic visit. It was basically a site offering online consultations for a law firm.
Now I do have to say that I really was lazy on this site because I just had other ones which I felt were more important but it was frustrating to work on it and see very few results. 
Despite there being low competition for most of the keywords I was targeting, I was still not seeing good results and that was probably due to:
Most of the sites which were ranked on page 1 had so much more authority that despite the OVERALL keyword competition being little, it was still VERY difficult to get to page 1. 
At this point, I feel like I'm going to need at leas 20 or 30 more articles before I start to get the better rankings, but because my posting frequency was so far apart, I doubt I'll get there. 
Because I had not seen good results from this site and I was running out of ideas, I began opening it up for questions and after getting a few of them, I had noticed that there was a spike in clicks on this website as indicated by webmaster tools: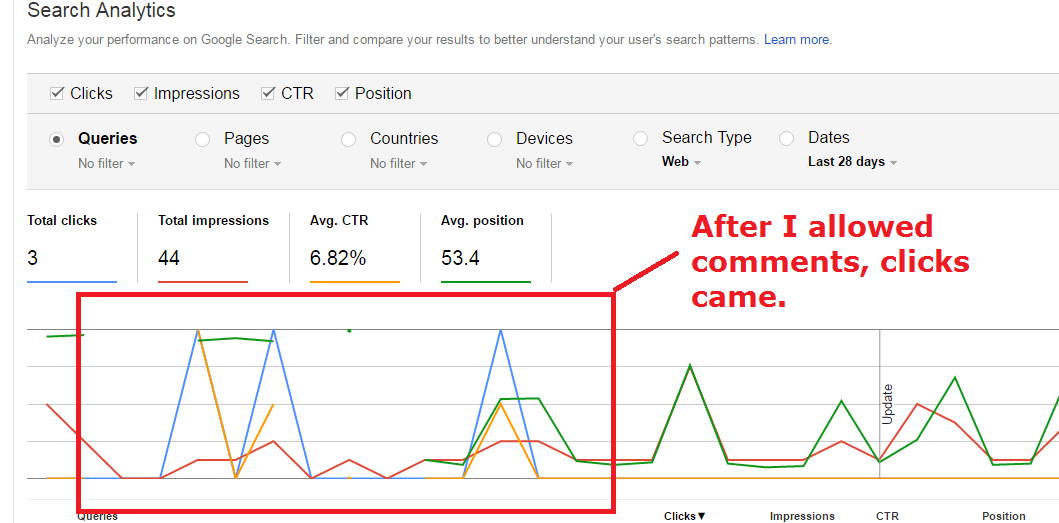 Now it can also be a coincidence because I had 10 extra posts added to the site about a month prior and it was possible that they began ranking around the time that those blue spikes happened (they indicate clicks), but this has not been the first time I have noticed that getting comments had positively affected my SEO.
My final thoughts: Comments are crucial so have them on your site!
The first case definitely was enough to show me how important it is to have comments on my site. What I always tell people to do is to just ask for people's opinions on what you're writing. 
I also have one other case where I was at a private meeting with my bosses from Wealthy Affiliate and I asked them a question pertaining to a website I saw which had much more content than I did, fewer comments from what I saw but didn't seem to have rankings.
The question I posed was if writing so much will yield good rankings and they told me because the person doesn't encourage for people to leave their thoughts, that they don't get enough of them and thus that impacts ranking too. 
Now that same person also had a private meeting with these people and I am certain he took their advice on this because shortly after these meetings took place, I did notice that person had many more people leaving messages on one or more of their articles and I was also cross checking this with how their site was doing on Google and sure enough, their rankings went up much more! 
Content is always going to trump comments, but when you have both of these things on your site and people are actively leaving their feedback, it can and does improve your SEO. 
Update 8/30/16: 7 ways to get people to comment on your blog:
First here is a basic formula I use to get more comments:
Write engaging content.
Share a story in your content to connect with people.
Use phrases throughout your page such as "What do you think?" or "Comment below and tell me what you think!".
Ask people if they can relate to your experience. Use phrases like "Have you guys had this happen?".
Tackle controversial subjects (stay away from politics) because they get the most emotional crowd that is likely to comment.
Respond to comments politely (don't comment negatively) and show people you're positive and easy to talk to.
Use humor to disarm people. The more disarmed they are when reading your content, the easier it is for them to comment on it.
One of my highest commented on blog posts on this site is my review of Wealthy Affiliate. You can check it out yourself and scroll through the 800+ comments it has to see how I do it. I also make sure to answer every comment on that page so that people know I am real.
Share your thoughts, questions and experiences on this folks!
I'm serious, don't be shy to comment on this subject and ask me questions. Let me know if the tips I gave for stimulating comments on your site worked and if you saw SEO benefits from it too!