As the world of SEO has evolved in search engines, with Google leading the way in that category, the term website authority has been thrown around quite a lot and while there is a pretty self explanatory definition to it, I feel that after you read this article on the topic, that the deeper understanding that you'll get from it will really help propel your personal pages to reach new levels.
Many years ago, I had actually written up on this very same topic and it was actually during the time that my personal and main page was still "marinating" in the search engines, trying to get high rankings, traffic and so on and the tips I provided in that article, I made sure to follow through myself.
At the time I was actually just diving back into the SEO world which changed a lot and while the tips I listed there were given to me by this awesome program which I still follow and recommend today, there was a sense of doubt that this wouldn't work and my page would never get good traffic. But I didn't let those doubts get to me and continued to do the same things I listed in the article. And what happened was remarkable…
Now the same page which once was an unknown in it's niche topic, which was making money online is today, in 2018 growing everyday, building up traffic and earning more and more gradually, thus proving the same things I said back then absolutely apply today. Here is the article, but my experience with this topic has become MUCH more comprehensive since and I have many more tips to offer you guys today.
Let's begin with the main one:
What is website authority?
Before I used to provide the definition first, then an example, but I think I'm going to switch it around because it will make the point clearer and faster:
Let us imagine 2 pages competing for high rankings, for the same niche topic, for the same keywords and so on. This will help to illustrate the definition…
Page A has 100 articles averaging 1,000 words per article, 1,000's of comments and shares.

Page B has 20 articles, averaging 1,000 words too on each article and has a few dozen articles.
Even if you don't know anything about the term, if someone were to ask you the following question: Which of these 2 would you say has the higher authority with Google? What would be the obvious answer based on JUST the way the term sounds?
If you said Page A, you would be absolutely right and it is for obvious reasons why I shouldn't even have to explain (like I said, the very term is self explanatory). That is really not just an example but also a definition of what website authority is:
It is a page that has rich content in masses and the more it grows in this regard, the more it's authority grows. It's really a simple thing to understand.
This is exactly why website authority leads to riches:
Back in 2013 when I started this page, I had about a few dozen articles and was getting 5th page rankings and lower and it was taking me many months and even years to have some of my articles reach the first page ranks for keywords I was targeting.
And it is also because I continued building the content on the page, that nearly 5 years since, the dozens of articles I had, now turned into 100's and my traffic grew proportionally and exponentially as a result and now whenever I write new articles, it is VERY common for MOST of them to land on the second page of Google's search results (and then go up to first) and/or hit the first page rankings RIGHT AWAY, within a day sometimes.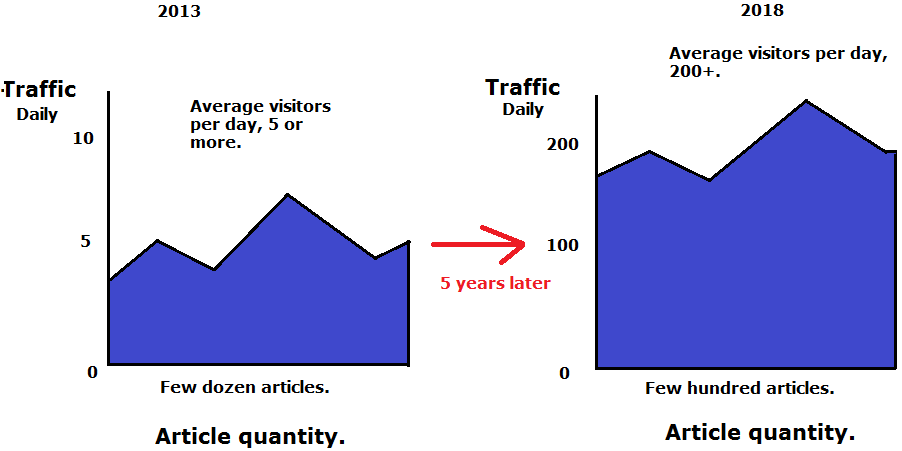 That is happening now because my page has matured with Google, it trusts it more and basically rewards it with more benefits, hence the results I am speaking about here.
And now here is how much it earns.
Now imagine if I keep going in this direction for another year, 5 years, 10 years or more. As long as Google continues to rewards sites with higher authority for doing the very same things it preaches about:
Creating rich quality content as often as possible and growing the page, then there's no telling how successful my page will be, so long as I continue heading in that direction.
And I have to say, as the internet is evolving, there is no indication that this very thing I just mentioned that Google wants is going to end. They want more content. It's always been this way.
But here's what it means for you:
The lesson from my personal experiences for other bloggers reading this is that if you also keep doing this same thing with your pages, you are going to experience the same results. And it is because of the higher authority you will have from doing this that:
You will get more traffic.

You will get more first page rankings.

You will get more comments.

You will BEAT your competitors (this is why saturated markets don't concern me).

You will grow your page AND your business.
Is there a metric used to measure authority?
The short answer is no. There was a time when Google used a thing called page rank to measure the value of a site, but that was quickly abused beyond belief and was thus done away with. Back then, there was actually a number given to a page and the higher it was, the higher rankings it would get.
Since it was done away with, the term website authority has replaced it (at least on the exterior, some say Google still uses page rank secretly), but unlike page rank, there is no number or particular grade that you get. In fact, it is something that is hidden from you by Google, but only their algorithm knows the answer and the only way you can determine if it's going up or down is if you're growing your content base and if:
You see more rankings taking place with your page.

You see more traffic coming to your page through organic means (searches on Google).

You see a gradual increase of comments across your pages and articles you wrote a long time ago and even forgot about (it means those old posts are now ranking higher and attracting traffic).
These 3 things alone are a GREAT sign that your website authority is rising and with it, the rewards are HUGE.
There are programs to help you gauge your page's progress though:
While website authority doesn't have an official measurement, there are graphs on free programs to help you see if it's increasing. 1 program in particular that will help you with this is Google Webmaster Tools.
If my Google webmaster account is showing me these kinds of charts:

Then I know I'm getting results. In the following case, this chart was provided to me by Webmaster Tools for a niche site I made on drones, in which I gradually grew the content base for several months.
The colors of the graph indicate things like clicks, impressions and keywords and as you can see, there is a gradual rise. Well for a lack of a better word, this is basically a sign of my website's authority rising. It is slow, but it is rising.
Now if you're wondering why I didn't mention something like Google Analytics (another program that measures and records traffic numbers), the answer is that it's numbers are a reflection of the visitors who come to your page, not how the search engine views it and Google Webmaster Tools is indeed the best program in my opinion on showing you how your website authority is doing.
My final thoughts: Do you want to get these results with your pages/blogs?
Of course you do. Like I said earlier, growing your content base is going to be one of the best ways to do this, but there are more specifics on this topic that I would recommend you get tips on from a great training program like this:
If you have any questions on a personal blog or page you're running and perhaps you're not seeing the kinds of rankings you'd like yet, ask me about it below. It may very well be that your page just hasn't matured yet and thus just needs more time to get that authority level up and you already know what you need to do for that to happen.
If you need specific training, the program I linked above is the best there is for learning about this.