Since well over 90% of all search traffic views and dissipates on page 1 of Google, that's exactly where you want to get ranked on if you want to get that piece of the pie.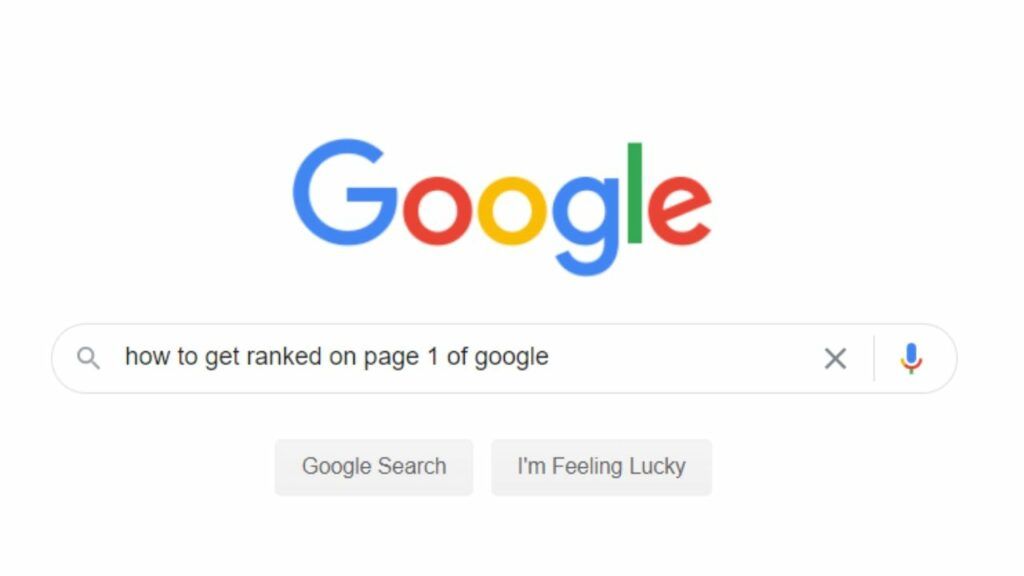 But that's not easy to do if you listen to many of the "gurus" who honestly have no clue how SEO works and give out bad advice that destroys people chances of that.
I however, have used 9 strategies to get ranked on page 1 of Google for many of my blog posts and web pages. On this article, I'll show you what they are.
I do want you to know a few things:
Getting ranked on page 1 of Google is not guaranteed with these strategies.
They work, but you may have too tough of a competition to get to page 1 sometimes.
Expect rankings to dance around (Google dance) when you have a new site.
Not all your posts will get ranked on page 1 of Google (it's how it is).
Understand what LSI keywords are because they'll help with this.
Don't focus so much on getting 1 page or post to get to page 1 of Google, keep moving forward and repeating the strategies I list.
Any real SEO expert who understands what it really takes to get ranked on page 1 of Google will probably confirm everything I just told you above.
If you ever hear anyone tell you that they'll be able to rank any keyword you want on page 1 of Google, they are lying to you. It doesn't work this way. So have realistic expectations and you will have more articles than you can count on page 1 of Google like I do.
Let'e begin.
A preview of the 9 strategies I use to get ranked on page 1 of Google:
Target a very low competition keyword that is also long tailed.
Make an awesome title to draw eyes and also use the keyword in that title.
Create a good snippet to catch Google's attention.
Create very high quality content.
Ensure you internally and externally link on your site.
Create awesome images.
Make sure the website theme loads fast.
Make sure you are running a website that is mobile friendly and secure.
Make sure you sign up and use Google Webmaster Tools.
Let's get into each method of ranking on page 1 of Google:
1) Target low competition keywords that are long tailed too.
Finding both profitable keywords and ones that are long tailed too is actually not difficult to do. Think of 3 words or more that get a lot of searches online: Product review keywords, questions, use the Google alphabet technique, ect…
These methods will always get you ideas on these things.
2) Always try to make awesome titles for your found keywords.
It took me a long time to really understand how important titles are for ranking on page 1 of Google. Normally, I'd just find a keyword which was both long tailed and had low competition, but I'd just use that for the title and it was frankly boring and hardly ever got clicks, reads or high rankings, and this all was part of 1 problem:
My titles sucked!
And this is something you need to correct ASAP if you hope to rank on page 1 of Google. And let me tell how you do that by using the title of this article:
It was originally: How to get ranked on page 1 of Google. See how many times I did it!
It isn't a bad title and the first sentence of that title is the keyword I was chasing, but I changed it because now that it's:
9 strategies I use to get ranked on page 1 of Google just sounds so much better. People like reading titles with numbers on them. Clickbait titles work very well to get views and Google will be testing how people see your page by showing it to people and seeing if they click on it.
The more that they do, the more odds you'll get that boost to first page rankings.
3) Create good snippets. Google loves to rank snippets!
Did you see my bulleted list above for the 9 strategies and how I listed it? Well that's an example of what a snippet looks like. By summarizing it in that type of fashion, I make it easier for Google to see it and rank it. Snippets help your rankings grow substantially.
4) Create very high quality content (it's always been at the core of this!).
None of the other 8 strategies on this list matter if you don't have a high quality content article or post. This is what Google looks to rank above all else. Good content is the stem of your success. Everything else on this list is a branch.
If you want ideas on what to write about to have more odds of high quality content showing up on your site, use this blog post's strategies on what to blog about.
5) Internally and externally link on your website.
Google loves a site that internally links within itself and links externally to other authoritative sites (and by that I mean none affiliate sites). I do it a lot on this article and on about 99% of all my other ones (it's not by accident, it's good for SEO).
6) Please make awesome images! 
I used to be really lazy about this but imagery, video and basically visual content has really become a major thing in ranking on page 1. Make cool images on Canva and similar sources, as it'll really help you do this for free. Images do indeed help with rankings!
For example, did you see one of my images above? It showed Google, it had a relevant title, so it came together with the context of the article. This is the kind of stuff you want on your site too!
Note: Make your image featured text the same keyword you are targeting too!
7) Make sure your website theme loads fast.
Website speeds have become a huge ranking factor for Google (as well as the next tip as well). You can test out how well your website loads on places like Google insights to see if it needs improvement.
You want to be in the high 90's if not 100 for both mobile and desktop if you hope to rank higher on Google: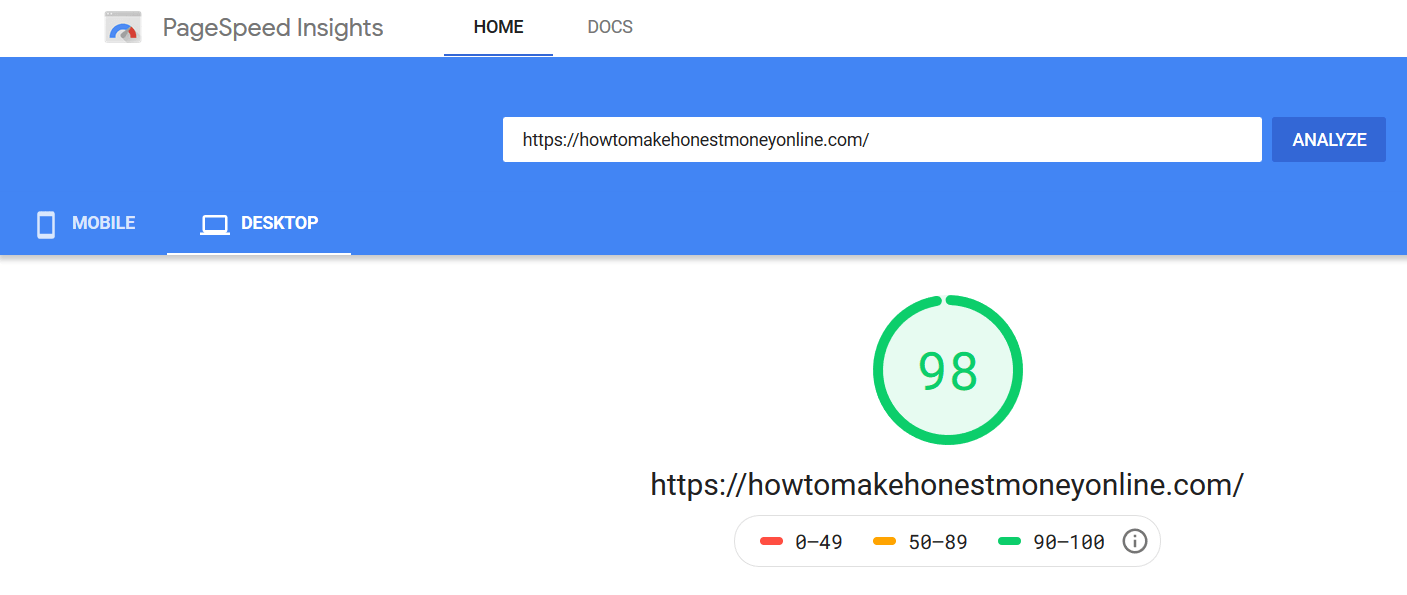 Note: Test the speed of your individual pages, not just 1 page.
Note 2: Run the analyze test TWICE, not once, because the second time is when you get the accurate number.
If it sucks, odds are a theme change, plugin change or even hosting change is necessary to improve it. For themes, I use Generate Press as I run a WordPress website.
8) Mobile friendly + secure websites = better rankings! 
I usually mention these 2 tips apart but they are really 2 parts of one thing: Better, more secure sites that are reliable and that makes them more trusted by Google which is why they like websites that have it.
Once you have these 2 things installed, it's really hands off from there.
9) Please use Google Webmaster Tools.
There's no better way to know how well your website is ranking on Google including for what keywords than using the Google Webmaster Tools program. It is free and it'll really help Google see your site better.
Your ranking won't be determined by it, but you will be able to see the progress you are making by following what I tell you and seeing the reflection/reports from Google directly by using this tool. It'll inform you which articles, keywords and traffic you're getting straight from Google itself.
My final thoughts on getting ranked on page 1 of Google:
These 9 tips really are at the core of ranking on page 1 of Google and again, I don't want you to think it's a 100% guarantee. The SEO is designed in a way where no one site can monopolize on the page 1 rankings and they will fluctuate.
Few website owners know SEO and this is why when you use these tips, you will have an advantage over your other competition on Google.
If you want to add your thoughts on this subject of getting ranked and/or if it helped or not, let me know below!