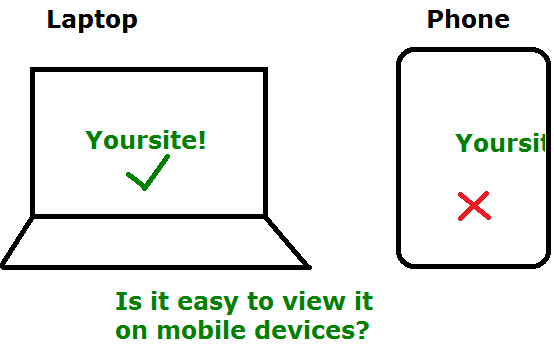 The short answer is yes, specifically for those who try to find your website on their mobile devices and fixing that problem is actually quite simple: Just switch to a mobile friendly theme.
But if you want to know more about this algorithm update, I'll tell you all you need to know about it:
Here's what you need to know:
People who have been checking in on my website more than once have probably noticed that the theme has recently changed.
That's because I moved it from the previous one (Platform) to a more "mobile friendly" version called Iconic One. 
If you are in anyway doing online marketing, signed up to people's email lists who provide SEO advice, you have probably already heard about the new craze going on in that in late April, Google will be making adjustments to it's algorithm and more points will be added if your website is mobile friendly. 
What sort of change is Google making with this mobile update?
The way I understand it, if people look for keywords and content that your site would pop up for through their phones, if your website is mobile friendly, it will generally have more odds of showing up higher while one that isn't will not. 
Why is this change so important?
The amount of people who browse the internet is increasing daily. And much of this trend has shifted to doing it through mobile devices. We move around a lot and often aren't home so it's convenient to just go online through our phones and just do a search for what we want there.
So is it any surprise that Google is adapting to this change by putting more weight on mobile sites to show up for people who search for stuff through mobile devices? It only makes sense that this had to happen.
Does having a mobile friendly website really matter?
It absolutely does especially if people are finding your site through mobile phones and devices like it (tablets). Websites appear on our phones a bit differently than they do on our computers/laptops. There are a lot of popular websites which even have their own mobile version developed just for those people to make their browsing experience easier.
Sites which are not mobile friendly tend to be more difficult for mobile users to navigate through whereas those sites who are compatible with those devices make the experience easy. So even that right there should be a signal to ANY marketer that changes need to be made.
Should you make the switch?
When I heard about this transition, I did panic a little bit but consulted with a few people I trust in this business. The advice they gave me was the same I'm going to be giving you:
Before you worry about anything else, you need to find out how many of your visitors are coming from mobile devices vs regular computers. Any sort of traffic you get on your site is going to be mixed.
Here's how you find out:
If you don't already have it, get Google Analytics set up on your site right away. It will monitor how many visitors your site gets and in this case (more importantly) WHERE they are coming from (phones or laptops).
I always look through analytics, but until this new topic came up, I never even bothered exploring where people were visiting my site from. Now I know. Here's a shocking analysis into my site:
While 58.56% are coming from desktop computers, the rest (41.44%!) are coming from the rest. And this is just for one day. I did a longer analysis and saw the numbers were very close to 50/50 at times! This was a HUGE wake up call for me and was ultimately why I decided to make the theme change.
Update 2020: I now get more than 50% of traffic from mobile so yes this change is even more important than even!
Understand that content is still your top priority:
As important as having an easy to navigate website for ALL devices is, remember that content is going to be what makes your website stick on Google and there's many chances you'll still find websites that aren't mobile friendly outrank mobile friendly sites when people search them on phones and that's because they have better content. 
So just making your website easy to see isn't the big picture. It's still content and it's likely always going to be this way. 
How to make a website mobile friendly (Takes seconds):
I'm not a programmer or tech expert so my advice here is VERY general, though very simple: Change your theme/template.
There are many themes provided by none other than WordPress which can be both friendly to mobile users and those who use traditional devices, but if you don't know if your site is suitable, you can test it out through a cool Google tool they released that lets you know. It's called the: Mobile Friendly Test. 
Just put the URL of your website in there hit analyze. If it's good, you'll know. If not, then pick a different theme. 
Note: Changing themes removes your Google analytics code which means you'll have to put it back into the new theme page. If you don't do this, you will only see a bunch of 0's for traffic! 
Don't know which theme to choose? Run a few tests with a few different websites and see how you like the new theme. Play around with it before using it on your main website. That's exactly what I did and chances are, I'll be trying out a few other examples in the coming weeks. 
What if you only have one website? Well in that case, you can do what I do and make a free SiteRubix website (you'll get 2 and they use WP) and just use them as your experiments.
Test how your new website affects your consumers:
Just being mobile friendly isn't really enough in my opinion. You'll need to give it a few days or at least a week to see how people landing on your new website navigate through it. As long as your content remains the same and you ONLY change the theme, things should remain the same. Same pages visited, around the same amount of time, ect…
What you should really be looking for is how changes affect conversion rates on your website. If you see your sales activity slump a bit from a previously installed, theme, that theme may be the cause of it and you will have to make changes. 
Google Analytics will help you determine this as will your activity in the sales department, but it's really not a big deal. As long as your main area (content) is the same, you shouldn't see any major changes anywhere else, other than the search engine once the new algorithm gets put in effect 😉