LSI is a term associated with keywords and ranking on Google and other search engines. In this article, I am going to help you easily understand what it is and how to leverage it to get more traffic from search engines.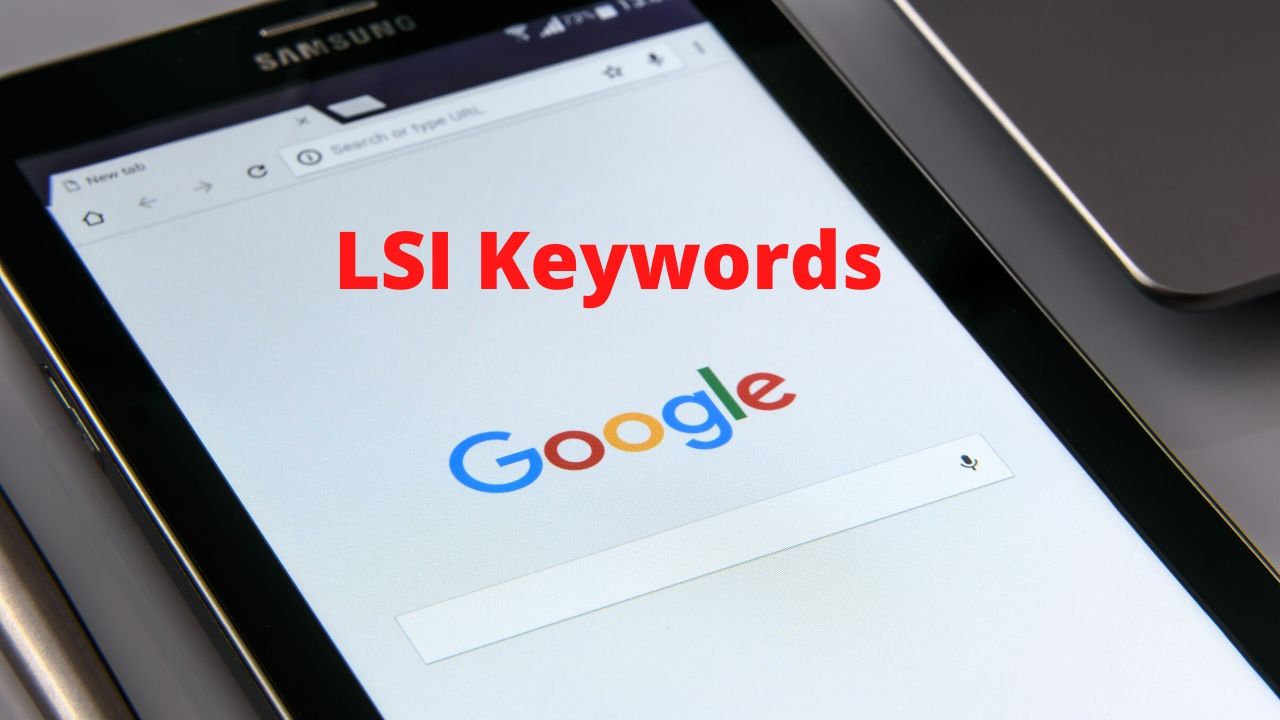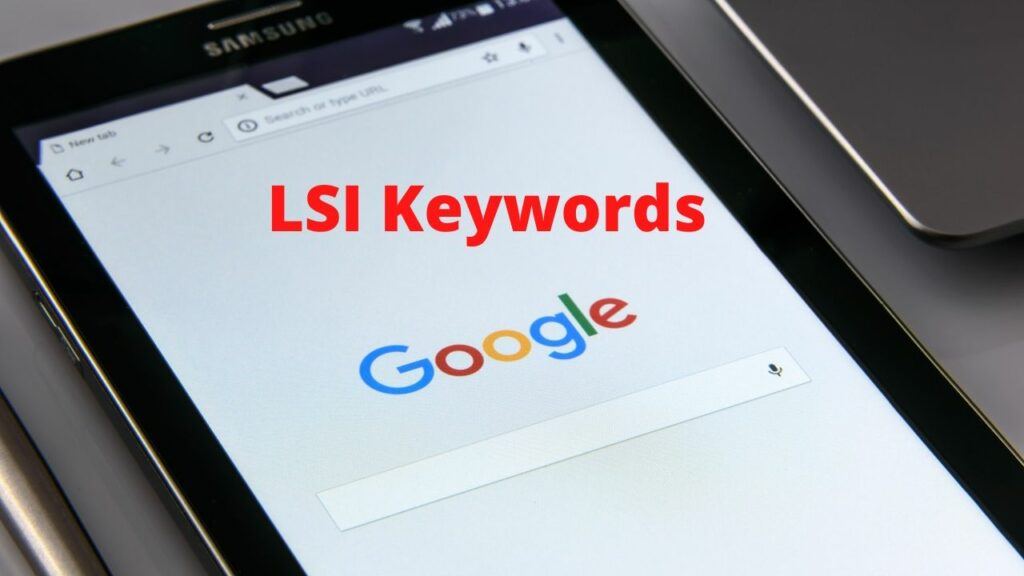 What is an LSI keyword?
Firstly it stands for latent semantic indexing. But in layman's terms, it is simply all the variations of your target keyword you are trying to rank for. When you create content and target 1 specific keyword, there are many ways it can be re-written and there are also synonyms of it too.
And all those other variations are what are known as LSI and are things things people can also type into Google to find your same article that was trying to rank for one keyword.
Here is an example of LSI: 
I had a post written a long time ago on a program called Survey Say. The main keyword I was looking to rank under was "Survey say" as it gets search traffic. I discovered this by running that keyword through the Jaaxy keyword tool. Here is what it showed:
But as I said above, that keyword can have SO many different ways it can be rewritten. And that's exactly what Google knows. After writing an article on the Survey Say program, I discovered that there were LSI variations of it that were also ranking AND getting me visitors.
The following screenshot shows this (look at the green rectangles):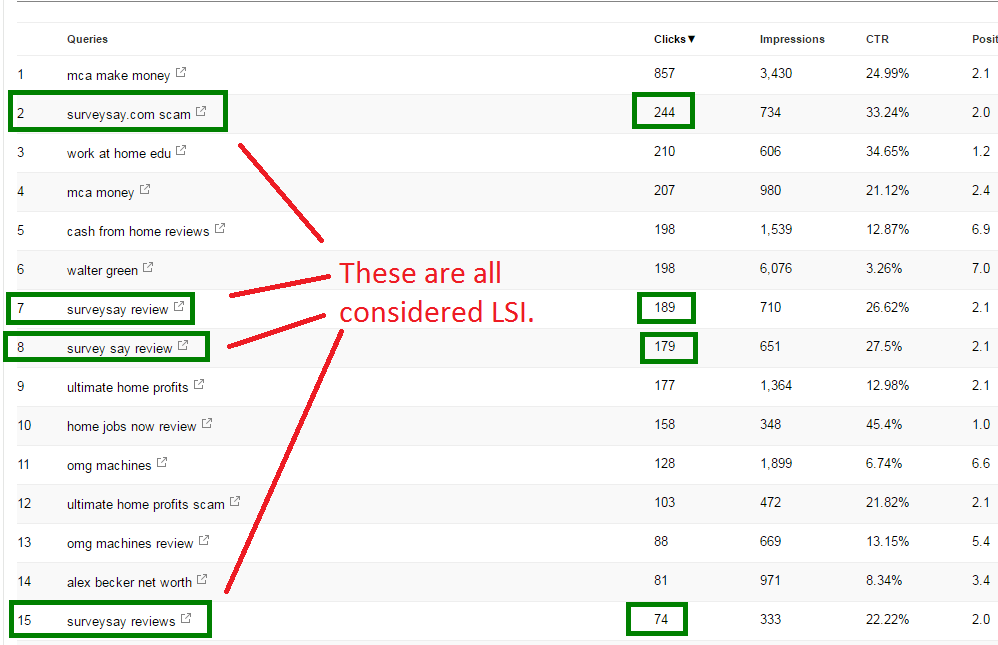 There are 4 green terms I highlighted there, and all of them are variations (LSI) of the Survey Say keyword I am targeting. Because LSI is working for me correctly, I am getting way more visitors through the other keywords than if I were just ranking for one.
What are the benefits of LSI? In short: More organic traffic.
Google is very smart at seeing what people type into Google and if there is more than one variation of a keyword being typed and you have an article ranking for one of those terms, it will also rank for those other variations and get you more traffic to your site from it.
Those 4 phrases above each have a large number of clicks: 244, 189, 179 and 74 and it's 686 extra clicks overall!
Imagine if Google only ranked that article I wrote for just that 1 phrase? I'd get less than 100 visitors monthly for it alone, but I'd be missing out on several hundred extra visitors were it not for the LSI perk this search engine has. 
How does one leverage the LSI perk?
You really don't because Google is smart enough to do this on it's own. Your goal is simply to do this:
Target a long tailed keyword that is getting visitors.
Write high quality content for the long tailed keyword.
Let Google take care of the LSI and figuring it out.
Don't try to manually play the LSI game by writing up all the possible ways your main keyword is written because it will impact the reading of your content. Just write naturally.
Keyword competition is almost entirely eliminated thanks to LSI:
Keyword competition is still a very real thing, but with the LSI perk existing, you have SO many more ways of ranking for the targeted keyword you are going for.
Imagine chasing a keyword that has low competition but being unable to rank on the first page of Google for it no matter what you do. Well now that LSI is in the picture, you still might not rank for the main keyword, BUT you will have more options for that keyword to rank for under similar search terms and that way you'll be able to get traffic from it.
Furthermore, if your content is really well written, the other search terms you'll get rankings and traffic from will boost your article in the main keyword you originally targeted and help you rise even higher in the SERPS.
The 1 occasion where you should list out all your LSI keywords: 
This should only be done if you're running pay per click ads. In those circumstances, you are creating ads and telling the ad network to put it up for the keywords you listed. For PPC, LSI doesn't happen on it's own. In that circumstance, you have to manually do it.
But the context of LSI isn't really used for PPC. It's used for organic rankings where it's taken care off on it's own (SEO).
Don't forget to target long tailed keywords if you want the most out of LSI:
Targeting low hanging fruit or long tailed keywords is one of the best ways to get through that SEO door and get rankings and it's also a great way to let Google see LSI variations.
For example:
If you target something like "weight loss", can you imagine how many LSI keywords there are associated with it? I can't, because it's probably millions. So in those cases, LSI doesn't help you.
However, with long tailed keywords, you are going for specific topics that already have lesser competition to worry about and while the LSI variations of long tailed keywords are in fact less in number, they are still very targeted and thus much more profitable.
Product review keywords are another great way to leverage the LSI perk and if you aren't already writing product reviews on your site, do it, because LSI will boost up the rankings of that even further.
And remember, don't try to influence the LSI game:
If I didn't already make it clear, don't try to input all the possible LSI variations of your main target keyword in your content. It will just make it worse for you. Quality content is one of the 5 major Google ranking factors and as long as you have it, the LSI will be handled, trust me on that.