The term high quality content is used an awful lot in the internet world, but most people who preach it don't know how to write it. I do, and I'll show you.
I have 10 examples that will help you understand it and use it. I also want to stress how important it is that you not only do it, but understand why being able to write it correctly produces better results in every regard.
So let's start with what high quality content is:
High quality content is generally written or visual work that gets a lot of feedback from people who read and watch it. By feedback, I mean the following signals:

In short, well written work satisfies a reader/viewer, to the point that they love your work, want to talk about it and it answers all of their questions and you gain their trust.
So the next question becomes…
How do you make sure the content you produce is high quality?
Nearly 5 years ago, I wrote a very short article on this, but in spite of it's shortness, it's tips still hold true today and if you want specific guidelines on writing high quality work, I recommend you read it here.
But in a nutshell, here are those tips: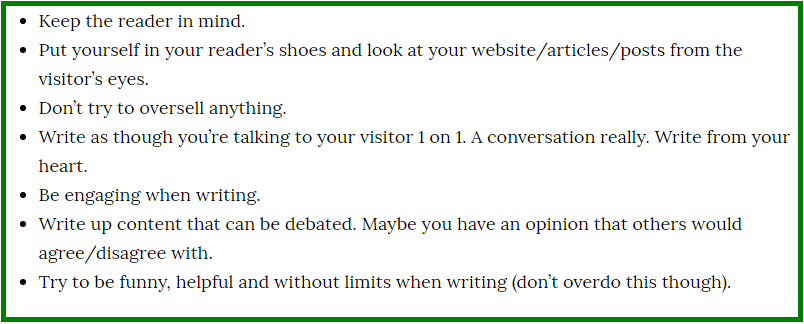 5 years later, I still recommend those tips, but more importantly, people need examples, so the way I'm going to show it is by giving you a particular context/frame in the form of specific niche websites and YouTube videos and explain how it can become high quality content.
1) Let's say I'm writing an article on homeopathy. 
How can an article on this topic be considered high quality? Well here's some examples:
Make it over 2,000 words long (why longer work is better).

Explain in a simple manner what homeopathy is (clearly written stuff is easier to read).

Add pictures of herbs and other things that are relevant to this article. 

Write a short story where you talk about your experiences with it.

Explain in bullet points the health benefits of this stuff.
I guarantee you that a person who would write an article on this and keep these points in mind would produce an awesome article that would get a lot of attention, reads, shares and comments. 
2) Write controversial topics relating to your niche.
Here are some topics which typically get a lot of positive (and negative) attention:
Political news and controversial topics within the political spectrum (be careful here as you can have a pretty heated argument with people).
Typically every niche topic you have on your site has a side of controversy behind it. For example, if you're writing about homeopathy, you'll likely get people who don't believe in that (people more leaning to modern day medicine) commenting on your site about how wrong you are.
3) Include content on your site that tackles what the opposing viewpoint might say.
Taking for instance the same topic of homeopathy vs modern day medicine, think of what your critics who visit your site may say and tackle any one or more questions within a particular article. This will add to the critics reading it (hopefully) and having a dialogue with you in the comments section.
Comments and good debates in the form of content typically have VERY positive results for other people viewing your article and especially SEO benefits as it helps raise the quality of that article.
4) Challenge readers by asking them their opinions and thoughts.
I mentioned this when I wrote about getting more comments on your website and I still believe in it today. Comments are a huge driving force in showing both people and search engines that your website is full of high quality content.
When people "sound off" on what you write, it means they liked or hated your work at least enough to give their thoughts on it. Sometimes people who are very passionate will typically do this on their own, but most of the time, you will need to encourage/challenge them to do it so I make sure, that in big headings, I ask my readers their thoughts, on every article I write.
If I was writing about homeopathy, I'd say things like:
What do you think guys think about homeopathy in general?

Has anyone tried the same things I'm recommending or can recommend something better?

I'd love to hear from people who disagree with me, as I'm always up for a good, polite debate 🙂
These sorts of questions typically get good responses.
5) Communicate with readers by encouraging them to ask questions.
While this is a form of commenting, there's many people out there who are too shy to say anything, but they may often have questions they want to ask you.
Let them know it's OK and you're happy to help. In just about every single article I write, I always let my readers know that if they have any questions, to not be shy and to ask it and that I'll ALWAYS be happy to answer it (that encourages them more so).
Furthermore, this approach raises TRUST in other readers, even if they still don't choose to comment. Trust is a reflection of high quality content.
And the beauty is, while there will always be a good number of people that are too shy to comment, having even a few people do it, will have the other, shy readers sifting through the comments anyway, and that will raise their stay times and trust on your site, another huge factor in SEO, trust and overall high quality work (more info on stay times).
6) Always aim for writing longer articles/making longer videos if possible.
This is one of those tips where for some reason I get a lot "what if's" asked. For some reason, one of the most common criticisms and questions I get is, "well why write more if I can make my point with less words?" or "Why do I need to write 2,000 words in 1 article, when I can write 2 articles, that are each 1,000 words"?
Questions like these typically drive me nuts because I feel the person asking me it is missing the whole point and is trying to cut corners because they are being lazy:
Generally these questions are in relation to writing articles on a website. So that sets the context right there…
Next people who ask me these questions are typically having problems with their website and their articles not being ranked high (surprise, surprise), so my answer to them is to write longer, higher quality articles, simply because:
Longer articles/videos, when written with better quality just gets better feedback and it raises the authority of a website more so than anything else in the beginning.
When you start off your website, you have 0 authority, and 0 reason for your page to get ranked high. Google doesn't know you, it doesn't know your website and it certainly won't listen to your arguments on writing less stuff, no matter how good of a point you think you're making, by writing less.
So the BEST thing you can do, when starting out is to write WAY more than you think needs to be written. I actively write over 1,500 words lately on my SHORTEST articles and over 3,000+ on most of my longer ones. 
When Google sees this, it sees that you put in a lot of work and it ranks that work higher. Now to be honest, I don't care so much about my word count, but I do care about getting any and all points across, and that requires that I write more and it just turns out to always bypass that 1,000, 1,500 word count anyway. And it fits in line with what Google says.
I'm just going to say this: 
If you can't write over 2,000 words on an article and are trying to cut corners, you need to figure out another way to make money online, because you're only cheating yourself. Learn to write more and it'll make you a better content creator. 
People who write more, get more rankings.

People who make YouTube videos longer, and actively, get more views.
There's a reason this works…
Now the only time you can really make an argument for writing LESS is if you're NOT doing SEO. Say you're running an email campaign and want to lead people into a promotion. Then sure, write less if you want to.
Or perhaps, you have authority and trust with people and you know, that you don't have to spend so much time writing stuff to prove your point. In that case, fine, write less. And this also pertains to videos that are short. This stuff typically works when a person already has trust from their viewers and they don't need that extra proof to believe what they are saying.
But when it comes to SEO, especially the early stages where you don't have followers or trust, you need to write more and produce more, period.
7) Review common questions on a topic/product to answer in your content.
Any kind of popular product or topic carries with it tons of people who have various questions about it. The key with this tip is to understand the most common questions that come with whatever topic/product you're writing about.
By addressing them in your work, you will:
Improve the amount of words you have on an article/s.

People are less likely to leave your video/site because you already satisfied their queries.

Answering serious questions from readers helps build out trust. I have on numerous occasions bookmarked sites/videos which answered my most serious concerns. 
This is another big reason why knowing your niche topic/products is so important. For example, I review drones, and they are very expensive "toys".
I can promise you that before I buy one, I actively surf Google and YouTube looking for reviews and when I find something, I carefully look at whether or not my questions are addressed. If they are, I will continue to look at that person's content with trust.
Always ask yourself what types of common questions your article/topic/product review may have and answer them within the content of your site. You may very well get a big thank you from a commenter because you solved their problem.
For example, in a review I did for a program called Wealthy Affiliate, I have actively updated it to answer common questions I was asked. That way, some who is reading the content, who may have that particular question (and are to shy to ask it), will see it, be at ease and I will have a better chance of selling the program. Plus it adds more quality content to the article anyway.
8) Use simple analogies/metaphors.
In just about every single topic you write about, the more complicated it is, the more difficult it is to explain to people who can only understand it from a simple point of view. That produces the risk of them leaving your site/video too early. 
Enter analogies and metaphors, to make sure they stay. I use them all the time and by using them as well, you will be able to relay your message way better to readers.
If I'm writing about the ellipses of a planet, I guarantee you, more than half my readers won't know what that is, but if I say to imagine…an egg shaped motion, it suddenly makes more sense, and even more so, people will now understand what an ellipses is.
And being able to simplify complex things is also going to make you more trustworthy. If you're confused on how to write these, do me a favor, give me an example below and I'll help you turn it into an analogy/metaphor.
9) Never underestimate the power of a personal story/experience.
I believe I mentioned that in the article I linked way above when I started this post, but in any case, let me tell you that one of the best ways to write great work is to have a shared experience with your reader/watcher.
If you're writing about a topic where you solved a big problem and your reader HAS that problem, then believe me, they're going to read it as though your content is their solution. Personal stories like this also help with producing high quality product reviews that sell.
10) Provide a solution within your articles/videos and prove it works better than anything else.
I may lose some people here, as this tip "varies", but let me give you some context:
Let's say I'm writing an informative post on homeopathy, it's benefits, dangers, ect…
One of the most common things that would happen with my readers, is that they would likely want to know how to get started safely. If I can…
A) Put that worry to rest by mentioning that I'm going to give them a good solution and…
B) Actually give them a good way to get started safely, they're going to feel like they have a green light to move forward. In fact, this is how a lot of sales funnels work, so feel free to use that as well.
Now if I am doing something like reviewing a bad product, of course I don't want to recommend it, but in my content, I want to thoroughly explain why that is and provide a BETTER solution (a link to it too).
In these examples, people who read/watch your stuff need to know there's a conclusion to their worries/issues/questions. They don't want to be left wondering what's next or have to look at another site for that answer. You have to give them that.
My final thoughts:
Every tip I wrote here is great for improving your existing/future work on your site/videos. It will enhance it because it will bring out the curiosity of your readers/viewers, answer their questions before they get asked, build trust and have them wanting to get your advice on their problems.
Note: These same 10 examples you read about applied to blogging, but high quality content can also be found on video content, such as YouTube videos. In other words, these same 10 examples are also applicable there.
By writing out your work and/or creating videos with these things in mind, you will see a very positive reaction from your viewers, such that will also get Google's and YouTube's attention.
You will get more likes, more comments, more praise and bookmarks, all of these things will be symptoms of high quality content which will ultimately benefit both you, your website/video's rankings, traffic and everyone who reads/watches what you have to offer.