Let's say you purchased a product that you wish to write a review on for your website and the goal is to sell it or you're just adding new content to your site. What would determine how well it sells? Well that's what I'll tell you about in a moment.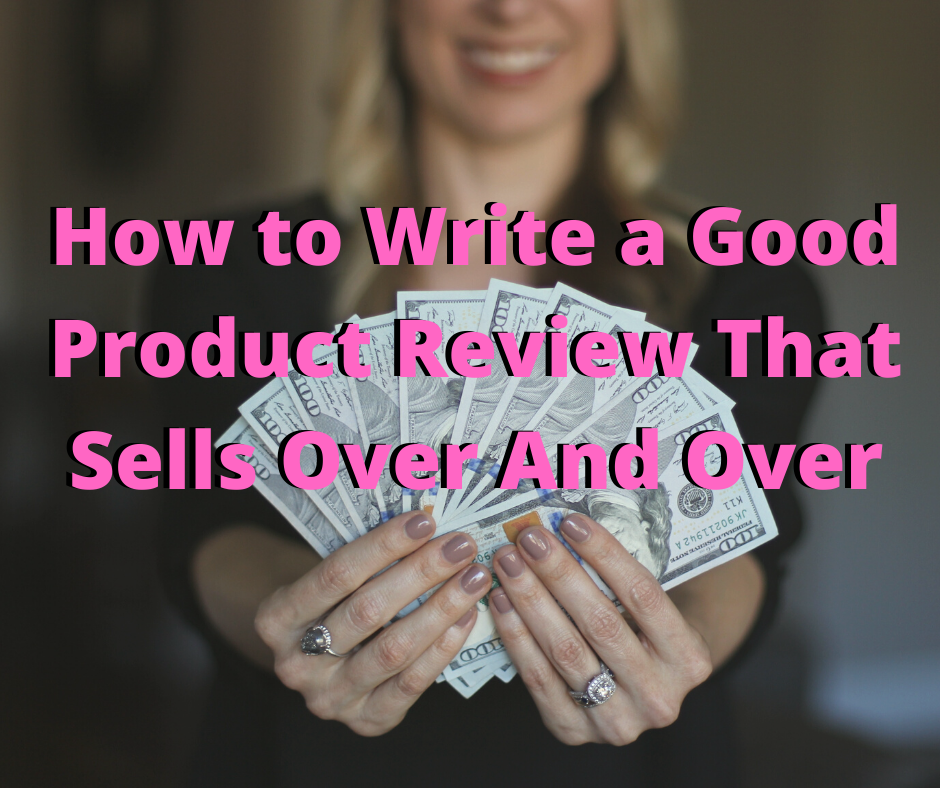 In my experience, after writing a ton of reviews, seeing which ones sell and which ones don't, I have determined that:
5 elements are necessary for you to have a successfully written product review.
Note: I have used the approach in this article to structure many of my reviews, and this has led to me making over $1 million in sales through affiliate marketing. Affiliate marketing very often comes down to product reviews and I'll explain all that here too.
Element 1: You know a lot about the product. It'll help you review it.
Do you buy things from Amazon?

If you do, how often do you read what people post on them?
Every time I buy a something there, I ALWAYS read them. How does element 1 play a role here?
Well when you're personally filtering through other people's comments on whatever you're buying, do you have a moment where you stop and read the whole thing?
I always do and what stops me and probably you as well on that one comment you saw is that you immediately can tell that the person who writes it knows their stuff.
Now if that same person were writing a report on their site and selling it, you, being the reader would take a much longer time to read it. The longer you read it, the more chances you would buy it.
Element 2: Your review has to really be informative.
Well duh on one hand, but seriously, how informative are the reviews that you read online? Most of them suck frankly! There is little to no quality content and information in them!
I do my best to always know about what I'm writing and that's a sentence that's a lot deeper than you may think. Let's say you write a review on a sneaker:
Knowing about the sneaker from the most general point of view such as how it looks, how comfortable it is, repeating other known information is one thing and frankly, it's dull stuff.
However, if you wore that shoe, if you know about the benefits of it, the fabric, if you have a personal story of how it helped/hurt you, these are things that bring color to your review and naturally attract readers. 
Element 2 builds of the first, because when you know the topic, you can easily make it more informative. 
Element 3: There's pictures and visual content and it's placed properly throughout your review.
I may sound hypocritical here because I tend to not post a lot of pictures on certain types of articles I write, such as information posts, but I do tend to put more of them on products I review.
It's simple:
If you buy something that's digital, the best way to express what you're writing about visually is to take screenshots of it.
If you purchased something physical online, take pictures of it with a camera and put it in the report.
But I have made several posts in the past where I warn people not to "over decorate" their site/articles because there is a point where too many pictures or videos or any sort of media in large amounts hurts the readers eyes and they stop focusing on the content. 
I typically only add pictures right near the sections of a product review where an important point is made and usually that picture is either centered (if it's too large to fit on the side) or on the right side of the text. If I want to show people that something happened when I used so and so item, I will take a picture for each corresponding scenario and add it the area in my review where it correlates. 
Want to see a product review that has earned me six figures? 
The main program I review on this site is called Wealthy Affiliate and if you click that link, you'll read the same exact review countless people have and joined, all thanks to that review. The income reports on that page are for the most part thanks to that very review I wrote.
Element 4: There's good link placement to buy the product!
Throughout a review, it becomes necessary to link people somewhere. If you're promoting the item, you've got to find the right places to:
Tell people that they can buy it here.

Make it easy for them to see it and not have the guessing how to get it.
The ways to do this in a product review are to:
Provide a picture of the item you're selling. I don't recommend using official ones unless you get permission because that can lead to issues.
Typically readers can associate that an official picture means it's a link to an official place where they can buy it. On Amazon, every item I promote includes at least one official picture. I personally add 1 of these pictures with a link at the very top of my articles.
Within the content I write, usually after I state a benefit of the item I am reporting on, I will add an H3 call to action link that obviously stands out and let's people know that HERE is where you can get it. Like pictures, I do not put up too many links in an article.
Now it becomes a little bit different if the product review you're doing isn't actually selling it, but steering people into a different one that you are. In those cases, you would want to leave out the official image (unless it's a screenshot) or any link to the product within the article but the same H3 headings you used to lead to a product's page originally, you would now link to your other item/s you're selling. 
Note: And on another note, H3 headings don't necessarily need to be used as links. You can and should be using them as chains to keep people reading your content.
As you can see in this article, every single H3 heading attracts the eyes and keeps the reader going. This technique increases visitor stay on your site (Also known as bounce rates).
Element 5: You ask for feedback on what you wrote and encourage sharing and questions.
Usually a well written article will get the views and a long enough visitor stay to increase sales, but if you typically do not ask people to share their thoughts on what you wrote, share if they've tried the same item you're reviewing, they won't.
So just start doing it and you really want to do this at the end of your article.
In addition to your actual report, people, like they do on Amazon will want to read comments and if you have more of those, it really improves sales and authenticity in your article.
How I structure my personal product reviews that contain all 5 elements: 
Let's say I am reviewing a make money online program of some kind:
First I introduce people to it by giving a quick report.
I include things like price, who made it, what I rate it, ect… and this typically is only a few sentences. I also let them know that I am an expert in this (which I am).
Then I write about what it is.
But I summarize this part. I always put a section in my product reports where I say "so and so program in a nutshell". Readers who see the word nutshell understand right away that they'll quickly learn about it and that keeps them on the page.
Then I go into what's inside the program.
I'll always add screenshots of a members area, explain what kind of content is inside, go into details what they'll learn, ect… 
Then I'll explain if the program works.
Usually a screenshot of you making money through it is enough and explaining a story on what happened will really work well, but typically, in the make money online niche, lots of products are absolutely terrible in what they teach so when I write about one where I didn't use the exact strategy from the program but used one like it, that's enough to let the reader know.
Let's say one of these articles talks about a program where the strategy talks about backlinks. I know backlinks can be terrible and I have a personal story on how doing that failed for me, so that's what I would share with them. Would I really have to redo the same failed strategy to prove it over when I already have past proof?
Obviously not.
A pros and cons section.
Some people place these very early on in their reviews but I like to do it towards the end. Make these short, but easily understandable. Even on items you promote, if you decide to add a pros and cons section, make sure to add at least 1 or more cons as it adds honesty.
I give what I call a "final rating".
Here I can use icons like stars, flags, colors to let people know if I liked the program or not. And by the way in the beginning of my articles, I do also let readers know about my rating, but briefly.
I then provide a summary of my review through a "my final thoughts" section. Here I'll briefly reexplain the most important points of the program and why I liked or didn't like it. 
This also gives me a great opportunity to either provide a link to the product or link to one that is better. 
And once again, if you'd like to see layout on an actual review, read the one I wrote on Wealthy Affiliate. And you can even see a whole list of product reviews I've done on programs here as well for additional benefits.
Would the same strategy work in a different niche?
Absolutely.
Obviously, you'd have to change the wording, but the basic structure remains the same. Any niche topic (here's 50) and it's products can be sold through a review and if you follow these guidelines, you can do that too!
You always want to give people a brief report quickly on the item and explain your knowledge of it to give credibility.

Follow that up with some sort of summary of it.

Then maybe share a personal story on it. Maybe you tried this before, maybe it worked, maybe it didn't? 

Then add the pros and cons.

Finally give it some kind of rating before doing a…

Final recommendation or link to something better.
This is my personal opinion of what a good product report should have! If you have personal way you write these kinds of articles and you find that your style leads to an increase in conversion rates, I would love to know about it!
Update: Want to see an even more comprehensive way of writing product reviews?
There is a whole new website I started not too long ago and I provide a ton of additional help on this subject. Here is that website and it talks about selling products through reviews as well.