While Amazon Associates is still to this day one of the biggest networks to do business on for affiliates, the fact that they typically keep commissions low raises very important questions for the affiliate such as:
Can an affiliate really make a full time income by promoting Amazon products alone? The answer is yes and no.
Should affiliates only rely on Amazon to make their money? The answer is no.
I'm going to address this further in this article and help you really understand that while Amazon does offer low commissions, that frankly, you can still do well with it depending on what you promote and even if you can't, you can just switch to a different affiliate network that pays more and go from there.
So let's tackle this and help you become a success story with Amazon (or beyond it).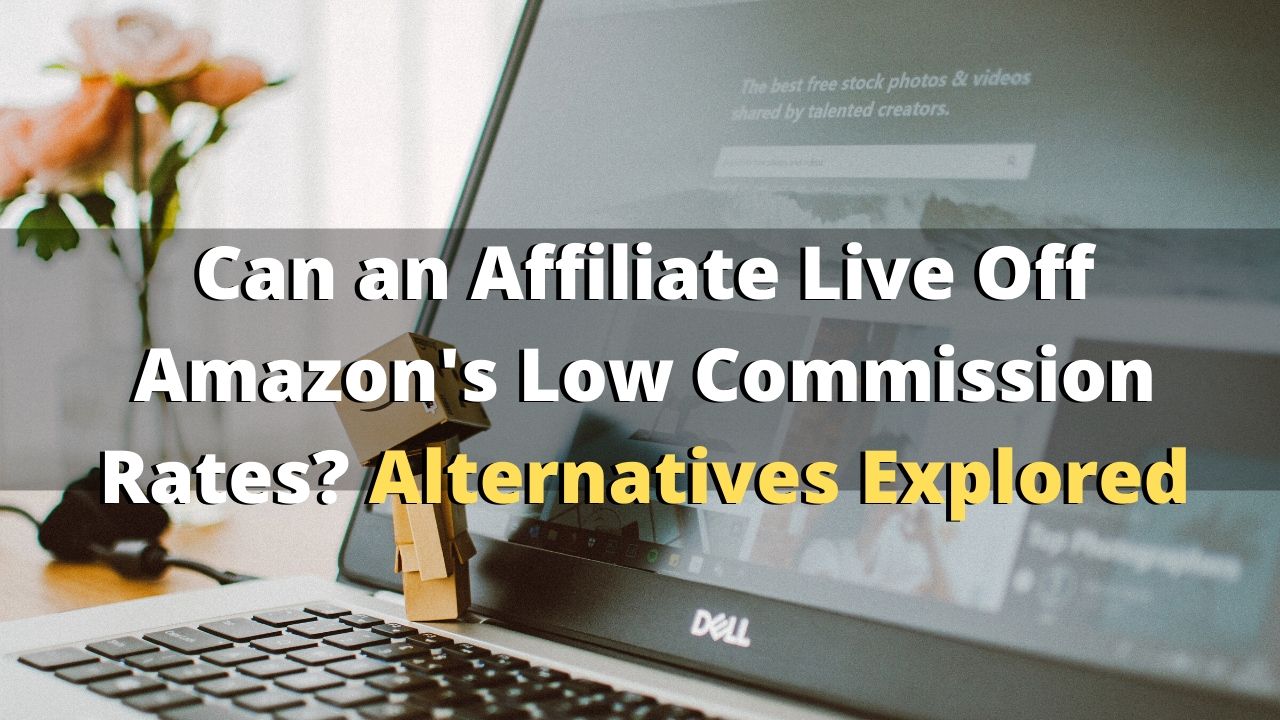 Why you can make a living promoting on Amazon:
Let's assume that you, the affiliate has a niche website (here are 50 of them in case you need examples).

Let's also assume that you know how to get traffic to your niche website. 

And finally, let's assume that you think your only option to sell stuff on your site are things from Amazon only and they cost very little and obviously they'll give you a small commission too.

Out of those 3 things, I would only omit the last one and tell you to focus on the niche and traffic, because you're not seeing the potential you already have:
Niche websites and the traffic you can get to them are enough to live of. What you promote on the site is where you have a ton of flexibility. 
But too many people focus and worry about how they'll be able to make good money when they only see small commissions. Fine, let's debunk that right now:
You may only see 3% earnings per sale from Amazon, but:
I see much more potential than that small number and I'll show you what I mean:
Let us look at the person whose niche site sells books (specific things like horror, finance, dieting, ect…).
Regardless of which book niche you're involved with, the fact is, most of them aren't expensive and your commission rates aren't going to be high either. I used the $40 example into the $1.60 commission so we'll go with that…
1) What you may not know is that 3% isn't the only percent you earn.
More sales increase your earning percentage, all the way up to 15%. That $1.60 per sale can become a $6 per sale if it hits the 15%. What will determine that? Oh that's right, your traffic!
If you have 100 visitors hitting your site every month, and let's say only 5 of them (5%) buy the book you're selling, you're not going to hit that 15%, you're going to remain at the lowest one and only make $8. 
However, if you really focus on building traffic, especially through these methods to get more traffic to your site, you can raise that traffic to a 1,000 a month in which case a 5% conversion would mean 50 sales. Now on Amazon, you need to make somewhere around 10 sales before you're moved into the next commission tier so I don't know if 50 would get you to the 15%, but for sure, it would make you more than the original $6 a month and if it didn't, then you'd just have to keep building the traffic. 
If you went from 100 visits to a 1,000, why can't that number rise to 10,000? I know from the sites I make that it can.
Then with a 5%, what was once 5 sales, went to 50 and here it would be 500. Now for SURE you'd be in the 15% and I estimate you'd make a couple of $1,000. 
2) You know you can promote on something other than Amazon products right? 
Here's some other great affiliate networks and just know, you can be registered with multiple ones.
You may find that book you saw on Amazon might pay more if you promoted it on another network, but do keep in mind that not all networks have that commission upgrade after you make more sales so you have to decide which would make more money.
Also I used tip 2 before to earn far more (see how much I made on Amazon) than if I were to promote exclusively with Amazon. In this particular scenario, it made more sense for me to go with a different network for promoting stuff. It may not be the case for your site, but just understand that it's OK to promote products from other networks.
For example: I had a case study where I found a product being advertised on televised networks, but it didn't have an affiliate program so I couldn't promote it. No problem! I just went to other networks that did have affiliate programs, found one that was relevant to the televised product and promoted it instead. 
3) Are you absolutely sure you can only promote 1 thing on 1 kind of network?
Within internet marketing, affiliate marketers have a lot more options than they think when it comes to product promotions and ways to generate profits. Besides just promoting books like in our example, what else could you do? 
Well in this article on 5 things to sell on your site, in the case of books, I would have used every option except number 3. 
I would mainly do affiliate marketing and get my sales numbers up, but then I'd expand into collecting an email list, and maybe write my own book to then sell to people. Then you wouldn't have to worry about restrictive rates and make your own checkout cart OR you could have sold it on Amazon as a vendor and if enough sales came about, you might have landed on the best seller list and then made even more.
We're still just talking about books here, probably the most popular example where people think they can't make enough money, but it's not true. 
And another thing people who promote books can do is interviews with the author and collaborate to help them make more sales.
4) Why not expand and make another niche website where you can promote high ticket products?
The same idea where if you know how to increase traffic to a site works here too. If it works for 1 subject, why not make another? And furthermore, for a niche subject where you can sell more expensive things and make more money (high ticket products).
Yes it's going to be more work and there are problems there, but another niche site can promote things that typically cost more and earn you more and it can increase your income and yes it can be from Amazon.
5) Consider that you have different niche choices with different products in them too.
There are so many niches and I gave you a link to 50 of them above. All of them have potential and 50 is really a small number compared to the other possibilities. 
My final thoughts:
In most examples, a niche site that typically can "only" sell low cost products from say Amazon might be limited in making a big income, BUT the limit isn't really going to come from the product's low commission, but the TRAFFIC the site gets and if you increase that, as I said before, you increase the income.
As you saw above, the more traffic a site that sells books gets, the more the income multiplies and that's why I said out of the those 3 things, that what your products commission rate is isn't that important (because traffic is more important and you can sell more than just 1 type or product).
Not to mention that even if you take the least expensive products, know that in niche sites, you can sell products that are related to them. Example:
Pens. Why not sell expensive pens?
Why not sell accessories that have ink and things like cleaning supplies. There's people out there that love to have fancy pens and you can probably only find them all on Amazon. 
I will admit, some products will be limiting on your overall income, but again, your main profit factor is niche traffic. And then with it, I've shown you different ways you can promote of them, through and without Amazon. 

I do believe, even at worst, an affiliate can make a great side income from Amazon alone and in many cases, a full time one as well, but even in cases, where they can't, just supplement it with the other options I've provided you.