If the goal of your blog post is to rank better on Google, then a good mark to aim for is 1,000 words or more. This is something I've been doing for years on all my blogs and seeing results from. But I'd be lying to you if I said this is the only factor that determines your results. It isn't, and in fact, it's one of many:
Here is what determines your blog posts ranking on Google:
It's word count.
It's loading speed (faster is obviously better).
It's mobile usability (if it shows up properly on mobile devices).
It's quality of content and longer content isn't always better, sometimes shorter content does better.
The bounce rates and user feedback of the readers who read your blog post.
These are generally some of the most important Google ranking factors to keep in mind and if you consider the value of the other factors aside from word count, then word count itself isn't really the deciding factor.
Yet still, when people ask me what to aim for, 1,000 is still the number to aim for.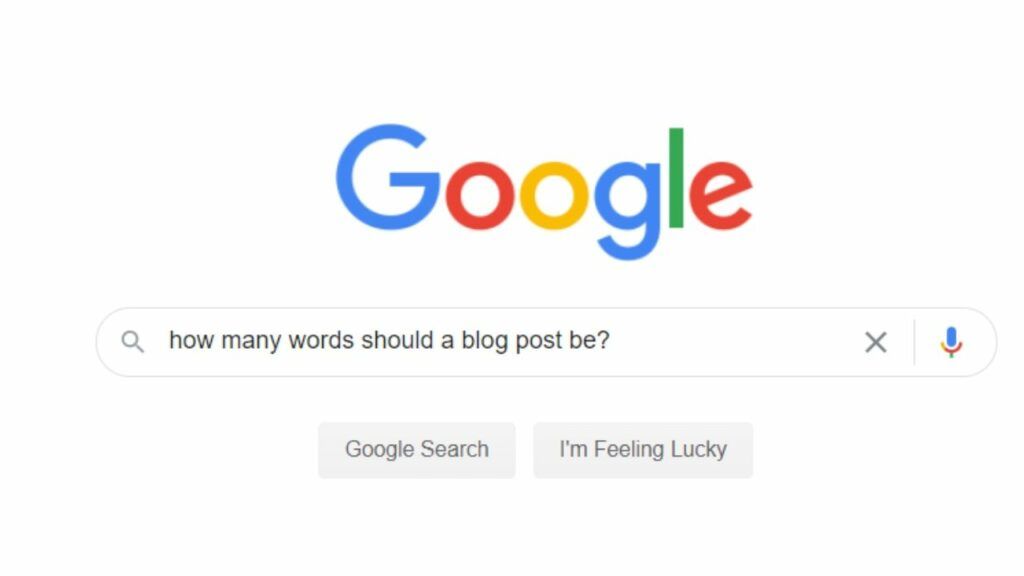 Supporting evidence on why blog post word counts should be over 1,000 words: 
1) Whenever I do keyword research or look up information on Google…
If there are any blogs/sites that appear on the 1st page, they are, at least 90% (and more) of the time long posts, in many cases, way over 1,000.
You should do this type of research yourself. If you're a marketer, do keyword research on a niche topic, but then also cross reference the KW's by entering them on Google and seeing which websites show up highest and how much content they have on their articles.
You will see that a sizable majority of them are over a 1,000 words.
2) If you think less content still ranks high, look at article directories.
Another experiment you can do (and I've done it many times) is look up any type of search term and see if any popular article directories show up. Odds are the answer is no.
If you're and old enough marketer like me, you'll know there was a time when article directories were all the rage in SEO and their limits for the amount you could write was at least 250 words, but in the process, rank very, very high. 
So obviously, anyone who knew this information certainly used it, including me and there were many who abused the crap out of it by pitching tons and tons of bad products for little work. 
Long story short (here's the longer version about article directories), this came to an end. The general rule I have come to believe in SEO is that most of the time, longer content provides better info, vs short content providing less quality information.
And that just didn't happen on article directories, plus, they turned into content farms which was a whole other connecting reason they are no longer seen as being authoritative by Google.
Anyway, the end of the story here is that if you do Google searches, see if any of the old article directory sites pop up as the results: Ezinearticles, Hubpages, ArticleBase, ect…
With the exception of places like eHow.com, odds are the old directories which were once SEO "havens" will not longer show up.
One of the conclusions I made is that by having very low standards for content creation, they attracted abuse and actual low quality writers and that ended up muddying the directory itself. 
3) High quality content is one of the main deciding factors.
It's part of the ranking factor list Google has and it always has been. Usually 1,000 words is enough content to get high quality content out for people. A few 100 words RARELY does that job and several 1,000 words typically bore people who read it.
4) It isn't just 1 or a few articles that need to be of big length, it's the overall site itself.
If you could rank one site with just a few long articles, then micro niche sites with just 1 page of content would still work, but they don't. Now it's about writing numerous articles with good content across the board, and I'm talking dozens AT LEAST.
In some cases, word count does not = better rankings. Here's evidence for that:
1) There are exceptions of websites I've personally seen which have way fewer than a 1,000 words but ranked high.
I did a recent lookup on a keyword that was "ginger DHT" (it has to do with hair growth) and got a really horrible site on the 1st page result which was clearly either not written by a fluent English speaking person or it was spun by some kind of software, yet it ranked on the 1st page of Google.
Or on a more personal example, I had one of my older websites come out of the bowels of no traffic land and suddenly start getting 100's of visits daily.
So we have 2 contrary examples to work with. Why did they happen? Well:
2) Keyword competition plays a large role as to why certain blogs rank higher or lower. 
Consider a crappy blog post like the one I just mentioned. If there is little competition for it, then even if the blog post has less than the 1k mark, it can still show up higher for that specific term.
Or consider my personal example with the old site whose content suddenly got traffic. This happened because a new diet method began trending for which I wrote a blog post on long ago (not 1,000 words) and because there was NO competition for this keyword, my old site suddenly got that approval from Google, 1st page rankings for the keyword and this ended up making me $5,000. Here is the micro niche case study that explains this.
But understand that this is a RARITY.
You simply CANNOT rely on these exceptions and expect to build a high traffic blog off it because as I said above, the majority of cases prove more content ranks better. The one here, for a lack of a better term, is an anomaly.
3) Comments, shares and bounce rates also affect the position they occupy on Google.
Suppose someone writes a 700 word article and that article gets shared, commented on a lot and bounce rates are also pretty low. 
Now compare it to a person who write over a 1,000 on theirs, but the information is such that it doesn't get shared or commented on. Which will Google prefer? 
Well in my opinion, at first, it'll be the longer article, provided the info is decent. But as time goes on and the 700 version gets more comments and the other things I mentioned, it'll eventually overtake the 1,000 word one because the content will rise higher due to the comments and by seeing better bounce rates and more shares (as well as comments), Google will see this article as a higher quality vs the other and possibly rank it better too.
However, there is also another factor which deserves it's own point:
4) Website authority. It counts, a lot!
The authority a blog has with Google is almost like a VIP pass to higher rankings (all about website authority), but it is only achieved over a long period of time when the blog has earned it's place on the higher positions of the search engine. 
If it reaches that point, then it can see faster and higher rankings far more often and even overtake content that may be "better" or longer from other competing sites.
But here's the thing (spoiler): Authority is gained, in part by longer posts, comments, bounce rates, and shares. In other words, it all works together.
5) One of Google's top dude's said word count doesn't matter.
A guy named John Mu was asked about this on Twitter and here was his reply:

Be careful with this one because people can exaggerate this point and end up writing too little content in the process, but yes, this is a fact that one of Google's top people has said.
BUT notice that he said to write for users. He means writing high quality content. That has ALWAYS been the top priority.
Instead of balancing all these pros and cons, do this:
1) If you are seeking good ranking results, at least at first, aim to write blog posts that span beyond 1,000 word count.
If you have to write more because you feel it's necessary, do it. I've written posts that go beyond 3-4k words. 
It is still a safe bet to assume that longer posts are seen as something that's better in Google's eyes in my experience and this especially plays a big role if you have a new blog that has not yet reached it's authority "pass" with Google.
2) Always aim to provide as much information in whatever you write about.
This is because there is so much emphasis on making readers happy, so that they'll share, comment and do more with your blog (like return to it), which again are all factors that still help you in SEO.
3) In cases where you do paid advertising, and/or have an established blog (authority) which has a great following on social media:
Then you can write less on new blogs and have your followers fill in the rest of the content "space" with their comments and thoughts. But even then, the more you write, especially to a crowd which will love it, the better it is for you, the better it will be for Google and the better it'll be for your business.