When you read the word "massive traffic", what number would you equate to that?
A 100 visitors everyday?

Maybe a 1,000?
Whatever your estimate is, through proper keyword research (and equally proper content writing), your website can get an ever rising amount and break those numbers, even easily if you master this.
As someone whose site/s get that type of traffic daily, I think I know a thing or two about that so today, I'd like to walk you through how I personally research and find keywords by providing actual examples of from my own personal experiences.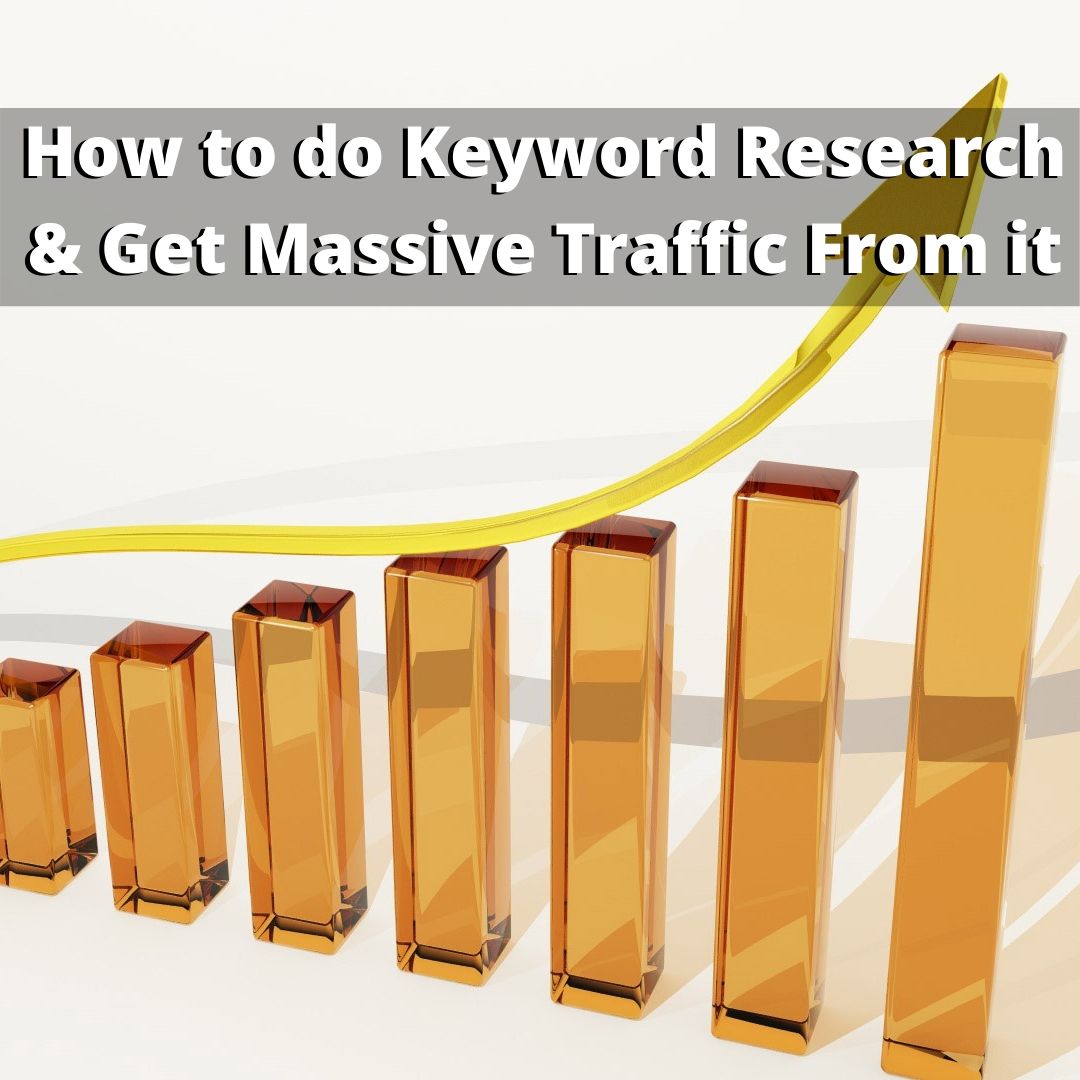 Here is a summary of how keyword research is done to get a lot of traffic:
Start with a niche. Keywords always come from this point.
Know your niche. It's easy to find keywords then.
Make a list of keywords your niche types up (questions, subjects, ect…)
Branch out from the keywords you found to get even more keyword ideas.
Filter out which keywords so you know which ones have the most traffic.
Create the content on the chosen keywords.
Review products! Easy keywords, little competition!
Use Google Alerts and Google Trends to constantly find more keyword ideas.
Use YouTube. It's awesome for profiting off keyword research!
The 9 key things required to master keyword research and get massive traffic explained:
Most people make the mistake of looking for keywords with traffic and thinking that is all it takes to get success, but if there is no knowledge on the keywords or the niche, then none of that potential will ever be realized. So in order to find profitable keywords, there is a specific starting point you need to begin from and it's from the niche itself. The keywords come from that.
So that being said, here is how it starts:
1) Always have a niche audience in mind. 
Every website I have, has it's own specific niche audience that is being targeted. Without this starting frame, you are wasting your time because there are literally an infinite amount of keywords out there you can find, but the ones which will get you the traffic and make you the money are those that are specifically targeted towards a niche audience.
2) Know the niche audience. And I mean really, really know them.
If I understand my niche well, then brainstorming keywords is simple. That's really why you want to know it. For example, if you look at any of the 50 niche ideas listed here, if you know a lot about them, then finding keywords that people search for, in each niche is simple.
Examples of what "knowing your niche" really means:
Think of yourself as someone who owns a store that sells specialty items, say emergency items in the case of blackouts, disasters, ect… That's quite the niche (and I actually discuss this one specifically in this list of 10 niche markets).
But let's imagine a customer walks in and asks you (one or more of the following questions) what you would recommend he or she buys for their home that's of a certain size, certain amounts of rooms, that would help them maintain their home in case something happened (maybe keep the power on), products or tips for maintaining their food should the power shut off, ect…
These are all niche specific questions and you as the store owner and technically the expert in this niche, should easily be able to answer ALL of these questions. 
You are doing the same thing with your website and the keywords you are aiming to rank for. You are establishing your knowledge in the niche you chose and from there, the keyword process is simple.
3)

Now we focus on keywords and we'll start by making a list.
Remember that store owner who was ready to answer all of the customers questions? How do you think they were able to do it? They knew their niche, that's how! 
And when you know the niche audience, you're easily able to write down all of the possible questions and topics they can come up with. 
From there, the key is to list them out and for that, I will use my own personal example on THIS website. Now as the technical "store owner" of a niche site that has to do with making money online, what types of questions/problems/topics have I personally experienced and have seen my niche audience write about often?
Here's a few things which came up:
That's some pretty common stuff people look up online. They are topics, they are all keyword and they are all niche relevant, at least to me. But that's just 5 terms and while they all work and I know about each and every one of them, we can and should go deeper.
4) Take the terms you found and see if there are "branches" to them available.
The terms I used above are very vague. One of the key points further down below will be about filtering out the many terms you find so that the ones you keep have low competition and high search volumes and in the case of the terms above, you'll probably have one thing (visitors) but not the other (low competition). 
In those cases, you have 2 options:
A) Find a LONGER version of the said term, aka long tail. So in this case, I'd just add a few more words to the terms above until I'd get it to a point where when I'd research the terms, I'd get both a good traffic number for it and low competition.
B) Branch out…look for much more specific terms related to…say the ones above. For example:
Sometimes, there will be terms you find that are general (red) and sometimes it will be necessary to go deeper (branches). Either way, EVERY single thing I listed above can be a keyword, can be blogged about, ranked for and attract visitors.
5) Filter out the keywords. We only want the best ones!
With the whole idea of knowing your niche, keywords and their branches, there's really a whole bunch of opportunities available, but your time should be spent chasing the terms you find which can yield the greatest return and many of the terms you find, while they may seem logical to YOU in that other people will type it too, just will not get much traffic.
So how do you filter it out? Well as I said above, you need traffic and low competition. What kind of numbers do I look for? Well here's my assessment: 
Now right here I need to stop for a moment because there will be those of you who question my position on the low traffic numbers. Why should I aim for 10 or more, why not aim for a 100 or more? Maybe a 1,000 or more? 
Well no one is stopping you from doing that. In fact, you should look for terms that big first, but consider the following position:
Your blog has to grow to get visitors. It has to target search term after search term. It's difficult enough to find 100 search terms which get big search traffic and when you exhaust them (meaning you wrote about them already) and need to find others, but have a hard time finding the big ones again, you need to broaden your parameters. 
In my case, after writing over 500 articles, I had to look for lesser popular keywords. But you know what? Most of them had such LITTLE competition that ranking on the first page was NO problem. So don't always go for the biggest terms you find, go, basically for ANY that get traffic.
6) Once you filter them out, it's time to rank for them by writing content.
I don't really care much about competition because if you follow this strategy, you are targeting niches, and typically the keywords in niches already have low competition. But I disgress:
This is where we get into content creation. Your keywords and content work together to attract Google to your site and thereby making them rank you and give you traffic on the other end.
Now I have an awesome article written up on what to blog about to make money online here and you'll find that I use these exact principals there to never get stuck with writer's block! The more content you'll be able to create on your website through the intelligent keyword research I just taught you, the better your traffic results will be!
7) Bonus: Product review terms = easy keywords to profit from.
There will MANY keywords you will always be able to find via products that come out and are associated to your niche topic. In the case of these products and the keywords, it's really simple:
Add the word "scam" or "review" to most product review keywords to get them to a low competition and high traffic level. Most product reviews and their main terms generally have a high traffic and are themselves a HIGH competing term to rank for, but simply adding "review" or "scam" to said product makes the term much less competitive and much more "Rankable". 
Want to know how to write a profitable product review? That link will show you.
8) Use Google Alerts and Google Trends!
If you select a niche topic, you can use these 2 free services to see what is trending and on the news through Google. Typically news events get listed on these 2 places and if you find them, you can write an article for it, get listed on Google for the keyword or the news event with little or no competition and get a lot of traffic faster.
9) Make YouTube videos targeting the same keywords.
YouTube is awesome for this exact purpose and you can easily use the above 8 points not just to write content on but make video content on as well!
My final thoughts:
I used to think that using keyword tools was all it took to succeed, but the internet, Google's ranking factors and how people look for stuff online has greatly changed and the old traditional ways of just chasing keywords doesn't work anymore.
However, if you follow the 8 point plan I just gave you, consequently, you'll be able to create great content and intelligently find keywords your audience will want to find you for and that is how you'll get massive traffic to your site.