Getting disapproved for an affiliate program happens more commonly than you think and while it can be depressing when you're just getting started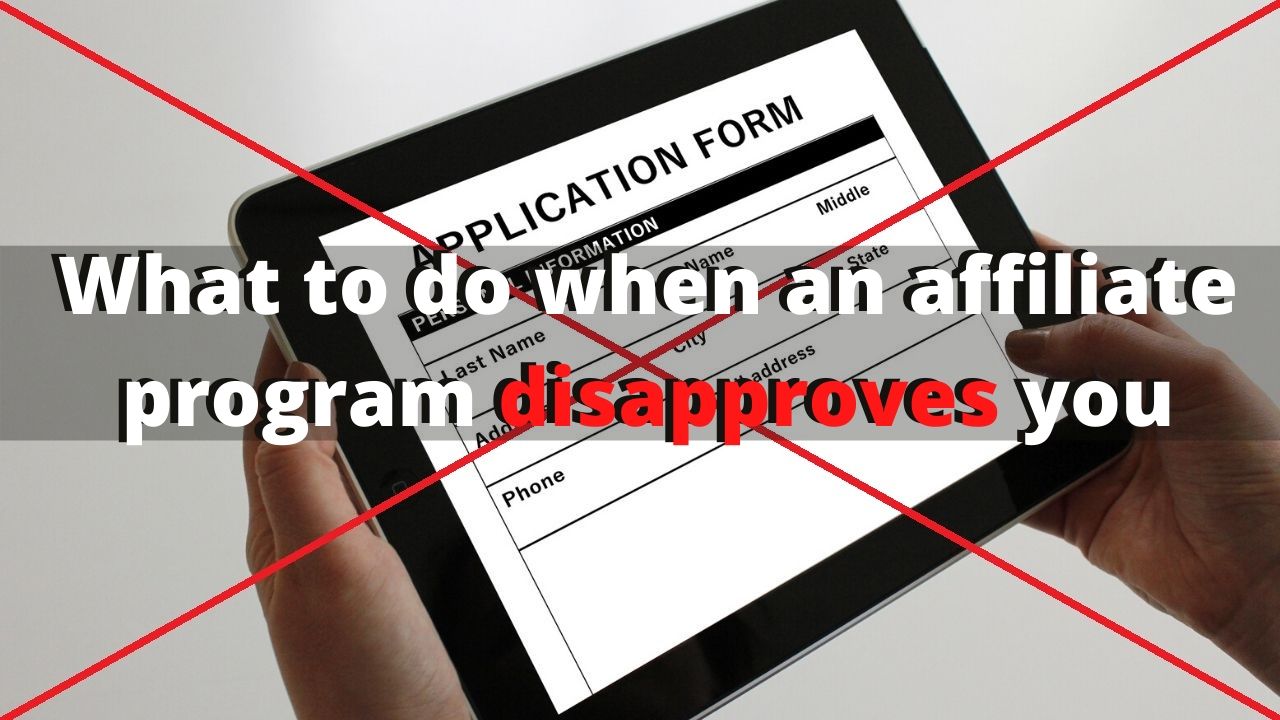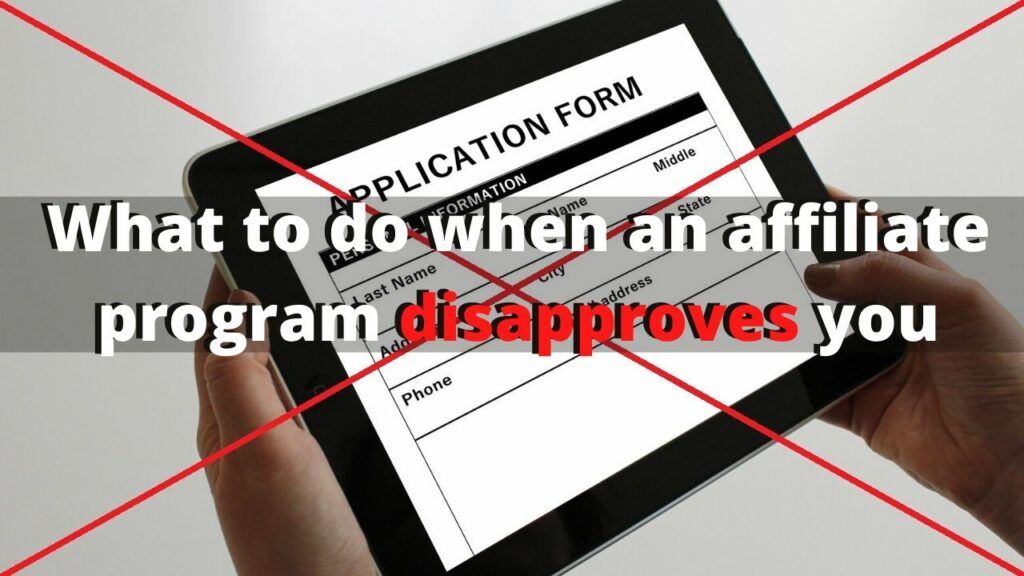 Before I move forward, I need you to understand that this isn't a big deal and it happens often, but I've run into numerous people asking this question who were so distraught over having a disapproval happen to their application that they even considered quitting the entire affiliate marketing business altogether.
Here's the 6 things you can do if an affiliate program disapproved your application:
Just find another affiliate program (it's easy).
Try places like Clickbank, Wealthy Affiliate and Amazon Associates. They have better approval rates.
Try the Wealthy Affiliate program specifically because of it's connection to AWIN, which is a huge network.
Try alternatives to affiliate marketing in general (examples provided below).
Improve your site's look for affiliate networks to improve the odds of approval.
Resubmit your application to the program that disapproved you originally.
I'll go over each thing below, so don't worry if these don't make much sense yet.
Don't quit if you get disapproved for an affiliate program!
For starters, that's the worst thing you can do.
And second, "worst case" scenario, even if every single affiliate program on this planet disapproves you, there's still many ways to make money online without them. So let's dive into this whole thing can show you that it's really not a problem:
3 common reasons why affiliate programs disapprove people:
1) Your website isn't "complete" enough for them.
When joining an affiliate network or program, you will almost always be asked to provide the URL of a website.
Most people who apply for affiliate networks are new and make the common mistake of applying very early when their website doesn't really have anything major to show.
And what I mean: No traffic, no real content, very little of it or just no high quality content to begin with, and no good resume basically to show that the website is worth approving of.
The key is to build up the website to make it valuable in the eyes of an affiliate program. After that approval is fairly simple to get. The goal is not to rush and build up the site first.
2) You don't provide accurate information, especially tax info.
Legitimate affiliate programs will want to know this type of information and if you don't provide it, it can impact the application's approval process. I've even had people who are underage apply for affiliate programs be shocked when they got disapproved and it's because they don't pay taxes or have legit tax info to get approved.
In many cases, being over 18 is required. Some people seem to think that affiliate programs are not like regular jobs that would also ask for the same info but they are! Your income is going to have to be reported to government and the affiliate program you're dealing with has to provide that type of info (as do you).
3) Some affiliate programs are simply incompetent and shouldn't be dealt with to begin with.
I've had cases where I provided what I consider all the necessary info to show I am a legitimate affiliate marketer with the potential to help an affiliate program I want to be involved with grow. This typically happened on Commission Junction and it wasn't the program itself, but the affiliate program within that network that declined my application.
Yet my application was declined, sometimes almost instantly and the faster that happens, the more I believe it shows the ineptitude of that affiliate program to begin with, so if this happens to you, don't fret or get upset, it's sometimes on the end of the affiliate program to begin with, so move on.
It was honestly absurd, but whatever, I don't wait on these programs to fix things. I just scoffed sarcastically and moved onto other networks.
6 things you can do if you weren't approved for an affiliate program (the next steps):
1) Just find another legitimate one. It isn't difficult.
There are hundreds and thousands of actual affiliate programs you can register with. Just because one didn't accept you doesn't mean that another won't offer the same terms/commissions and possibly a better one. And even if it doesn't, you can always:
2) Try these alternative affiliate networks that usually approve people quickly:

3) I recommend the last program, Wealthy Affiliate because it opens doors for you to get approved for many networks. Here's how:
First, Wealthy Affiliate is itself an affiliate network that you can promote (See it's bootcamp course for details).
Second, Wealthy Affiliate provides training and tools to help you build an attractive site for affiliate networks to approve you.
Third, Wealthy Affiliate provides access to a GIGANTIC affiliate network called AWIN which is a conglomerate of MANY other affiliate networks on the internet. Signing up with Wealthy Affiliate makes it easier to access these networks and here's how.
4) Consider something outside affiliate marketing.
As long as you have a website and the skills to get traffic, there is so much more beyond affiliate marketing that you can do with such skills. For example:
5) Improve the quality of your website (Grow it to become more attractive to programs).
Since this is one of the reasons why applications for affiliate programs get disapproved, you will want to make it better. So grow the content on the website by knowing what to blog about to make that possible.
6) Come back to the same affiliate network later and try to sign up again.
If you grow your website and you haven't already found a better alternative program that the one which originally disapproved you, then you can go back later (months later) and try again. If they still decline you, forget it and follow the 5 steps above. There's always better options.
My final thoughts:
All these other options can provide people with awesome results. And I assure you, that if you're still focused on only doing affiliate marketing, you have many opportunities beyond just the one that didn't approve you to join and get approved for.
Being that I've personally been through that experience, as well as other "nightmare" scenarios in my online business, I assure you, it's not the end. And if you just look beyond the one affiliate program you were looking to join, you'll find plenty that will accept you.
I promise you that there's plenty of networks out there which would happily pay you more and much more easily accept you into their program if you applied. You just need to know how to look and the Wealthy Affiliate program would be where I'd do it.
But before you go ahead and start signing up to other networks, don't forget these 2 things:
1) You have to have a good website or reputation with affiliate marketing to increase your chance of getting approved. No good company will ever let "any" affiliate join, remember that.
2) If you're a beginner, then don't even worry about joining these programs yet. Get awesome training first at Wealthy Affiliate which will help you become more than eligible for these networks and then start applying.
3) You can also get more free tips on affiliate marketing on my other site HelpingHandAffiliate.com, but I do also recommend Wealthy Affiliate there too.