Offering online consulting services can pay you big if you know which niches are the most in demand and more importantly, if you are an expert in that niche. I'll show you 10 in today's article that you can use to bring in more leads, more clients and make big money from it.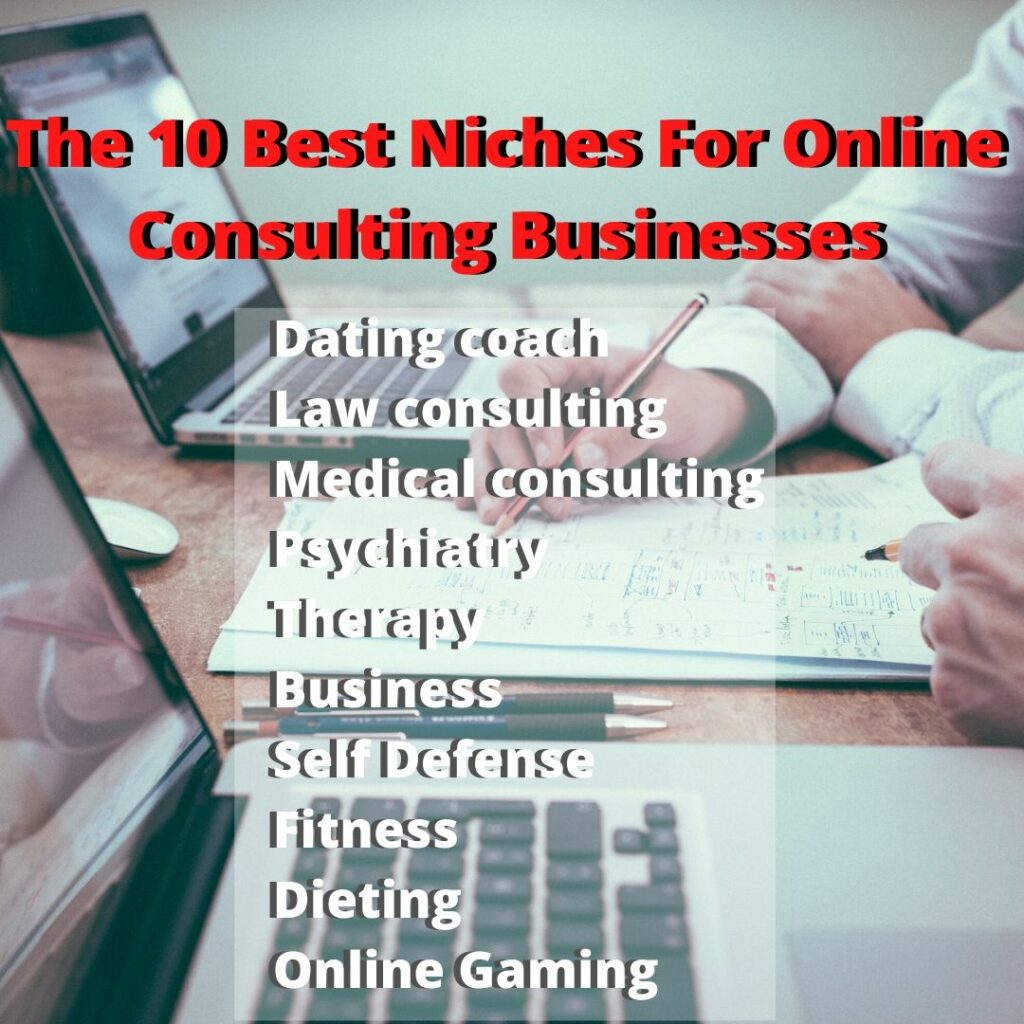 Here are the 10 niches that are great for doing online consulting with:
Dating coach
Law consulting
Medical consulting
Psychiatry consulting
Therapy (online)
Business consulting (any field)
Self defense (consulting, zoom classes)
Fitness coaching
Dieting help
Online gaming
Now if for whatever reason none of the 10 niches apply to you, the good news is that you can still start an online business of your own in pretty much any subject and here are over 50 niche ideas that are really a great way to brainstorm the possibilities.
Now let's move forward. Before I show you the 10 niches, let me say that in order to create a profitable business out of them (or any niche related to online consulting, there are 5 steps required for this:
Here are the 5 steps to creating a profitable online consulting business:
The essence of these 5 steps is to create a website, trust and attract people to it through blogs and/or videos who would absolutely be thrilled to get your advice. 
Now these 5 steps are broad, but I will explain how you can get each of them done correctly further below. What I want to get across is how each occupation below has the potential to really get you so much more business than you already have. Once you understand that big picture, then we can get into the details of getting started on that.
The 10 niches that are perfect for starting an online consulting business with:
1) Dating coach. Earning potential: Up to 6 or 7 figures easily.
Are you some sort of dating guru that's had a lot of success? Well you can actually share your knowledge through a blog and accumulate people who will pay you to get advice from you. 
This is a big market where both genders are very frustrated for information on how to succeed in it. If you can offer that, you're going to get a big line of clients wanting to talk to you. 
For example: There is a case study I looked at involving a man named Corey Wayne who is a life and dating coach. He created a YouTube channel and shared his expertise on dating there, and attracts big ticket clients to do phone consulting sessions with him. See this dating coach YouTube case study here.
2) Law expert (legal consultations). Earning potential: 6 figures and up.
If you are a lawyer or attorney and have passed the bar and/or already have an existing firm, would you say no to more clients? Absolutely not! 
So by establishing a blog through which you answer common legal questions, you can really establish that you, the licensed expert and/or firm can really help people out and thus get clients.
Now if you have a local firm, you will not only get extra local clients, but your knowledge through your blogs will get ranked on Google and attract people from all over the state, country and province. Having more people pay you for consultations is going to become an extra branch of your business and it's going to greatly expand it.
3) Nurse, doctor, naturalist, ect. Earning potential: 5, 6 figures and up.
Imagine a moment one or more of the following scenarios:
You are a doctor. You have an office and a practice or perhaps you can't afford one and operate from home, but you require more patients.
Why not expand your practice by making a website through which you offer consultations for a small fee? People constantly seek answers to medical problems and there's many who would rather not go to the doctor or pay a lot of money for it, so if you can offer those services for cheaper prices, you can be sure people will take you up on it (and keep coming back to you).
4) Psychiatry expert. Earning potential: 6 figures and up.
I would say the same type of opportunity applies here as does if you're a doctor. If you hold a degree in psychology/psychiatry, there are MANY people in need of help in this topic. 
5) Therapist. Earning potential: 5, 6 figures and up
I'd say if there is one occupation where experts in the field get more clients than psychiatry, it's people who are therapists. I've heard from more than a few who paid several $100 per hour to speak to these people. 
But imagine for a moment how many cannot afford that insane price (and just how many can get that type of service from someone who just listens, but I am ranting at this point…) and how many would LOVE to, in the comfort of their own home see a friendly face who gives good advice and helps them heal? 
Now one thing I'd add to this is that when you have your website, you can list many common problems people come to you for and the solutions/advice you give them. To someone who lands on your blog who sees this advice and agrees with it would greatly help them make that leap to contact you personally and pay you to hear them out.
6) Business expert. Earning potential: Up to 7 figures.
Online business experts, financial analysts, people who can recommend which stocks to buy and various other occupations which fall into this category are people who will absolutely get clients no matter what.
If you have good business experience and can help other upcoming businessmen get going on this, you will be absolutely set. 
For me, I am experienced in online business and many people come to me for advice on how to set up their website, how to get it traffic, ect…, for which I am more than happy to offer free advice, but should they want more, I can easily start charging for consultations, but more importantly, what I usually do is refer them to a program called Wealthy Affiliate, where they can learn that on their own.
As for people who do this and make good money, one great example is Alex Becker who is a famous internet marketing expert and basically does consulting for gigantic businesses that pay him good money for helping them grow online. And he easily makes millions from this.
7) Self defense. Earning potential: 4, 5, 6 figures or higher.
Yep, you can help people out with their martial arts through online consultations and I learned this very well from running a blog documented in this case study, after seeing just how passionate people were about learning how to protect themselves.
Being that I could not meet all of them in real life, the opportunity is that I could have easily spoken to them and offered advice through Skype, whether it be to join a local school or tips on how to improve their skills. 
If you have legitimate knowledge in self defense (perhaps you were in law enforcement, or in the army, special forces, or you run a school), think about all the demand there is for self defense out there?
You can set up Zoom classes and lead your clients with private or even class work.
8) Fitness training. Earning potential: 4, 5 figures and higher.
Usually you'll find these people at the gym giving out private lessons, but if you're an excellent fitness expert and you're limited to an X amount of clients at your gym, imagine how many other potential clients you can get through a website and maybe something like a YouTube channel where you give out advice. 
How many people out there can't physically come and meet you, how many of them are out of state or in another country? Yet through a website/video channel, you can get them and make more money.
It would not be difficult to see what exercises your clients are doing through video and recommend what they can change in their routine/diet.
9) Dieting advice. Earning potential: 3, 4 5 figures and higher.
This is something that I would honestly do if I had the time since I do run a weight loss blog, but time constraint has led me to let it run on auto pilot through affiliate marketing, yet you, who may in fact be great at advising people on weight loss can come up with custom meal plans and recommendations for people seeking to drop their weight and improve their health.
10) Gaming professional. Earning potential: 3, 4 figures and higher.
I wanted to use a wild one as the last one. Competitive gaming is a huge industry which has millions of followers. Here are just some crazy popular games which get stadium filled fans when events take place:
Starcraft, League of Legends, Call of Duty, and pretty much any type of game where there is a competition/skill element involved.
There are people within these games who are professionals by trade, who stream themselves playing and offer actual private lessons through Skype and other means. I've actually done something like this in the past where I paid a guy $40 for an hour to help me out in a video game.
It sounds insane, but my experiment wasn't really for gaming purposes, I was trying to see how good I can get at it to possibly start my own website/channel and teach others, so it was more of an investment (which didn't work out by the way).
But seriously, gaming is huge, and in addition to that, you as a professional gamer can also sell things like gaming computers and accessories, an additional revenue generator to consider…
How any of these niches can become successful online consulting businesses:
Whether you're involved in one of the 10 things above or not, the key to making ANY of them work is to have a website and get the intended audience to the site.
So if you're a doctor, the intended audience you need is people seeking medical advice.

If you're a gaming professional, the intended audience is people who are also interested in the same game you excel at.

If you're a therapist, the key is to attract people seeking therapy for whatever condition they have.
And this is actually not tough to do if you're great at your occupation. What is tough is getting the type of knowledge to make this work as intended so you become successful at it. Following the above 5 steps is not enough for beginners who want to make this an extra branch of their business, but…
Here are 5 training programs to get your online consulting business moving:
I strongly recommend the last one (Wealthy Affiliate) for people because it's cheapest and provides great training on building your online consulting site in whatever niche you chose and attracting the clients to it, via Google, Facebook and other options. The other programs are good too, but sadly are VERY expensive.
I'm telling you, armed with this advice, and the experience you have in your job/occupation, you are going to expand your business beyond anything you can imagine. 
It is well worth trying this out. You can literally work from home by doing this and/or travel while consulting with people through Skype. Online consultations are already the future of business expansion and by not taking full advantage of how to get as many of them as possible, you are really inhibiting your own success.