You're more than likely here because you saw one of the many ads on YouTube (or social media) showcasing Sam Ovens and his consulting business. I saw it too.
And you also saw on that ad how his business and what teaches is booming and how he'll teach you to create your own version of it, but you've probably wondered at the same time:
Is he legit or is he just a scammer?

What does he actually teach?

How much does it cost? 
Well that's what I will be answering for you today since I have a lot of experience with what he teaches and have gone through a bit of his program and sales funnel. I also happen to be a businessman who has done a little bit of successful consulting (by choice) so I know how this business works and I will be showing how to do it yourself if you're interested.
Here is my personal video review of Sam Oven's program: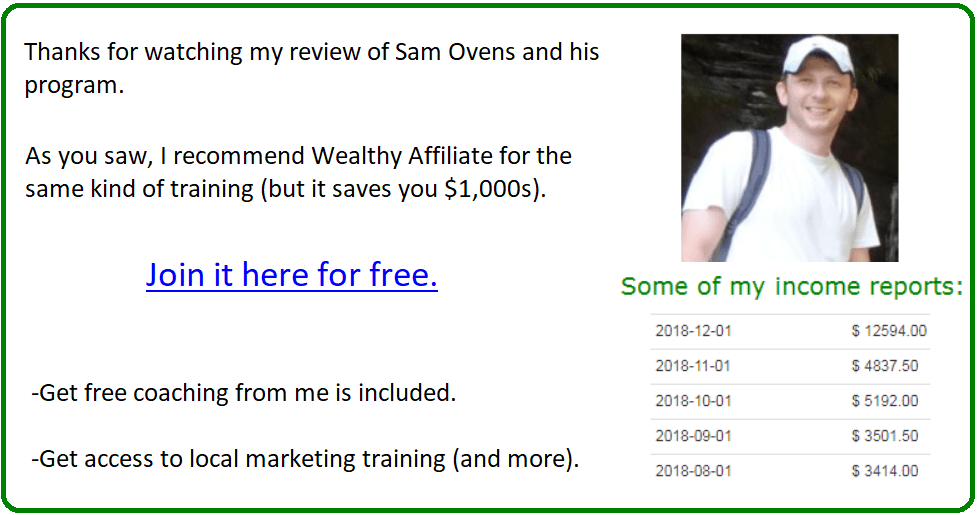 Now besides this video, I have also included much more info on Sam Ovens and his program/opportunity, and we'll start with this:
Who is Sam Ovens? 
He's a guy who in his late 20's became a millionaire via doing consulting work for clients.
Basically he helps his clients improve their businesses by getting more leads through the internet and in return, the consultation, the advice and even a service to do all of this gets him paid big money.
An example of Sam Oven's teachings can work like this:
Here's a specific example:
Suppose someone who opens up a gym in a city comes to me (since I know this) and asks for advice on how to market his gym online. After all, more leads coming in from the internet = more clients = more money to the gym.
Being that I specialize in online marketing, I give him a consultation explaining how he can do this, then perhaps I charge him $1,000 or more for services to actually help make that gym become more seen online by people and in return, the gym owner starts earning an extra $10,000 a month from my help.
Forking out that $1,000 in that case is a no brainer for them because they are getting 10x their investment back (1,000% ROI). And provided I keep bringing him more clients every month, I can keep getting paid $1k a month.
Now taking that formula and multiplying it by several clients can equal to making $10,000, $100,000 or more every single month.
That is essentially what Sam Ovens does on his website, Consulting.com and he has reached a point where he has countless clients coming to him for help in building their businesses and him and his team provide that to them and get paid big money for each client.
But now he's added to his business by offering training on all of this:
In addition to offering consultations to clients, he now offers training on how to actually replicate the success he's had providing consultations.
In other words, through his program, he will teach you how to also become a successful consultant. 
And the price of this training is…
$1,999.
It's quite a lot and actually may cost even beyond that if you start using the training itself, but…
But is it worth that price?
Well he is legit as I said before, but I want to pause this review for a second and explain that learning to become a successful consultant takes effort. Here is a breakdown: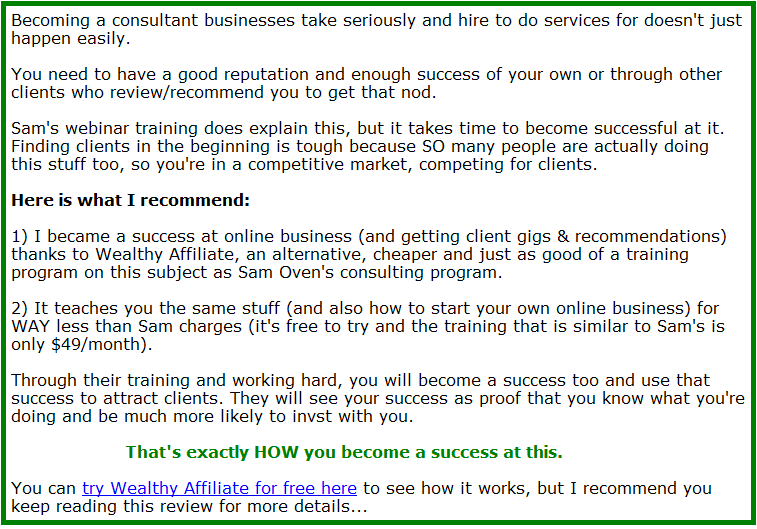 Before I explain exactly what Sam teaches, allow me to show you my stats: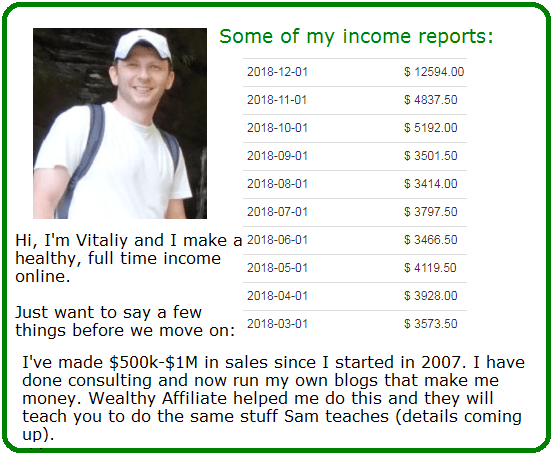 What Sam's training will teach you (the details of what you learn):
Essentially the training comes down to 2 parts:
Part I: Finding the client.
Your goal is to find people who would be happy to become your clients and you do so through Facebook. You would set up an ad that targets a specific group of people who have a business or occupation and offers them help.
Here is an example:
In this case, the target audience are plumbers who run a plumbing business. Your ad is basically saying that you will help their business grow by finding them more clients that need plumbing services.
Part II: Getting the lead to become a client.
Should a plumber or someone who runs a pluming business see this ad on Facebook and click on it, the next step is to run that person (who is the potential lead) through a sales funnel, that ultimately leads to a 1 on 1 call where you explain your services and basically "consult" with them.
In this part, the consultation has to be done right, so much so that the person agrees to pay you to work for them.
Part III: Delivering the service to the client to make them happy. 
Once you get the client and you both agree to getting paid, the next step is to actually fulfill the promise and get the person/business more leads. In this following example, you would be getting more people in need of pluming services to contact the plumbing service.
The way you would be taught to do this is by setting up Facebook ads, targeting people who are looking for pluming services in the area where the business operates and getting the leads to the client's website. In other words:
Run a Facebook ad for people who need pluming services.

Make the ad lead to the plumbing business website where the people can hire the plumber.
Part IV: Make the client happy and start a long term business relationship.
If you manage to deliver that plumbing business more work, they will be happy to continue working with you and paying you (and if they don't, they are foolish to do so, but it's not a problem and you'll see why in the next part). 
But if you make your client happy, the next step is to basically tell them that you'll keep running this ad and helping them get more customers as long as they keep paying every month.
Should the client agree, that is going to be a solid way to make bank every month for you.
Part V: Replicate. Find more clients and start multiple long term business relationships.
The first client you manage to land and keep is going to really help build your reputation up and help raise your confidence in getting other clients, because now, you'll have case studies to provide new, potential clients about how happy your other one/s are, making them more likely to agree to work with you. For example, I give people who ask for my proof, case studies like these.
And in essence, you'll basically keep repeating all the 5 steps, getting more clients and keeping them around. The more you get will equal to the more you get paid.
Here's something very interesting, about all of this:
The 5 parts of information I just gave you about what Sam teaches is actually my own knowledge shared with you and I have had my own real life experiences doing this (getting my own business clients and offers).
I didn't go through Sam's program (only his webinar), but as I have said, I have a lot of knowledge about this stuff and just shared how it all works, here's some info on me: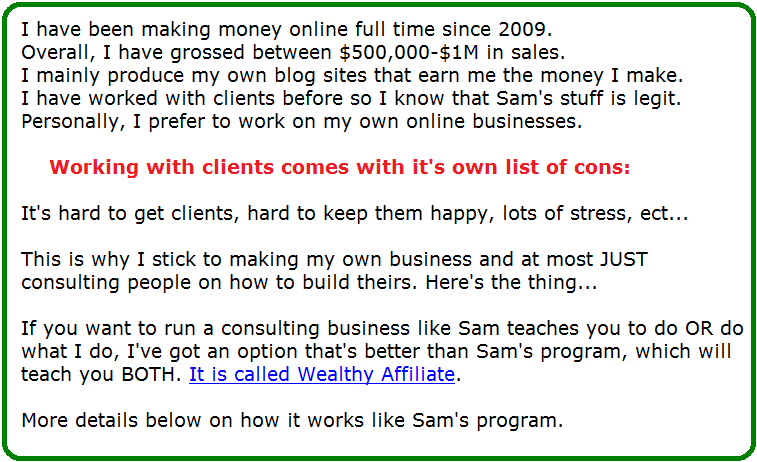 Can you start your own consulting business through Sam's training?
The answer is yes. Sam's stuff is legit and so are other similar businesses like Millionaire Middleman like these, and ones like Bossless Forever, but they don't compare to WA.
If you do decide to do it, I would make sure your decision in doing so isn't because you're thinking about all the clients you'll get or all the money you'd make, but only based on if you see yourself going through the hard work of finding clients, learning the system and being prepared to spend money.
I PROMISE YOU, that if you try to do Sam's program with the thought of easy money or thinking it's easy to get clients, be prepared to fail, BIG time. I said before that it's VERY tough to get clients and I am not kidding, this is a VERY hard business.
I've listed the major cons above about working with clients and why it is I choose not do it anymore, but whether…

Interested in Wealthy Affiliate over Sam's program? Here's how to get started:
Like I said, you can go with one or BOTH options (some prefer to do both, I personally like the first one). But either way, here's details on the second option where you get access to training that is literally like Sam's:
Here is an example of the training (like Sam Oven's) in Wealthy Affiliate: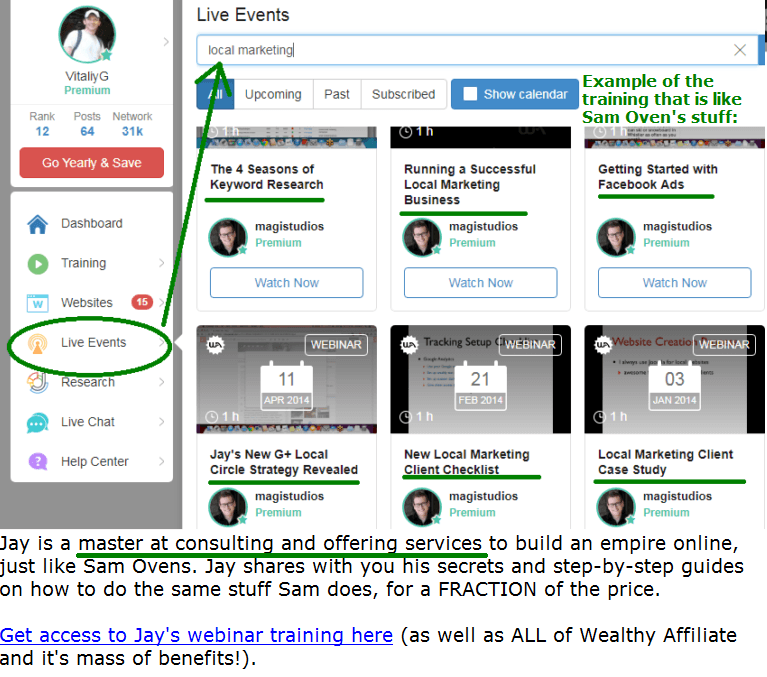 And all of this basically concludes the review of Sam Ovens Consulting program 🙂