You're more than likely here because you saw one of the many ads on YouTube (or social media) showcasing Sam Ovens and his consulting business, how it's booming and how he'll teach you to create your own, but you've probably wondered at the same time, is he legit or is he just a scammer?
Well that's what I will be answering for you today since I have a lot of experience with what he teaches and have gone through a bit of his program/sales funnel. I also happen to be a businessman who has done a little bit of successful consulting (by choice) so I know how this business works and I will be showing how to do it yourself if you're interested.
So who is Sam Ovens? 
He's a guy who in his late 20's became a millionaire via doing consulting work for clients. Basically he helps his clients improve their businesses and in return, the consultation and advice gets him paid big money.
An example of that can work like this:
Here's a specific example:
Suppose someone who opens up a gym in a city comes to me and asks for advice on how to market his gym online. Being that I specialize in online marketing, I give him a consultation explaining how he can do this, then perhaps I charge him $1,000 or more for services to actually help make that gym become more seen online by people and in return, the gym owner starts earning an extra $10,000 a month from my help. Forking out that $1,000 in that case is a no brainer for them because they are getting 10x their investment back (1,000% ROI).
Now taking that formula and multiplying it by several clients can equal to making $10,000, $100,000 or more every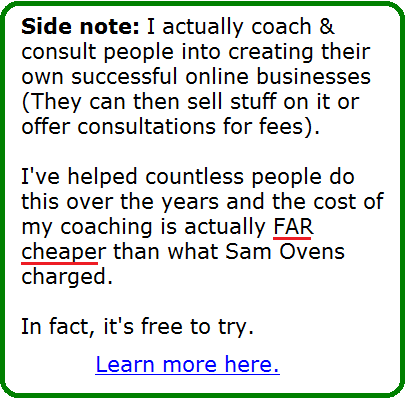 single month.
That is essentially what Sam Ovens does on his website, Consulting.com and he has reached a point where he has countless clients coming to him for help in building their businesses and him and his team provide that to them and get paid big money for each client.
But now he's added to the business by doing this:
In addition to offering consultations, he now offers training on how to actually replicate the success he's had providing consultations.
In other words, through his program, he will teach you how to also become a successful consultant. 
And the price of this training is…
$1,999
This leads us to the question of whether or not Sam Ovens is legit:
The answer is yes. He does provide legitimate consultations for clients and if that weren't the case, he wouldn't be that successful. Now it is true that MOST people probably won't succeed with his program and that's not because it's a scam, it's because this type of work isn't for everyone, nor is everyone willing to work hard enough to make it work. 
This isn't a system that works for you while you're being lazy, you need to dedicate yourself to learning it and taking action from that. 
How Sam Ovens is seeking to make more money (through you):

There is a gigantic market for offering consultations. People want to improve different areas of their lives. It could be business, it could be their health, it could be their love life, you name it and seeking someone in whatever field they want to improve in who can guide them to get to that point is a big money maker if you can find high paying clients.
Now added to that, there is also a gigantic market for teaching people to become consultants and that is what Sam has done in his YouTube ads you see.
He is seeking to funnel you into his consulting TRAINING program so that you can pay him big money to learn to do what he does. And while it may sound sleazy, it isn't, he's a smart and legitimate businessman because he offers good value and training.
How his sales funnel works:
-You see his ad on YouTube. In fact you may even see it numerous times (I know I did before I finally clicked).
-You click on it and this takes you to a welcome video where you can sign up for his free webinar.
-When you sign up to it, you are given several options on when you can view it.
-Upon choosing it and getting a link to click to view the webinar, once it starts, it is a recording, but there is a live person who works with Sam (Sarah Brudnicki) who is there to privately answer your questions throughout the webinar.
-The webinar itself explains what I just explained to you regarding Sam and his business but it's more of a personal story of how consulting works and how he was able to leverage it to build a multi million dollar business. He also shares how he went from nothing to doing a lot, the potential of consulting and how it's a growing business in today's world.
-This leads Sam to explaining how his consulting training has helped created numerous 6 and 7 figure earners who have followed it.
-At the end of the webinar is where you get the price of his training which as I said is…
But is it worth that price?
Well he is legit as I said before, but I want to pause this review for a second and explain that learning to become a successful consultant is not very difficult (he actually says this too in his webinar) and there's other people and programs which will teach you how to do this without charging anywhere close to what Sam is charging you…
For example…
I help people build their own online business and sell products through it and/or consulting services. Some examples of that include:
I have helped a person create a website in which they sell computer accessories.

I've helped a business with setting up their website and attracting more local clients. They now offer private consultations and training for clients that come to them from my help.
That's 2 of countless examples. The way I teach people to succeed online is I recommend a free to try program that helps them learn and then do this stuff and then they can choose to upgrade for a $49/month and with that comes my coaching (compare that to Sam Oven's prices).
I've helped a lot of people succeed this way and while my earnings aren't like Sam's, the price I charge for my coaching is simply WAY less, with almost no risk and more than enough success stories to show that it works:
In fact, through creating my own online business and helping people do the same, I often get people emailing me and asking me for consulting work ]and offering me huge sums of money so I can teach them to do the same and instead of ripping them off, I just send them to that same program I told you about and tell them, they can get my coaching there. This basically has them spending way less, learning the same great material to become success stories and they are happy.
So I'm going to get back to my review of Sam's program right now (I'll explain more on my alternative in a bit), but keep this program in mind if you can't afford to invest in Consulting.com, as the other option is also completely legitimate and financially far safer. Anyway…
What Sam's training will teach you (the details of what you learn):
First Sam explains that in order to become a good consultant, you need to identify which topic you are actually good at consulting about. This is very important because having experience and authority in your topic means you have the respect of the client to trust you with their money. He correctly labels this step as "finding your niche".
How can you expect someone to fork out $1,000's if they don't have the assurance they'll make their investment back. They need to know they are risking that money on someone's word/advice who will almost certainly guarantee they profit from that investment.
If I came to someone with no experience in say…making money online and asked them to pay me $1,000 so I can teach them that, guess what? They'd probably laugh at me because I would have no credibility in even offering that.
But luckily because I have 10+ years experience and a million in sales under my belt, that itself is the resume which the client sees and then that opens them up to paying me should I choose to charge that (but you already know I don't do that).
Now Sam also (correctly) points to making that topic you pick be a problem topic. And I've preached about this a lot as well:
Problem topics = easier clients/sales. 
Second, after finding your topic, the key is to find the first client and Sam shows you how to accomplish this. Really the first client is the hardest to find because it's basically your first step in starting your own business. If you can become successful at it, have enough happy clients, then they will market you and you'll find that new clients come easily to you, and you don't have to work to get them anymore.
This has been my experience over the years since my own business and reputation grew so that I now get people coming to me. Here's one of the ways it is done through the Consulting.com program:

Specifically, one of the ways you're shown to find clients is after picking your niche topic, you will find business people or those with large sums of money through Facebook and other networks and write ads for them (sharing how you'll help them grow their business and/or solve their problem). Here's an example:
Third. Once you get that first client and make the money, then it's time to scale, get the second, third and so on clients. The key is to keep building your client base, getting paid over and over by your existing ones and accumulating more clients to keep building the business and once it hopefully gets to the point where you can't handle all the clients, you will need to hire people to outsource that work for you and that's really where the business starts to build up very well.
That's basically the process Sam teaches you in his program. Now I also explain this from my personal point of view because I've experience and seen enough of this same business flow play out personally. I know how this works, how to do it and how to help anyone who seeks to do this too.
Examples of these 3 steps playing out realistically and making you money:

I can also professionally teach you how to do this exact same stuff:
My final thoughts on Sam Ovens:
Again, he's legit (here's a link to his site, I'm not affiliated with it) but he's not the only person in this world who correctly teaches people to become successful consultants. The truth is that you have several options. The question is which options have the best training, coaching and for the best price.
Though I don't have a list of every single great consultant like Sam to share with you, I can tell you that my coaching handles the following 3 criteria I just listed:
For the best training.
Yes I have what is in my opinion (and from personal results) the best training platform for you to become a successful consultant. Here are the details.
What this training does is also helps you find that topic you are good at (your niche) and to build your own business from it. How does this lead into consulting? Well the online business (website) is how the clients reach you. 
You can also elect to promote and sell products on the website if you choose. Either way, this training WILL help you make the business, and then decide on the path you wish to take (selling products, consulting services, or even both).
Coaching.
Well you have me for this. And like I said, I don't charge what Sam does because I just don't think it's fair. If you're seeking to learn to also become a consultant, you're clearly open to getting training and it would be wrong for me to charge you so much money for this, which is why through the same program I'm recommending, that coaching comes included.
Details are explained here (and it's cheaper than you can imagine while also being top notch quality).
Price.
While Sam charges $1,000's, I just recommend a program that made me successful, add in my coaching to help you do the same, and it's free to try. Upgrade wise, which there is in this program, the cost is $49 a month. Still pennies compared to Sam's option.
I can tell you that either training will work. There's 3 reasons why:
Firstly, I have my own experiences and success story which I reached thanks to that program I recommended.
Second, I can vouch for Sam's training because listening to his webinar and his tips, they pretty much mimic what I learned in my recommended program and being that I succeeded in following that, I know his program works.
And third, being that I've personally seen the power and potential of being a consultant, I recently started a new website that actually offers that for people. But the reason I know it works and how to make it work is because I have the seeds and existing success to take from, and that came from the program I'm recommending to you.
So whether you decide to follow Sam's program or mine is totally up to you, but I wanted to do this review and help answer the questions on his legitimacy. I hope I've done that and more importantly, I hope I helped clear up how his program works and if there's alternative ways you can learn the same material he teaches, which you now know off too!
If you have any further questions regarding Sam Ovens or my coaching, please ask me below 🙂