Bossless Forever is a system that'll show you how to work from home and for yourself doing what is referred to as local marketing. But is it legit? Is it a scam? This review will let you know.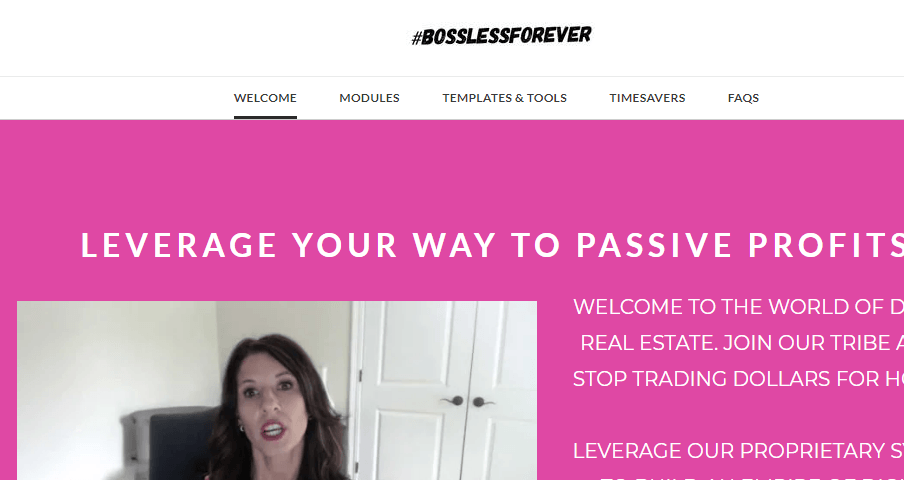 Here's 5 quick things I need to say about this Bossless Forever review:
1) It's legit and I will be giving you a breakdown of what you learn.
2) I'm not affiliated with it (even though I was offered to), but I will provide a NONE affiliate link to the program if you wish to try it.
3) The reason I didn't choose to promote it is because there is an alternative program that will literally teach you THE SAME STUFF Bossless Forever does. 
4) And I have used that alternative program's training to get results, and I will be showing you others who have too.
This alternative program is literally $1,000's LESS than Bossless Forever is (It's only $19 to see the whole thing) and I will be showing you the proof of success and how all of it works in this review when I explain Bossless Forever in more detail and what it teaches.
5) I chose not to buy nor promote Bossless Forever, but like I said before, it is a legit program.
I just think that when you read my review and also see the alternative that once again teaches the same stuff, you may want to consider the latter and you'll see why it's recommended, besides the savings.
Bossless Forever, the quick review and info on the program:

Creator: Amiee Ball.
Price: Varies, you go through the webinar, then are scheduled a sales call that'll give you the price, and it's likely going to be in the…
$1,000's and possibly more.

Some estimates people have gotten have exceeded $3,000.

I have had people who went through the webinar and found my site comment on it and tell me there's even some price tags that exceed $3,000. You're welcome to see those comments below and see how much they were quoted from this system.
Overview: This is a training program that shows you how to become an online marketer and help local small businesses grow their business through the online world by basically getting their business to be seen online so they can get more customers/leads and for doing this for them, you can get paid a lot by the business owner.
In other words, you learn to find businesses that know nothing about online marketing, consult them, do some work for them to help their business get online and more clients, and get paid for that work.
And once again, this is legit and I have done it personally. But as for a rating for Bossless Forever, this is what I'd give it:
Rating of program:

5 out of 10 stars

.
Before I continue this review, let me give you some quick mention of the alternative I suggest over Bossless Forever:

But let's continue with Bossless Forever, because it is good and I want to explain how it works in greater detail so you understand the subject, the program and the alternatives better:

Here's the breakdown of how Bossless Forever works:
If you wish to join Bossless Forever, there is a main page which will take you through a webinar explaining how that program works and there's a 5 step blueprint within that webinar which encapsulates that training.
Here it is:

Let me personally explain these 5 steps the way I understand them because in many ways, how I used to do and still would do local marketing is very similar to this (Wealthy Affiliate's local marketing training taught me this), and this is why I say the Bossless Forever program is legit (just very expensive).
But allow me to get into greater details and examples of how each step works in this system, and explain my personal experiences with it:
Step 1:

You start your business in this program by looking up niche markets.
In this case, it's any local businesses seeking online marketing services to help them expand. I can tell you that it is true that MOST business owners have NO clue how to run an online marketing campaign and seek to hire people for them.
That's how I got my first local marketing gig, a happy client and then recommendations about me to their other business friends, which led to other business owners wanting my help. But I will say, that I also found that there will be MANY other marketers who will scramble to get the same clients you do.
Competition in local marketing is fierce.
Step 2: Then the program goes into how to filter these businesses out.
The goal is to see which ones have the most potential for growth as well as which business would be willing to pay you the most.
Step 3: Followed by that is contacting the business owner/s, so they can become your client/s.
And you can charge for consultation fees, giving them a breakdown of how you can help their business expand online, what types of services you offer and it can be high ticket and/or services where the owner pays you monthly.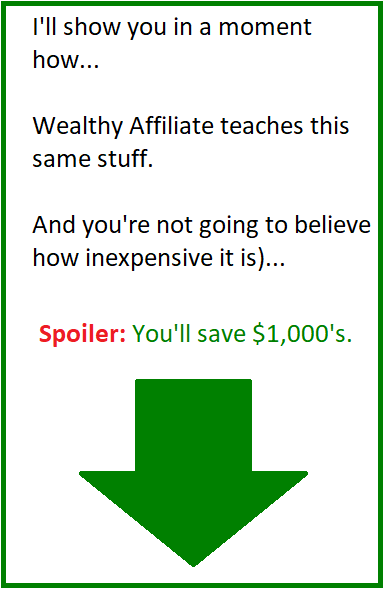 This part of the system is what Amiee refers to as lead generation, aka generating business clients and getting them to pay you.
In my case, when I had my first gig, I talked to a business owner about how his website wasn't appearing on Google or for certain important keywords which if his site did appear on, he'd get more calls and clients.
That basically sold him on hiring me to work for him, and in my case, that consultation I gave him was free. But that one little talk led to many opportunities in the coming years, with him and the people he'd recommend me to.
But as a quick note, in spite of these opportunities, I chose to focus on my own website and business, despite having these clients on the side that I could work him at any point. I just prefer the "peace" of working on my own site. But anyway…
Step 4: Next you go through a series of steps to turn those business leads into actual clients that pay.
This part isn't difficult to understand, you basically negotiate with the lead to make sure you have a deal on what service is provided and what the business client will pay. Here are examples:
If they have a website, help them improve it. Charge for it.

If they aren't popping up on Google or search engines, help them get that accomplished and charge for it.

If they aren't doing well on social media, help them out and charge for it too.

If they are doing paid advertising (Facebook ads, Google ads, ect…) and paying too much and not getting leads, help them by letting YOU run their ads for them. This will save them money while you get paid monthly.
And again, these are all examples of REAL life services I've done for my client/s and what I was taught by Wealthy Affiliate's local marketing training. These kinds of services can get you paid $1,000's a month, per client by the way.
Step 5: And finally, you then deliver the services for the business lead and make the money.
Now besides that 5 step system in Bossless Forever, you also have to know how to find the clients and potential prospects and this is where Aimee shows you marketing methods. 
Then when it comes to helping the business market, Amiee's program will also show you ways you can provide services such as setting up ads on Facebook for the business to get more people seeing that business, and basically the examples I gave in step 4, which were of my own personal experience.
That's the basic, yet in-depth formula and it's absolutely legit. I personally know people who practice this and do it full time (and I'll show you them shortly, but they are people who got their results with the Wealthy Affiliate training.
My rating for Aimee's program, Bossless Forever:
5 out of 10 stars (50%).
Green Flag.
5 out of 10 stars. Everything I heard from Aimee's program, mixed with what I know about local marketing, points to it being legit.
My final thoughts: The 2 reasons I cannot recommend Bossless Forever:

And I say it again:
1) The very high price to enter it.
2) And the Wealthy Affiliate alternative providing that same kind of training for only $19 (the first month, then it's $49/month after, so it's still massive savings) are why I'm not giving my recommendation to it. If you still think Bossless Forever is what you want to invest with, then their page is still up to join.
Also, there are other systems that have come out besides Bossless Forever which coincidentally teach the same stuff, and ALL for high ticket prices. In case, you're wondering, here is a list of these other programs:
There's Dan Henry's program, Sam Ovens, followed by Modern Millionaires and finally Billy Gene is Marketing, and I think they are all just as good as Bossless Forever (the same kind of training material and local marketing business model is taught).
But funny enough, here's the issue I found with

all of these local marketing programs:
The MAIN cons I see with those programs are the same ones I see with Bossless Forever: Price and Wealthy Affiliate being better for the same reasons. So let me actually explain THAT particular thing right now:
The 5 reasons why Wealthy Affiliate is the best choice for local marketing training:
It's actually pretty simple:
1) Firstly, you can try the local marketing training in Wealthy Affiliate for free vs paying $1,000's with Bossless Forever upfront.

We're literally comparing $1,000's of dollars worth of investment in ANY of the above programs I listed to Wealthy Affiliate's which you can currently try for free and I would take advantage of it while the option is available. Normally, it would be $49 every month.

Here is the breakdown of the local marketing blueprint you get in Wealthy Affiliate:
Important:
The membership inside this system is $19 for the first month, and $49/month after and this is because Wealthy Affiliate carries many additional benefits in addition to local marketing training.
They offer free websites, tools, a lot of support and improved, updated training to make sure it's members get valuable information and strategies to make successful online businesses.
2) The value inside Wealthy Affiliate's local marketing training is equal to or better than Bossless Forever.
High quality training is something I've come to expect from the Wealthy Affiliate program and my own results with it, including the local marketing success I've had, have come from this program. 
I have also learned from my explorations of other online programs, many of which are high ticket like Bossless Forever, that price is not an indicator of value and that in every single case, what Wealthy Affiliate offers is just as good and in most cases, better.
3) The local marketing success stories. I didn't forget, here they are:
4) More ways to make money on top of local marketing training.
Whether it's a local marketing business or personal online business website you seek to make, Wealthy Affiliate provides training in both fields. 
5) The local marketing training is created by someone as successful as Aimee Ball.
If you need to know the credentials of the local marketing training provided within Wealthy Affiliate and that they work, here you go:
The local marketing training you get was designed by Jay Niell, a man who possess a ton of online marketing experience and has a very successful local marketing agency: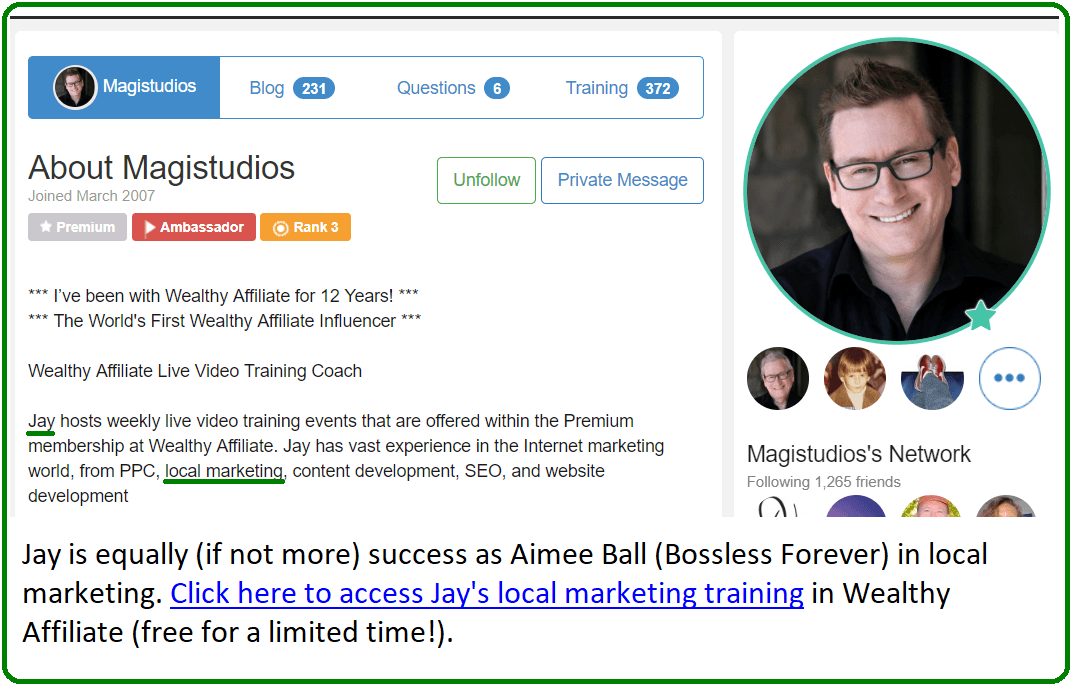 Jay got his skills from Wealthy Affiliate originally and then created his local marketing business out of it, and then as a way of giving back, created the blueprint here which goes over the same exact things he does in his local marketing business to get results.
This course is designed specifically to take you from being a complete beginner to local marketing, to getting that first client and then getting more.