No it is not a scam and there have been new systems like Get Clients coming out recently. Is Dan Henry's the best or are there better ones? 
I personally think there's at least 1 better one you should consider, which has actually helped me make a living online for many years, and I will explain that alternative VERY shortly…
But let me cover the most important things you need to know about Get Clients, because I understand very much how this system works, so even if you do decide to try it, you'll at least know the risks (which is a high starting investment).
Get Clients summary (how it works):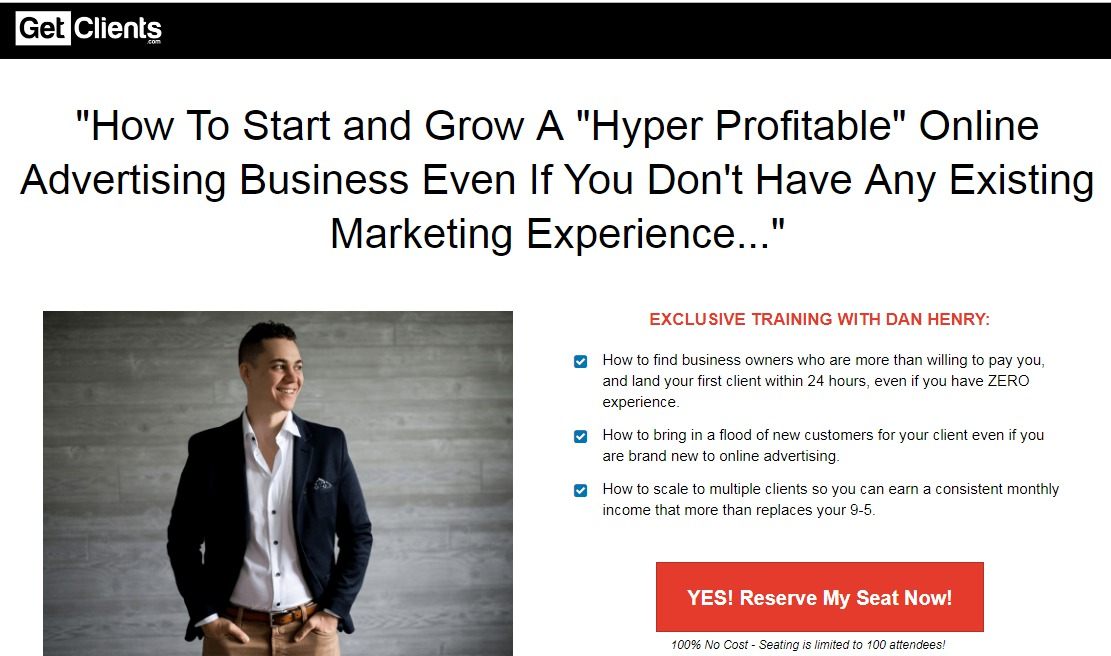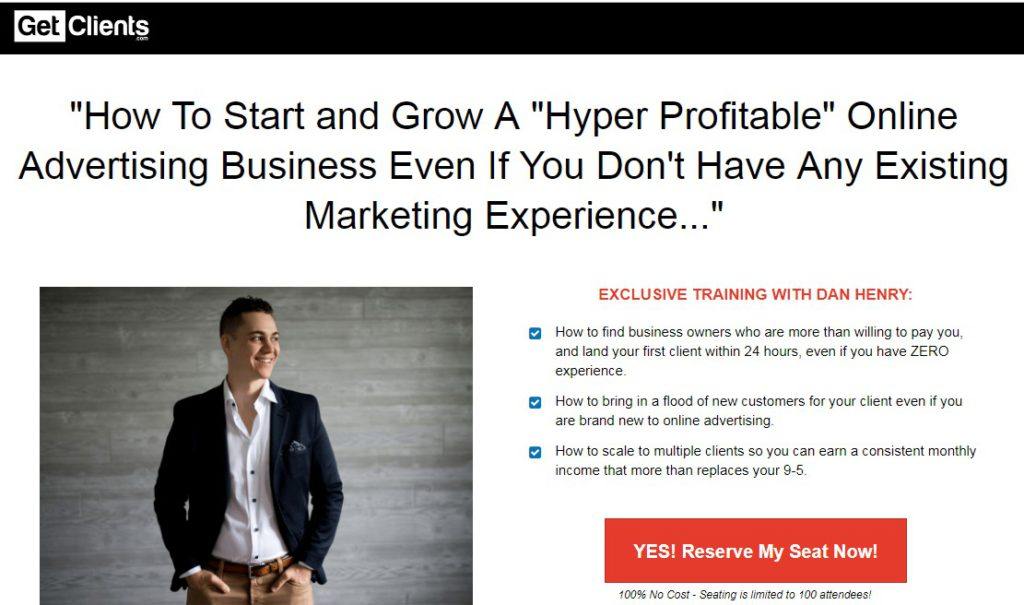 Cost: Over a $1,000 starting price. Additional costs are necessary to use the training in the real world (you will be making ads online and that cost varies).
Income potential: Honestly, it's limitless. The more leads you are able to find and turn into customers, the more you can make monthly.
The idea of $10k a month is NOT unrealistic at all.
Overview (what do you learn)? It's a simple idea, you find people who run small businesses on Facebook and offer to create ads for them on Facebook so they can attract more customers to their business and make more money.
Where YOU make the money is from the marketing service you offer them. The more business people you can find and turn into clients, the more you can make.
There is no scam here, it's legit, but it's not a method that's as easy to make money from as you think. There IS a learning period you will have to undergo and spend money on for the lessons learned (not just Dan's program).
And success is NOT guaranteed, it depends on your work ethic and being able to intelligently find the right people who are most likely to turn into clients.
Rating:

6 out of 10 stars

. 
Do I recommend this program? I honestly do and if you're interested and you should join IF you have the money and understand the financial risks and other cons (listed below) to this (you will have to spend money, there's no avoiding that and there's other real world issues you need to know that are explained below).
The only other thing I'm not exactly a fan of is the hype of making so much money. Yes it's marketing and it's used to attract customers, but I will tell you the other side of running this type of business and the risks. You CAN make good money, but this is a system that not many people succeed from…
Now about the other alternative I mentioned earlier…

Lets go back to reviewing Get Clients:
The training within this program is one I've seen trending lately. There has been a pretty big up rise in high ticket systems coming out where people who are really successful at online business teach people their "secrets". 
Now I didn't get this program because I already do what I do and know how to enter into this stuff if I ever decide to (I don't really help businesses grow online, I teach regular people to make money online and promote a system that does that).
Now some systems that come out teach more than one way to succeed at this business, but in the case of Get Clients, it's pretty much focused on one thing:
It teaches you Facebook Advertising and finding business people who need help marketing on Facebook. 
Since Facebook has so many members, a lot of whom are business owners, that NEED leads and more business, you becoming an experienced marketer in this network and helping them is what will make them your paying lead.
Let's go over the pros:
The market for helping businesses grow ONLINE and get more leads is HUGE. 
Imagine studying Dan's course, becoming experienced and finding just 1 lead (a struggling business owner). Now imagine telling them you could build them a site and get them a 1,000 extra leads a month for $5,000 a month.
If they become your customer, that basically "guarantees" you an extra $5,000 monthly (minus ad expenses in finding that 1 gold lead).
Now if you can learn to scale that and get more leads of that sort, that $5,000 a month figure can easily multiply to more and this is something you'll be shown within the webinar Dan offers, a lot of figures like these and potential.
 But let's be honest about the cons (

what you need to know

):
1) High costs and risks.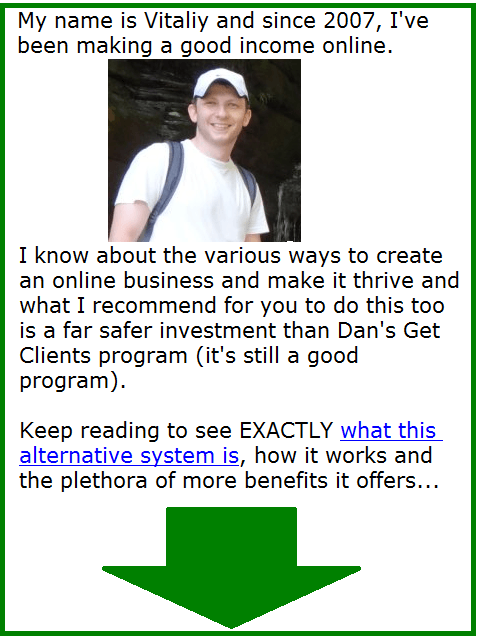 Any sort of system that carries a high earning potential also carries high costs and risks.
Firstly, you need to know that Dan's course is NOT cheap and unless you're willing to work VERY hard and understand that it's usually not an instant gold mine undertaking, and is more likely a learning experience that MAY eventually lead to success, the more suited you are to buy this program and succeed with it.
2) Competition.
I assure you, that you are NOT the only person who is entering this same market, and trying to find business owners to help. You first have to be an authority in this and probably will have to earn a reputation to be trusted.
3) There's more competition than you think.
I also assure you that many business owners are probably already being bombarded by offers from people who are saying they will help their business grow.
Who will they choose?
Either no one or someone with a great, trusted reputation so just entering into this as a newbie means you'll have to make a name for yourself in order to get the business owner to pay you good money and that will take time and probably a lot of money spent reaching that goal.
4) Leads can become annoying to deal with (and for a good reason).
Considering you start accruing leads, there's also a period where you'll have to make them your customers, keep them as your customers and answer the millions of questions they'll have.
The less results you get them, the more frustrations you'll get out of them and the better results you'll send them, the less questions you'll have to answer, will make more money, but that will take a lot of growing experience to REACH. It doesn't happen quickly, believe me.
Those are the

most realistic and major cons

you'll probably have to undergo.
I also want to mention, other competing programs like Dan's you may have seen or heard about (like I said, this is a growing trend):
Bossless Forever. Same exact concept as this program.
Sam Ovens. I consider Sam to be the person who started this trend on providing these types of high ticket teaching programs to teach people on how to attract business leads. 
Final Rating: Get Clients.
Green Flag
5 out of 10 stars. It's legit in it's potential and opportunity, but difficult to achieve with so many others doing it too. You have to become good at this before you truly attain the high paying leads. Then there's also the high starting cost/s.
Lost on what to do? Don't be. Read about this alternative option:
Since I understand this business well, I have to give you the more realistic (other side) perspective on these types of investments. 
I've gone through these types of challenges before as I was coming up in the business and I know how tough it can get. Here's a little bit about myself you need to know:
I don't do exactly what Dan does. The way I operate my online business is like this:
Wait Vitaliy, didn't you say your alternative program is similar to Dan's? Yes:
Earlier I did say my option has training similar to Dan's, so let me specifically explain how that works within the program: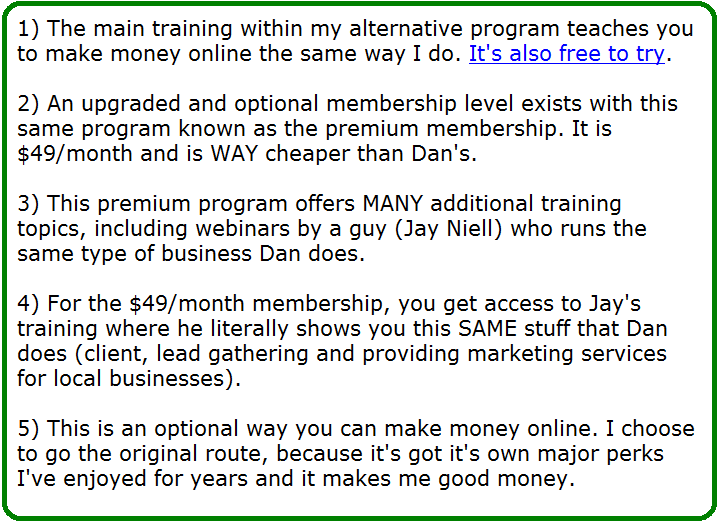 Now I'm not bad mouthing Get Clients at all, but I am pointing out the risks and in my opinion the limitations that program offers since it's really only centered around getting business leads and giving them marketing services, which is NOT bad at all, but that specific way of making money online is not easy.
I personally believe you should learn about making money online from a number of different options and pick the one you like most and without a doubt the program I recommend does that.
With it, you can try the initial stuff for free and learn to do online business how I do it.

And if you decide to upgrade, you can also choose to do the same stuff Dan teaches in his system, but for WAY less.
And there's also other options you can elect to build your business out of too, so with these options, coaching, many tools, support a great price for all of this, in my personal opinion, a safer, better investment is the alternative program I'm recommending to you here.