The reviews on AffiliXPro are generally positive, but most of them promote this program. I am not one of those people, so allow me to tell you if this a scam.
My opinion is that it is not, at least the basic version of this program that I purchased. However, I personally found what I believe to be 5 cons with this program, which for me is a deal breaker, both in using this program and recommending it.
I will be telling you about these 5 cons in this review, as well as showing you what I know to be a better way to make money through affiliate marketing, which is actually beginner friendly.
The AffiliXPro review in a nutshell: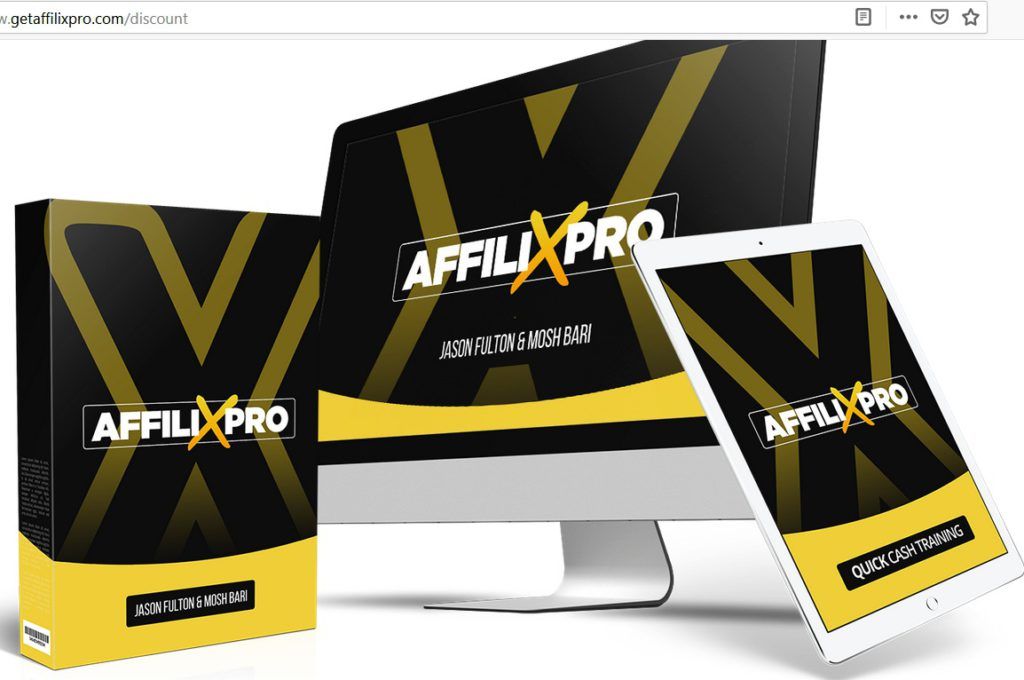 Creators: Mosh Bari and Jason Fulton.
Price: The basic program (the one I have) is $23.37.
But with this program, I ran into A LOT of up-sells (it's one of the cons) and while each has it's own claims of how good they are, I didn't buy a single one because I wanted to see if the claims made for the basic program were met (most of them weren't, so I'm glad I didn't buy the up-sells).
Here is a pricing breakdown of each up-sell:
1 upsell is for $99 ($20 downsell if you don't get it for $99).
The second upsell is for $87 and is then downsell to $67.
The third is for $297 (no downsells here from what I saw).
The fourth is $127 and that is down sold to $107.
And finally the last one is $167 and is then down sold for $106 ($50 off).
And these are the promotions you get hit with before you hit the members area. Within the members area, there are even more and all this stuff really annoyed me.
What is this program about?
There's 2 main elements to it:
1) This is a software that allows you to create pretty beautiful customized landing pages so you can then market them to collect email leads. 
2) There is also a default library within this software where you can choose from already designed landing pages and mildly edit if you don't want to make your own.
The goal of these 2 options is to:
Connect the landing page you create (or pick) with an autoresponder and then send traffic to collect a list.
Another option of this software is to create landing pages to promote products on.
And one more way you can use this software is create landing pages which offer bonuses if people buy your promotion or product.
This software also has a way you can consolidate all your affiliate links and make it easy to track. That's pretty convenient, but, if I take this all into consideration, here's how I graded this system:
Overall Rating:
2 out of 10 stars.

Do I recommend this program? No.
I personally believe that the value of the basic program is quite inflated compared to how it's pitched on the sales page. Not to mention all the up-sells and offers inside the members area.
I also don't believe it's for beginners. The process of setting up landing pages is easy with this program, but any knowledgeable marketer knows there's more involved, namely traffic and I found no training on traffic generation and without that, I don't see any value in this program for beginners.
This is what I recommend:
The 5 cons of AffiliXPro explained:
1) Too many up-sells.
I went through almost 10 pages of up-sells once I purchased the basic program and the irony is that each upsell offer and downsell afterwards kept eroding the value of the program. Not to mention how expensive everything would have gotten if I purchased everything ($100's).
I'm not against up-sells in general, but in my opinion, they should only be pitched once there is established value in the basic program. With AffiliXPro, I didn't even have a chance to look at the program before being bombarded with these up-sells and like I said, that was annoying.
2) The hype on the sales page in my opinion is not justified. 
I've come to realize that the more a sales page tells me how "great" a program or system is for making money online, that the more chances there are in reality that it is not.
In order to show you what I mean, I'm going to show you a screenshot of the Q & A part of the sales page for AffiliXPro, the claims and wording they use, and compare that to what I saw once I had the program: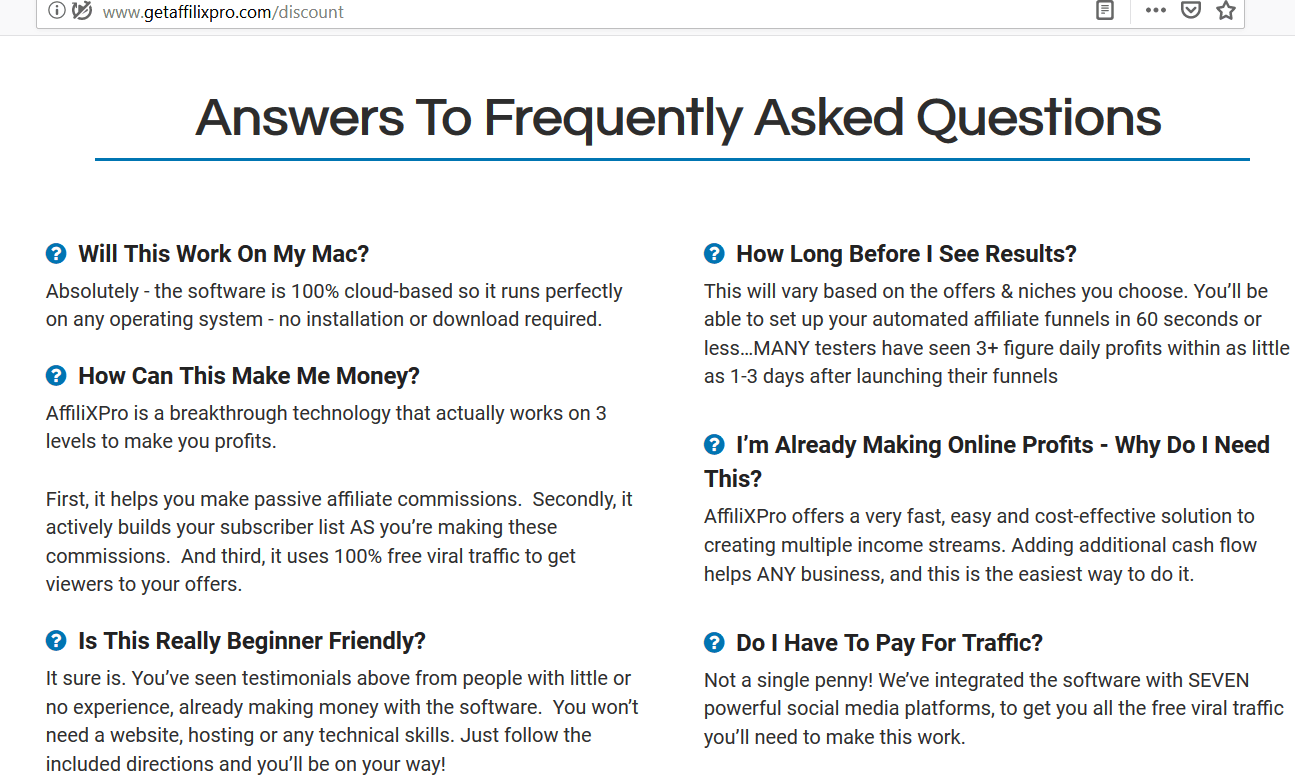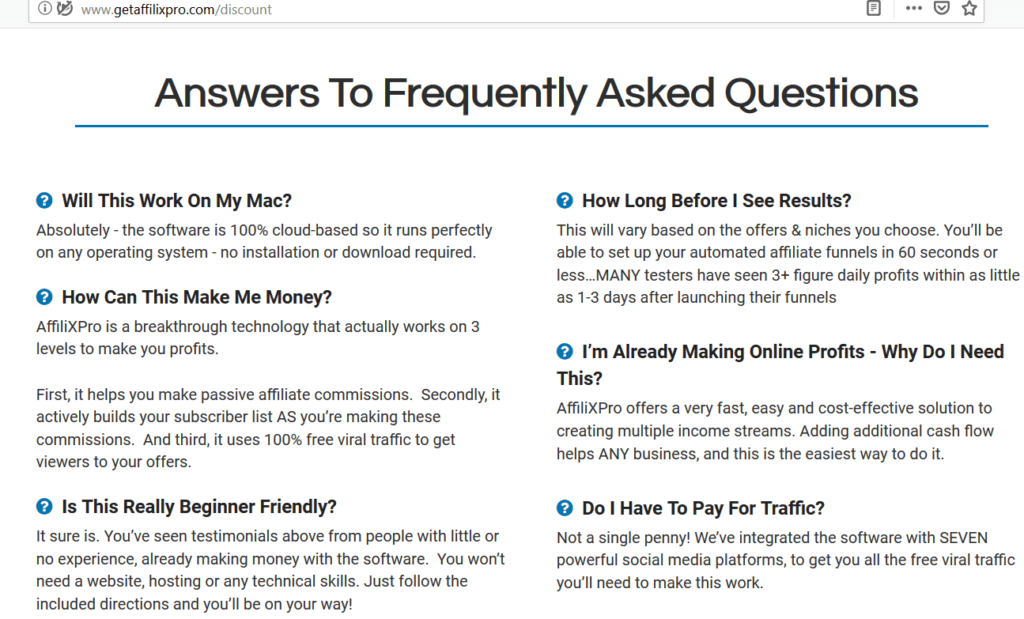 The problem with most of the questions they use here is that they are extremely broad and useless in my opinion. Let me break it down:
One of them talks about this software being available on a Mac. Well duh, of course it is, this software is online, so it doesn't matter what operating system it's on…
The question about how this software can make you money is extremely broad. In reality this program can make you money IF you are experienced and know how to use it. You need to know traffic, you need to know how to get an autoresponder and collect leads, and there's more.
In regards to being beginner friendly, I do think using this system is beginner friendly, but if you don't know the other pieces that I mentioned earlier (traffic generation, list building strategies and so on), then this is a missing and essential part to success, so this beginner friendly talk is subjective.
The question on how long results take is also subjective and they mention niches. Do you know what a niche is? If not, read about it here, but this is a tough question to answer. They mention people setting things up quickly too. I assure you, those people who got results have experience with online marketing. I do not believe real beginners to online marketing can do this as quickly…
The question about already making money but needing this program is also subjective. I make money online (read my story), and I do well, but I will tell you that I do not feel the need to have or use this program at all.
And finally, the question about paying for traffic and the answer they give about them integrating with their software with big social media sites so you can get "viral traffic" is such doublespeak. It's not like this software works some magic to have your work be put in front of millions of people, you actually need to have or set up your own social media pages and traffic for this stuff to work.
3) This software has potential, but there's more pieces you need (meaning you need to spend more).
Even if you can make a good argument for using this software (there's legit arguments), like I said numerous times, there's missing pieces and the major one is learning how to generate traffic. Here's an inside look: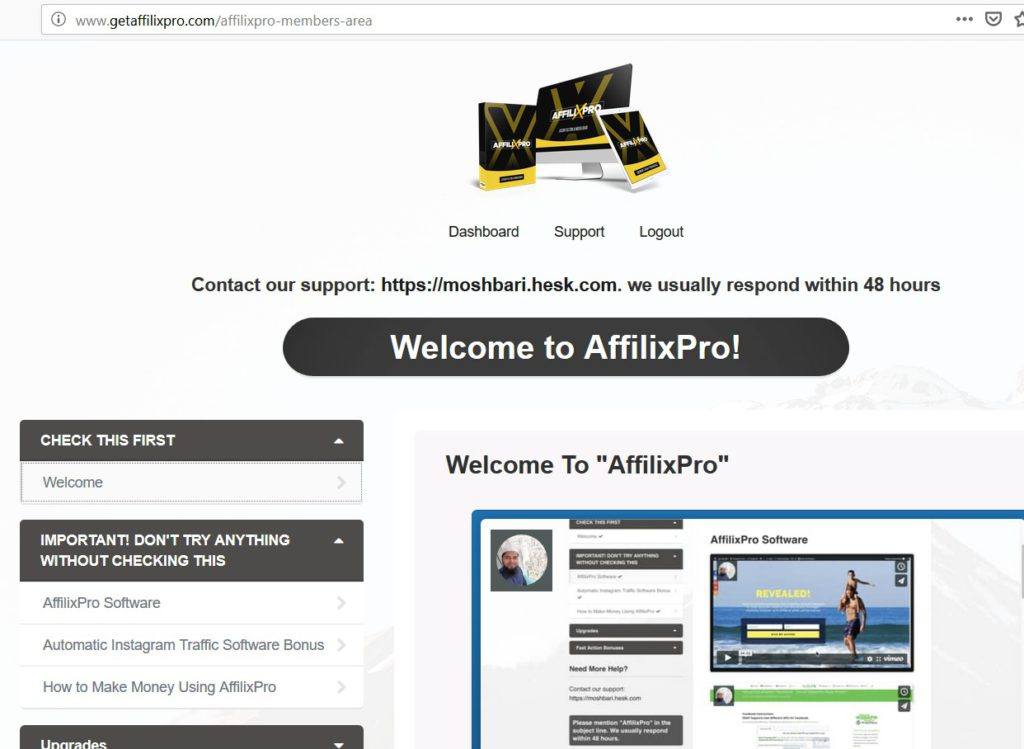 For all the beginners to affiliate marketing who are reading this review, making a good looking landing page is very often useless unless you know how to drive laser targeted traffic to it.
And like I said, I found no training in the basic members area on this. They have one small document that is a "checklist", but it's literally a few words on what to do and if you're a beginner, you won't be able to use this info in my opinion.
4) Overall, there's very little given for the basic membership.
I'm actually used to this unfortunately. I often buy these types of programs to review them for you and I'm used to seeing hyped sales pages talk in great length about how awesome their system is, only to buy it and see how not awesome it really is.
Now I'm not trying to bad mouth this program and I can definitely find ways I can use it, but at least be more transparent…
5) The things this program does, are really overrated.
Creating good landing pages is actually very simple. And creating squeeze pages is also very simple. You can do it with a website and even free programs like Canva.
I even test and prove that plain and ugly looking landing pages get leads if you know how to get the right traffic to them (here is a case study). The point is, as an advanced affiliate marketer, I personally see no value in AffiliXPro for myself and certainly not for beginners.
Final Rating: AffiliXPro.

Red Flag
2 out of 10 stars. I have 5 cons I listed on why I won't recommend this. I hope I provided a good enough review for you folks on this thing. 
My final thoughts:
Most programs like AffiliXPro come from popular internet marketing sites like JVZoo and in this case, Warrior Plus and all too often, I am used to seeing pretty low quality programs from there. I do sadly, have to categorize AffiliXPro in that same category as well after taking a look at it.
The good news however is that this program, Wealthy Affiliate is a high quality one you can try instead, especially if you are a true beginner or someone who hasn't been able to succeed at affiliate marketing or making money online for that matter.