If you didn't already know, JVZoo, a popular internet marketing platform has it's own ranking system where it tells you which of it's vendors is most successful. This is their best (or top) sellers list.
As an internet marketer, which is what I assume you are if you're reading this post, my guess is that you're probably wondering how money can be made off this list. I've got several methods to share with you regarding that which I have used on my own website to make decent money.
Here is the official page within JVZoo where you can see the list of best sellers. This also updates so it's always going to be a fresh source of seeing which programs are hot.
Although I am not a big fan of this site (mainly because of it's JVZoo's poor vetting system) which has allowed way too many poor quality vendors and programs to be released there, the fact of the matter is that it's still a huge network and the methods I will share here work to make money with it, even if you are not a fan of this place.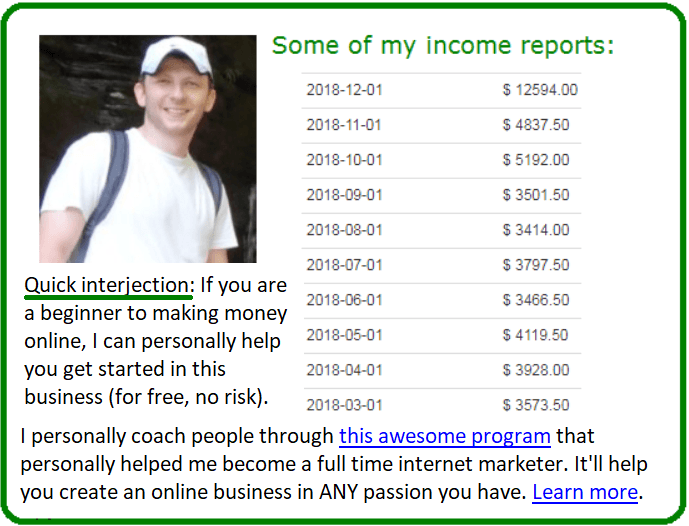 How the process of making money with JVZoo's best seller list works:
There are many popular and influential internet marketers who create product after product, release it on this very network, and notify people about it beforehand on websites like Muncheye.com.
This allows them to gain affiliates which will then go and review the product, and occupy Google's search results for the product's name, so when people Google the product name, those reviews pop up and the vendor/affiliates both make sales. This is also called product launch jacking.
Anyway, the point here is that overtime, the products which make the most sales land on that top sellers list. And it's publicly available for viewing. 
Here are 3 ways you can utilize JVZoo's top sellers list to make money:
These are all different methods I have personally used through this site to make money.
1) Pick out one or more products, review them yourself and let Google rank it.
The top seller list JVZoo provides is divided into 3 sections:
Daily, weekly and 30 days (monthly).
What I typically do is start with the best sellers in the past 30 days. Why? Because those have shown to be more consistent with sales. There's many vendors who release products in JVZoo's marketplace over and over who have large email lists and/or joint ventures with other vendors who upon release do an email blast and it basically inflates the sales ratings for a particular day, which is why if I look at a 30 day report in the top sellers list, I'll know the product is more likely to last and get long term attention (and sales).
Plus there's tons of programs that can land quite easily on the top daily sales in general, but to have that same program do it for a week or even a month is a much more difficult task. This is very similar to product launch jacking.
Those which do, deserve your attention, your review and possibly your recommendation.
The way I go about it is, I pick out the programs which sound easiest to understand, because those typically resonate with most people looking for internet marketing programs online. Here's an example: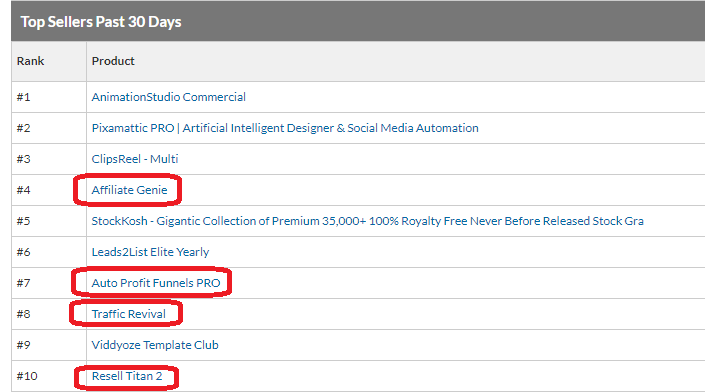 And by the way, I suggested the same strategy for picking programs to review in Muncheye. The advantage there is that you can find and review programs early before they are released, but the disadvantage is that you won't know if it sells well until it is released and on the market for awhile, and often you may end up being wrong. 
Once I reviewed these programs, I'd move up to the top weekly sellers, pick out the ones which sound best there, review those, then onto the daily ones.
With this list being updated all the time, you can bet you'll have an endless supply of internet products to review. You can choose to be an affiliate and promote it OR do what I do which is recommend better programs, like Wealthy Affiliate, in almost every single instance.
I do this because as I said earlier, most products on JVZoo are of poor quality and if I review something, I want to make sure it's good enough to recommend.
Because this is often not the case, I always tell people about Wealthy Affiliate and how it's much better. By the way, you can also become an affiliate there and they offer a course called the Wealthy Affiliate Bootcamp which trains you promote this program and my results from using that training have been amazing (Over $300,000).
2) Use Bing Ads to drive traffic to your page.
One of the coolest things about reviewing products on JVZoo is that if you use Bing Ads to drive traffic to your review, it will be EXTREMELY cheap. I get about $0.05 cents a click on the products I write reviews on, then set up Bing Ads for. Yes it will cost money, but considering that you'd only spend a dollar for every 10-20 clicks means you have A LOT of space to spend money and potentially profit very well.
One of the other reasons using Bing ads to review JVZoo's products (the best sellers) is recommend, is because there's many reviewers out there (product launch people) who review the product before you do and rank high on Google for that product's keyword, thus making it tough for your review to outrank theirs, or at least it takes too long to outrank them.
However, time and time again, I constantly see that these same people are neglecting to use Bing Ads to drive traffic to those same reviews.
Considering that it's tough for your site to outrank them, and how often that may be the case, why not use Bing Ads to go around that competition issue? I 100% recommend you do. And here is a good way to lower PPC costs on Bing Ads.
3) Collect an email list, and hold off on selling.
While people who look at internet marketing products are generally ready to be buyers and that's when it's best to sell the product to them or a better option, sometimes, you can get away with building an email list off the popularity of a top selling product on JVZoo and use that to make sales down the line. 
For this, it is highly recommended that you understand email marketing and how to convert people who give you emails into sellers, but one angle I suggest using if you decide to go this route is reviewing the hot selling product and if it's not good, showing people a better way, that's free, which will give you their email.
Then you can slowly start to build up a funnel where the person who gave you their email starts trusting you more, which can lead to you selling other products down the line, over and over and even perhaps selling your own.
My final thoughts:
Most products sold on this network are one time buys and the affiliates who promote those products, even if they make a sale, don't really go beyond that. And the real winner in that exchange is the vendor, because they don't just make a part of the sale thanks to the affiliate, but they also get the buyer's email to sell them later on. So over time, they will make more money off the lead, not you.
Why not leverage this, review hot selling programs on JVZoo, but if they aren't good, showing people a better way?
For a very long time, I've seen how low quality many programs are on JVZoo and how many people get stuck in the web of one program being released after another, each which promises it's own riches, and each of which fails the customer. 
I very much dislike that cycle and this is why I steer people away from buying JVZoo products and getting involved with Wealthy Affiliate, because it is there that they get results. Of course, before I do that, I review the program I found on JVZoo and decide if it's right to promote WA or not.
Either way, I hope that the tips I shared here on how I use this approach to make sales though JVZoo has helped you understand how you can do it too.
Also one more note:
If you are someone who is trying to make money online, but aren't into the make money online niche, which is what JVZoo centers around, then I wouldn't use this strategy.
I would instead learn to build an online business via a passion you have which is outside the internet marketing realm and again, Wealthy Affiliate will teach you this. It's one of the few online marketing programs that actually does this right.