My preferred PPC network for online marketing is Bing and for years, I've used a cool method to lower costs by 3x.
Now these 3x less results are only in relation to me and compared to average people who use this network, I actually end up spending 10x LESS than they do on ads. 
For the focus of this case study, I will only focus on Bing. To explain this theory and show you proof, I have to give you a starting point and a basic picture of how it's supposed to be done. Here it is:
The first thing you need to do is understand how to set up a page, an ad and the right starting costs so you have a good: CTR, Quality Score and relevant website. If you can get this done, the rest is pretty much a breeze.
If you're new to this and don't understand any of those terms, read my PPC guide first and it'll walk you through the whole process, then come back here and continue the case study. That PPC guide has been what I have been followed for many years with great results.
The continuation…
Once you understand how to set up a highly clicked ad that will get good numbers, the next part is to focus on your site. Whether you have a website with a few pages that promotes a personal business or high quantity blog site like mine where I review products, you can use this same formula. Let us focus on my site:
I have A LOT of products that I've reviewed that teach online marketing. Many of them are terrible and few are good, BUT every time I create a new product review, I will always make an ad on Bing for it. This will give me extra traffic. I have almost 50 ads set up, all linking to different product reviews, including products I rated badly.
Why would I link to badly rated products? Well because it's extra traffic. People are interested in products, even the bad ones but they may not know it's bad and it's my job to show them why it is and link them to something good. 
Here are my personal tips for keeping bids low: 
Again, read my guide and you'll know how to make a great converting, clickable ad. Then the rest of this stuff will be easy to understand.
Most of the ads I make are based on product reviews. Those are usually very cheap to bid and get ads placed high with if you know what you're doing.
I keep all of my adgroups that are related to my one site in one campaign so it's easier to manage. So if I have 1 site on making money online, and I reviewed 50 make money online products, they will all be in one campaign (basically folder). Each product is going to be in an adgroup (separate ad and settings).
Again, try to focus on product reviews when doing PPC since they'll be cheap if you find the right keywords and keep targeting your ad within English speaking nations. Most of the time, I show my ads only in the U.S, Canada and sometimes Australia and the U.K.
I target about 5-10 keywords for each product review. Generally my keywords will be as such:
Keyword review, keyword reviews, keyword scam, keyword complaints. The "keyword" is going to be the name of the product. 
I only target exact and phrase (never broad) so usually there will be 2 versions of each keyword. In the above example, we have 4 keywords and with 2 variations, that'll make it 8 keywords altogether. 
I set up my ad, again using my tips to ensure it gets a lot of clicks and high CTR. 
I set all of my starting bids to around .20-.30 cents. Start at .30.
I REMOVE the option for the ad to show on content network: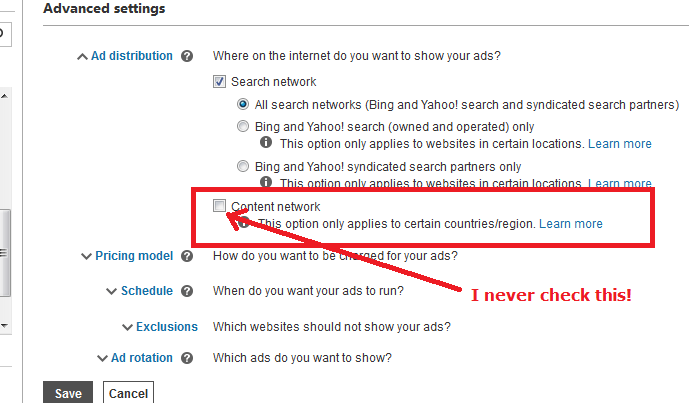 When you make a Bing ad, this image will appear towards the last section of the ad creation process, right before you save and make the ad go live. It will be checked. Un-check it. 
Now that it's set all up, here's the next step…
Wait a week to see how your ads are performing. If you followed these tips, you can expect to probably not have a lot of clicks (It's OK), but you will also have a VERY high CTR and generally high ad position. 
Now comes the part where we start to pay even less!
If: Your ad is showing average positions of 1-3, lower your cost from .30 to about .20, wait a week and if positions and clicks remain around the same amount, lower it to .10. Having an ad show within the top 3 positions is considered VERY high (which is good) and you can risk paying less. 
If your ad shows very low, say position 7 or lower, raise your bids by no more than .10. So if I am bidding .20 cent on an ad and it shows that it's in position 6, 7, 8, I raise it to .25, give it a few days and then see how it does. If it's still low in position, keep raising it by .5. I do this to make sure I'm not overspending.
If this part is completely confusing to you, please do the following: Go over my tutorial again and if it's still confusing, ask me a question below. 
How to make it even easier:
Do research on your keyword beforehand. Type it into Bing and if you see 5 ads or less, make your starting bid $0.10. 
Here is what I've done with this formula: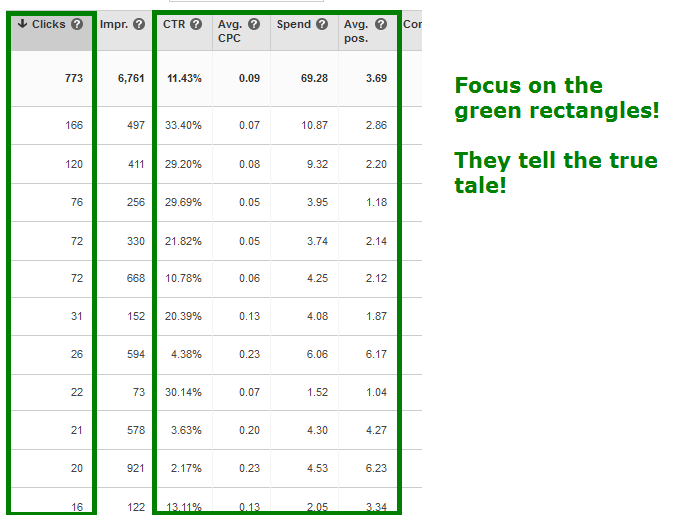 These numbers are insane if you know PPC. I wasn't able to screenshot the entire report because you wouldn't be able to see the whole thing, but I have 44 adgroups (that means 44 ads running) and over a period of 7 days, I had:
773 clicks.

11.43% CTR.

An average CPC of $0.09! 

Spend $69.28 altogether for these clicks. 

Average position was 3.69 (within my aimed for limit).
Do not fall prey to the following:
These ad networks LOVE to make you spend more. They'll try to give you "default" bids so you can pay more. I've had times when I've been told to be in a good position, I'd have to spend upwards of $20 PER CLICK.
That's RIDICULOUS. Never spend more than a $1 on a bid and that's still a rare thing. 
They'll also try to get you to add more keywords to get more impressions (appearances on the network). You can look at those keywords, but if they aren't DIRECTLY relevant to the keywords you chose, do not use them. For myself, I never follow the suggestions ad networks give me. They rarely suit me and I don't want to spend anymore than I have to!
Focus on product reviews and keywords related to those products. Keep the keywords limited. It's not about the quantity, but the quality of the keywords that counts. A group of 5 keywords can yield much better profits than a 100 keywords.
You will get less traffic, but as long as those keywords make sense, you will end up profiting more than you would with the 100 keywords. If you have trouble finding keywords, use Jaaxy, a wonderful keyword tool that's helped me pick out the right ones.
If you suffer from high PPC costs, this will really make it cost you so much less and get many more results. 
These tips also apply to Google Ads, but be careful with that place for these reasons, otherwise, feel free to use the same tips (I once did, but they kicked me out eventually because they became very strict to advertise with).