I've purchased numerous make money online programs from JVZoo over the years and reviewed them on this site. Today however, I want to review JVZoo itself. I have mixed views on how this program does business and want to help you know what opportunities it has, as well as what to watch out for.
Quick Report on JVZoo:
Price: $0. Completely free program to join and you can promote products from there for free. You can also purchase the products on their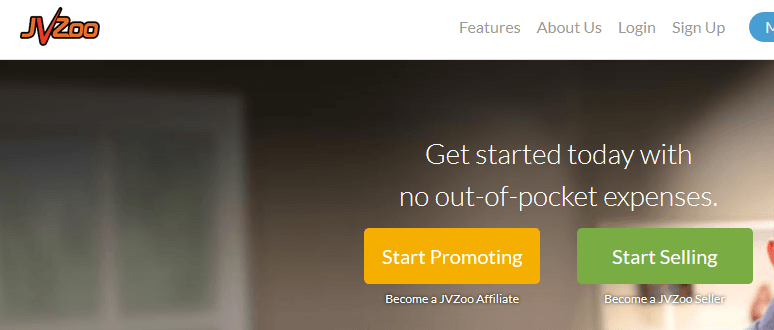 marketplace.
Overall Rating:

4 out of 10 stars

.
The actual network itself is legit.
However, there are many low quality products being sold and advertised on it and I will explore that including if it's worth doing business through this network.
Before I explain my points on JVZoo, here's something that's very important: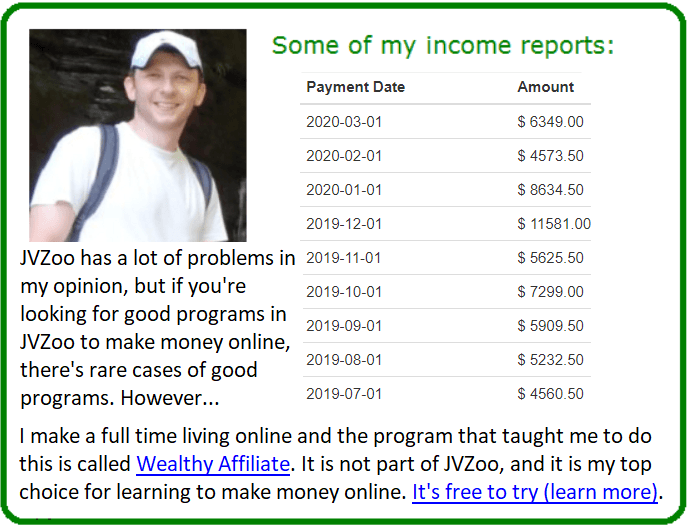 Why I recommend this alternative to JVZoo:
Whether you want to make money online.
Where you want to do affiliate marketing.
Whether you're looking to even promote JVZoo products.
That program (Wealthy Affiliate) will help you do all of this. That's why I recommend it and no JVZoo program I've ever come across (even the rare good ones) come close.
What exactly is JVZoo? 
It is a gigantic network where you will find a plethora of mainly digital products being sold, all pertaining to the make money online industry. To date, this network is arguably the biggest when it comes to how many products it sells in this market. 
There are many

pros

to being involved with JVZoo (here are 5):
So far, I have 5 major pros to list with regards to this site:
1) There's great opportunity for make money online program creators to work with JVZoo.
It is extremely popular to create make money related programs/systems and products and put them on this site.
2) There's a good DFY system in place to earn money.
It gives you access to tons of affiliates who will promote the products you put on the network with a done for you software system in place to compensate them and you for each purchase (no need to be a professional software engineer, this network handles that technical stuff for you).
3) Great earning opportunity overall for vendors and affiliates alike.
It provides an excellent way for people to make money (here's ideas for making money with JVZoo), both as vendors (product creators) and affiliate marketers (the people who promote the vendor's product/s):
4) Diverse ways of earning money are possible with JVZoo:
Many commissions are recurring which can provide a stable income for affiliates/vendors.
5) Reputable marketers use this place to put their programs up on.
A lot of big time marketers use this place to make a lot of money, mainly because they have large networks of followers and affiliates working for them.
Many of these people create multiple products, release them on the JVZoo market place and let their affiliates know that they did this so they can start promoting it for them.
For example, people like Stefan Ciancio and people like Greg Kononenko are people whose programs I trust and usually recommend. There's generally very few internet marketing gurus I trust, but I would add at least one of these names to that list.
But there are also

big cons

to using JVZoo (here are 5):
And while I generally like JVZoo, the following cons you're about to see are things few people actually mention:
1) There are MANY bad programs and systems being sold there.
at least from a point of a view of a marketer like myself.
I generally know what systems and tactics work to make money online (this one called Wealthy Affiliate has the best one) and often times when I encounter and review a lot of bad systems, many of them sadly come straight out of this network. 
2) JVZoo's support could be MUCH better (they are pretty useless).
If you have an issue with a product you purchased from JVZoo, you can't contact some personnel inside the actual network to work out the problem. Instead, you have to contact the owner of the product you purchased it from instead (It's the same issue with another popular network called Warrior Plus). 
And this is a big problem because first, what's the point of even having a support in JVZoo in the first place? And second, what if the product owner isn't exactly friendly? Or what if the product owner is just tough to reach? These are all realistic questions. 
I've often had issues with the products I've purchased in JVZoo and it wasn't always easy to connect to the owner, and since I couldn't connect to JVZoo's support directly to help me handle the problem, that left me having to dispute some charges with my credit card company.
In fact, JVZoo literally tells you to handle the problem with the product owner directly and I think that is a big con:
3) JVZoo could do a better job filtering out the programs they allow on their network.
To put it into perspective, I've purchased well over 30 products and systems (to review) and about 80% of them were bad, the other 15% were OK, while only 5% were good.
This is actually normal as in this industry as it's common to see a lot of garbage systems and a few good ones. There's also even worse cases like with Clickbetter which sadly in my experience has an even larger percentage of bad programs out of the good.
And I will say that even places like Clickbank also have this problem, so it's not isolated with just JVZoo, but at least with programs like Clickbank, I can actually contact their support and work out things if I have problems. With JVZoo, I can't really do that.
4) I wish JVZoo had ratings for their products.
There's no reviews type system in place so people can see if what they're getting is good or not. A lot of the bad programs are purchased by many people who then end up getting their potential businesses ruined because they followed bad advice. 
5) I have seen one too many product creators put up stuff on this site.
There are many "serial" marketers on this program who create and put up one bad program after another, but because they know how to hype up the system and create a good compensation for their affiliates, they keep getting away with it. I won't name anyone in particular, but usually when I see a serial product creator release something new to JVZoo, I tend to look at the product with a very skeptical eye.
Should you buy products and programs from JVZoo? 
If you know how to filter out what's a good program and what's a bad program, then sure.
But if you're new to making money online, you may not be able to figure this out and may find yourself be taken for a lot of money by the plethora of systems and programs out there which are associated with this network (it's not the network that's bad, it's the system, but the network is not really doing anything about it) who are great at making incredible sounding sales pages to make you believe that their system is going to make you rich (it won't most of the time).
Should you create and put up products on JVZoo?
This is a great question and I would say yes, but you would need to first be an experienced marketer who knows how to create a system/product and then think about going to this network to deliver it to the masses of affiliates and potential buyers out there.
Even in that case though, I would suggest Clickbank instead.
I find they are the next level when it comes to JVZoo, especially since they actually have a central customer support system in place, meaning that as a vendor (a legitimate one I hope!), you will have less stress to worry about dealing with customer support questions.
What about as an affiliate? Should you promote anything on JVZoo?
A better option exists:
Again, the answer is, if you can distinguish the good products from the bad, then yes, you can. But this is often misunderstood as affiliates tend not to look at the quality of a product, but more so, it's affiliate commission potential and this leads them to often promote an otherwise bad program with good intentions. 
My personal opinion is if you want, as an affiliate to promote GREAT make money online opportunities and programs, then you need to promote Wealthy Affiliate, (more info on it below).
It's a system that has one of the highest retention rates I have ever seen/promoted through as well as one of the most legitimate opportunities ever, for a great price instead of anything you'll find on JVZoo or other programs. 
Final Rating: JVZoo.

Yellow Flag
4 out of 10 stars. As a whole, the program is legit, but it's lack of proper "vetting" leads to too many sleazy people making poor quality programs and selling them to people who think they are great opportunities and this is damaging the network's reputation.
Furthermore, the support needs to improve, a lot. From an affiliate, vendor perspective, you will get paid honestly if you do business with this network.
My final thoughts: Want to be a successful affiliate? Promote this program:
Since JVZoo has too many unknowns in terms of programs that may not be so good, and if you're the type of marketer who wishes to promote 100% legitimate programs, get paid a good recurring income from it, then there's really nothing better than Wealthy Affiliate. 
I constantly look for new programs to potentially promote and this one is still levels higher than anything else. It is an all in one training system that I personally learned from to create a very good online business and in turn, decided to let other people know it, namely you guys reading this now. 
Here's some details about it's promotional opportunities:
1) $23.50 recurring commission.