So for many years, I've purchased online marketing programs from numerous places, and one of them happens to be the Warrior Plus site.
As a whole, this platform is not a scam, but let me tell you, it needs to improve on it's customer service area A LOT because as of right now, I personally feel it lacks in that regard and I will be explaining my personal experiences with this place since I have purchased a number of make money online programs from it (which it's known for).
Before I explain those experiences, let me say this:
Note: There are 2020 profits there, but I also have updated 2021 profits as well. Check it out.
So let me start by explaining what Warrior Plus is in general:
It's one of the main websites that people who are interested in selling their make money online products and programs go to put them up there.
If you are someone who creates say an affiliate marketing training program, you can use the Warrior Plus network to put your program up there and have affiliates see it and then choose to promote it. That way, you can make more money from the network whilst letting the affiliates do all the marketing for you.
There are other sites which are very similar to Warrior Plus, the most famous of which is JVZoo.
As a whole, the Warrior Plus site is very recognized in the make money online niche and the products people create and launch through there are also often featured on other popular sites like Munch Eye.
The opportunity of using Warrior Plus explained:
Overall, if you make products related to making money online, putting them up on Warrior Plus can basically get you more sales because of all the affiliates who could potentially promote it.
And if you're an affiliate marketer, you have the opportunity to promote a diverse range of make money online products from this site too and possibly make a good income.
That is what Warrior Plus offers in terms of opportunity.
But Warrior Plus has issues and here are the 2 most common:
And this is stuff I've personally experienced after buying a lot of programs from this site:
1) Customer support gets a bad rating from me.
Warrior Plus has many of the SAME issues I pointed out in places like JVZoo in that their customer support could really be A LOT better. I'll be showing you specific of how useless their support basically is (or was for me at least). In fact, the same cons (and even pros) I listed for that site, I may as well just list for this one, but I'll keep it short:
2) Too many bad programs.
There's a bunch of programs featured on Warrior Plus that are low quality (garbage too!). I don't even think there's a vetting process that goes on when people submit their products and programs to be on this platform.
If there is, it could sure be better because if I take the products I've purchased from it and label them with bad, OK and good labels, then most of the time, the products I've purchased are either on the OK or bad side, with VERY few being good.
Now I have my own subjective, yet high standards for the internet marketing I purchase and review because I'll know if they work or not most of the time because I'll cross examine their strategy with what I was taught works from programs like Wealthy Affiliate and based on that program as the gold standard, MOST of the products I've purchased on Warrior Plus are sub par at best.
If you seek to get a refund from Warrior Plus, this is where it gets annoying:
Just a few days ago, I purchased a few products from this place:
One of them was called The Milk it Method. It was an OK product that I decided to keep.
But then there was one called The Piggyback Payday. Now that one had issues where I wasn't sent a log in and what happens if you have technical issues or just issues in general (like refunds) with the products on this platform is this:
1) They provide you with a chat to contact, but for the most part they REALLY emphasize trying to dispute whatever problems you have with the vendor so they send you through a bunch of F.A.Q pages which basically say that.
2) The problem in my case was that the vendor wasn't actually responding to my original issue. 
3) Furthermore, even the chat itself says it takes hours to respond. I guess this isn't a bad thing, considering even a good platform like Clickbank takes about 24 hours to respond to requests, BUT what Warrior Plus does is that they first reach out to the vendor, then to you, so it becomes a back n forth type of thing which can take some time to figure out.
Update.
Warrior Plus's chat responded to me (The situation didn't improve):
They basically told me to dispute the issue with PayPal (I didn't pay through them) or to dispute through my credit card company. And this is extremely annoying since it makes the customer service in Warrior Plus basically useless.
It just seems like all they do is send you anywhere but through themselves to fix any potential refund issues. This seems like a support theatre than anything else.
Look I understand that this platform aims to get details on a case from both sides and wants the vendor and customer to figure it out, but I really believe they need to play a more active role since it is after all their platform where these purchases get made. Otherwise, what is the point of even having them in place if they don't directly help you? 

Support shouldn't be like this and there's enough examples to set the standard:
Going back to what I just said about Clickbank, a really good program in this regard, what they do is that they actually have a central place where you can get refunds from QUICKLY. Now I do get that this can lead to abuse on the customer's end, but Clickbank truly makes refunding easy.
In Warrior Plus's case, it's not easy.
If you can reach out to the vendor and they can communicate with you well, sure it is, but like I said, if you get an inactive one, then you've gotta go though Warrior Plus's directly and that can take awhile considering the steps they take and how long it takes for all of this to get figured out.
My final thoughts:
Like I said before, Warrior Plus is not a scam, but like JVZoo and especially places like Clickbetter (not to be mistaken with Clickbank), they have to handle 2 particular problems:
Low quality programs.

Being more active in their customer support area and have less of a web/wait to handle disputes.
There's a reason bigger programs like Clickbank, Amazon, eBay, Commission Junction are considered bigger networks, it's largely due to the fact that their customer support is top notch and I truly believe the other programs I mentioned in this review, besides Warrior Plus itself would be more successful if they did. 
I still believe that if you have a good product, specifically one that deals with making money online, that Warrior Plus is one of the places you should consider to put it up on, but even then, know that you must be a good customer service representative should people want to ask you questions.  
And as an affiliate, I honestly can't think of a good program to recommend promoting on this platform. I can recommend another platform and program to promote and that would be Wealthy Affiliate. They offer good compensations, excellent recurring commissions and a high positive feedback from customers. 
Here's what I want to stress (summarize) about Warrior Plus: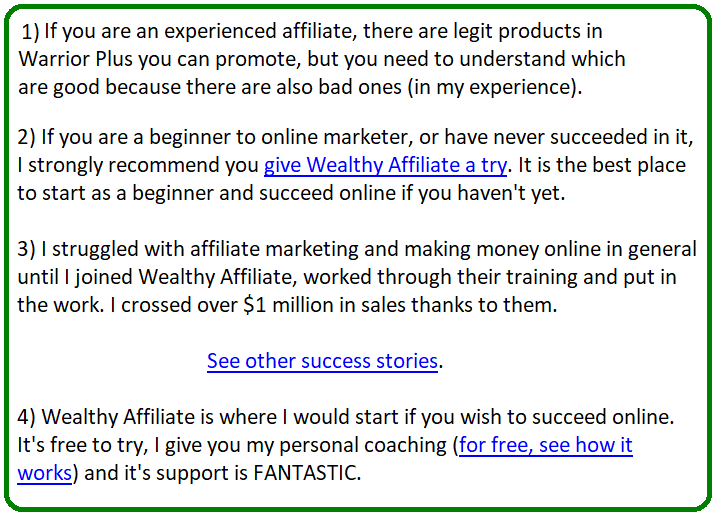 I strongly believe (and know from experience) all the success you can achieve on Warrior Plus and the other networks I listed in this article will come from Wealthy Affiliate.
Pros
Provides a good platform to host MMO products on and have affiliates promote it.
Cons
I think the site has too many bad programs and very little vetting.
I don't think there are many good products on Warrior Plus to learn how to make money online from (my opinion).
There support needs to be levels better.