I purchased The Milk it Method and in this review will be giving you a look into what this program teaches, and if it can actually work for you.
Quick Report on The Milk it Method: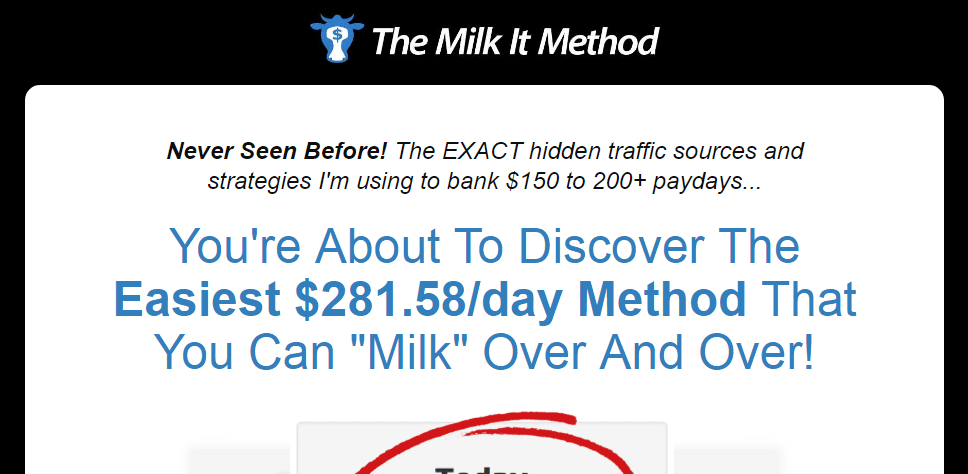 Creator: Bill Hugall, Simple Spencer and Tim Verdouw.

Price: $12.95 with 3 up-sells ranging from $17-$47.
Overall Rating:

3 out of 10 stars

.
In my personal opinion after having gotten this program, most of the hype they advertise on the sales page is actually the minority stuff you learn within the program whereas the majority of the program is stuff that just about 9 out of 10 marketers teach (list building and setting up review sites) and it's not exactly special.
Overall, I learned some new things, but a majority of the info is just not that special (full review coming up to explain why).
Recommended? No.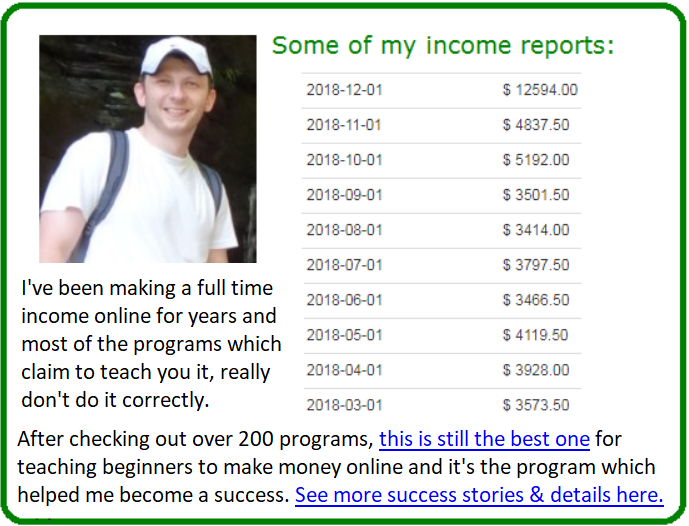 What is the Milk it Method and how does it work?
This is a 4 module course, each complete with a series of videos in each one that teaches a very common way to make money online, which basically entails:
1) You create a WordPress site.
2) Then you promote products (In the internet marketing niche) from different sources such as Clickbank, JVZoo, find products on MunchEye.com to do reviews on and finally the Warrior Plus offers page (4 different sources) and from that you really have an endless supply of internet marketing products to review.
3) Now the reviews they recommend doing are mainly video reviews on YouTube, but putting them up on the site you make.
4) Then they talk about setting up an opt in form and using a free program to create nice looking squeeze pages.
5) Then you get training (this is where you learn uncommon stuff) where you learn about tracking people who visit your site via a FB ad pixel and then making friends on FB with people who are interested in making money online, then promoting to them in a way which attracts them. 
6) There's also training on setting up YouTube videos with a particular program which gives you a "score" to determine if it'll get a lot of traffic, and the person who does the videos explains how to get the max score.
7) Overall, the "Milk it" part of the program revolves around gathering people from FB, YouTube and Solo Ads (they have bonus on that) to your squeeze page and promoting to them.
Pros of The Milk it Method:
1) I actually paid very little for it ($13) and while there were 3 up-sells, I found the video training to be pretty descriptive (but kind of boring to listen to…).
2) The methods they teach to make money online work, but I would classify the level to be intermediate.
3) The training on setting up FB ad pixels and re targeting visitors on your site is smart.
Cons of the Milk it Method:
1) It's JUST video training and in many cases, there are NO links provided to help you utilize the tools and programs they recommend, so you have to find that out on your own.
2) I really think the program was hyped a bit much and when I got it the hyped info was the minority info like I said before. 
3) For me, I felt there was more value in the bonuses section of the program than in the 4 main modules, most of which were just basic things on setting up a website, a sales funnel, an opt in, that sort of thing (which is good for beginners).
4) Now this may confuse people, but I believe the methods of marketing are not beginner friendly. Now I know in the previous con I just said that there's lots of training on setting up basic stuff that IS good for beginners, but this con is in context to actually executing this type of marketing plan.
It's just not easy and especially in an industry like the internet marketing one, it'll be extremely hard for a beginner to successfully implement this training and make good money in my personal opinion, because of all the competition and lack of experience mixed together.
Think about it, if a beginner goes and tries to make friends with people to sell them stuff online, they would have a MUCH better chance if they had their own experience and success stories. See this to understand what I mean (it's for beginners).
The point is, no one is going to take a beginner seriously who tries to sell them IM products and believe me, people know when they're talking to an experienced person or not.
A quick inside tour of The Milk it Method program: 

Module 1: 
Provides 6 videos which include a welcome and basically 5 videos on creating/setting up your website, which include making it, setting up the theme, side bar and other stuff.
Module 2:
Includes 4 videos, that mainly talk about picking internet marketing products to promote from the 4 sites I mentioned above and how to get approved to promote them (You'll need to do this if you want to promote something from say JVZoo).
Module 3: 
Also has 4 videos, but here they talk about creating a review of a product + how to do it if you don't actually own it. There's also 1 video which teases how to track visitors through setting up a FB pixel.
Module 4: 
Here the details of how to set up the FB pixel are revealed and you basically get 7 videos explaining how to market to people on FB itself, and the person who presents these videos stresses how important it is not to sell to them, but to make them see how you're living a good life from internet marketing (he shows you how to do this) and in turn attracting people who are interested in making money online to buy from you (it's basically networking on FB).
Bonuses:
Here you get 4 bonus videos on mainly traffic generation via YouTube, Instagram and Solo Ads. Now I have to give them credit here because the training on Solo ads was legit in that they showed you how to find real, potentially profitable solo ad sellers.
They explained how you should go to FB, seek out testimonials on solo ad users and see which ones get the highest ratings and highest sales, then choose those.

Final Rating: The Milk it Method.

Yellow Flag
3 out of 10 stars. Like I said most of the training was extremely common things you see from other programs/marketers, but there was some good, new information for me personally to think about and potentially use. Overall, I think beginners would not have an easy time with this system.
My final thoughts:
Earlier I said that I found some of the videos boring and looking back I think I said this because I see so often how programs just keep saying the same things about making money online and I just got tired of it (the whole sch peel on list building and writing reviews in the make money online niche).
There's lot of issues with this message one of which is that it's not easy to do list building, especially for beginners and having an entire program focus on teaching people (who are mostly going to beginners) how to market in the online marketing niche, when they themselves don't have experience in doing that is making it tough for them to actually make money.
The programs I typically give high ratings to are (My top recommendation coming up):
Those which provide beginners with step-by-step instructions on how to succeed and let them choose what they want to make their sites on and not give them a narrow path to follow in only promoting through the make money online niche (which is tough enough to succeed in as it is). Here's a list of 7 legitimate programs I trust (but the top one is coming up).
Now I know some of you who read this will say that you're not a beginner and that this program will suite you. Well I've got news for you…if you haven't made money online or in the make money online niche, you are a beginner and you need a program that will help you actually become successful:
In my personal and final opinion I'll share with you before I finish this review, I will say that programs like The Milk it Method which teach a mix of common techniques and special methods should be used by experienced people in the business and beginners should really stick to something else (like the program I recommended), which I would argue has more success potential if you work hard enough on it.