You may seen Oberlo ads circulating around YouTube recently. That's how I found out about it and in inspecting this place, I have to say, it's extremely impressive what the people behind this program did. It is 100% the case that this place is legit, not a scam.
Here's a quick report of Oberlo: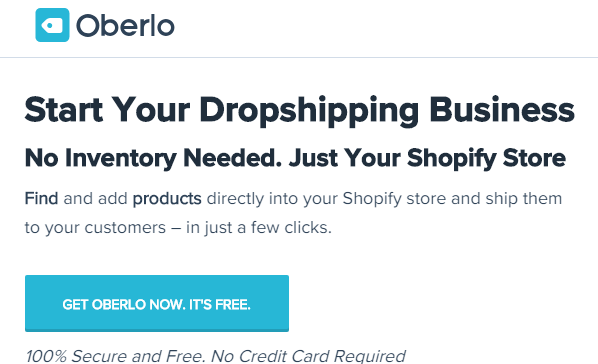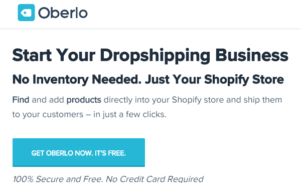 Name: Oberlo.
Price: Free, though there are 2 additional, paid memberships, $29/month and $79 a month.
Overall Rating:

8 out of 10 stars

. 
It is absolutely NOT a scam, but there are important realities you need to understand regarding drop shipping (which is what Oberlo is involved in) and using this program before you start, so in this review I'd like to clarify what you need to know about this system and help you decide if you should try it.
Recommended program? If you decide to do drop shipping, then this program will be an asset to your online business and in that case, yes, it is recommended.
My honest disclaimer regarding Oberlo & dropshipping…
Before I begin, I need to disclose that I am not a drop shipper nor have I ever engaged in it. Though I understand how the Oberlo system works and the business model behind it, some things I say here may not be as detailed as other reviews that talk about it, but it will still help you have a clear picture of the Oberlo business and I do ask that if I make a mistake in explaining Oberlo or miss some things, to please comment below and let me know.
But I also need to disclose that I am a full time affiliate marketer and make my money that way:
I've looked into drop shipping over the years and many times considered doing it as an experiment, but in researching it and seeing it's cons, I felt the money I was bringing in though affiliate marketing and the potential there was bigger, so that's where I grew and continue to grow my business. By the way, if you want to see a comparison of both business models, here's a comparison between drop shipping and affiliate marketing.
Never the less, I know a lot about the online selling industry in general as the sales I've generated crossed $1 million since I started this. There are many hard realities you need to understand before you get involved with ANY online business, whether it's affiliate marketing, drop shipping and/or something else. 

In this article, I aim to get the following message across:
1) If you're interested in online business, going either the same route I am on (affiliate marketing) or through dropping via the Oberlo program, either option is legit and can make you a lot of money, but BOTH methods have their difficulties that I will explain here.
2) Knowing these realities and difficulties is going to help you avoid the pit falls unsuspecting newcomers to these online businesses encounter and thus will help you succeed faster. 
3) In the end, you can go both routes, but I'd pick one after I explain all the pros and cons of each and start there. Depending on the choice you make, the good news is I will be providing you with a resource that'll teach you to succeed in affiliate marketing and/or drop shipping because the fact is, good training in online business is what leads you to success (but you will have to work hard in both industries, that's the truth).
So let's begin by explaining what Oberlo is:

This is a program that essentially helps you cut corners in the drop shipping business. Usually if you get involved in dropshipping, here is the basic idea of what you need to do (before Oberlo gets into the picture):
1) Set up a store, and without a doubt, Shopify is currently the king in this regard.
2) You need to find suppliers and whole sellers from whom you can order products for cheap prices. Ali Express is currently at the top in this regard, as it basically connects drop shippers and suppliers together.
3) If you manage to find legit ones, the next step is you need to put products up on your Shopify store with the intent that if people buy from this store, that you'll be able to contact the supplier and help them ship it to the person who ordered it.
4) The hardest part of all this isn't really finding the whole seller/supplier, it's actually the marketing of your store to the right crowd that'll buy from it which is difficult.
Here's the basic formula for success with Shopify:
Most courses on drop shipping (I've read many of them) and making your Shopify store a success mainly talk about doing things like Facebook ads and making your Store niche specific, then finding groups on Facebook which are interested in the niche store you have and running ads to attract them.
For example:
1) Let's say you run a Shopify store that sells pop up tents (It's a big niche). 
2) On FB, you'd set up ads to target people (niche audiences) who like pages and topics involving tents, camping, survival in the wild, anything where the said audience would know what a pop up is and/or would be interested in it.
3) Then those ads would come up, hopefully people from these groups you target click on it, and buy the product.
4) You as the drop shipper, would then contact the supplier (likely on Ali Express) and give the order information as to where to send pop up tent.
5) In terms of money, you'd charge the person buying a bit more, and then order the tent for less from the supplier, and keep the profit.
That in a nutshell is how drop shipping works and what most courses teach you to do.
7 hardships and cons you need to know before you start a drop shipping business:

These are the most common problems you will likely encounter when you get involved in drop shipping:
1) It's tough to find legit suppliers. Ali Express does a decent job here, but still, you may run across a number of bad suppliers that are unreliable.
2) It's tough to market your Shopify store, especially if you don't understand marketing. FB ads, while popular take awhile to master and you need to spend money to learn it. 
3) Long wait times for the buyer to get their product from your supplier are common. You may have a lot of angry emails from customers.
4) Sometimes the supplier just doesn't complete the order and then it's YOU who is left looking foolish.
5) Your store can get bad reviews and PR if it doesn't complete orders on time.
6) In addition, you need to price the products you sell so that it won't turn away the visitor and will instead incentivize them to buy (One good tip is to add eBooks in the form of free gifts that provide value for the buyer/incentive to buy).
7) Most Shopify stores fail. This is not an easy online business to succeed with.
Where Oberlo makes makes these difficulties a little bit easier (the pros):
1) Oberlo basically helps Shopify/drop shipping businesses avoid many of the hurdles I mentioned above. It basically does the following:
2) It connects you with legit suppliers/whole sellers who have good credibility in sending customers good quality products whilst in a timely manner, so you don't have to do too much searching, although many of them are likely going to come from Ali Express.
3) As a result, you get access to tons of legit products to sell through your Shopify store, by finding them on Oberlo (you can do a keyword search inside the program itself and then import the products you like most to your Shopify store and be calm in knowing that they are associated with legit suppliers).
4) This program helps you connect your Shopify store WITH the Oberlo program to make the process of finding products and suppliers faster and easier.
5) Customization and tutorials on doing drop shipping are provided to people to help them grow their business. 
6) There is good support and a lot of cost benefits in joining this program.
The 3 membership levels of Oberlo explained:
With a program that offers an easier way to do drop shipping, obviously, it needs to cost something. With Oberlo, you have 3 options:
People can enjoy a free membership there.

The other is almost $30 a month.

And the third membership being almost $80 a month.
And all of these prices, for such a program is something I find to be a bargain (meaning it's good):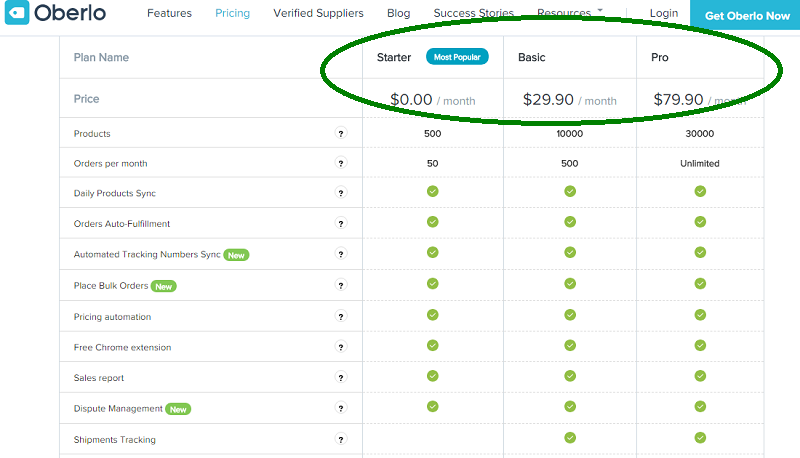 Even the free membership comes with a plethora of benefits as you can see. This is just to showcase just how legit Oberlo is. 
And on a side note, it's GREAT to see such a legit program offer much stuff for free. The best affiliate marketing program I tell people about if they want to succeed in the industry is also free to try (Wealthy Affiliate) and also offers a lot of benefits, so it's good that there's good programs out there you can rely on.
So overall, here's how the Oberlo system works:
You become a member.

Connect your Shopify store to it.

Select a membership.

Then you import products from Oberlo to your Shopify store that are from legit suppliers.
Then you hopefully market the right way and get orders coming in, which when combined with the legit products and suppliers, make deliver and satisfaction for the customer a good possibility, and thus your PR and store grows as does your online business. 
Note: For good training on running Shopify businesses, they provide free courses through a program they link to called Shopify Academy.
That's basically the system that Oberlo has created. And it's great. Never the less, this is still an industry that has a big learning curve, so you need to prepare for that. 
Moving onto affiliate marketing (what I do) and why I like it more:
1) I honestly believe there are more benefits and conveniences to doing affiliate marketing, although it doesn't take away from the fact that it's also a business that you need to work hard in.
2) I personally don't like having to deal with late orders, angry emails, multitasking through an eCommerce store, ect… and this is why I prefer affiliate marketing. In this type of business of business, I will set up a blog site and attract visitors to it naturally and then I'll sell them products I don't own from official suppliers who deliver it on time, every time.
This certainly cuts down on the many cons I've listed in drop shipping, but in all honesty, affiliate marketing also comes with it's own number of cons:
I want to first give you a few cons, but with each one explain how it holds pros on the opposite end.
First:
Con 1) One of my preferred (safest) ways to do affiliate marketing is via setting up a blog and attracting mass traffic through things like Google takes a lot of time (months).
Pro 1) However, in my experience this is worth it because the traffic you get is free, thus you spend no money or risk losing it on ads. The most profitable traffic is the one that's free and targeted and you can do this.
I personally do not view this as a con, but some might, and I just want to give you both sides.
Second:
Con 2) There is also a lot of writing involved since content creation is what generates traffic when it comes to blogs and doing affiliate marketing that way.
Pro 2) I enjoy writing, so this approach to affiliate marketing works for me and I find that people who also pick out a niche they like, also find it easier to write.
Third:
Con 3) You also need to market and understand keywords.
Pro 3) Even if you did the other thing (drop shipping), you'd still need to understand keywords, audiences to properly target them on ad networks, so this applies to both methods.
Fourth:
Con 4) There is also the need to know how to write good content.
Pro 4) I find this comes easier for people who again, like their niche topic and practice writing about it.
Fifth:
Con 5) You also need to know how to write good sales page.
Pro 5) If you can write good content, you can write a good sales page. Its become easy for me. I literally follow just this core idea about helping people solve problems and that making it easy to write sales pages.
So as you can see, affiliate marketing certainly isn't easy, but I still prefer it and have listed the opposing viewpoints for each con provided.
This is subjective for me personally and I have been able to make this business work VERY well for me (see my $1 million affiliate marketing income reports through affiliate marketing), so you may have to view these 5 things individually and see if the pros I listed for each con are applicable to you. 
Like Oberlo, here's a program that makes affiliate marketing much simpler:
If affiliate marketing is the route you wish to go in like me, then the best program to make it easier is Wealthy Affiliate. This place teaches you all you need to know about it and most of my sales in the online world stem from implementing WA's training.
I am personally very happy with running an affiliate marketing business, because I love writing and it's one of the most popular ways to do affiliate marketing. And beyond that realm, there is also list building, email marketing and paid traffic you can send to your site to also keep this business up and running, all of which is also taught inside Wealthy Affiliate:

My final thoughts: 
I hope I explained both Oberlo and Wealthy Affiliate enough to help you decide which one is better for you (eCommerce/dropshipping or affiliate marketing). 
I strongly believe that while Oberlo is great, that it requires a learning curve and good training to understand, not just that but drop shipping itself, and this program also provides decent blogs to help you there, and to help you out, my advice is to register with their Shopify Academy to get access to plenty of free resources to learn this business. You can also view YouTube videos on successful drop shippers and see their advice on this. 
As for Wealthy Affiliate and affiliate marketing in general, that program itself has all you need within it to learn the business:

While either option you choose will come with it's own set of obstacles and will require a lot of work, I hope that at least now, with the pros and cons you see in either industry, that you are confidently decide which is better for you.
Like I said, I prefer affiliate marketing, but it may not be the right path for you, perhaps it's drop shipping or perhaps it's the opposite. In any case, let me know below which you prefer and if you have any personal online business stories to share regarding trying one or both business models!